*Blows dust off blog*
Oh my, it's been a while, guys! Happy New Year and Happy February everyone! Yes, I said that, better late than never, right? Hope you're all doing very well and haven't broken all your resolutions yet. *side eye*
Last time I was here was December; we were all getting ready for the Christmas holiday and in some way exams as well, to be honest. Anyway, all that's over now, what have you been up to? Me, I went to Birmingham to chill off after exams, it was a short trip but I just needed to get out of Guildford for a while. I met up with a friend of mine and got a bit touristy there since I hadn't been in years. Here are a few pictures from the trip:
I must say, I'm getting better at my photography game, aren't I? I got to try out Byron, their burgers are amazing! I got the sweet potato fries from GBK tho cause I needed that baconnaise dip (it gives me so much life). I had the Oreo milkshake = BLISS.
My friend and I tried out Bar Estilo, and had this paella. In my opinion, the portion was quite small for two (probably cause I can eat for two ) but it tasted really good.
Anddddd….I baked some Oreo brownies 🙂 You can probably tell by now how much I love Oreos.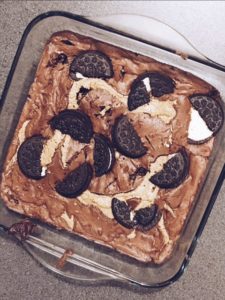 ---
University wise, I'd just like to mention that there's going to be a Refreshers Fayre on Friday the 10th of February on PATS Field. This is an opportunity to check out and join clubs/societies you're interested in. There are over a 100 to discover ranging from Women's Engineering Society (WES), African-Caribbean Society (ACS), TEDx, Running and Athletics and much more. It is an exciting opportunity to speak to the committee members to find out what they offer as a society, what you would benefit as a member and who knows, you could probably love it so much that you may decide to join the committee next year!
I love engaging in these extracurricular activities because they give me a break from my academics. I get to develop myself in other ways which I feel is very important and would definitely advise anyone to get involved. Your engagement in these societies could also boost your CV. Most employers look out for individuals who possess a variety of skills so, showing an interest in other fields apart from just your university course is an added bonus. You get to make new friends, learn new skills, participate in different events/activities, they increase your employability, it's a win-win situation here, go for it and thank me later!
That's all I have for today everyone, take care and see you next week!
Theresa xx