The last 2 weeks has been one of my most eventful weeks being a student. To roll it out quickly, I attended a conference in London which is part of my work (I am an Education consultant by profession).We had back-to-back-business presentations at the Business school for two separate courses; we celebrated International Women's day and guess what? I went bowling!
The Conference was held in London at the Radission Blu Edwardian Hotel, Heathrow. It was a British Boarding Schools workshop which I often attend to meet with schools and agents alike. I had not been in attendance for a while so it was really nice to see some faces again. It is usually hectic following scheduled meetings from 9 am to 5 pm but one thing that makes me look forward to it (asides the reunion of course) is the FOOD…Yummy! Take a look…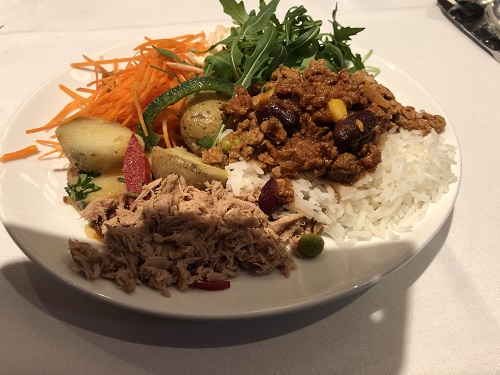 Picture below is me and Laura – one of the conference attendees whom I had not seen in almost 4 years!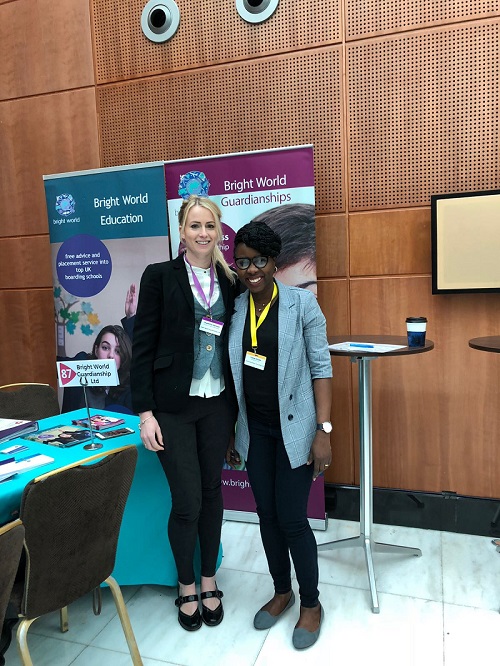 Then the business presentations… We had two of them back-to-back. The 1st course was on Entrepreneurship and Innovation management and we had to 'consult' for a start-up business and follow a principle called 'the lean start-up methodology'. It was more like applying the theories taught in class which required some market research. We had to present our findings to the company founder (s) and that's the picture below showing me and my team mates on the D-day. The 2nd Presentation came later that week but no pictures to show (sorry)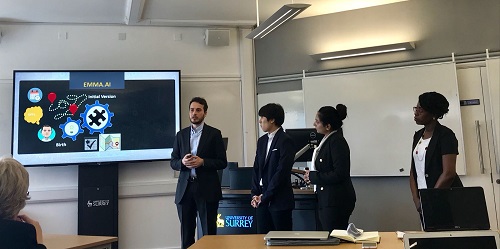 Then the International Women's day (or week), was brilliant. We had a guest speaker by the name Sarah de Carvalho. Sarah was awarded an MBE for her services to Happy Child International in 1992. (MBE is an abbreviation for Member of the Order of the British Empire: a British honour given to a person by the Queen for a special achievement). She has also just been awarded ACCSB's 2018 Influential Leader. She graduated from the University of Surrey Business School with an Executive MBA in 2014.   Today she is CEO of 'It's a Penalty campaign' which works with some of the biggest names in the sporting industry and various partner organisations to protect children from abuse, exploitation and trafficking worldwide.  She is an established author and mother of 3 children.
In her lecture, she made clear the fact that Women have been leaders throughout history. From the Pharaohs of Egypt to the Queens of England, women rulers are found in nearly every culture and time period. Women have also served as leaders in social movements.  Yet, in almost all circumstances, there are too few women leaders today.
She shared her own experiences as a Woman in Leadership and touched on salient points such as
The new world of work and women in the work force
Key leadership competencies necessary to career development
Reflections on her Surrey MBA experience – how the learning has influenced her work and leadership.
A key message I took away from this session is that 'Relationships' and 'Networking' is highly important in the new world of work. See Picture below… Can you spot me (or rather my hair) in the crowd?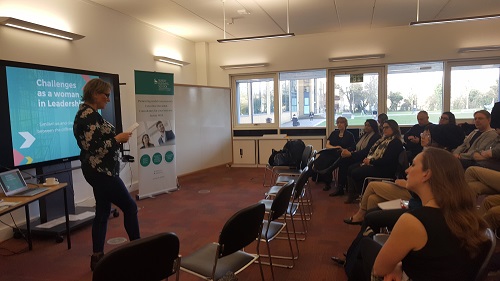 And to wrap up the very hectic week, I went bowling – YES!
My team mates and I chose to unwind after the long week so we headed to the Guildford Spectrum right in the middle of Town Centre. There were lots of activities to enjoy but we chose bowling as I had never done it before. But look at the picture carefully, was I facing the right direction with my ball? (lol).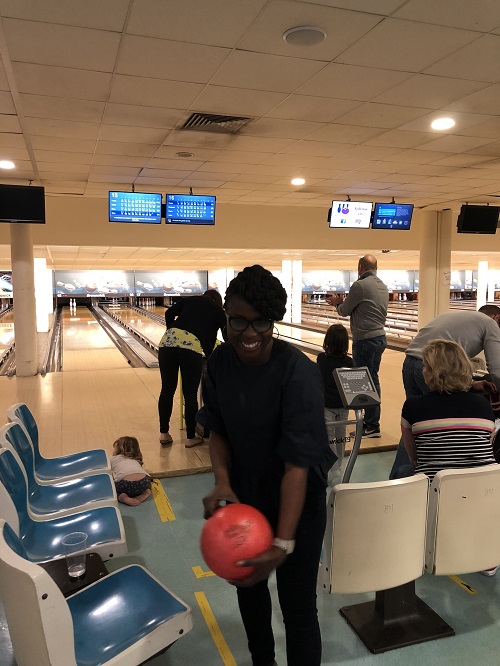 All the same, we had fun, my friend won a 'toy' for her niece and it was really worth the outing. Who says you cannot work and have fun in Surrey?
Look out for my next post on my 3 C's tagged 'Cold, Classes, & Coffee'