Hello!
Today I wanted to share with you some of the reasons why I decided to accept my offer to attend the University of Surrey for the Law (JD Pathway) LLB (Hons) program.
As I have mentioned in a previous blog post, I graduated from the Health Sciences program at University of Ottawa in 2016. During my last semester there I wasn't too sure what I wanted to do after graduation. For a bit of time I was attempting to apply for jobs that I might have taken on right after my degree but I was quickly realizing that I was under-qualified for most of the positions I was interested in. It was during this time of decision making that my Godmother Annette suggested that I submit an application to the University of Surrey where they offer a two year graduate entry LLB. In complete honesty, I had never really given serious thought to the possibility of law school beforehand, although I had considered it at times throughout high-school and university. I had developed more of an interest throughout my bachelors as I had taken a few classes that discussed medical ethics and laws as well as sociopolitical perspective in health but with her suggestion I was able to finally take law school as an option seriously. Her daughter Gabrielle was undertaking her first year at the University of Surrey for their three year Law LLB (Hons) so they were both able to tell me a lot about the school, program and life in England. The more they told me about Surrey the more I began to be excited at the prospect of studying abroad.
My decision to accept my offer to attend law school abroad came down to two main points. Firstly, I had this overwhelming desire to travel but did not really feel that a gap year or some time off from school was a fitting choice for me so the thought of being able to travel while studying was incredibly appealing to me. Secondly, I felt that by broadening my field of studies to include law would open doors that would not have been accessible to me previously.
From this, my decision to accept my offer at the University of Surrey more specifically came down to several main selling points:
-My cousin Gabrielle would be there with me which was such a comfort having never even been to Europe before. She was also enjoying her time in the law program and at Surrey.
-The earliest class  would begin at 9 am and the latest would go until 6 pm (such a change from my 8:30-10 pm classes) and the lectures go for two hours rather than three.
-The tutorial groups would be small.
-We would all be assigned a personal tutor which I thought was a fantastic idea in terms of having that main person of contact.
-The location of campus sounded amazing (which I can now confirm I do find really great) with it being a 45 minutes train ride to the airport and London, and having a beautiful main street (downtown area) only a 20 minutes walk from campus!
-They had a Canadian LLB scholarship that I was able to apply for which would help out greatly with costs.
-International students would have guaranteed on campus accommodation during their first year at Surrey which would save me from the headache of trying to find a place to stay from Canada.
In all, these reasons were enough for me to know that I wanted to attend the University of Surrey. I did not even apply to any other law school – its as if I just knew that this was it for me. Hopefully this will help you in your decision making process – choosing a university can be really daunting, especially when it is away from home but I can say that I am still happy with my decision as I have been able to meet people and see places that I would have never known or seen otherwise. I truly believe that anyone who has the immense privilege of being able to apply to study abroad should take the opportunity to do so as it is truly a life-changing experience (cheesy, I know but so true).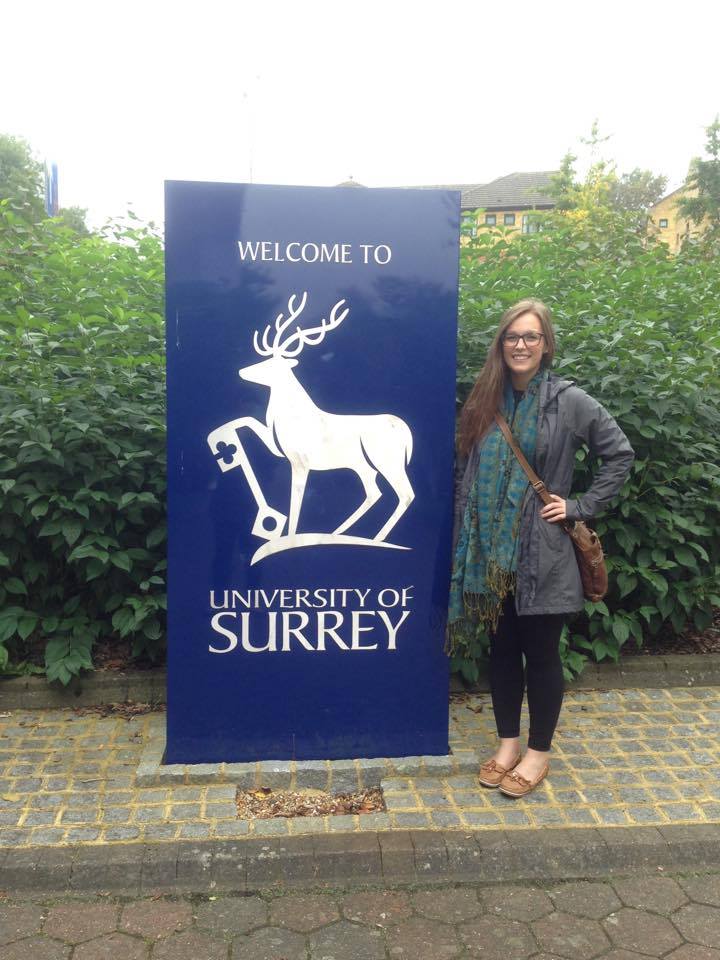 Cheers!