This week's analysis covers the first full week of official campaigning and offers an initial insight into how the various groups have adapted their strategy and messaging.
As a first observation, it's useful to note that the opening of the official period hasn't been associated with a marked uptick in public engagement. Both Facebook and Twitter followers have increased, but at similar (i.e. slow) rates to those in the past few month. The only development of note at this stage is the slowing in the growth of Leave.EU and the upticks in that of the two official groups, Vote Leave and StrongerIn. We would expect that to continue to be the case throughout the coming weeks, but it should not overshadow the continued dominance – in size – of Leave.EU and its substantial audience.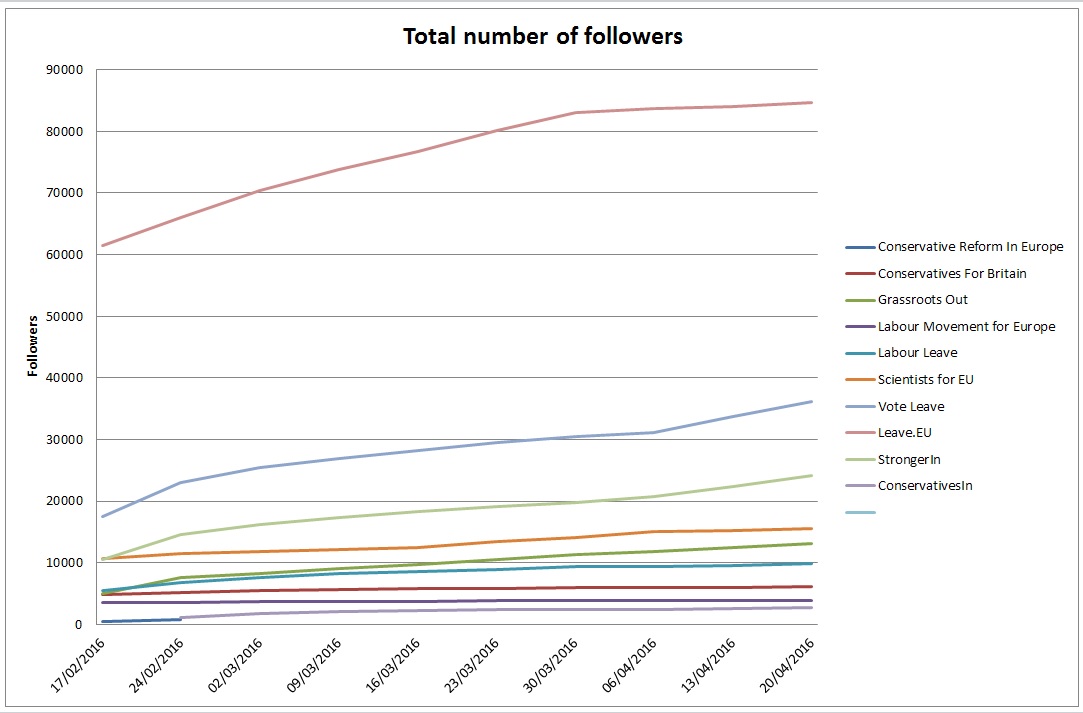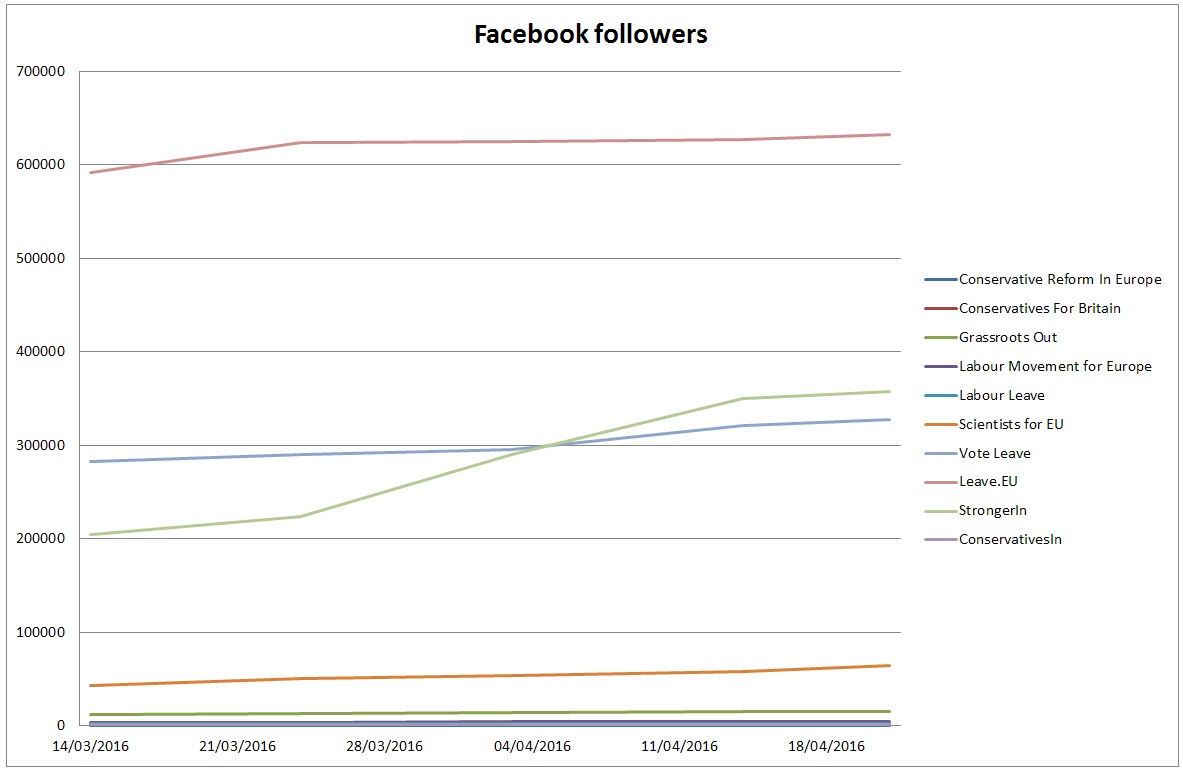 This matters in part because we have seen something of a shift in Leave.EU's approach on Twitter in the past couple of weeks. As the charts below show, the group has become less positive in general, and has had a marked increase in the percentage of tweets that make negative comments about other groups (mainly on the Remain side, but also Vote Leave). This means that for the first time in our sample period, the group has had two weeks of more negative that positive tweets. One possible explanation is that having lost the contest for official designation, Leave.EU is now under no requirement to present an image of inclusiveness and positivity (which might have been of help in the designation process): certainly the 'blue-on-blue' snipes at Vote Leave highlight the lack of love lost between the two groups, although this is the only such activity seen on either side. The coming weeks will show whether this is a transitional development or a more structural one. In either case, Leave.EU has taken a somewhat different path to Vote Leave, which might be of service in talking to, and mobilising, different audiences.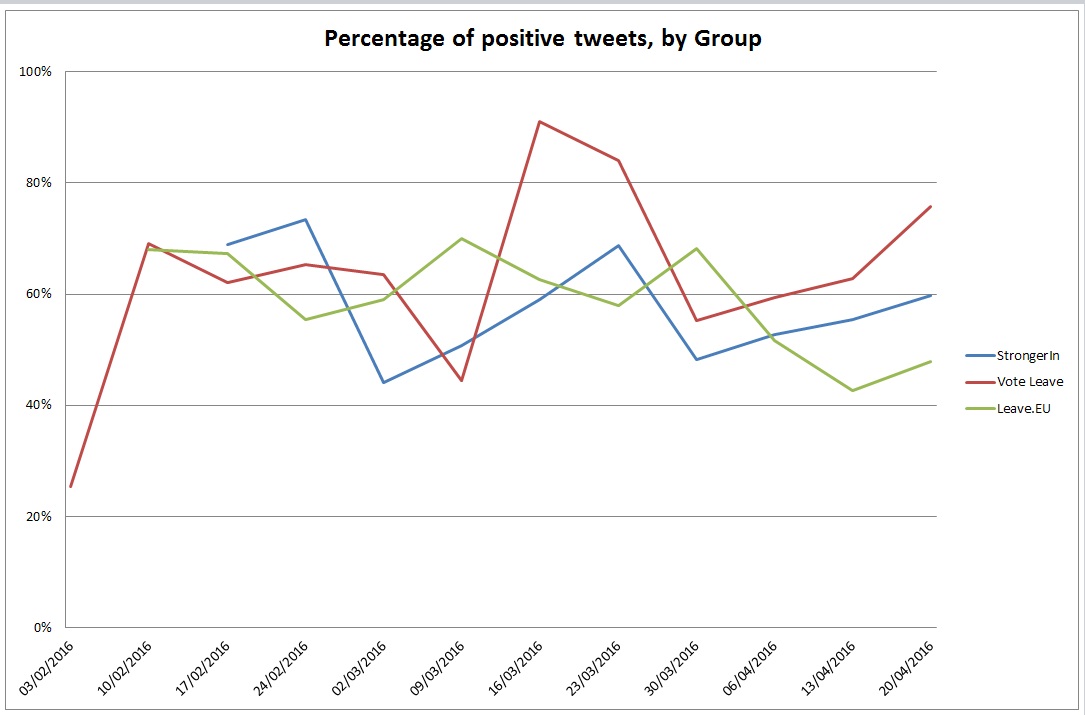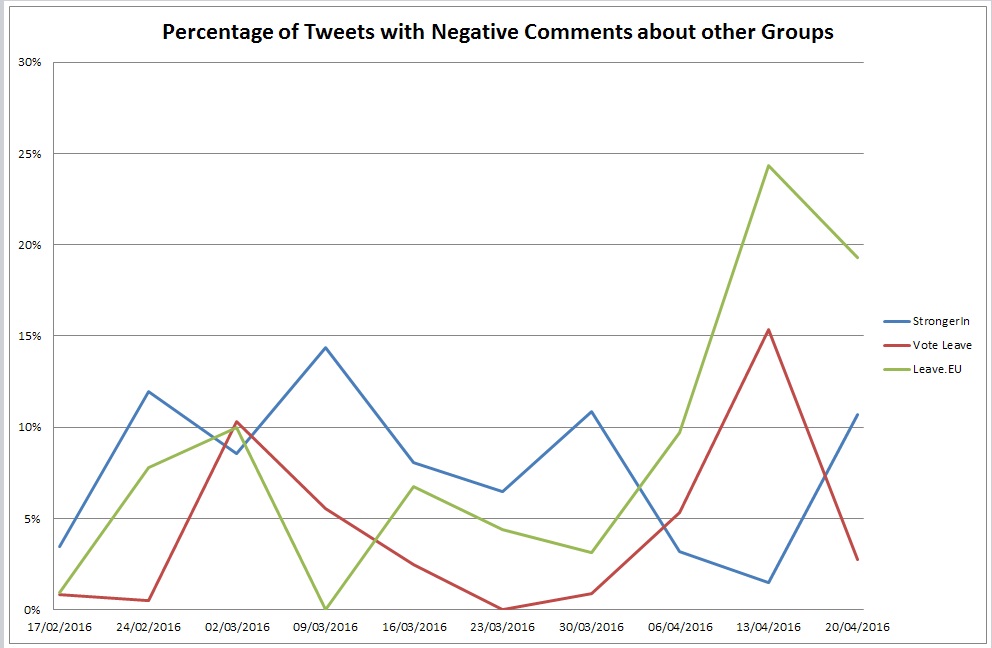 This difference is also evident in the themes used by the main groups. Leave.EU has stepped back from talking so much about campaigning activities and now devotes much effort to pursuing political arguments (not least the question of Jeremy Corbyn's true feelings about the EU), as well as business or trade lines. Vote Leave has becoming very focused on campaigning activity now, in contrast both to Leave.EU and to StrongerIn's effort to cover a wide range of bases. This latter pattern is partly a reflection of the lack of diversity in the Remain camp's organisation: whereas Leave has tended to (informally) outsource certain areas to specific groups, this doesn't really happen in Remain (with the obvious exception of Scientists for EU, although even here volume has dropped noticeably in recent weeks).
Presented in another format, it is possible to see how the two camps have focused their attentions in different areas, as we have noted in previous weeks, and these seem to be relatively stable patterns for now. Remain talk more about economics, Leave more about politics and immigration, each playing to their strengths.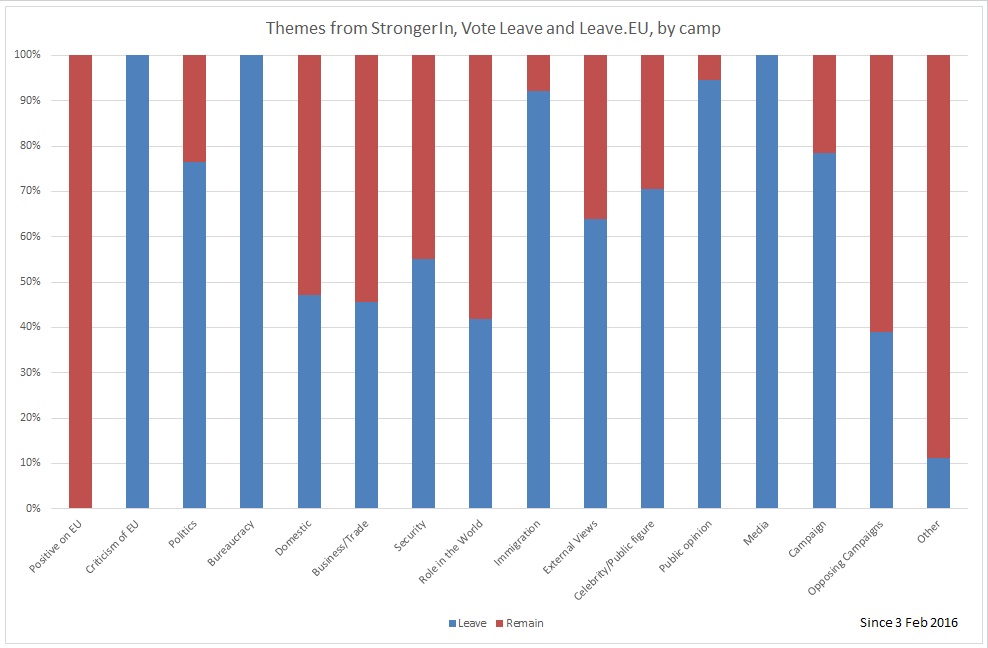 All of which brings us to another review of one of our big themes, namely the extent to which negative campaigning works. Taking the period since early February as a whole, positive arguments still get more retweets than do negative ones, but negative mentions of other groups are nearly as retweeted: Taken on aggregate, positive messages get more traction with audiences. However, as the second chart shows, in the past month, negative comments about others have been the most retweeted category. While this is not nearly as marked now as it was a fortnight ago (around the time of the government's leaflet and the designation decision), it has persisted. If this continues to be the case, then it might be necessary to revisit our initial findings and ask whether this is something that happens around 'hot' campaigns only, rather that as a general feature.
Certainly, to look at this week's tweeting, both sides have made much of the other's efforts. Leave groups tweeted much more about Jeremy Corbyn's speech than did Remain (often under the sarcastic #FreeCorbyn hashtag), while Remain have spent the past couple of days taking apart Michael Gove's plans. All of which suggests that things might be about to get less pleasant for everyone.