With the passing of the local/regional elections last week, the EU campaign is now in full swing, as witnessed by the near-constant stream of media events, speeches and the unveiling of assorted 'battle buses'.
That has also been reflected in the social media campaigning. Last week's damping down of interest appears to have been reversed, with the two official groups making good progress on picking up new followers. There has also been a modest increase in the volume of tweeting.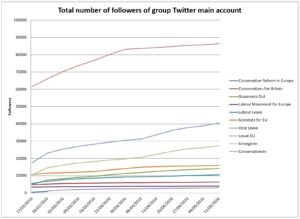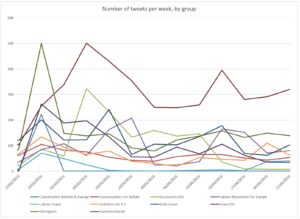 Following up a query from one of our readers last week, we've run a quick check to establish what percentage of these followers are 'real' people (rather than automated bots), since the much larger size of Leave.EU does look somewhat unusual. However, running these accounts through www.twitteraudit.com produces no sign that this down to the purchase of followers or any other underhand technique. This reinforces our previous conclusions that Leave campaigners have a much stronger position online than do Remainers.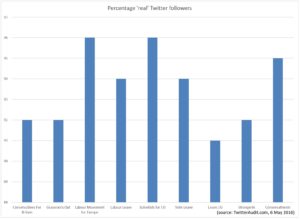 That stronger position is, however, one built on volume, with Leave's much larger audience of followers. By contrast, Remain's strength seems to lie in their multiplier effects: their generally higher rates of retweeting have proved very stable throughout the cause of our observations. At the same time, some caution is needed here, since Remain have only one 'general' group – Stronger In – while Leave have two – Vote Leave and Leave.EU – and all of these have much lower retweet rates than the more niche groups we look at: Leave.EU's high volume of tweeting thus will have the effect of dragging down Leave's overall retweet rate.
With this increase activity we also see more volatility in the rates of retweeting of different frames: for only the second time in our sampling period, positive mentions of one's own group and its activities has been the most retweeted frame. In part, this reflects the big shift in the output of Labour Movement for Europe, which was almost exclusively related to the local/regional elections during last week. As such, we would not mark this as a lasting trend, but noise that will burn away as the campaign progresses.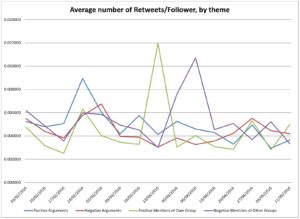 The two official campaigns continue to seek to build their support base, with a significant number of tweets given over to campaign related issues.
The Vote Leave campaign focused on criticising the EU, then campaign tweets and then tweets about domestic issues. Here we see that although campaign related tweets are still prominate in this campaign's approach, they have continued to be critical of the EU and engage on substantive issues.
The StrongerIn campaign put most emphasis on campaign tweets this week, followed by tweets about business/trade/economy and then the other campaign. This indicates an overall shift away from engaging with specific issues and the benefits of EU membership towards building a campaign base and seeking to undermine the credibility of the opposing campaign.
In contrast to the official campaigns, Leave.EUl dedicated relatively few tweets to campaign related issues. Instead the campaign focused on criticising the EU, politics and business/trade/economy issues.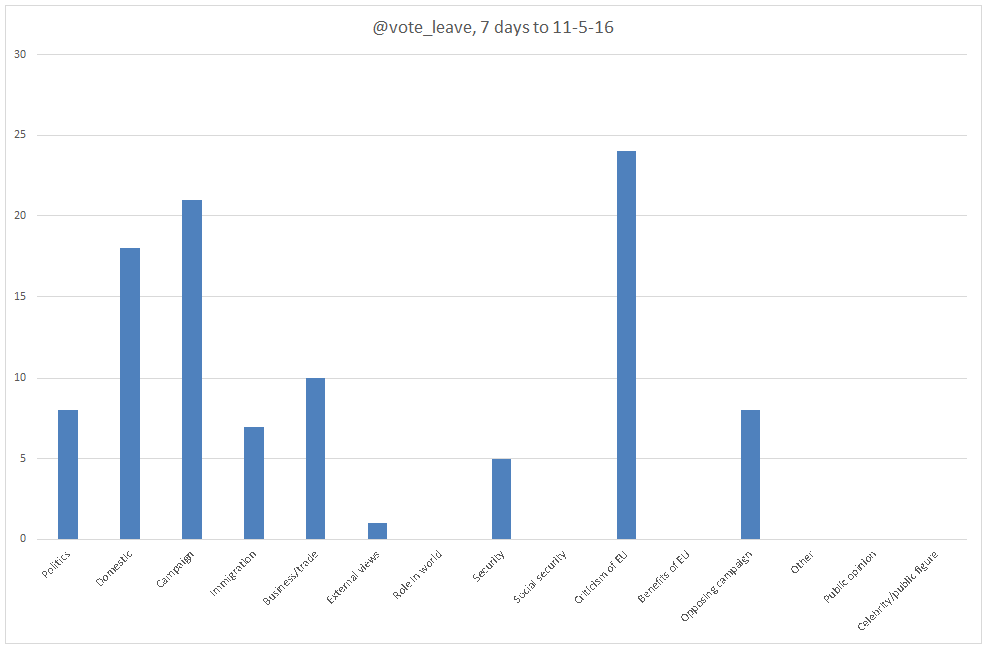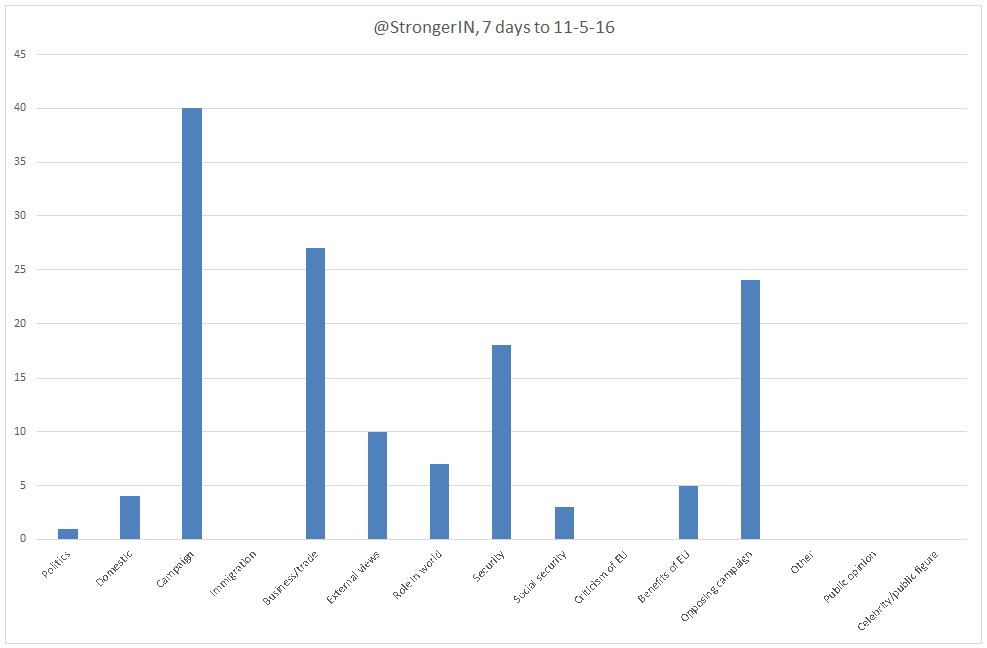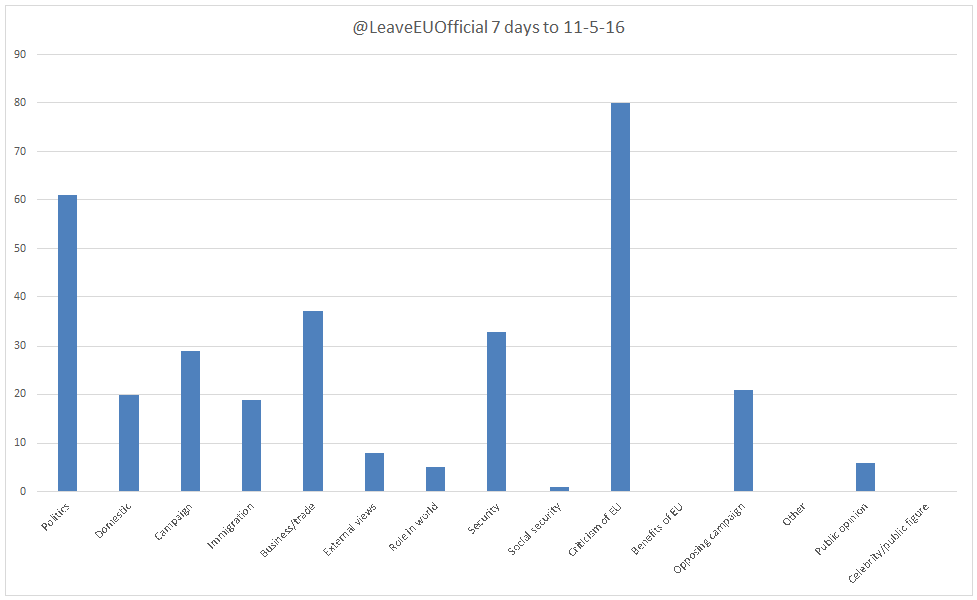 Underlining all of this, it is useful to recognise the general stability of groups' Twitter profiles, with some determinedly in the business of connecting and mobilising existing supporters (e.g. Grassroots Out), while others are much more focused on making arguments about substantive points (as with Conservatives In).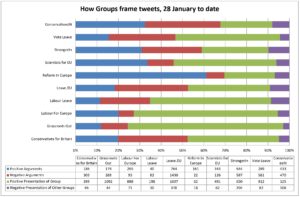 Similarly, when we look at the content of groups' tweets, the ways in which these are represented has also not changed much over time. While immigration is strongly presented with negative connotations, the UK's position in the wider world is very much positively portrayed, on both sides of the debate.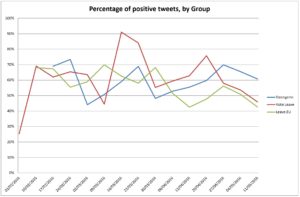 As discussed last week, the trend to less positive tweeting continues, with all three major groups registering a further fall in their rates for the second week running. While Leave groups are running ahead on this, given that it occurs across the board suggests that this opening of the final stage of the campaign marks a shift into a more negative mode all round. Certainly, the willingness to devote time and effort to calling out the failings of the other side seems to be on the rise, to the extent that it drowns out some of the more substantive points being made. For the Leave campaign, this certainly makes sense, given the onslaught of experts and public figures being produced by Remain, although it necessarily is limited by the relative absence of positive arguments to be advanced.