The task of summing up my experience so far on the Masters in Acting at GSA in a single blog is a real challenge. I have met so many positive challenges since my course began at the end of September, so I can just add it to the list!
The decision to audition for GSA came as a bit of a shock to my husband, who had imagined that our next step would be building a family, especially as we had got used to living comfortably with two good salaries coming in. It took a lot of weighing up of the pros and cons but fundamentally, it boiled down to the fact that I desperately wanted to take this leap of faith – far better to have tried and failed etc. I did tons of research into drama schools and visited GSA on the University open day – even though it was designed for potential undergrads. This was a really useful experience and one I would recommend highly. GSA has an electric atmosphere, excellent facilities and a true warmth that cannot be falsified.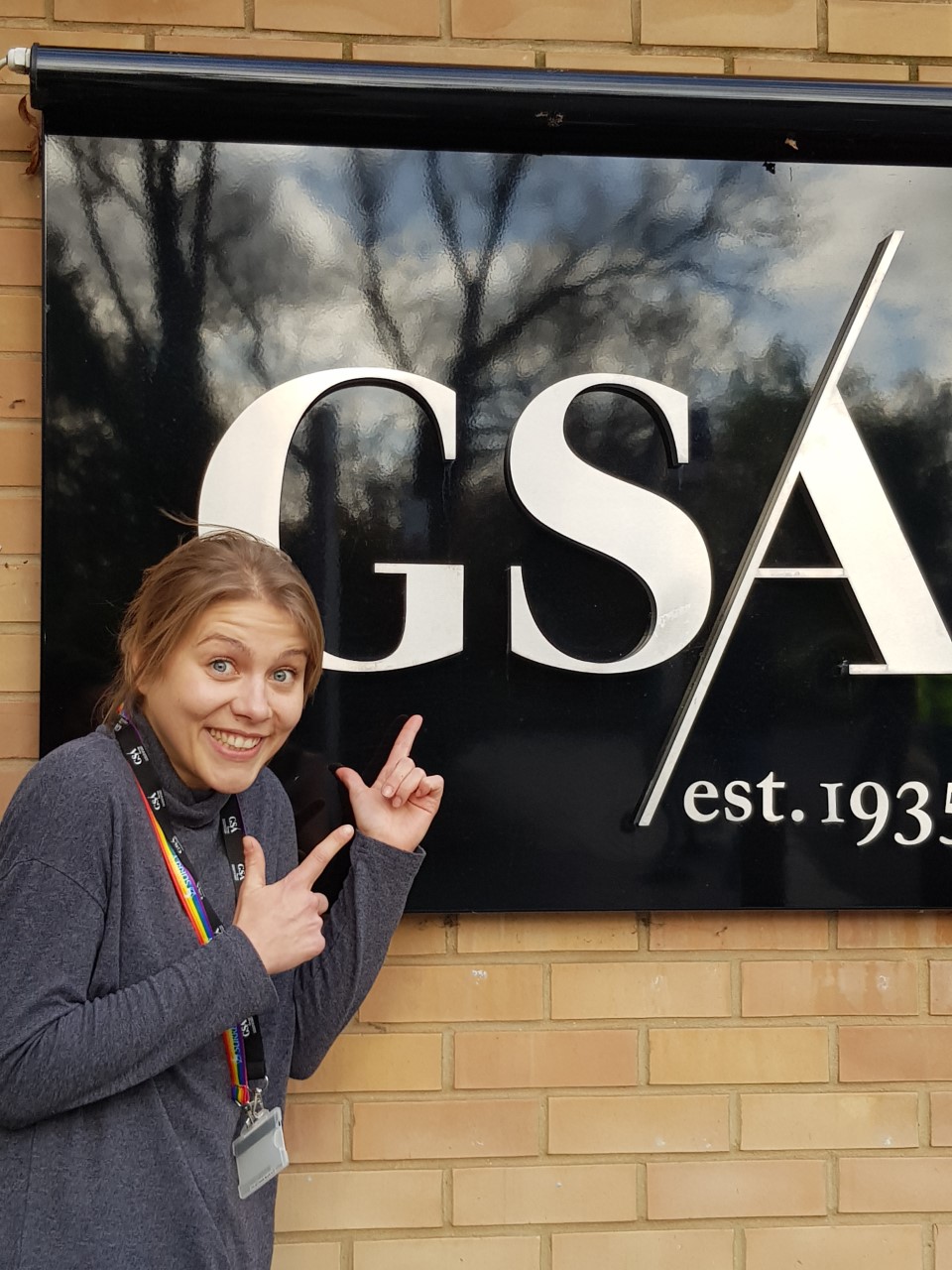 Life Before GSA
This time last year I was a 29-year-old secondary school teacher on the edge; I had become more and more unsettled and unsatisfied with my life as it was and I was unwilling to accept that this was it for me. I had always dreamed of an acting career and performed as much as I could in amateur productions, but life had got in the way at every potential opportunity to take it to the next stage. This was until I decided to throw caution to the wind and audition for GSA.
The Audition
I applied and auditioned on the first possible date as I wanted to know as soon as possible whether this dream was going to become a reality. GSA was the only drama school I decided to audition for as it became clear that the only way I could manage the course financially would be to commute from my home in Portsmouth. Luckily, the audition – an intensive morning workshop and an afternoon recall – had a positive outcome for me. A week later I had an offer secured! Life was about to flip on its head.
Starting the Course
When the course commenced, I had such mixed emotions; I was so ready to embrace a new direction in my life but I was also incredibly apprehensive. Had I made the right choice? Would GSA be worth the sacrifices my family and I had made? Would I fit in or stick out like a geriatric sore thumb?!

Well, I'm happy to say that all of my fears washed away once my timetable began. Dr Jaq Bessell, the head of the MA and MFA Acting courses, is an incredibly wise and experienced teacher who ensured that a diverse cohort was selected at auditions. Our ages range from 21 to 38 and we have students from all over the world including the UK, Sweden, Canada, USA, Greece, Morocco and Iceland. But most importantly, every one of us brings a different backstory and personal wealth of experience that has been so valuable – the learning we have received from one another has been incredibly powerful and important.
Week One
We began with an intensive week as a whole group, taking part in workshops with our future teachers and engaging in professional industry talks – representatives from Equity and Spotlight, headshot photographers and a show reel editor all gave us their time and shared their wisdom which was frightening and exciting in equal amounts! We bonded as a group very quickly – something that magically happens when people with one common passion gets together – and this bond has just strengthened and strengthened as time has gone on.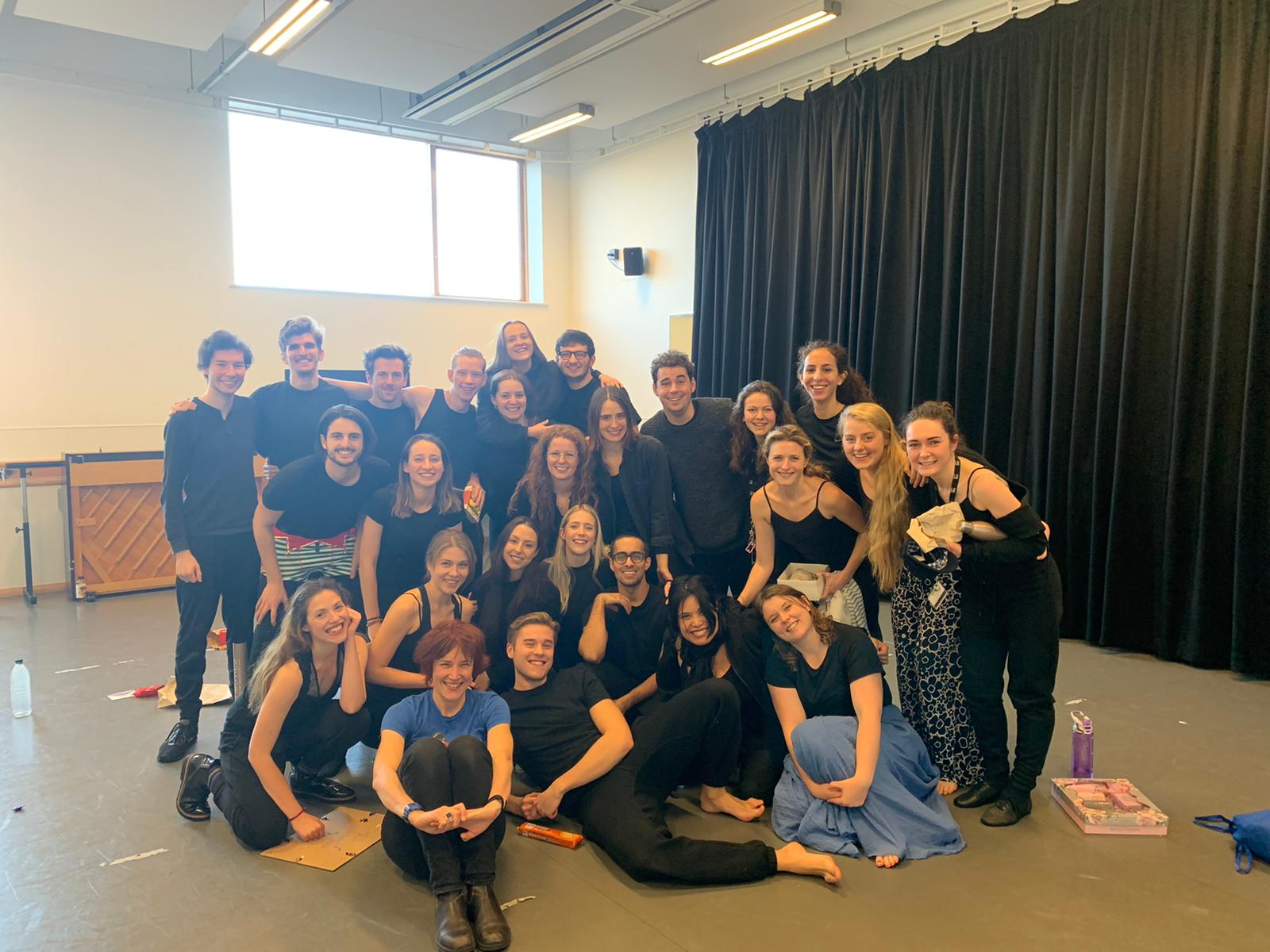 Full Timetable
The following week, we split into two groups and began our official timetable. We have had 30 hours of lesson time a week with additional warm ups in the morning, led by either teachers or the second year MFA students. Our lessons this term have included Laban and Le Coq movement classes, practical and applied voice, ensemble singing, acting studies, screen acting and Chekhov acting workshops.
All of our tutors are highly professional and have experience of or are still working in the industry and it has been so valuable to glean from their extensive knowledge. For example, our Screen Acting teacher is able to provide us with the most current information on this area of the industry as she is very much a successful working TV and film actor. There have been times when her filming schedule has meant she can't take our lessons, so she has organised friends and colleagues to coach us in her stead, all of whom have been equally active in the industry. These lessons have potentially been my largest learning curve; I hadn't had any previous on screen experience – bar a flop of a Daz advert at the age of 10 – and it is so vastly different to stage acting.
Our teacher has also led us through the jargon and day to day running of film sets which has set us up for this type of work in the future. To arrive on my first filming job with this knowledge in my back pocket I know will make me so much more confident.
Rehearsal Projects
Each teaching block has its own rehearsal project, which makes up ten hours of study. This term's focus has been Shakespeare – led by the incredible Jaq, who is an enormously experienced and knowledgeable Shakespeare scholar. We have been working on monologues and scenes, culminating in a sharing on our last day of timetabled study. I have had my mind blown on a daily basis through the various exercises we have done with the text. Before the course, I thought of myself as a Shakespeare enthusiast but Jaq has turned me into more of an obsessive! The final sharing was such a joyous occasion to perform in, watch and celebrate all of the hard work everyone has put in over the teaching block.
Extra-Curricular Activities
Outside of timetabled lessons, we have access to evening dance classes and a plethora of opportunities to support our fellow GSA students in their professional performances. The standard here is so very high and it has been a joy to get to see the future stars of the stage and screen show all they can do. Our GSA student union representatives also work incredibly hard for us to arrange events to give us welcome distractions from the rigour of the training; an activity packed freshers week, concerts, parties and get togethers are just a few of the organisational feats they have accomplished so far this year and student wellbeing is always at the top of their agenda, as it is with all the staff at GSA. To be horrifically cliched, it truly is a family here.
The Final Hurdle
To round off the year, I am now engaging in an intensive stage combat course, which will provide me with a qualification to add to my CV. We have learned a wide range of basic steps in armed and unarmed combat and been taught a routine which encompasses both. We have worked in pairs to embed this choreography into a scene and we are being assessed by an external examiner this Saturday – wish me luck! All the students are physically and mentally exhausted but fighting through to make it to the much needed Christmas break.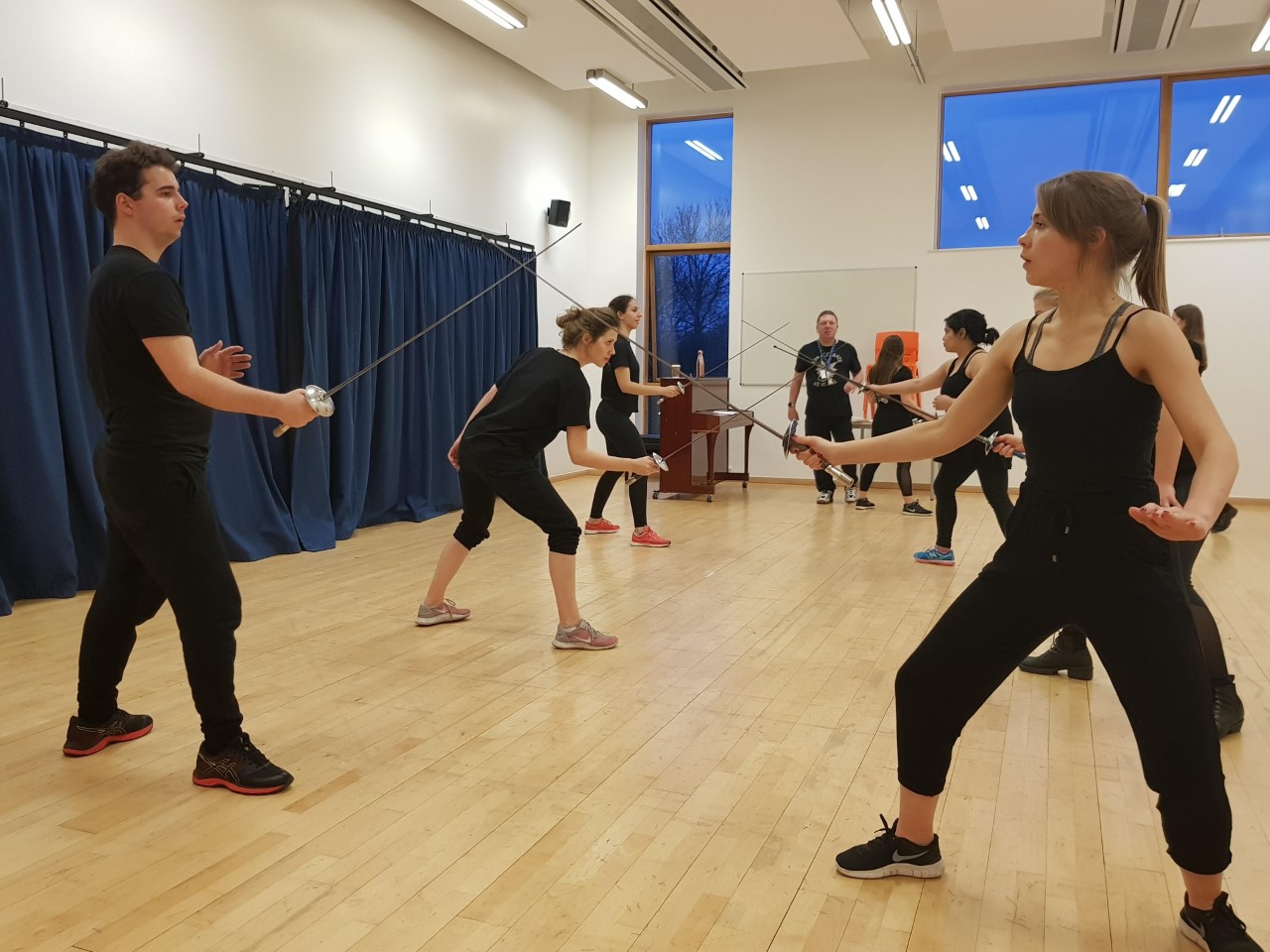 It is impossible to fully articulate the lessons I have learned about my craft and myself in the whirlwind of the first term at GSA. I cannot express how much I am loving life and where I was this time just last year seems like a past life. I cannot wait to see what the next teaching block brings.

Happy New Year to you all!
Author: Clare Plumridge.