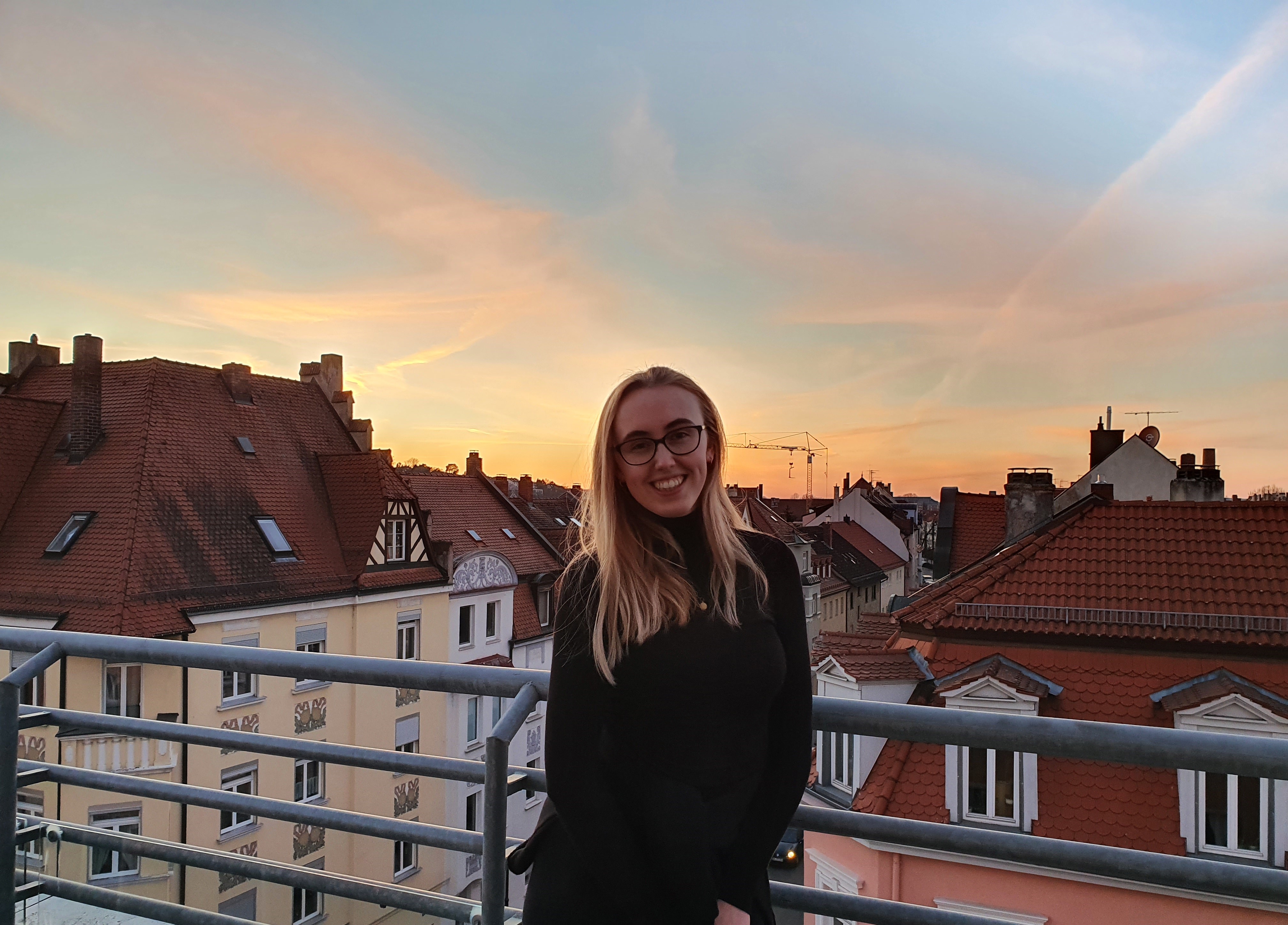 As a Languages student, the year abroad is usually the most important and enjoyable part of the degree – and my experience is no exception! I chose the 50:50 work-study option to experience both worlds, so I have lived and studied in Germany and worked for a company based in Spain, although due to COVID-19 I've not been able to travel there to work in the office yet.
Studying in Germany
I previously blogged about how I fell in love with my host town Bamberg, but it was, of course, a big challenge to move away and live completely alone for the first time in a new country. By overcoming this challenge, I have gained a lot of confidence and my language skills benefitted from full immersion in German life.
Studying abroad is a different experience to studying in the UK, plus all my lectures took place virtually due to the pandemic, however I attended an in-person preparatory course for exchange students at the start and this was how I made friends. Unlike Surrey, Bamberg has university buildings throughout the town, plus the teaching style and choice of modules were quite different, so it was strange at first to experience a different type of university and be out of my comfort zone, but I soon adapted and now feel ready for my final year at Surrey.
In Bamberg I had the opportunity to design and deliver my own English Conversation Course for German students, which was another great chance to meet natives, and receiving positive feedback from my students was a stand-out moment! I would love to return to Germany in the future for work, so my semester abroad has built a good foundation for this.
Working for Spain
My work semester has been more challenging than I anticipated, due to restrictions preventing me from travelling to Spain. I am working from home for VeryChic as a Copywriter and Content Assistant, so I am responsible for uploading, updating the details of, and publishing hotel offers. My job also involves translating, writing, editing and proofreading content for hotels to go live on the company website. Seeing my writing on the website for the first time was really exciting! Here is an example of my recent work.
Unfortunately, I am not getting the same buzz from the job as I would if I were in the office, but I have maintained good contact with my supervisor and other co-workers, so I have still created good working relationships despite the challenges, and I hope to go to Spain before the end of my placement to build on this.
The key ingredient
Perseverance has been a key theme throughout my year, as the pandemic changed my original plans and I have not been able to be abroad for the full year, but it has been the most rewarding experience and one I'm extremely proud of and grateful for. Applying for placements can be a long, difficult journey, but with perseverance and positivity, I've had the best year of my life.