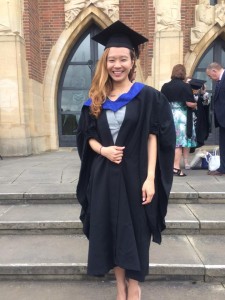 14th of July 2015, my Graduation.
2 years of hard work, of countless hours spent in the library, of insane hours staring into books, all boils down to this day – Melydia Tan, a First Class Honours Graduate!
Of course, I was also an advocate of "Study hard, Play hard(er)" 🙂
It was a day filled with so much emotions, bittersweet to be exact. Yes I was graduating; yes I am so ready to take on the working world, but it also meant that my chapter here in Surrey has ended. I remember 2 years ago today, where I was faced with The biggest decision of my life – to undertake an overseas education. Now 2 years on thinking back, how silly I was. It never is easy saying goodbye, especially to a place you have grown so fond of, to a place which you regard to as your second home. The memories I have will forever be embedded in my heart, the immense knowledge I've gained & the friends I've made. Time really does fly when you're having fun.
Today, I also learned that my University has been named University Of The Year by The Times & The Sunday Times Good University Guide 2016. I am proud beyond words to be a part of this milestone; to tell the whole world that University of Surrey is my Alma Mater. Thank you UniSurrey for everything you've given me, for moulding me into a better person. I wouldn't trade this experience for anything in the world. Special thanks also to the International Student Relations Team, for giving me this wonderful opportunity to share my life and experiences here in this blog as an ambassador.
If I could do it all over again, I would in a heartbeat. This is not goodbye, it is merely the beginning.
Wonderful Things Really Do Happen Here.
Love with all my heart,
Melydia