Hey Guys 🙂
Eggy here! Today, I'm going to be sharing with you guys about the birthday celebrations I was invited you the past two days cause we had some amazing food at these two restaurants here in Guildford and also cause we had such an amazing time!
So The first birthday is my friend Hazel's, She's 20 now! Happy Birthday Hazel! Wishing you all the very best! She had her birthday dinner at ZiZi's in Guildford, an Italian restaurant that served really really authentic Italian food! It was so so bomb. Even though I had pasta for lunch, I opted for pasta again, just cause I was never a huge fan of Pizza… (I know, what a weirdo) haha. But I ordered this King Prawn Pasta in Lobster sauce and it was so so delicious! I actually can't wait till I go back for it again!
More pictures from the party! That's Livvy and I 🙂
P.S I know you were expecting pictures of the food but we were too anxious to have it that we didn't take any pics haha… for once.
——
The second birthday celebration happened today, with my lovely flatmate Tiffany, who was so sweet to ask me to celebrate her birthday with her 🙂 We decided on this French restaurant in Guildford called Côte Brasserie, which I had never seen in Guildford before, turns out it was on one of the corners on the highstreet!
From the restaurant name, you can probably guess it's French cuisine! It was so so delicious. If you go during lunch or dinner, they have this amazing set meal deal where you can opt for a two course meal with a starter and mains for just £10.95 or add an additional £2 and get a dessert… why not… who has ever said no to dessert. especially for just £2.
This time, I knew I wanted to take pictures for you guys, so I made an effor to remember to snap before we indulged in out three course meal!
For starters, of course we had to choose the mussels. cause what is French cuisine without some mussels. Les Moules (French for Mussels) which were served in a marinara tomatoey sauce which was so delicious because the flavours just perfectly complemented each other.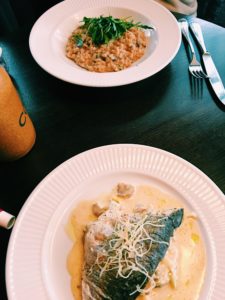 For the mains, I opted for a seabream fillet served over some mushrooms and creamy sauce which was delcious and Tiffany got a Mushroom risotto which looked and tasted equally bomb. DEFINITELY a place to visit in Guildford 🙂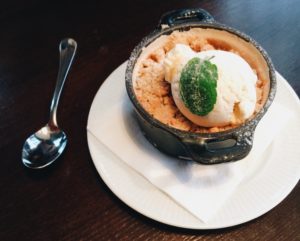 For Dessert, She ordered this "Tarte aux Pommes" or "Apple Tart" Well it's not exactly a tart, more of a crumble served with some vanilla ice cream… Mmm.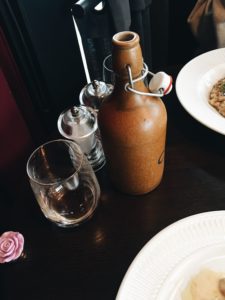 Also, can we just appreciate how they served us our tap water in this jug. If you didnt know, it is a really European thing to have a jug of water served at each table, whereas restaurants in England prefer to just bring a jug of water to fill your cup up and take it away!
Anyways… that's all for now! I'm super terrified cause tomorrow, I'm having my wisdom teeth extracted and I'm so so nervous.. which explains why I'm up at 2am… blogging. hahahaha
Wish me luck.
Till next time,
Eggy x