Hi everyone!
We're into Week 2 of the new term and things have just about begun to heat up around here. There's no intended pun here because it's still cold. The weather just continues its fluctuations every alternate week. We're getting a couple of days of fair weather and the forecast says it's going down again. But the fair weather allows me to be in a t-shirt and shorts in my room, which is awesome! In any case, I like to see that it's a little brighter when I get up at 7am these days. I just found it really weird back in December and January that when I got up at 7am and it's still all dark.
Anyway, things are beginning to "heat up" here because Semester 2 is full of packed schedules that doesn't just involve the semester modules but also the Masters dissertation that needs to be done over the summer. I'm starting out early because I'll be working on something that I have a keen interest in and when I've got more to share about, I will, in due time. The thing about a dissertation is that you should always start keeping it at the back of your mind while you're navigating through your coursework as early as the start of the new academic year. At least that's the advice I got from my friends and mentors who've completed their Masters dissertation/PhD thesis before me. Plus, it should always be something that interests you. It's quite pointless to do a dissertation on something you have no interest in. You'll end up doing it for sake of completing it and you won't really enjoy it at all because it's like a chore. I've decided to start conceptualising it early because I've had my fair share of being last minute during my first year as an undergraduate at SMU and I decided there and then, never again. There's just too many things for you to juggle when it all comes crashing down at the end. You really don't want that!
I meant to write a post last week on settling back into Guildford and the motions of things here after my surprise 2-week return to Singapore. But unfortunately, an accident happened in my accommodation and my laptop got doused with half a bottle of water. I saw it flicker gradually to its "death" and thinking out loud, "jialat already lah… everything is on it". I say "death" because it didn't actually die, which is an absolute miracle! It did get liquid-damaged though and the only I could do was to pray hard that it wasn't too serious. It managed to come back to life after praying and some hairdryer treatment but I could tell that something was not right so I spent the rest of the next hour backing up every little thing before sending it in for servicing the next day. I use a MacBook Pro and I know that when it comes to servicing, Apple does a terrible job. You send your computer in for a diagnostic (which they charge you around £100) where they'll tell you what you already know (in this case, liquid damage) then they'll charge you another few more hundred pounds to change everything because they don't know what exactly is wrong since the real technicians and engineers are the ones in Foxconn, China. Thank God I found this little shop called iDoctor4u along Walnut Tree Close. They offer repair services all Apple products but will first do a diagnostic check (FOR FREE) before starting work on it. The engineer will then tell you the estimated cost of repair and ask you if you're fine with it before starting work on it. It's still going to cost you though. Come on, you can't expect liquid damage to cost anything less than £100 to fix unless you're in Shenzhen right? So yes, the friendly engineer fixed it and it's now working perfectly well, I can type this out on it! He said it's a miracle that it could be fixed though because the parts that were damaged generally can't be repaired. I told him the first thing that came to mind, "this computer now works on prayer!" Here it is, back in working condition!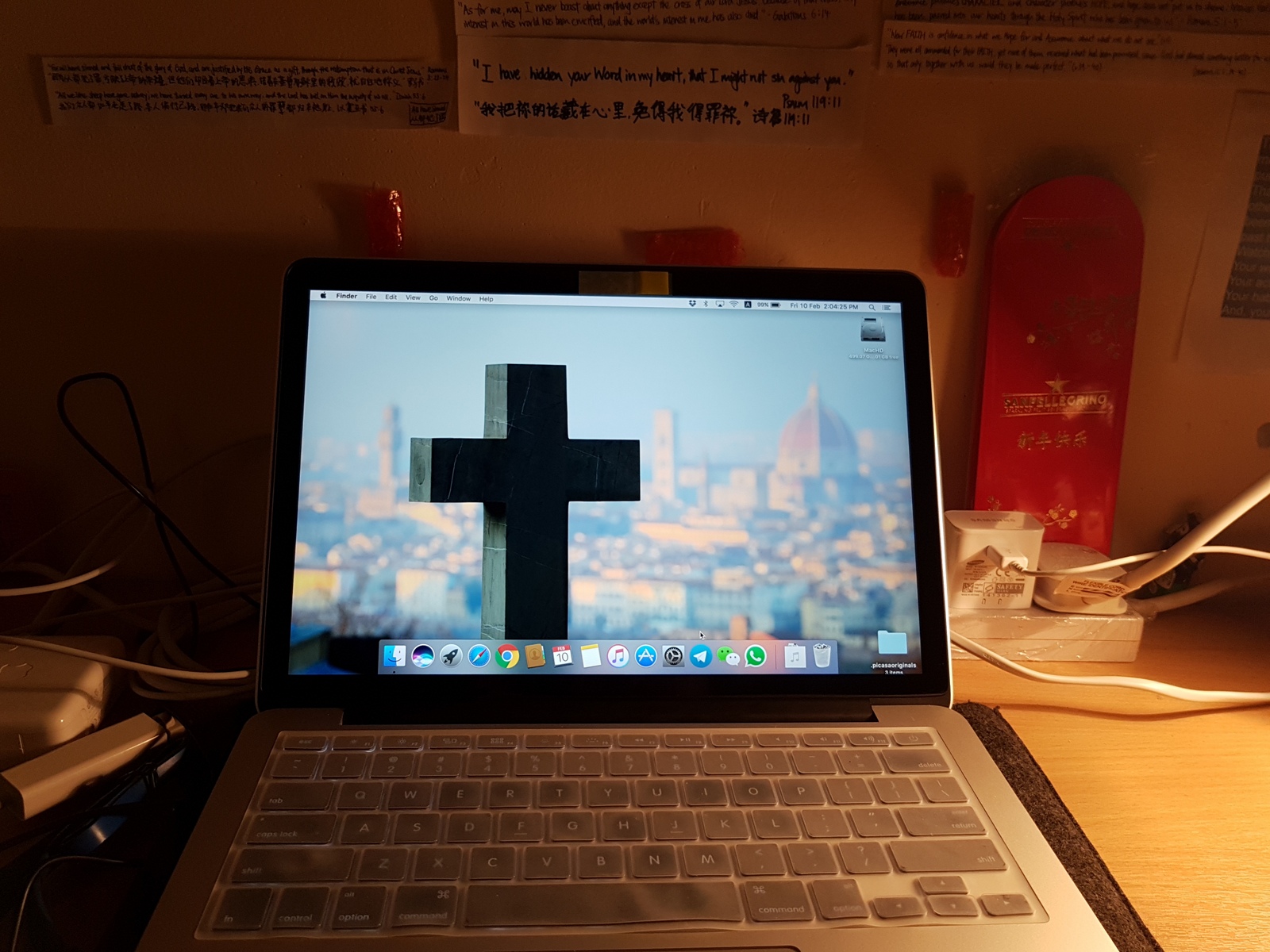 So yes, if you have a Mac or Apple device and don't want to be overcharged by Apple servicing, iDoctor4u are the fellas to go to. (I don't get a commission for this recommendation 😜)
My 2-week visit home involved a lot of eating… A WHOLE LOT! Everyone I met kept stuffing me with food, suggesting that the UK has been starving me, which is really strange because I cook so much and eat so much here! Anyway, it's never nice to say no to food especially during Chinese New Year so I just kept eating and eating. Here's the multitudes of  food from the first 3 days:
First, from my mum's kitchen…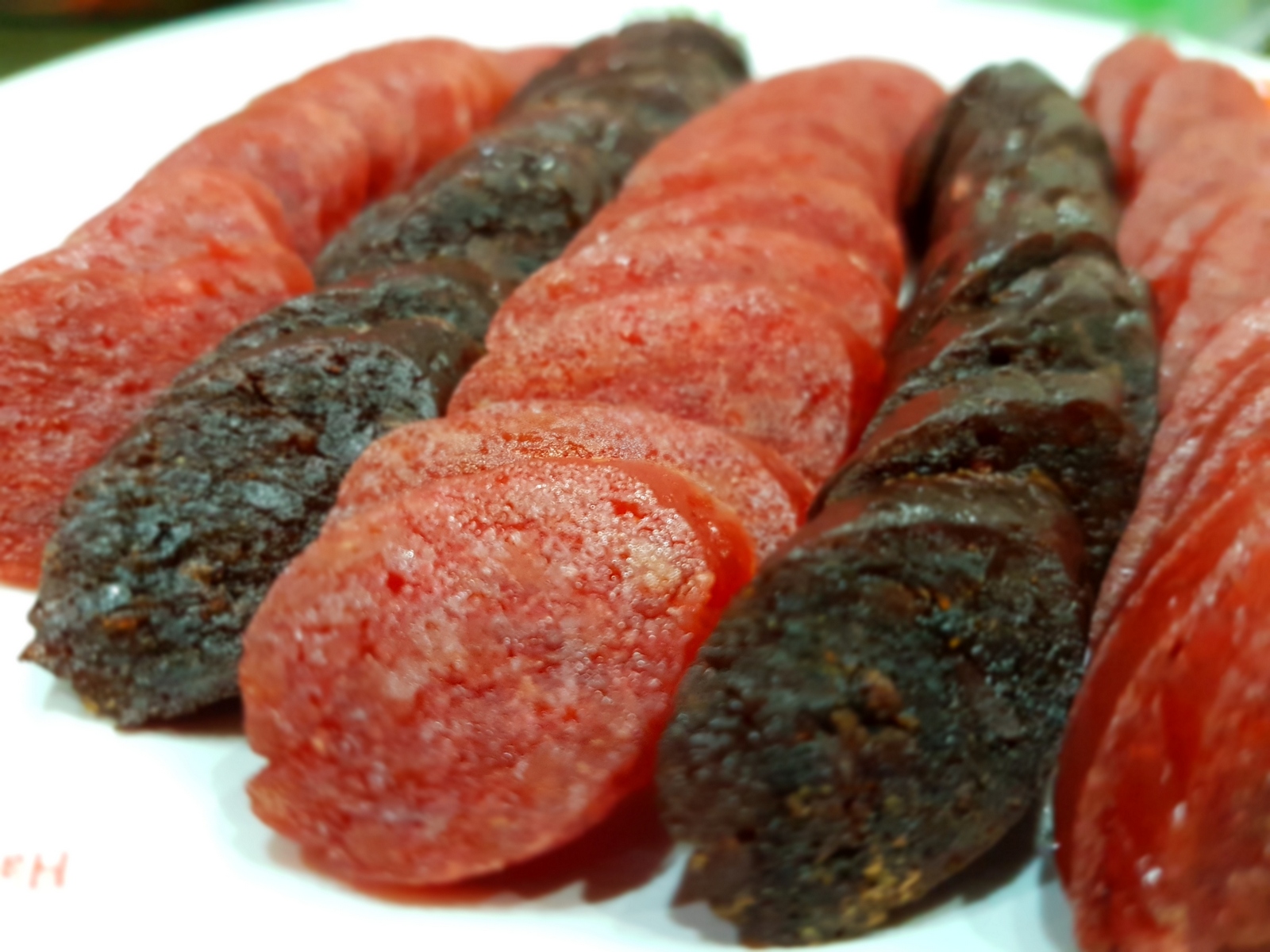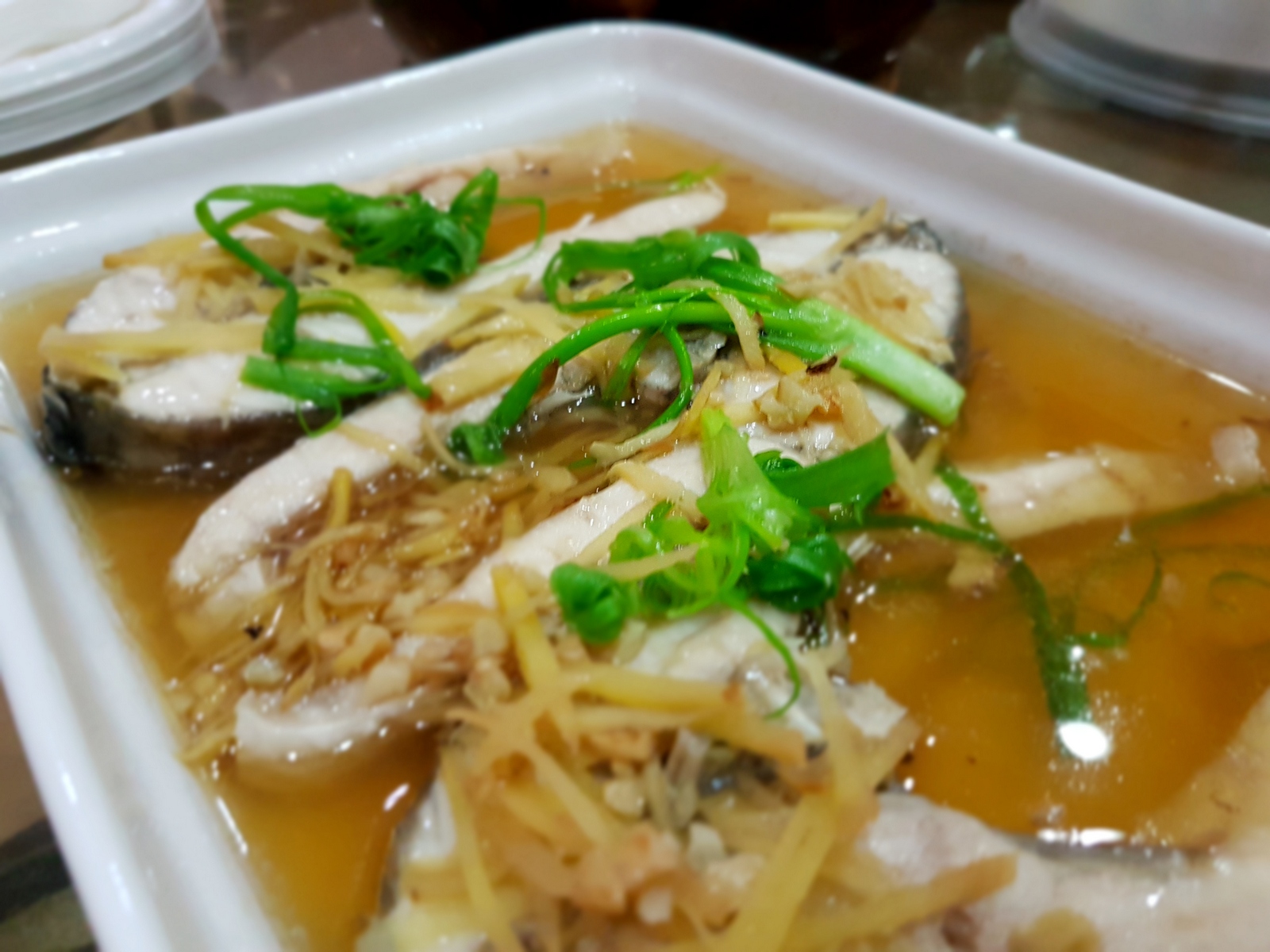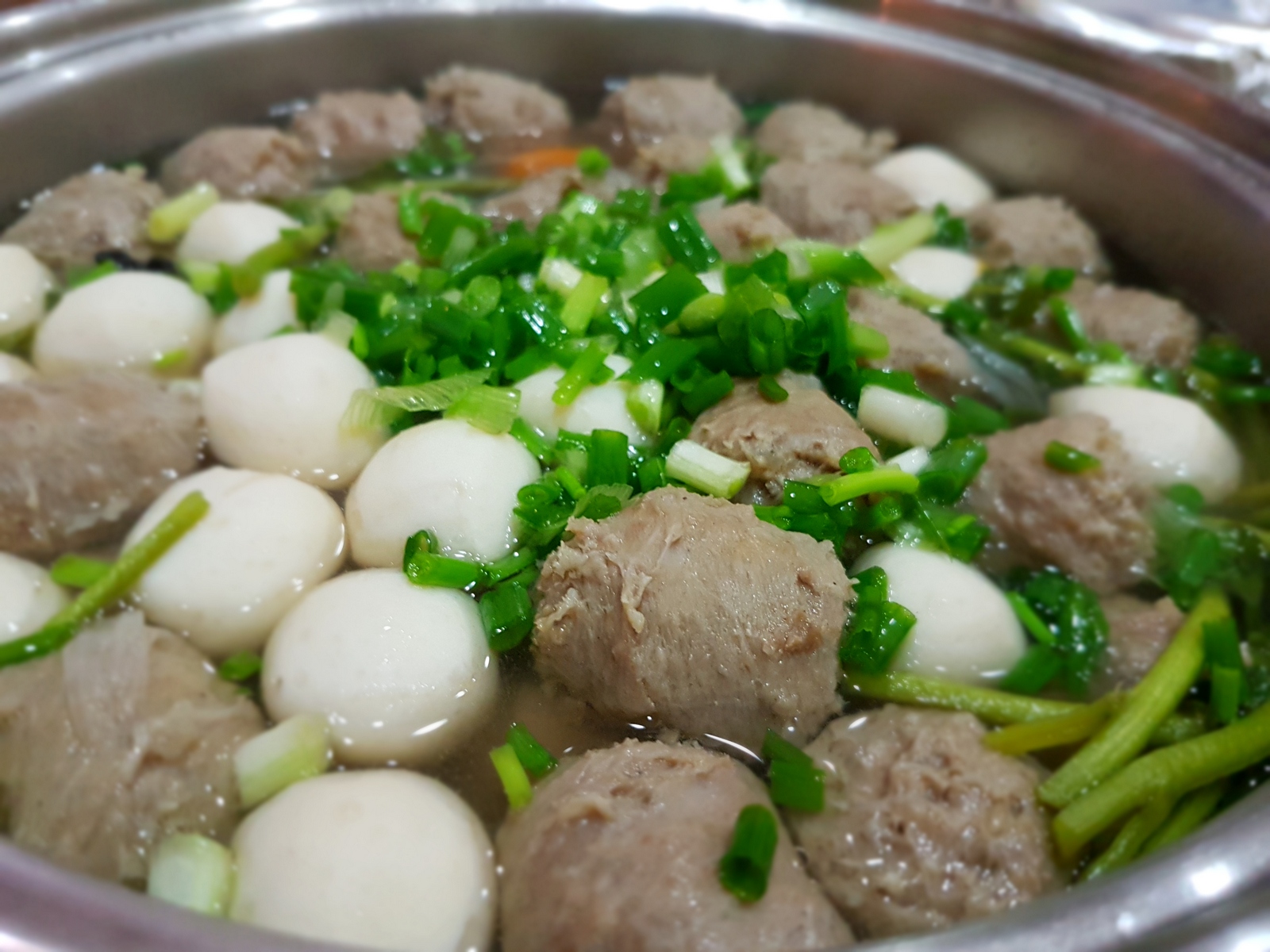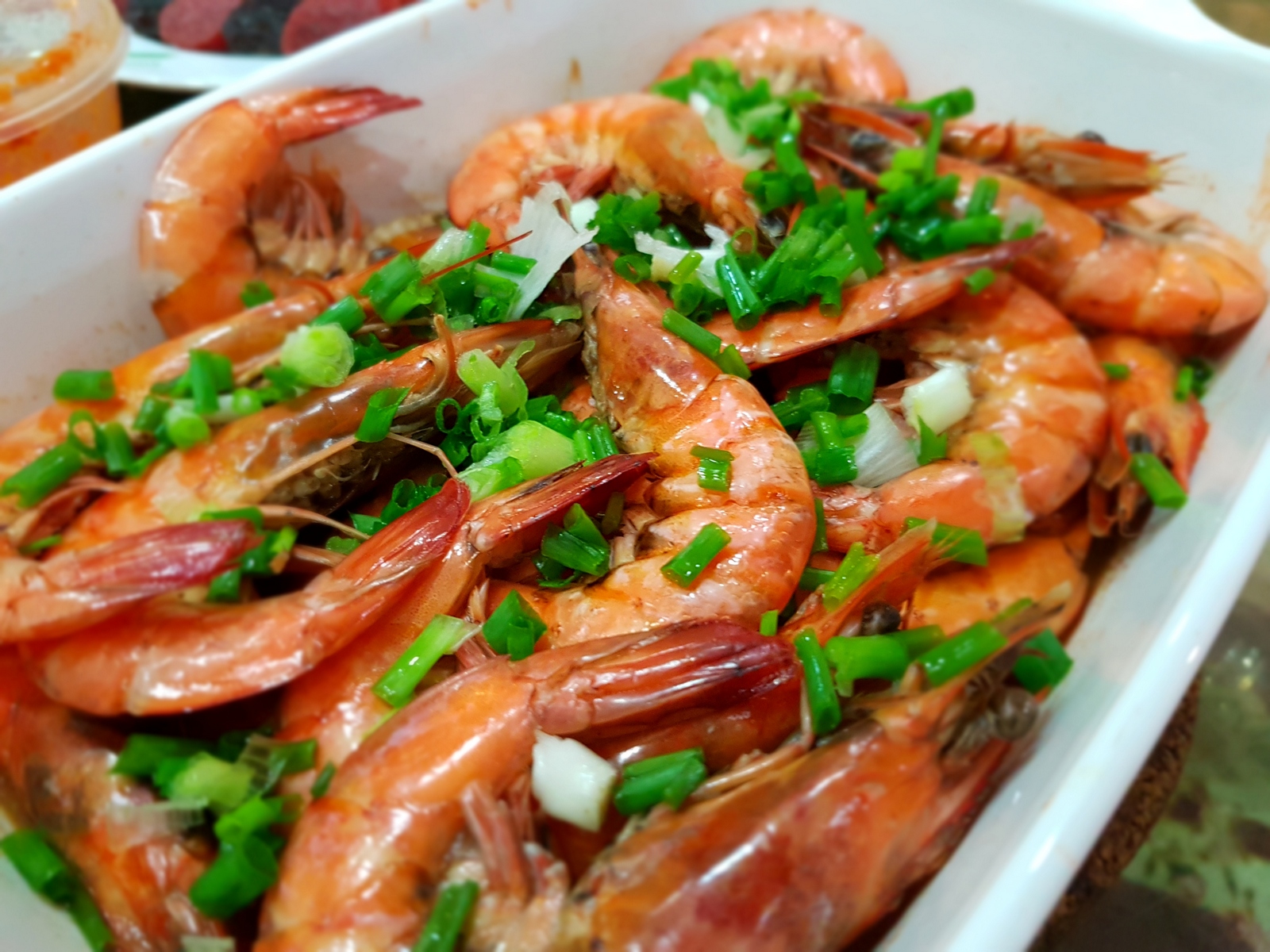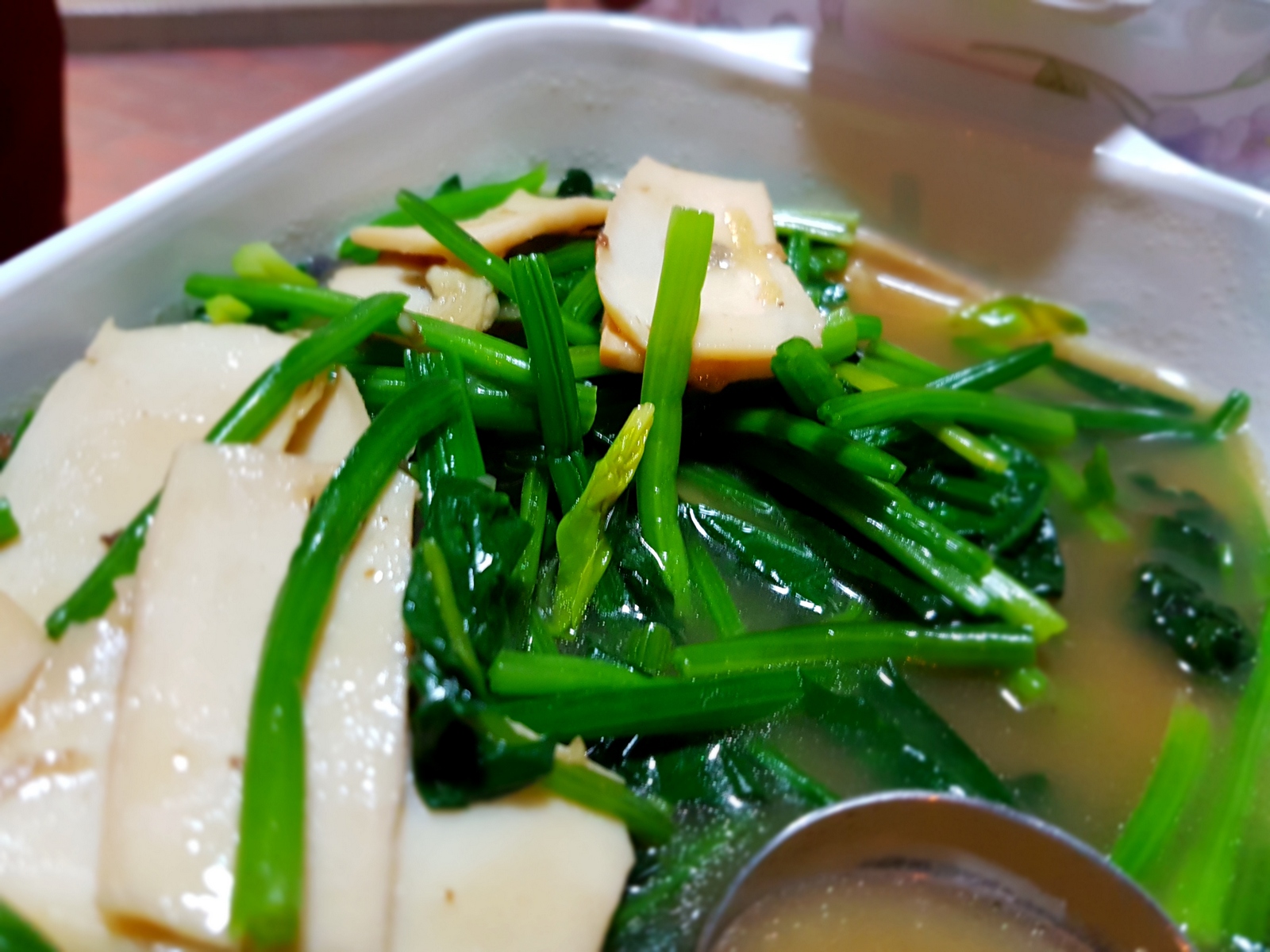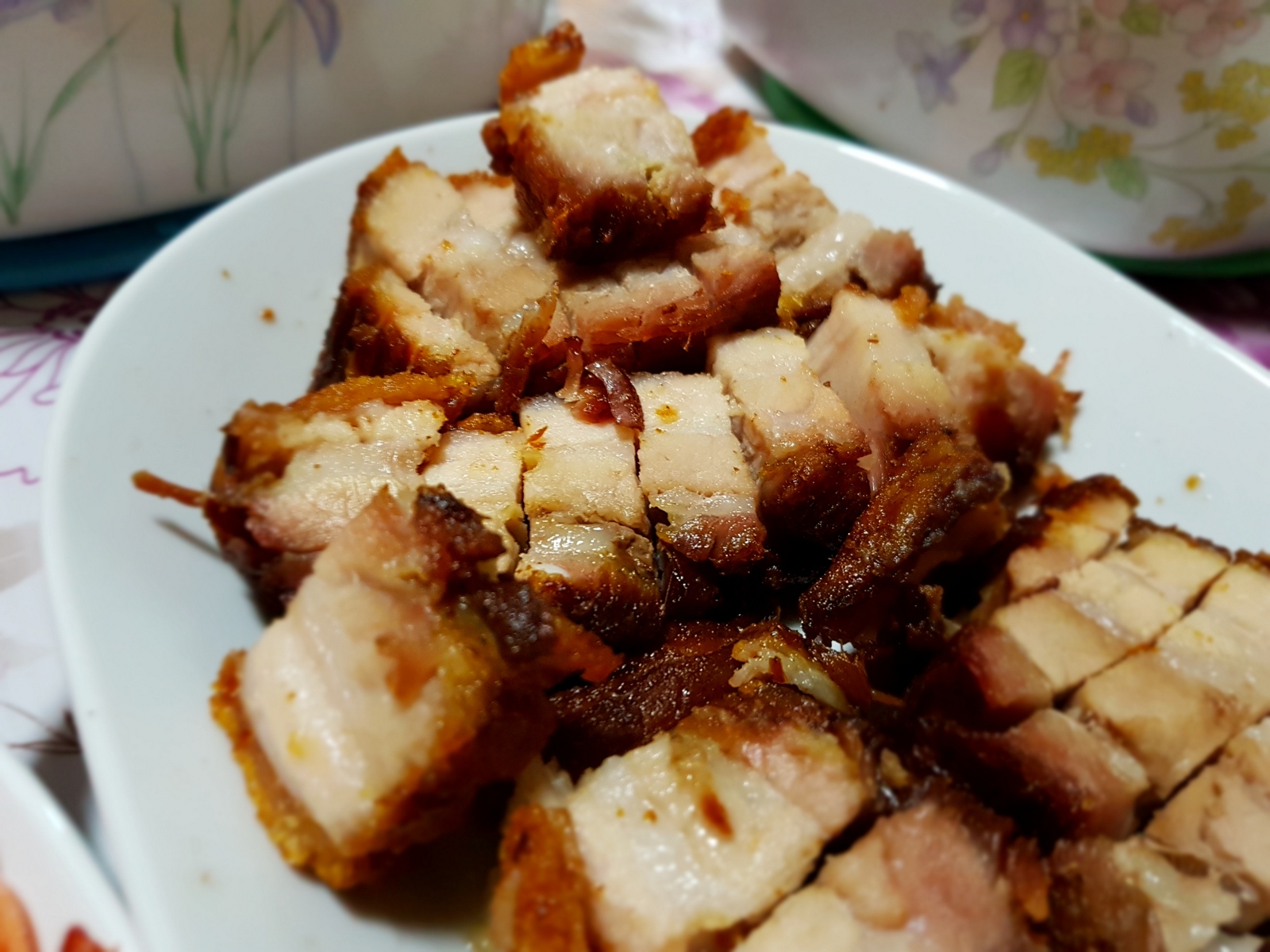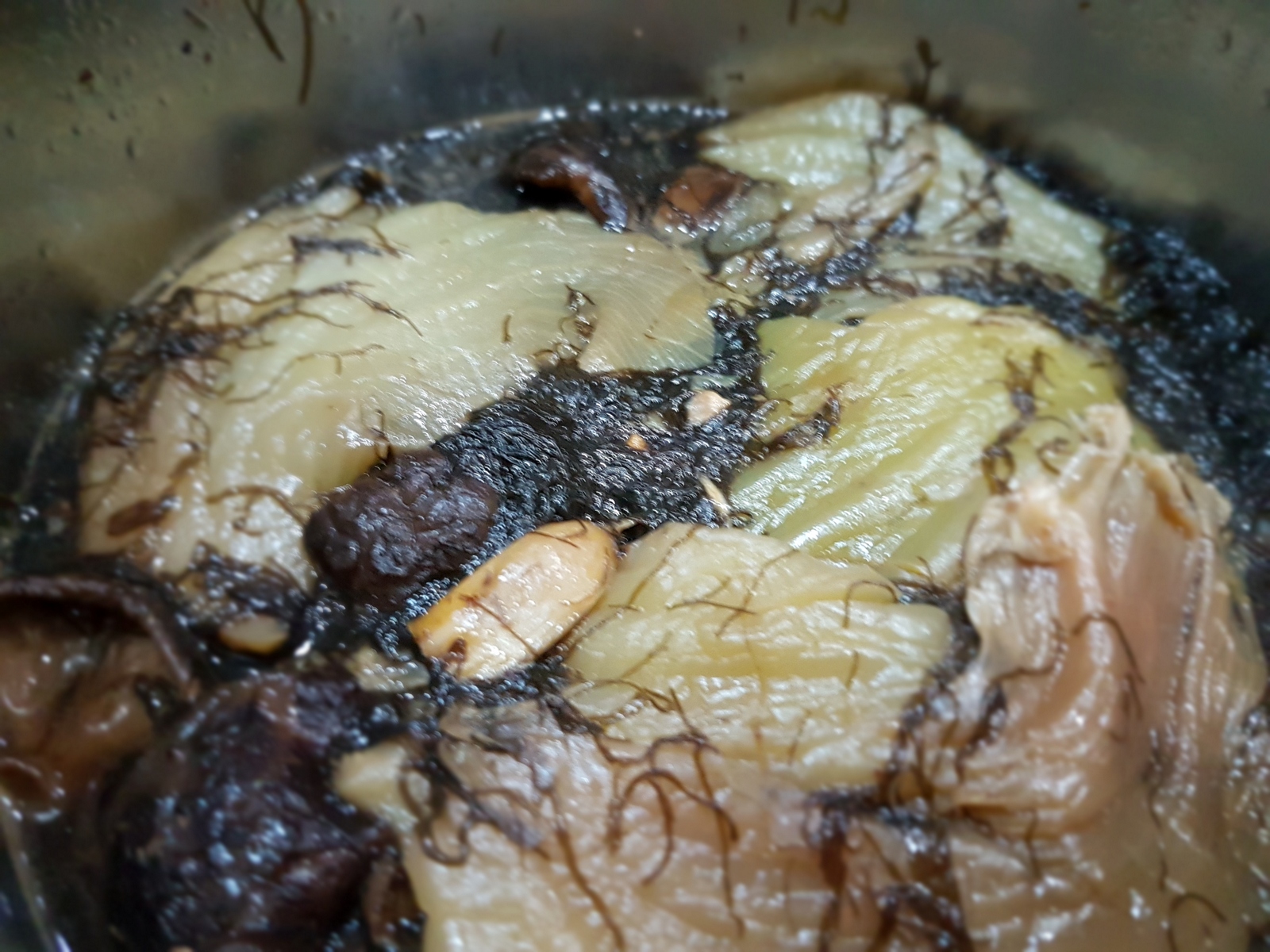 Looks scary, doesn't it? This braised dish is made up of 大菜 (literally Big Vegetable) and 发菜 (which sounds like 发财, which means the bringing in of wealth, hence it's popularity in new year dishes), along with mushrooms and garlic.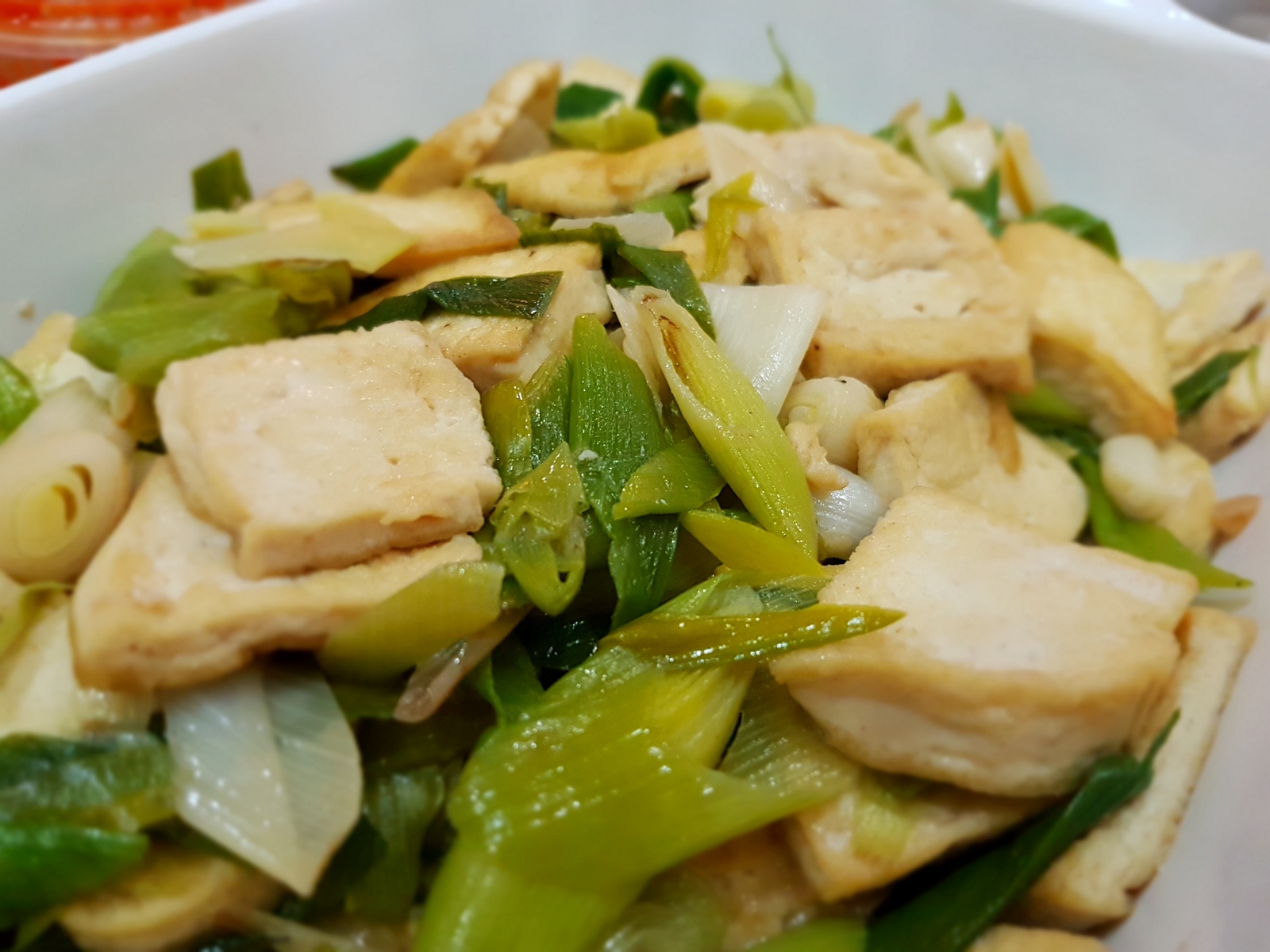 My sole contribution to the New Year Day 1 spread! Leek with fried tofu. I still don't get how my mum does it, preparing so many dishes on Day 1? I prepare 1 and I'm already drenched.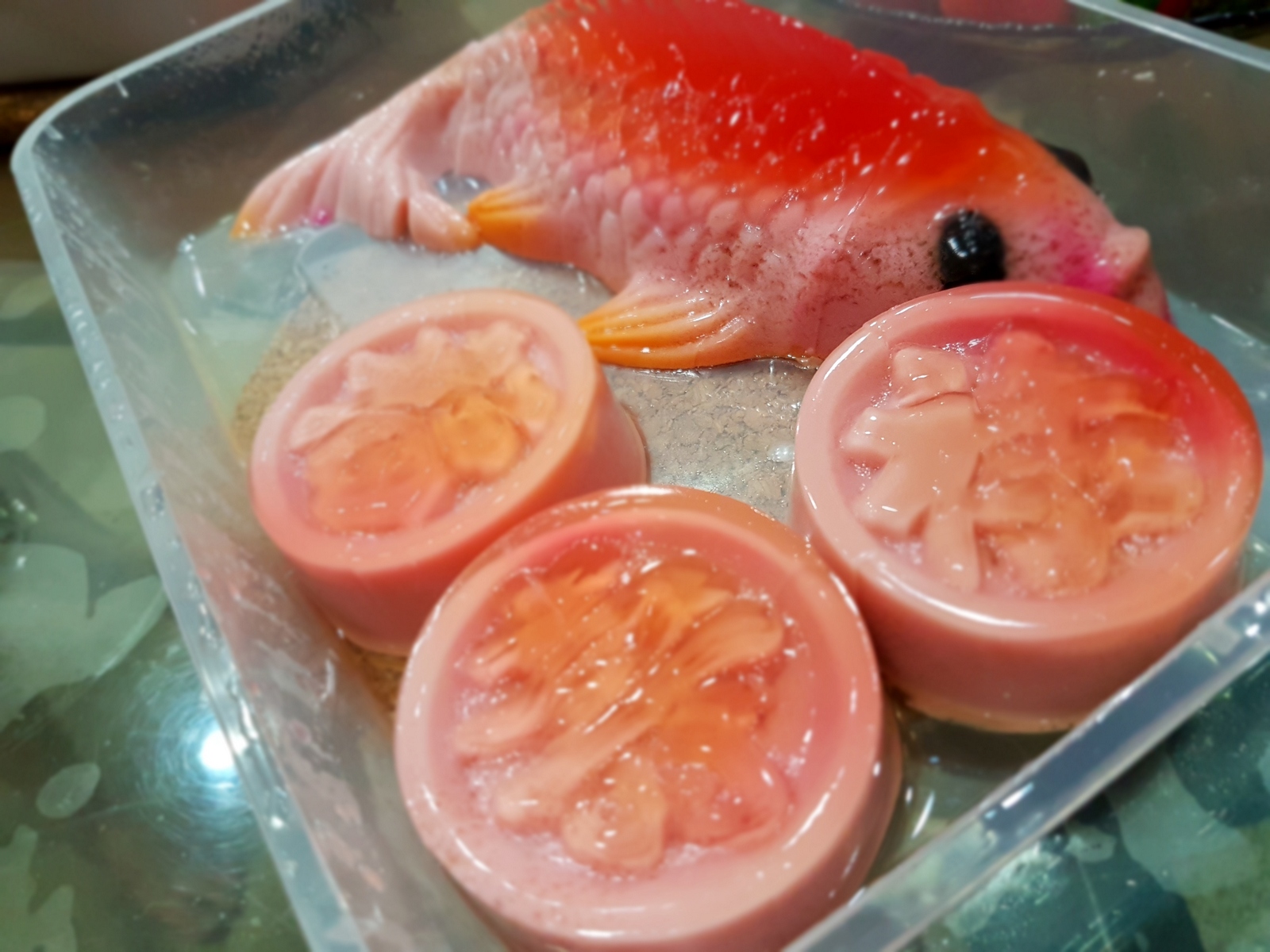 What's a New Year spread without dessert? This one is my aunt's specialty! Which is obviously titled 年年有余, (wishing you surpluses every year). 鱼 (yu) sounds like 余 (yu), hence the fish.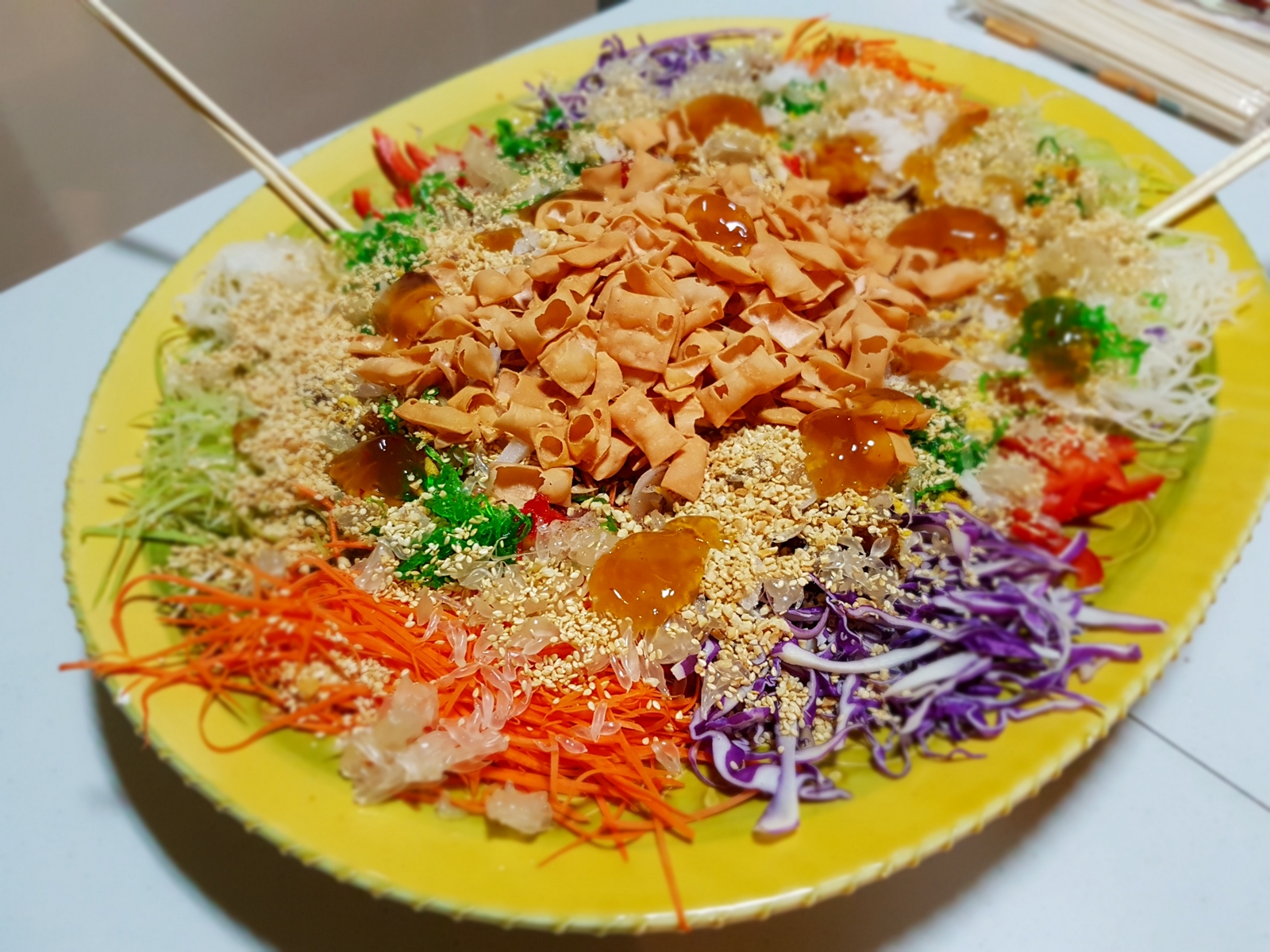 Of course, there has to be yusheng too! This colourful dish is a Singaporean creation for the new year where everyone tosses all these colours up as high as they can while shouting New Year phrases of blessings and wishes. Tends to make quite a mess. This one's homemade so the ingredients are handpicked carefully by my aunt and are especially fresh and sweet when they need to be.
On to Day 2 then, which began in church, where I intended to surprise everyone because no one knew I'd be back. My Sunday School kids got a big surprise and were running all over the place with joy! Being a Chinese church, we always make sure that the church is well decorated with "red red stuff" everywhere including the couplets of words at the back. Everyone typically comes in with beautiful colours to make sure that the photos we get here are really pretty!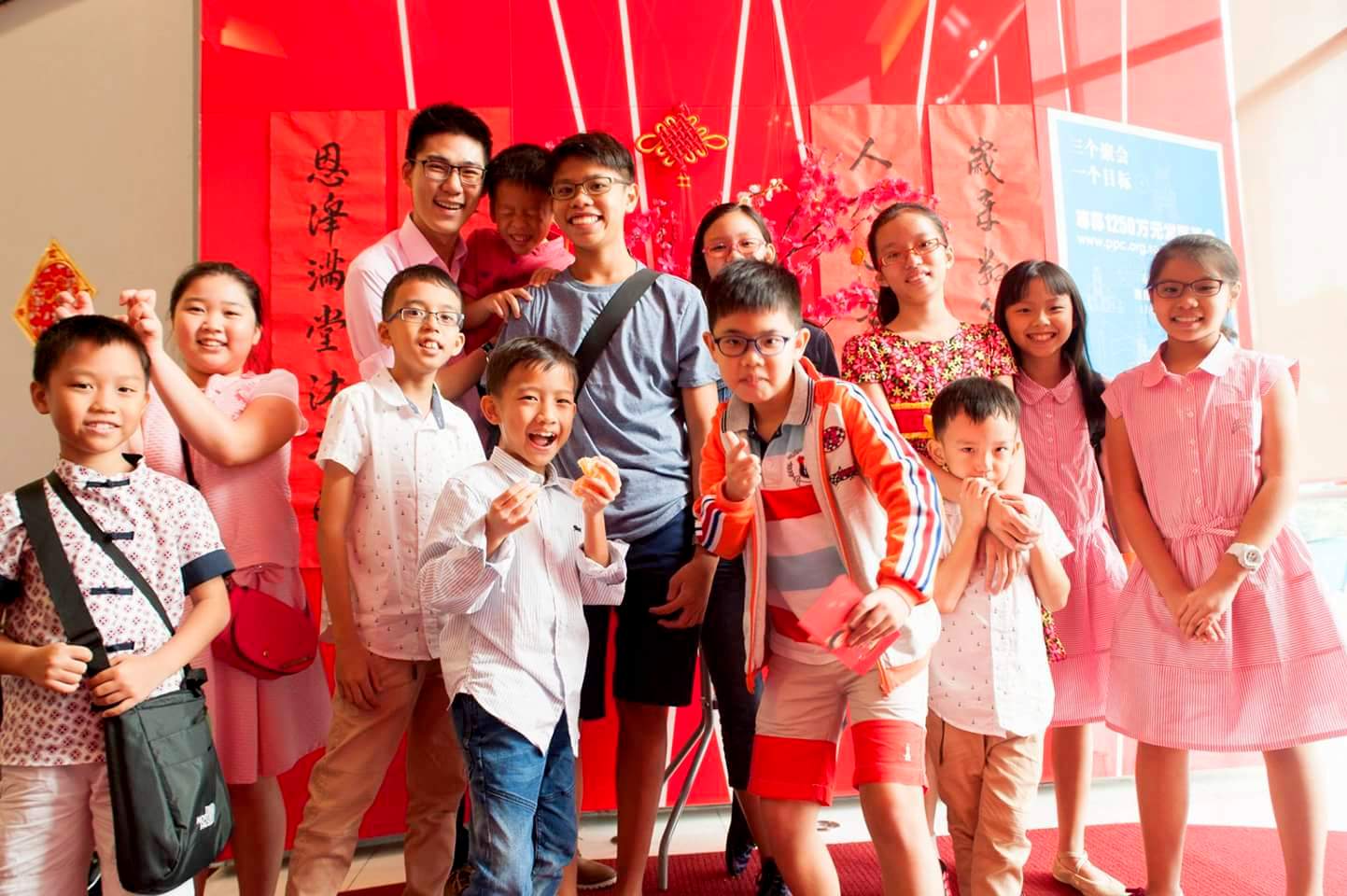 Here are the 2 pairs of couplets at the back which are "calligraphy written" which the traditional brush.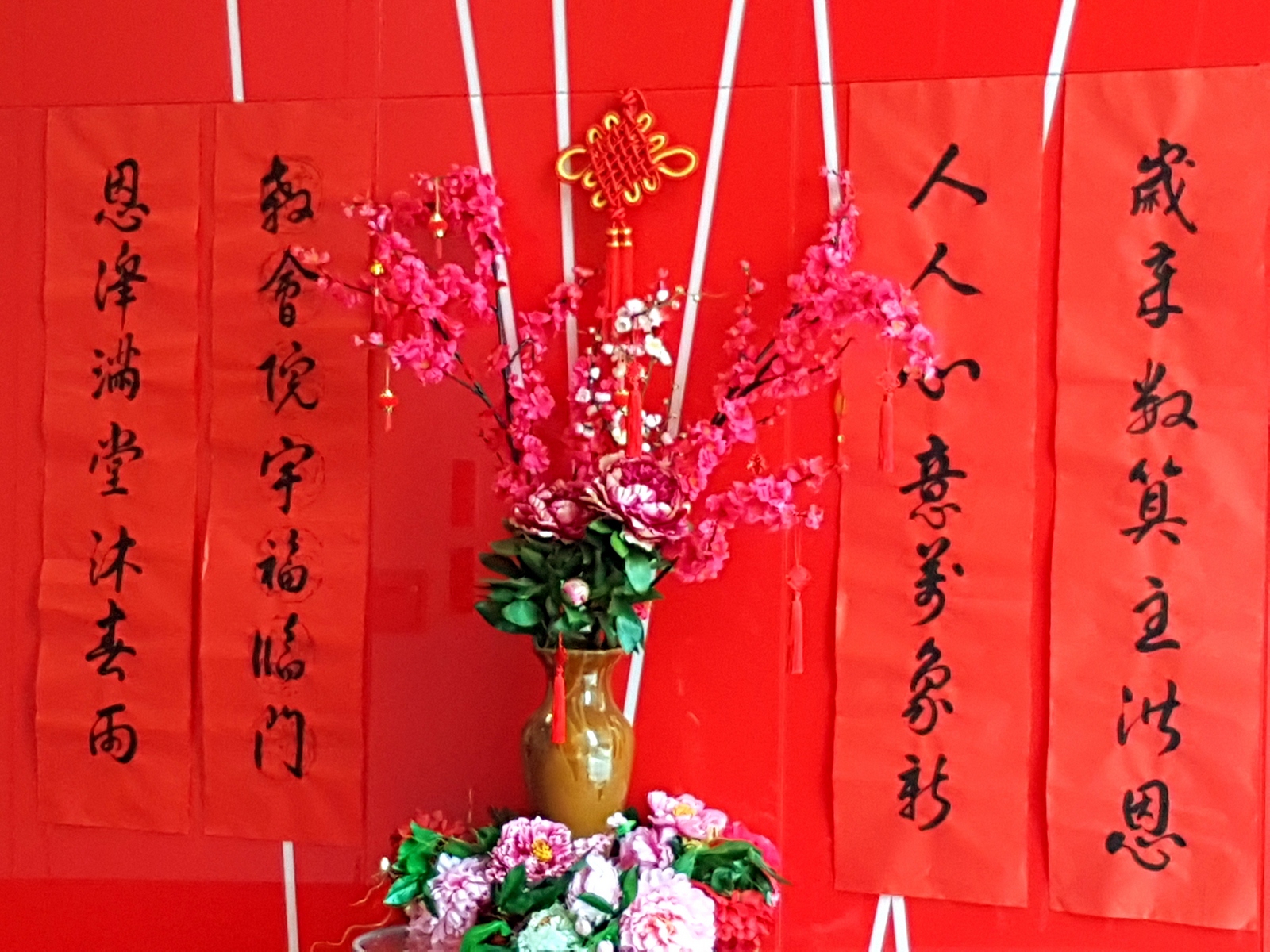 Next up is Day 2 visitations and more snacking!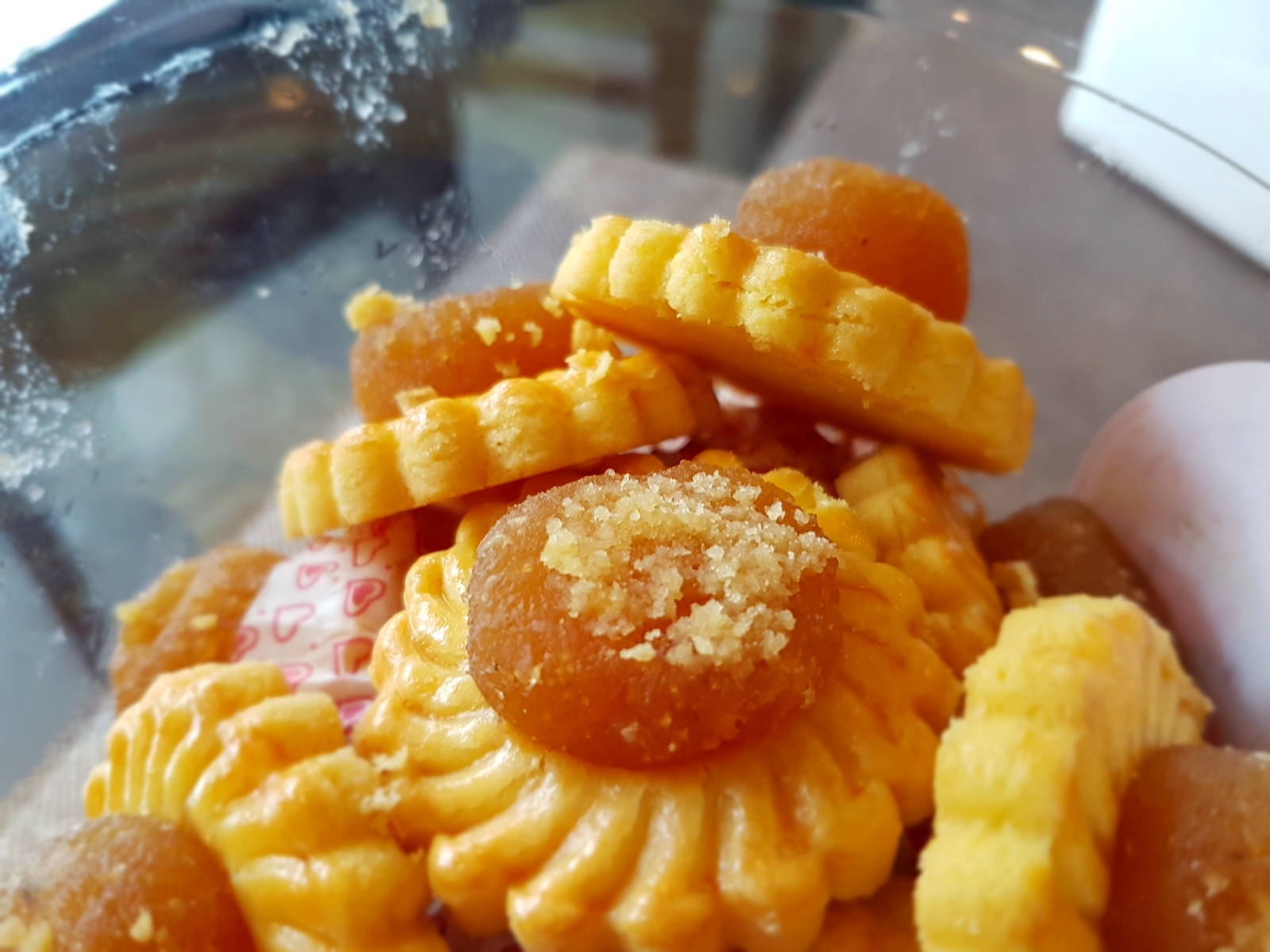 This is the more traditional version of pineapple tarts that are becoming really hard to find and expensive too…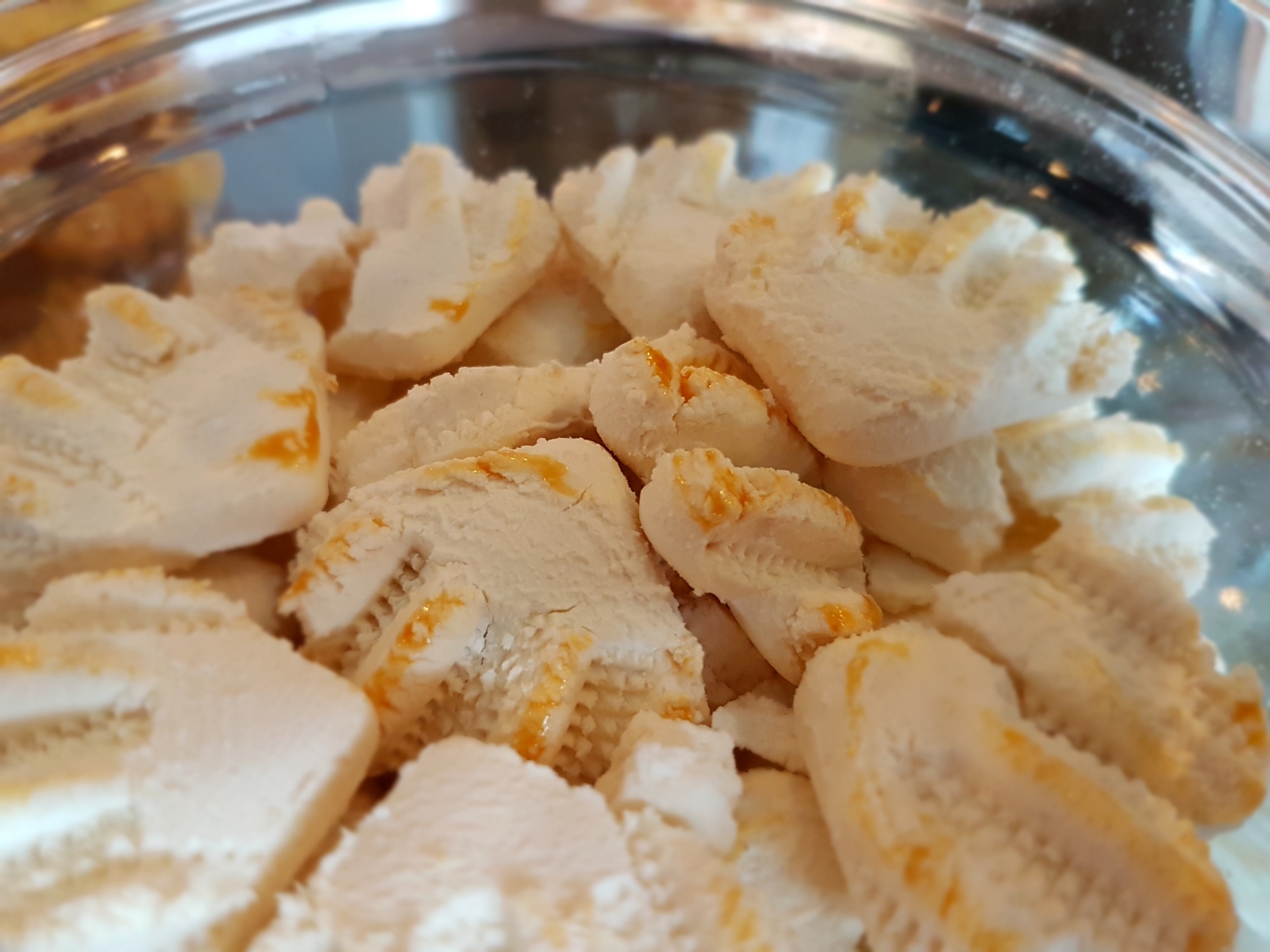 Kueh Bangkit: One of my favourites as a kid because of the powdery butter and coconut blend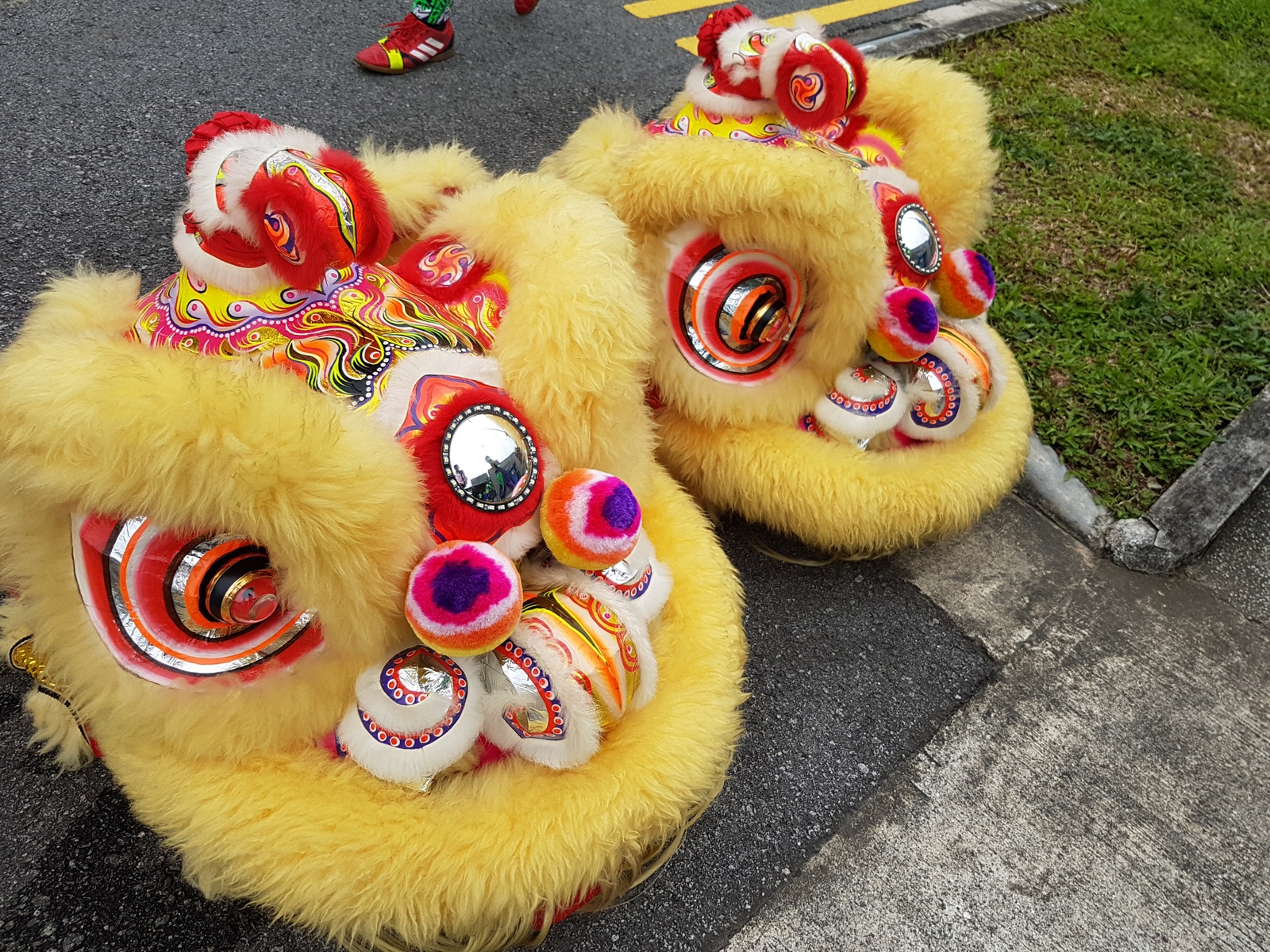 Who's up for a dong dong chang Lion Dance?
Since it was Day 2, many restaurants were already open by now so our family dinner that day was at Imperial Herbal at Four Points by Sheraton, Singapore.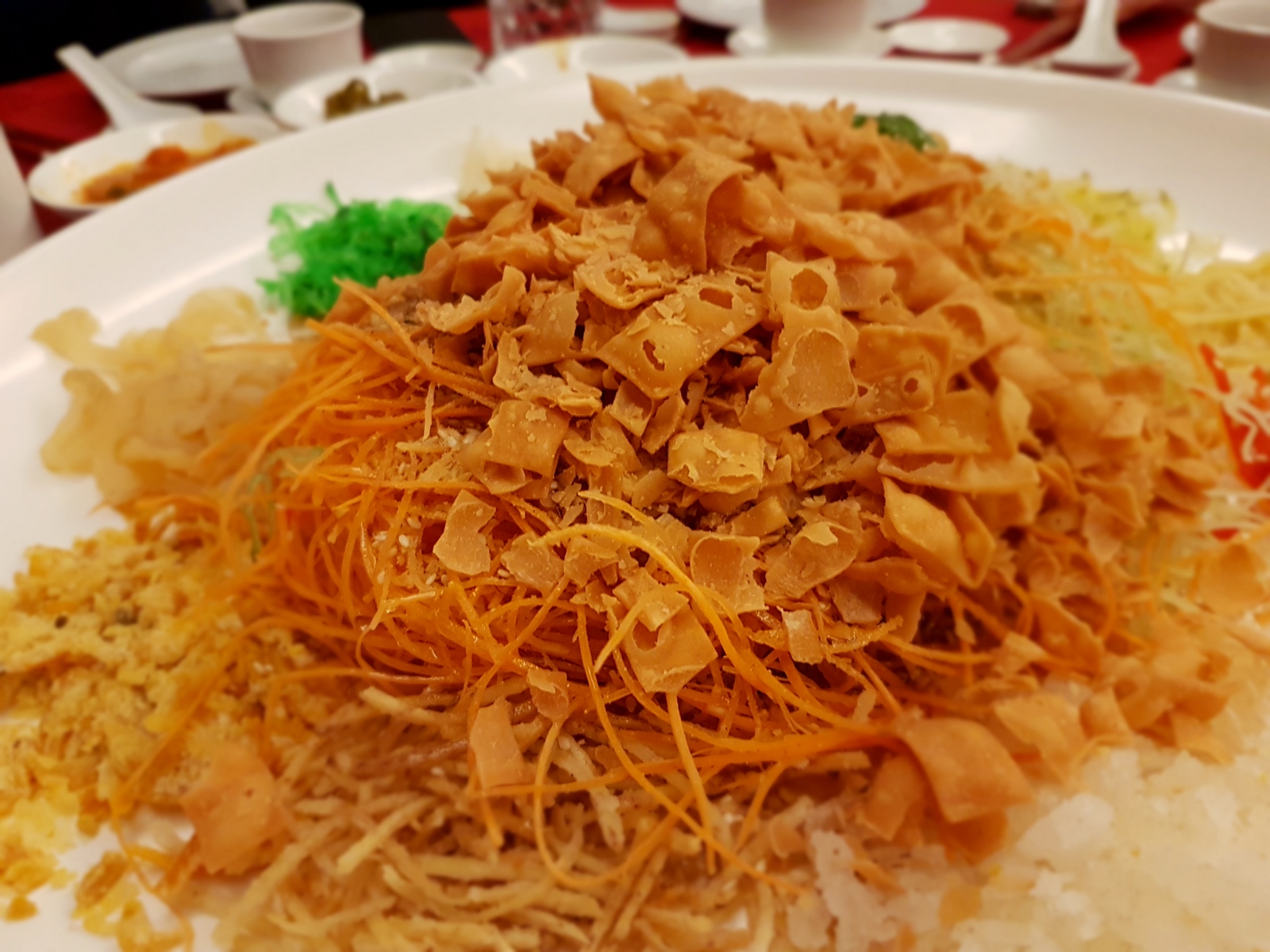 The commercial ones are less colourful, as you can tell by comparison.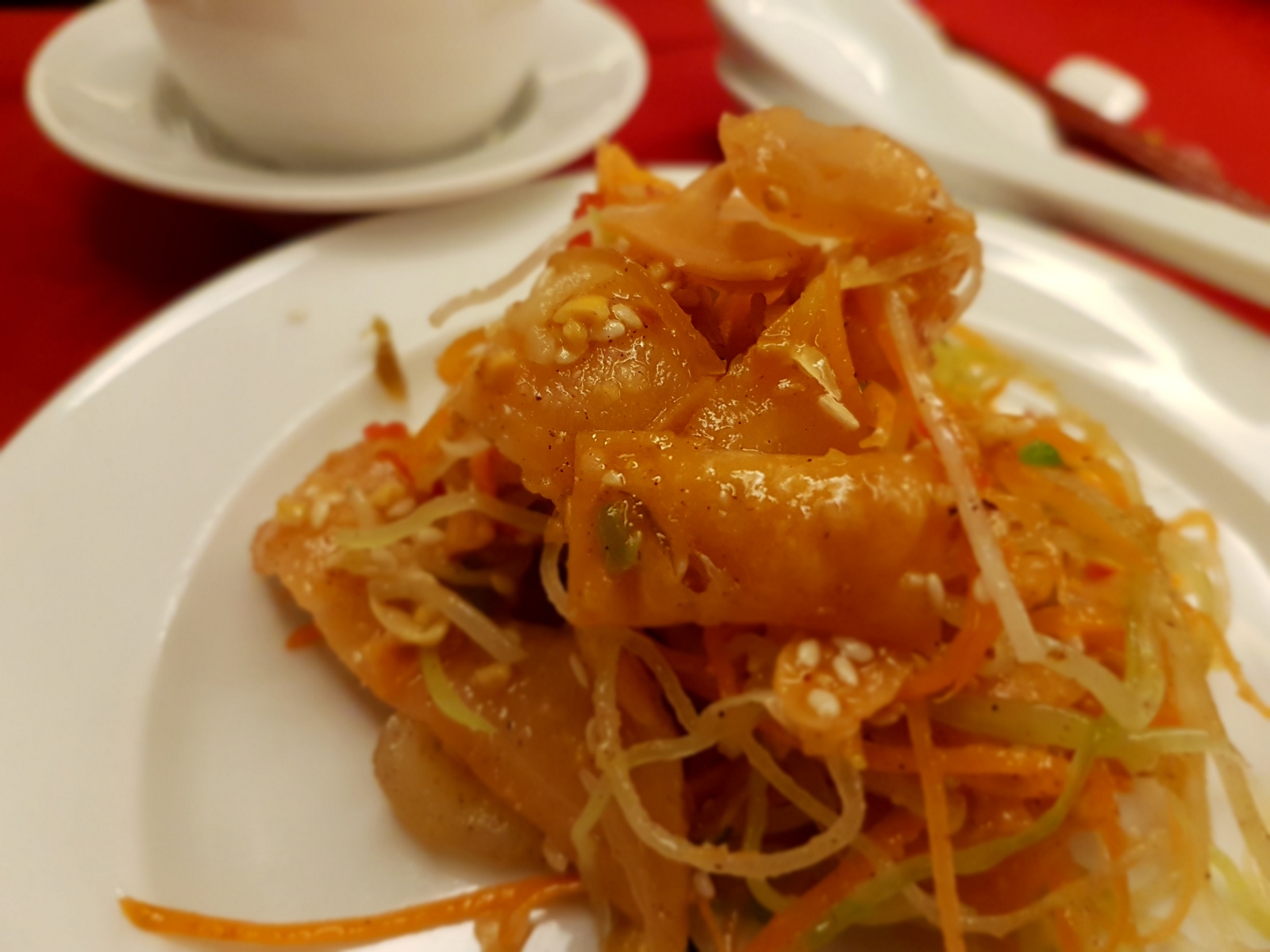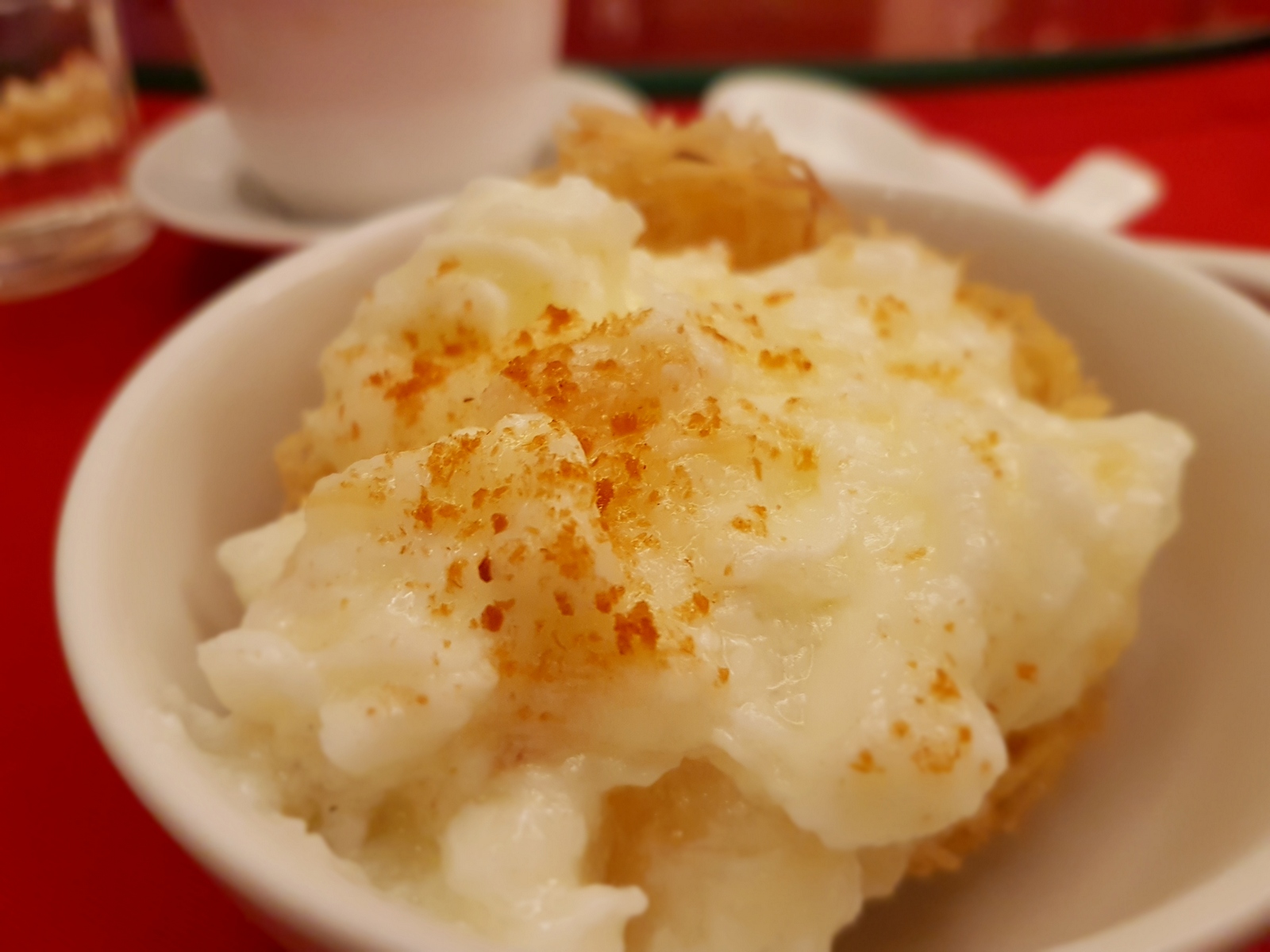 This dish is near impossible to replicate. What you see here is fluffy egg white resting on what looks like pastry (similar to the pastry part on an egg tart) when it is actually made up of the egg yolk. The amount of work that goes into creating this exquisite dish is just crazy.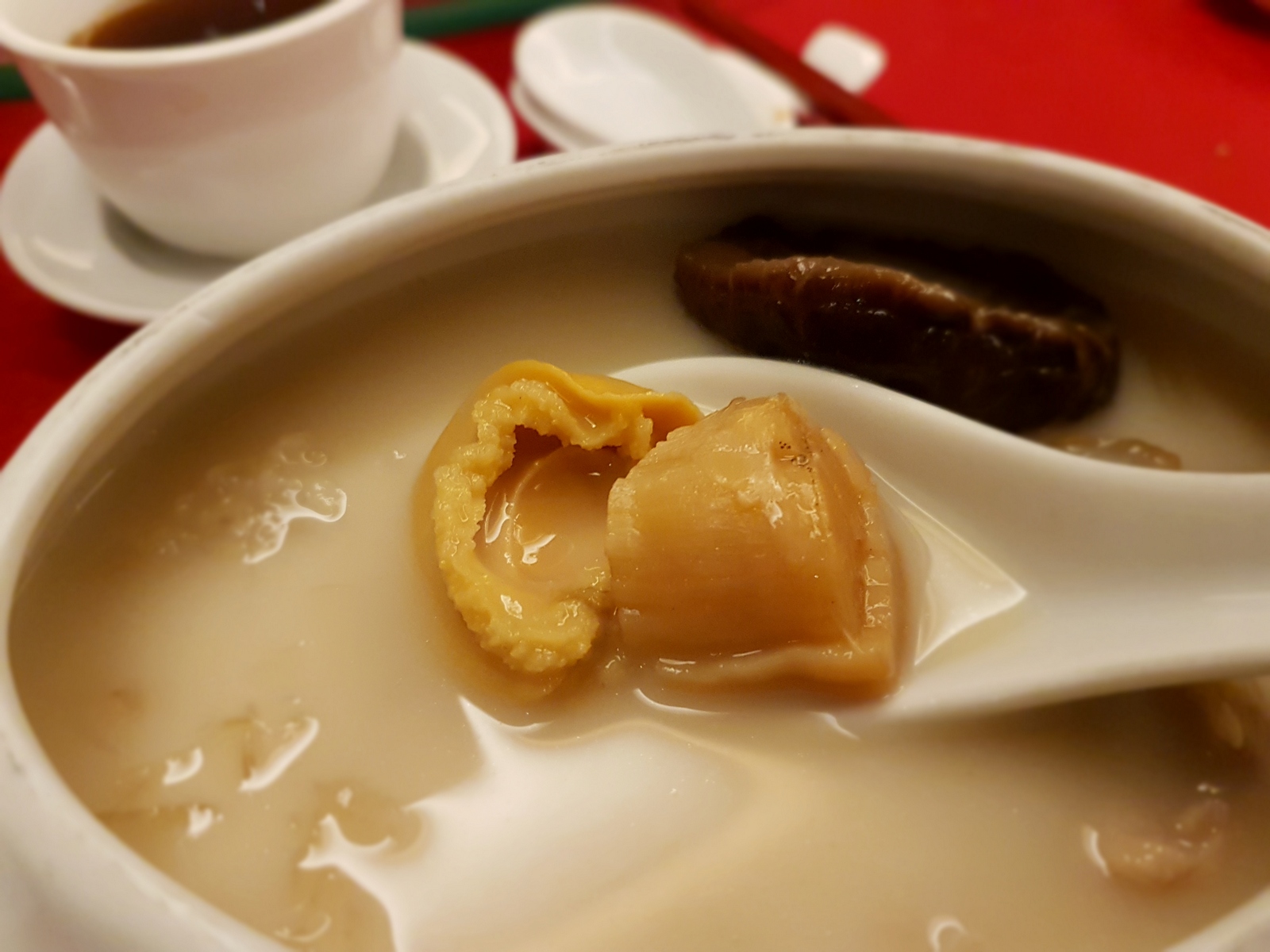 This is their famous "Buddha Jumps over the Wall" soup that contains the most premium ingredients including abalone, scallops, cordyceps (冬虫夏草), fish maw among other things. It takes days to brew this soup and because it's double-boiled, the flavour is even stronger. Funny thing is, after drinking this, you're full but the dinner has only just started!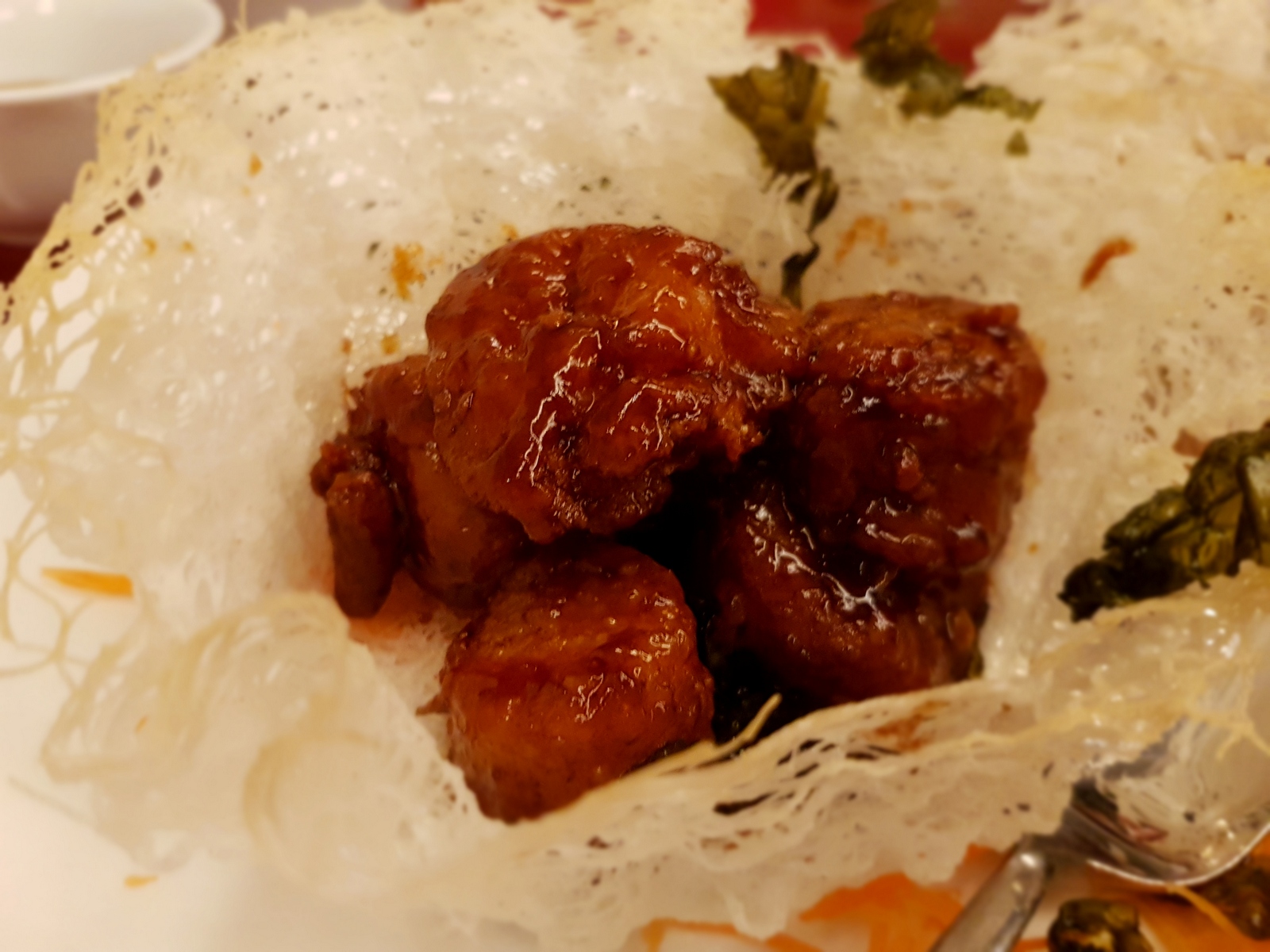 Looks like pork ribs but it's not. It's scallops that are cooked in a caramelised sauce.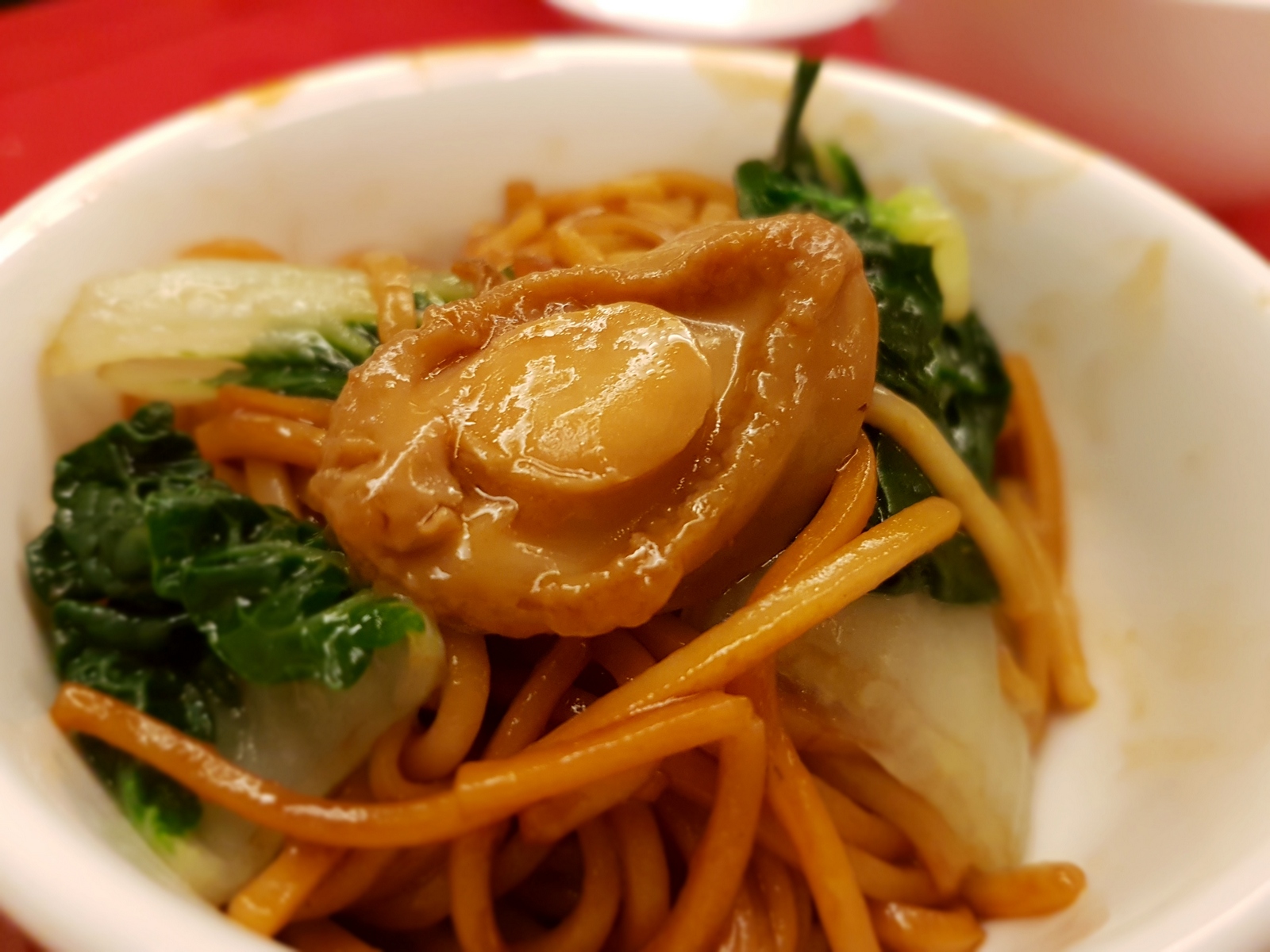 You might have heard of the Abalone noodle flavour for the instant noodles. I'm pretty sure it's based on something like this…
That's day 2 and because day 2 fell on a Sunday, we still have a Monday more! Woohoo! More feasting!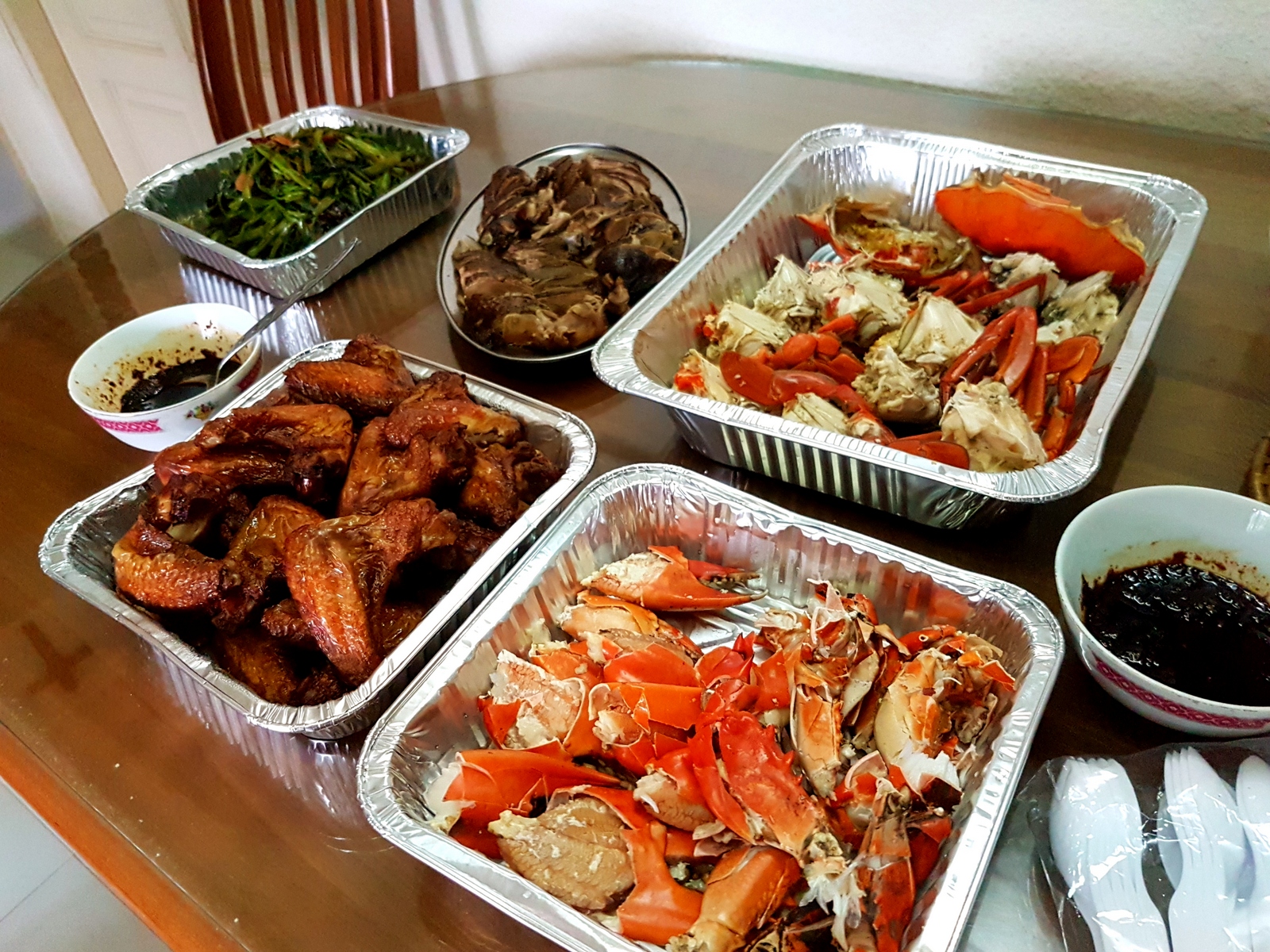 Prepared by my aunt and uncle who are both pastors but also masterchefs in their own right! They make the best sambal chilli ever! I'm devastated when I don't have any of that here…
Turns out my feasting didn't stop at Chinese food because my good Manchester United supporting buddies decided that we should all meet for a nice Japanese buffet at Mitsuba. We realised we weren't the little kids who could clear up the restaurants stock anymore and were now more picky on the quality of the things we picked. Still, this was top-notch Japanese food and is surely 100 times better than most of the Japanese stuff available in the UK. This had my Japanese craving satisfied for the next 9 months until I go back after my dissertation is done.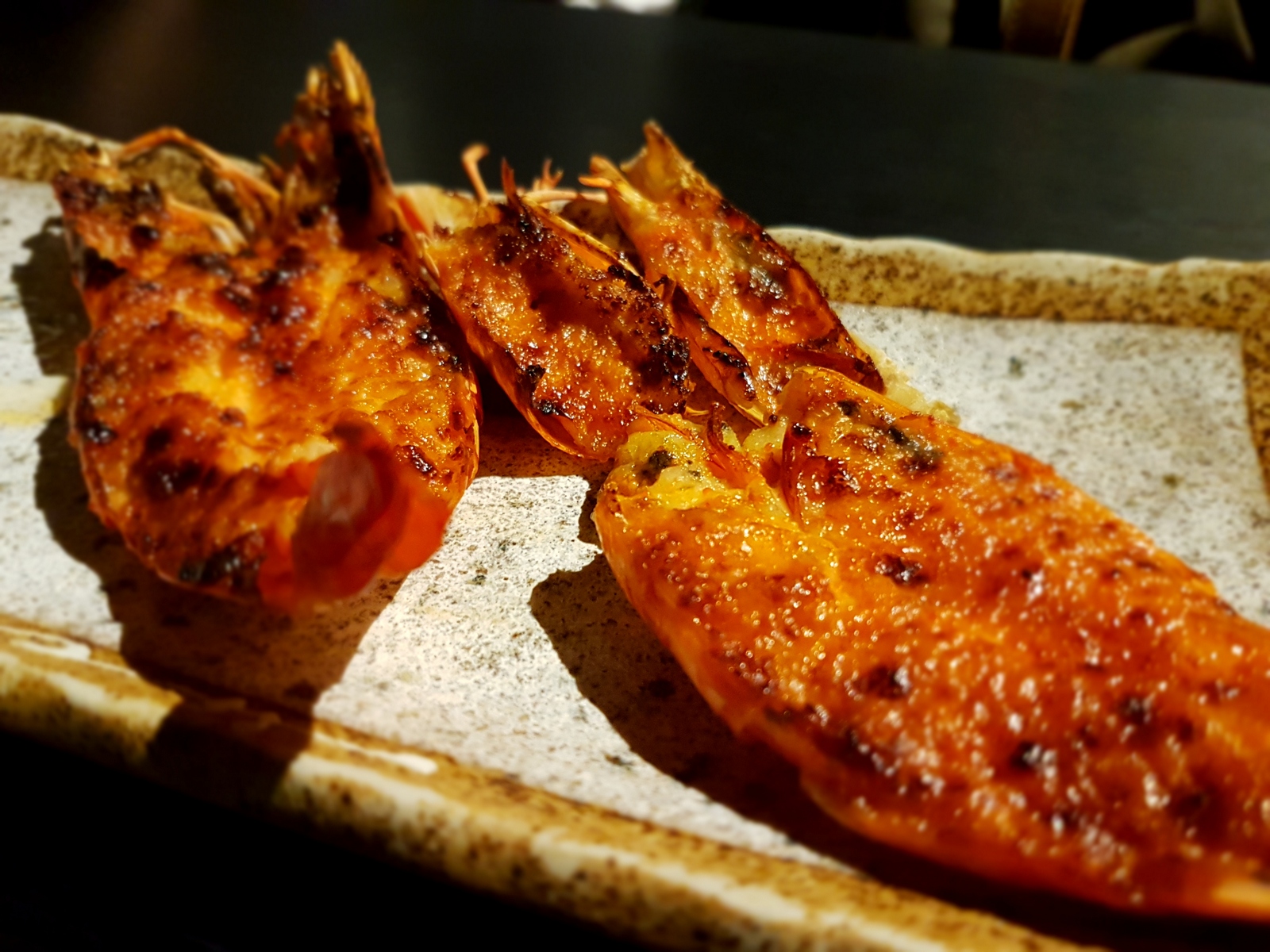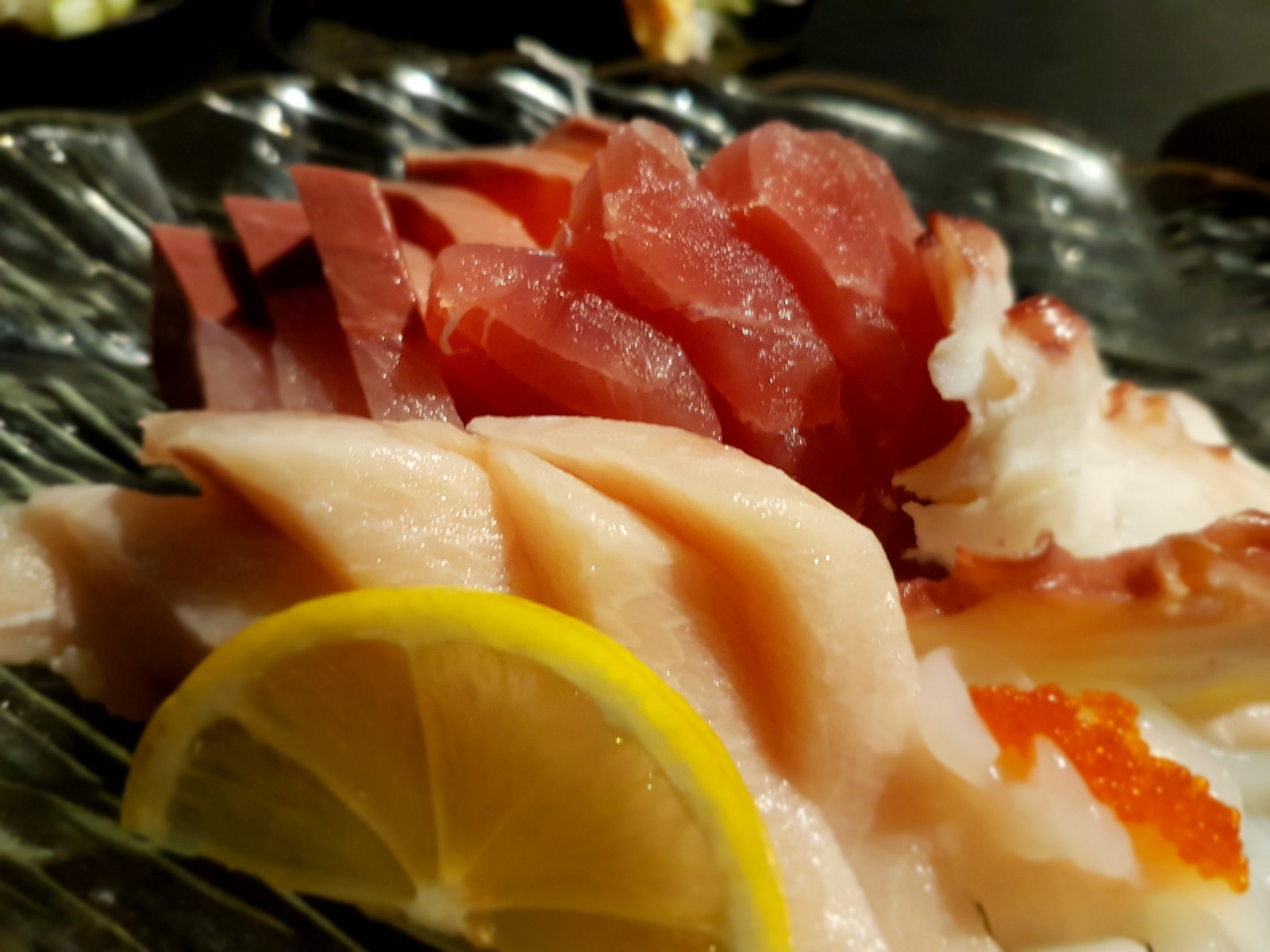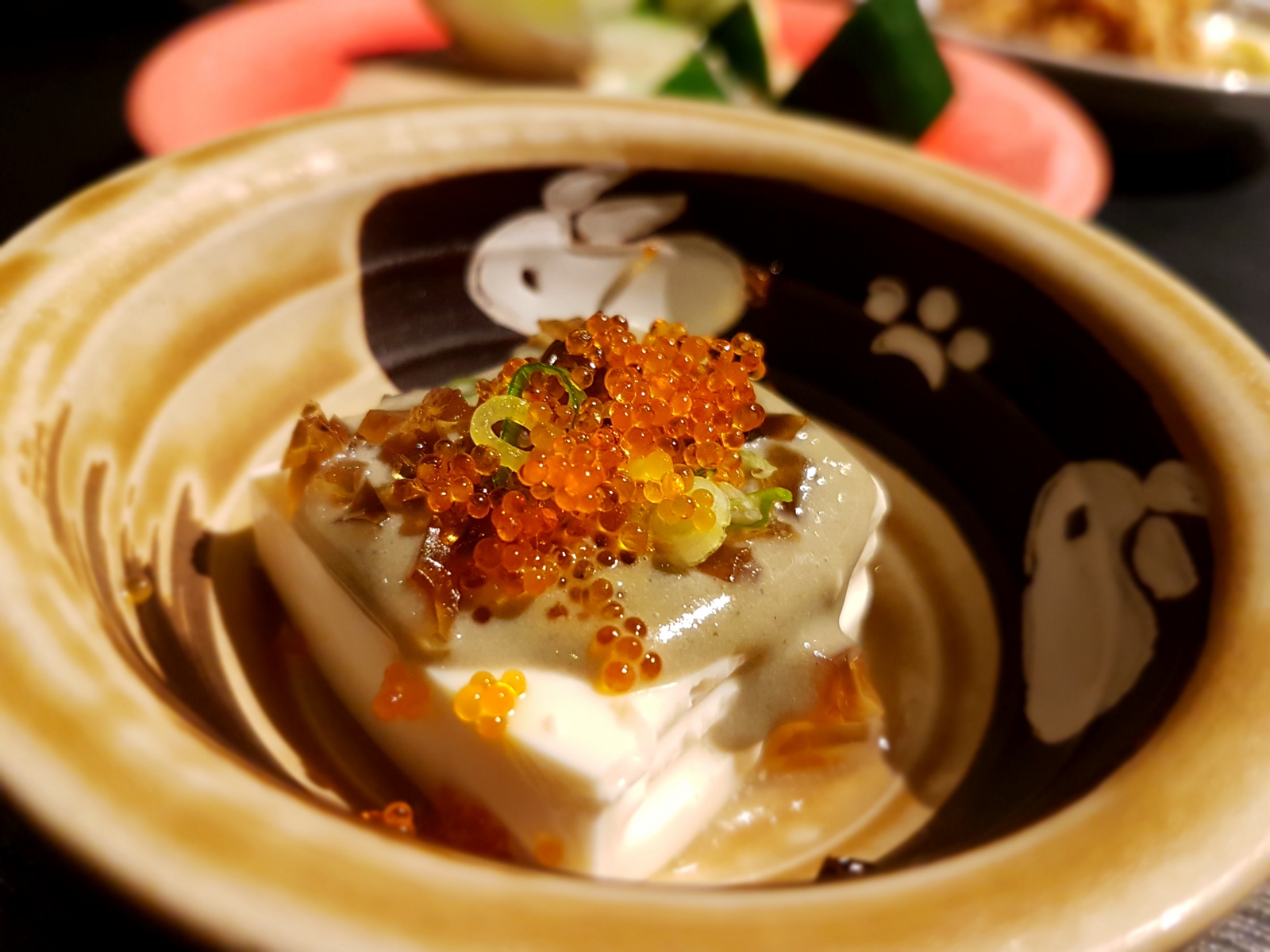 Remember I said my trip back wasn't really actually for the Lunar New Year. I was back to do some accounting work for my client and unlike what you see from all the food I ate, most of my time in the 2 weeks was really devoted on dealing with the crazy numbers. But that's the boring stuff, so I won't bore you with them. It's not that interesting anyway. Moving on…
Here is me walking around Bugis after signing all the documents and finishing all the work I needed to do and admiring these 4 buildings that will soon be demolished: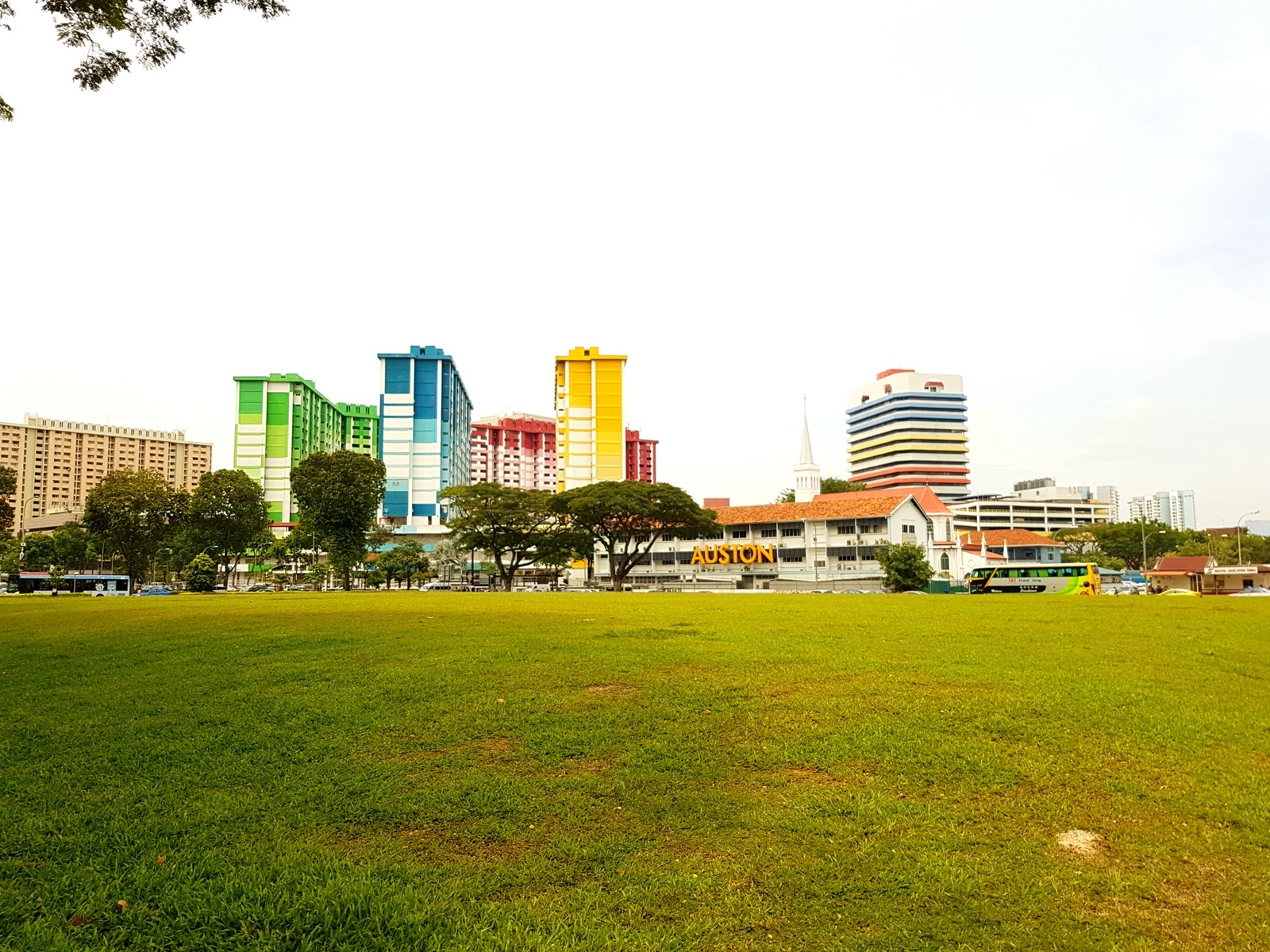 The eating doesn't stop there though because it was Day 7 (初七人日) which is everybody's birthday because of the myth that people were created on the 7th day. That's just a myth because we all know people were created on day 6! That aside, for the sake of traditions, Day 7 requires a dish of 7 veggies, which my mum gladly prepared. I struggled finding the 7th one but oh well…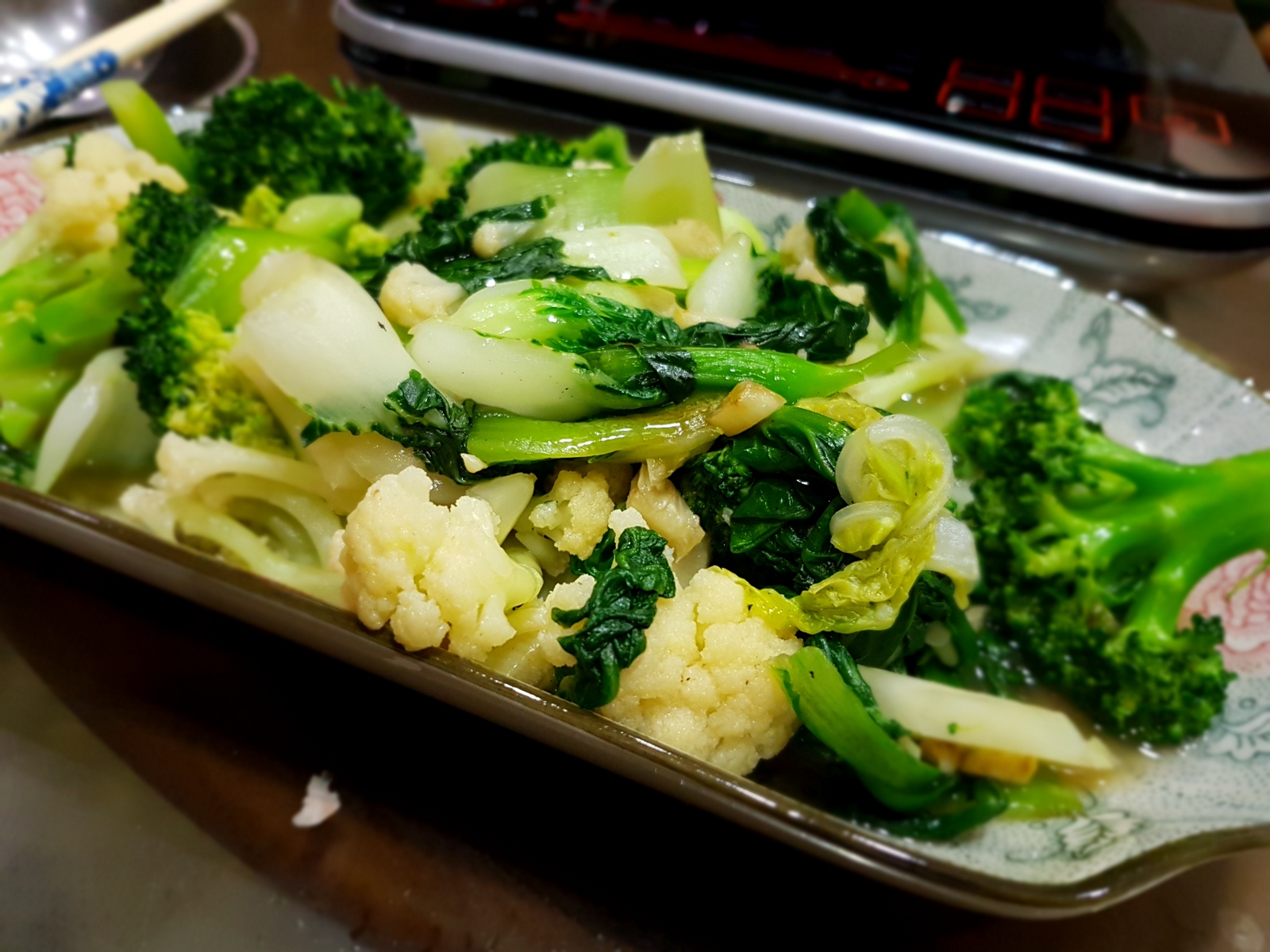 Because we as a family don't usually have steamboats for reunion dinner, we still make an effort to have a steamboat on one of the days within the 15 so this was it!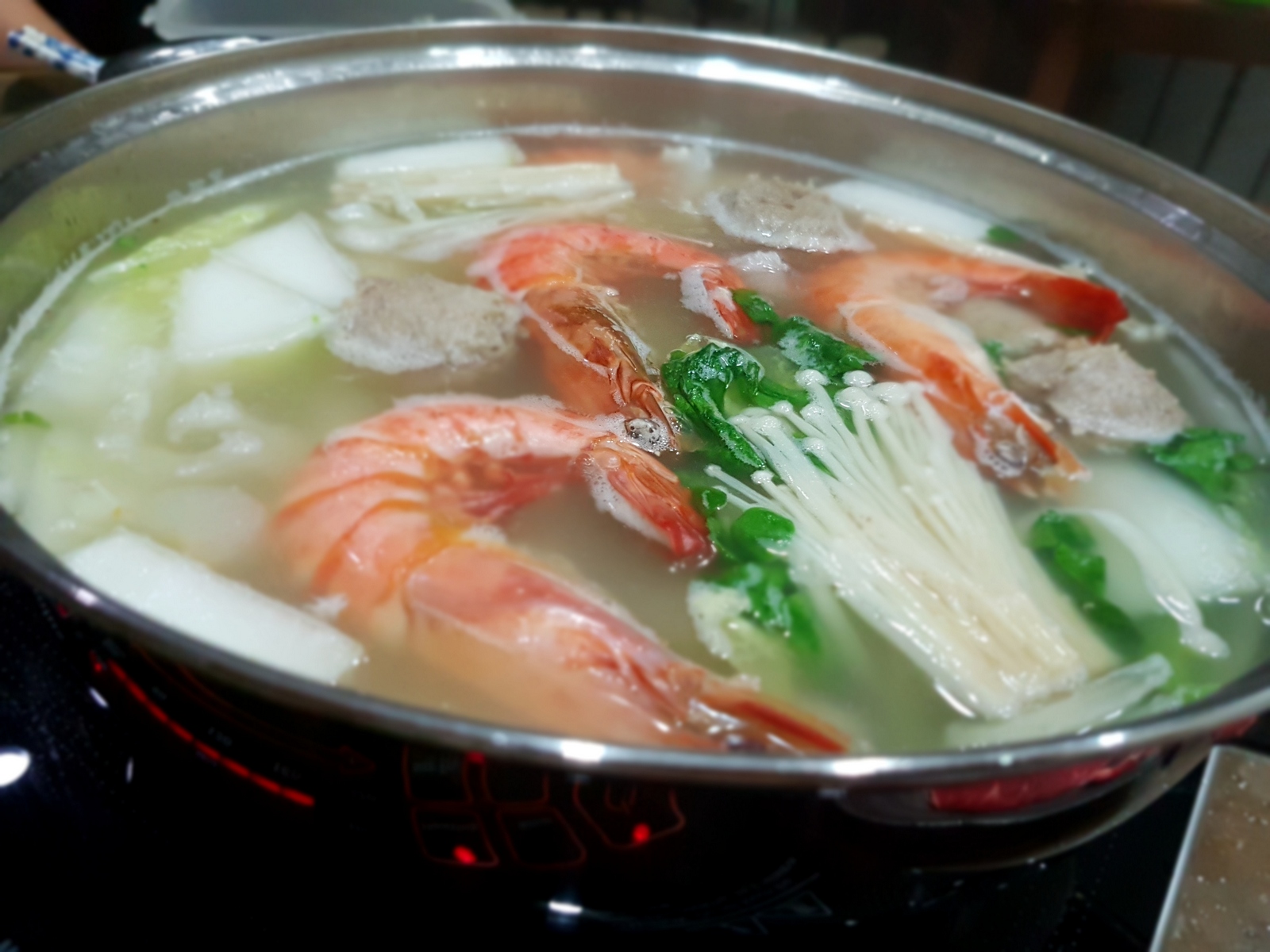 It was almost time for me to prepare to leave Singapore though but there was still time for one last dinner at another aunt's place. This is the same aunt whose specialty is making the fish-shaped jelly. This is her other specialty: konyakku jelly!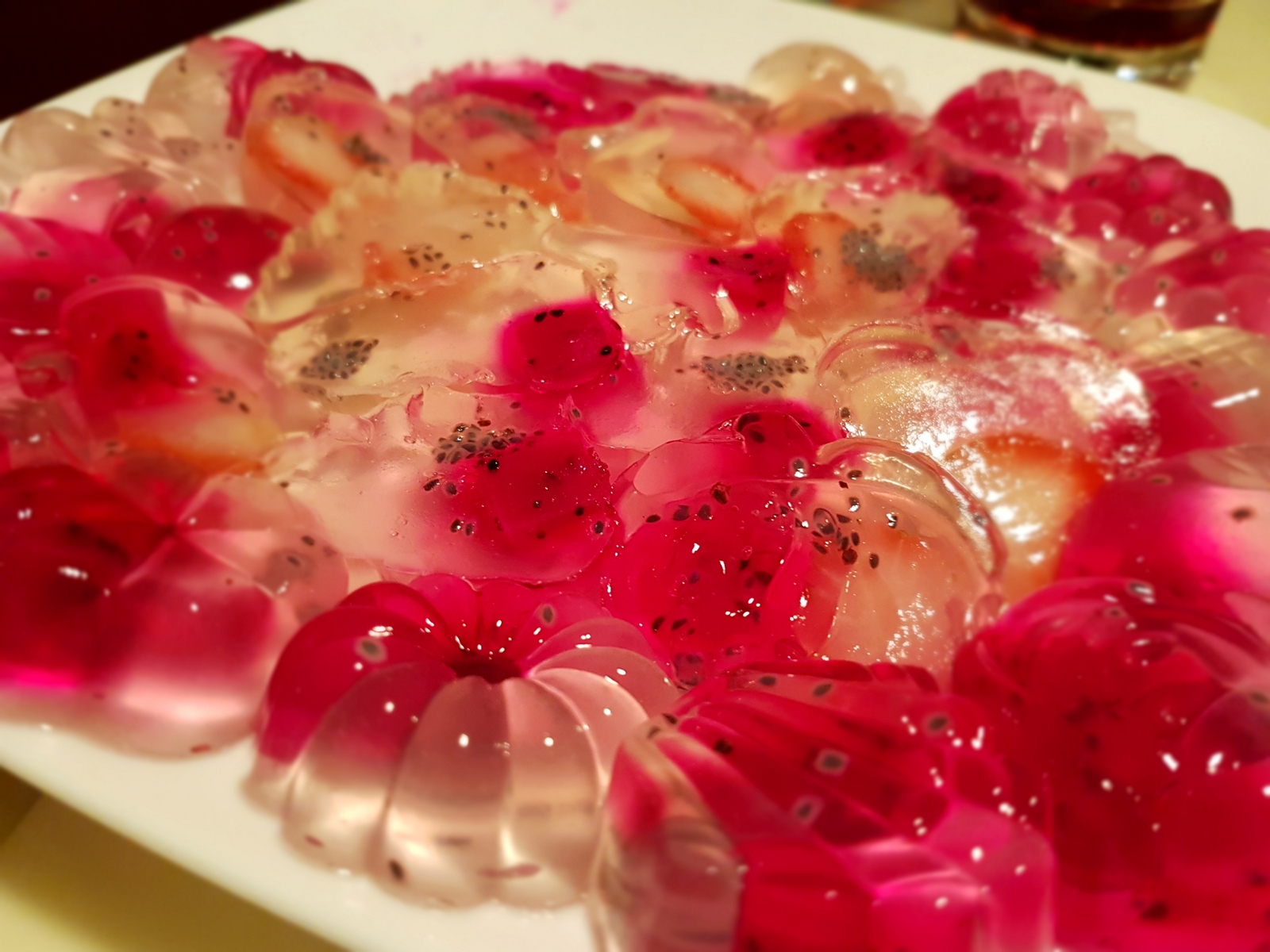 That was it for my short Singapore trip then and I had to bid my family and Pikachu farewell, hoping that he'll still be there but with a Halloween hat when I'm back in October!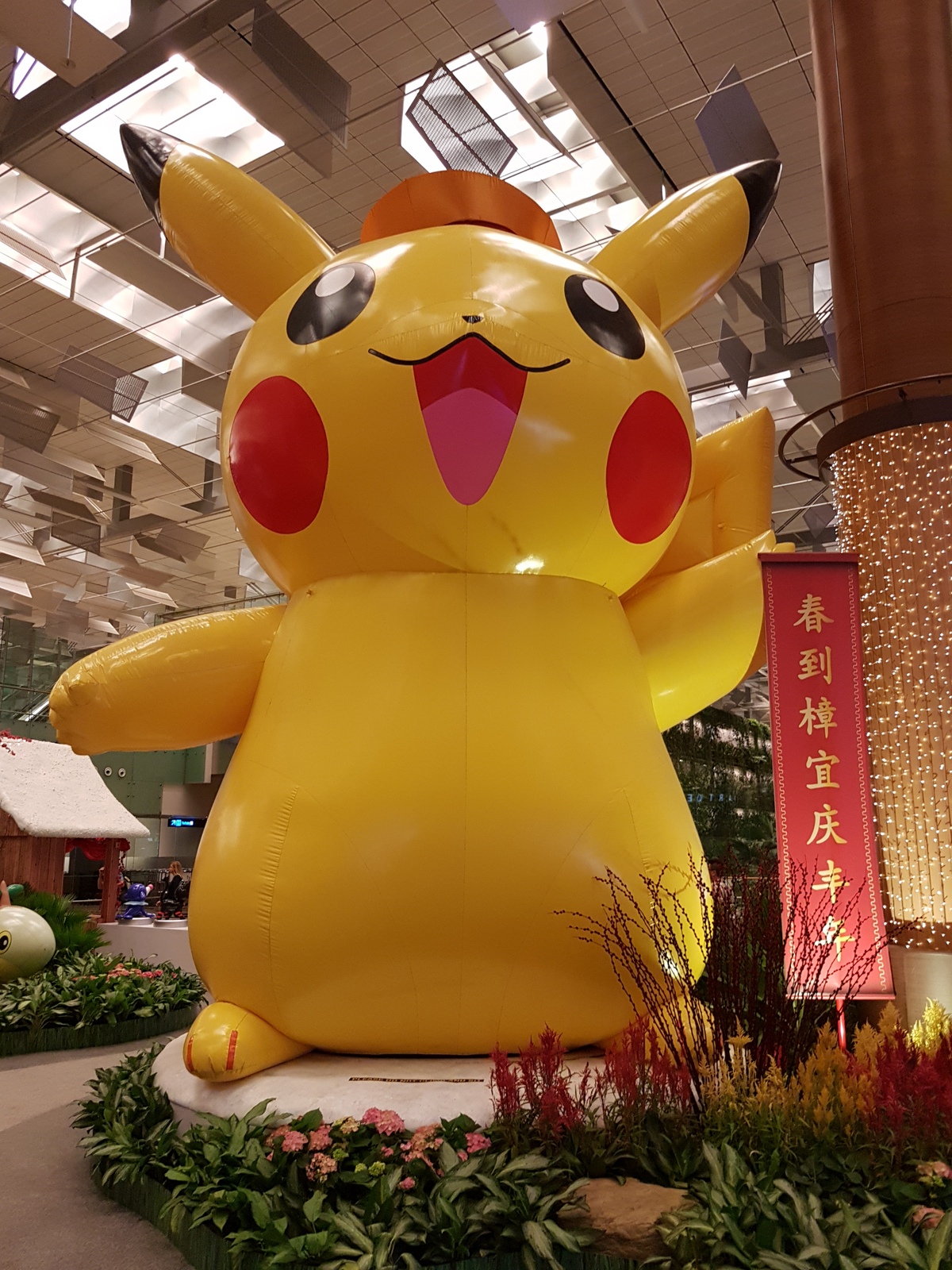 It's great to fly by Singapore Airlines because they take the new year seriously! Look at this beautiful little tray of yusheng!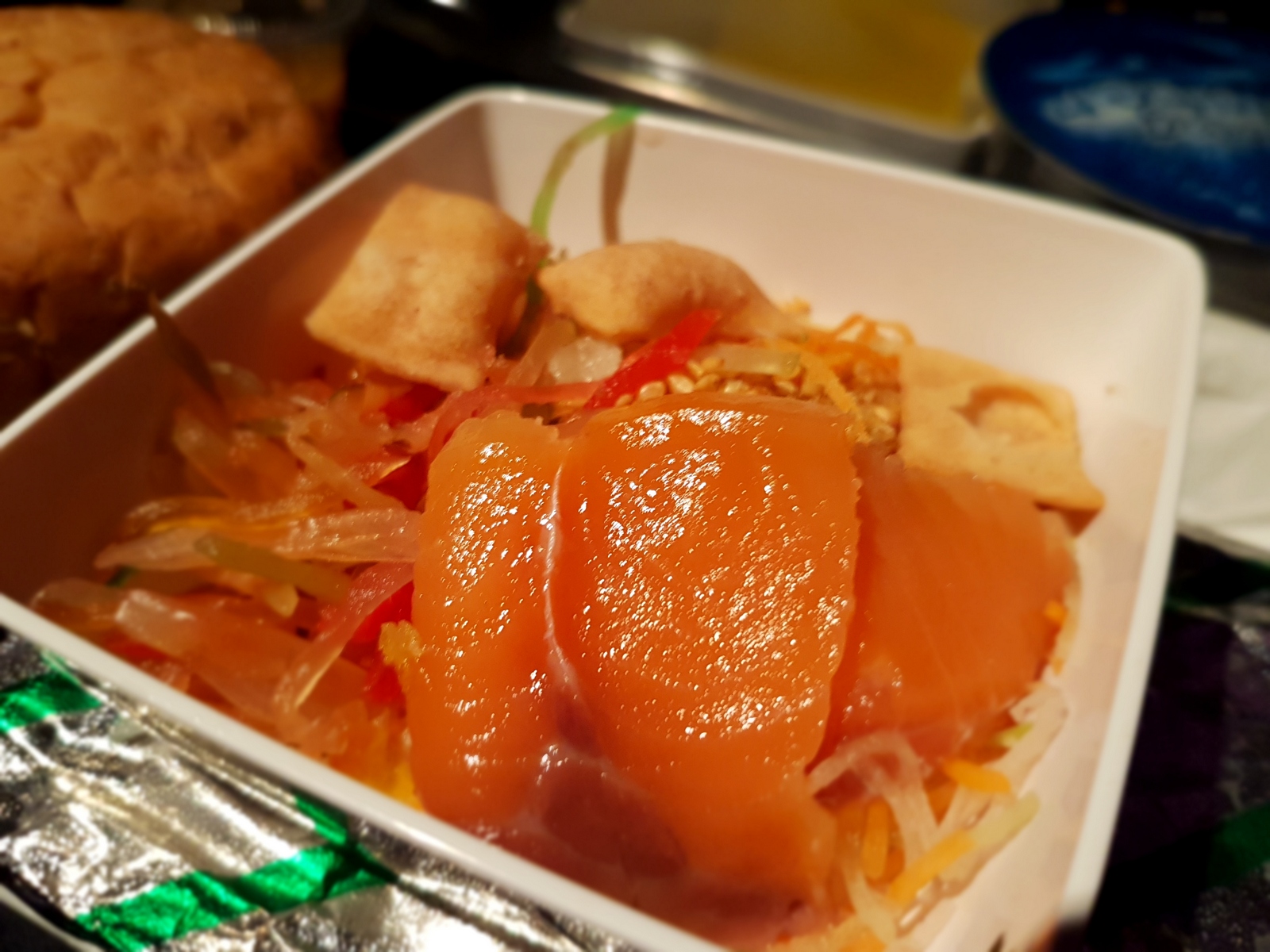 The New Year wasn't over just yet because there was still a week to go but I only got in the mood to celebrate it again on the last day because it was the start of Semester 2 already.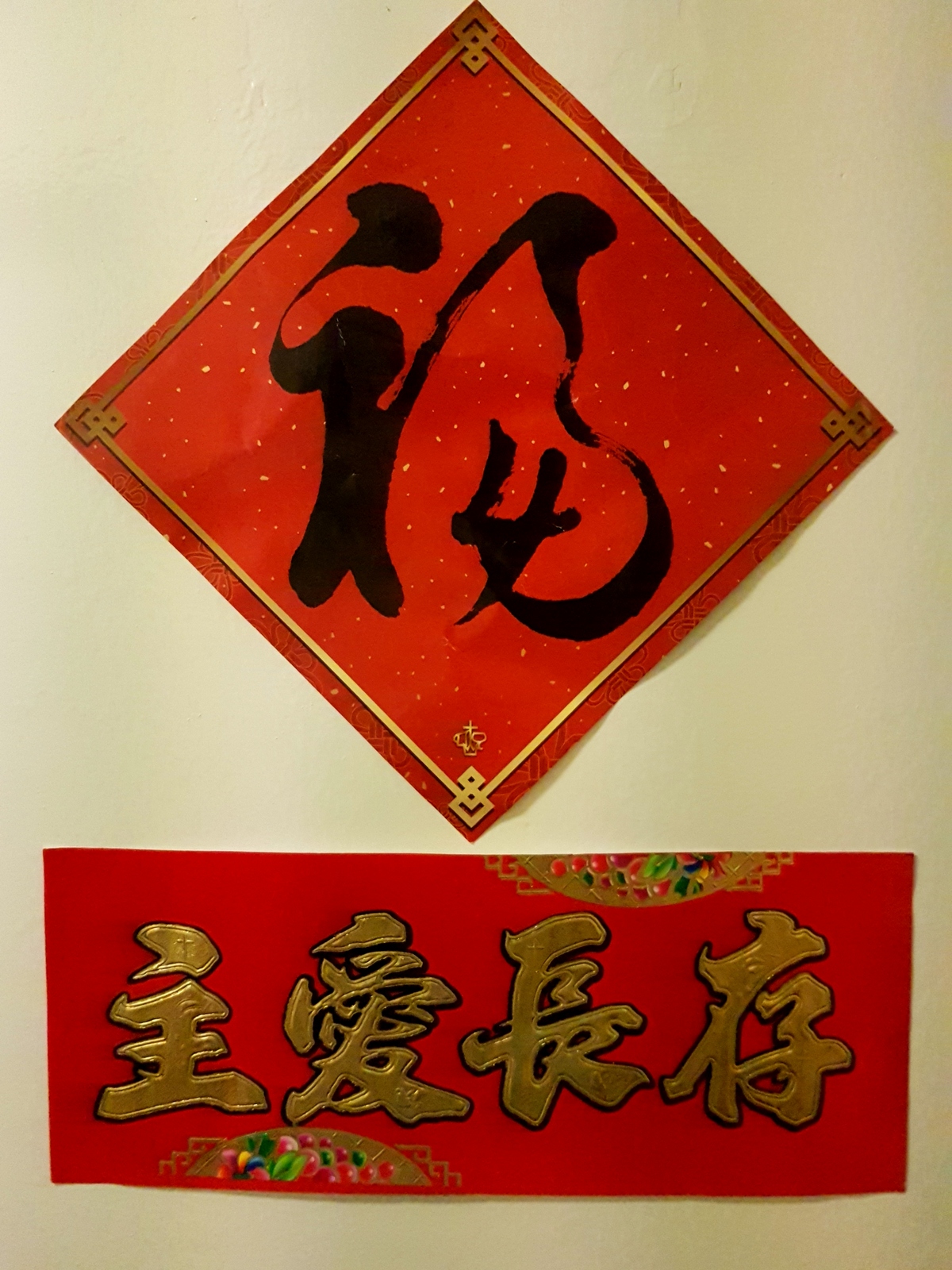 In any case, my wonderful neighbours eventually got to celebrating it in some way by sharing a bit of the New Year stuff with each other. They had tangyuan/glutinous rice dumplings (with sesame filling) and dumplings to share while I pulled out my own set of New Year goodies including my Kueh Bahulu, Pineapple tarts and Bak Kwa! On a cold evening in Guildford, the warmth from our house among friends who were celebrating Day 15 元宵节 far away from home, made it all very special!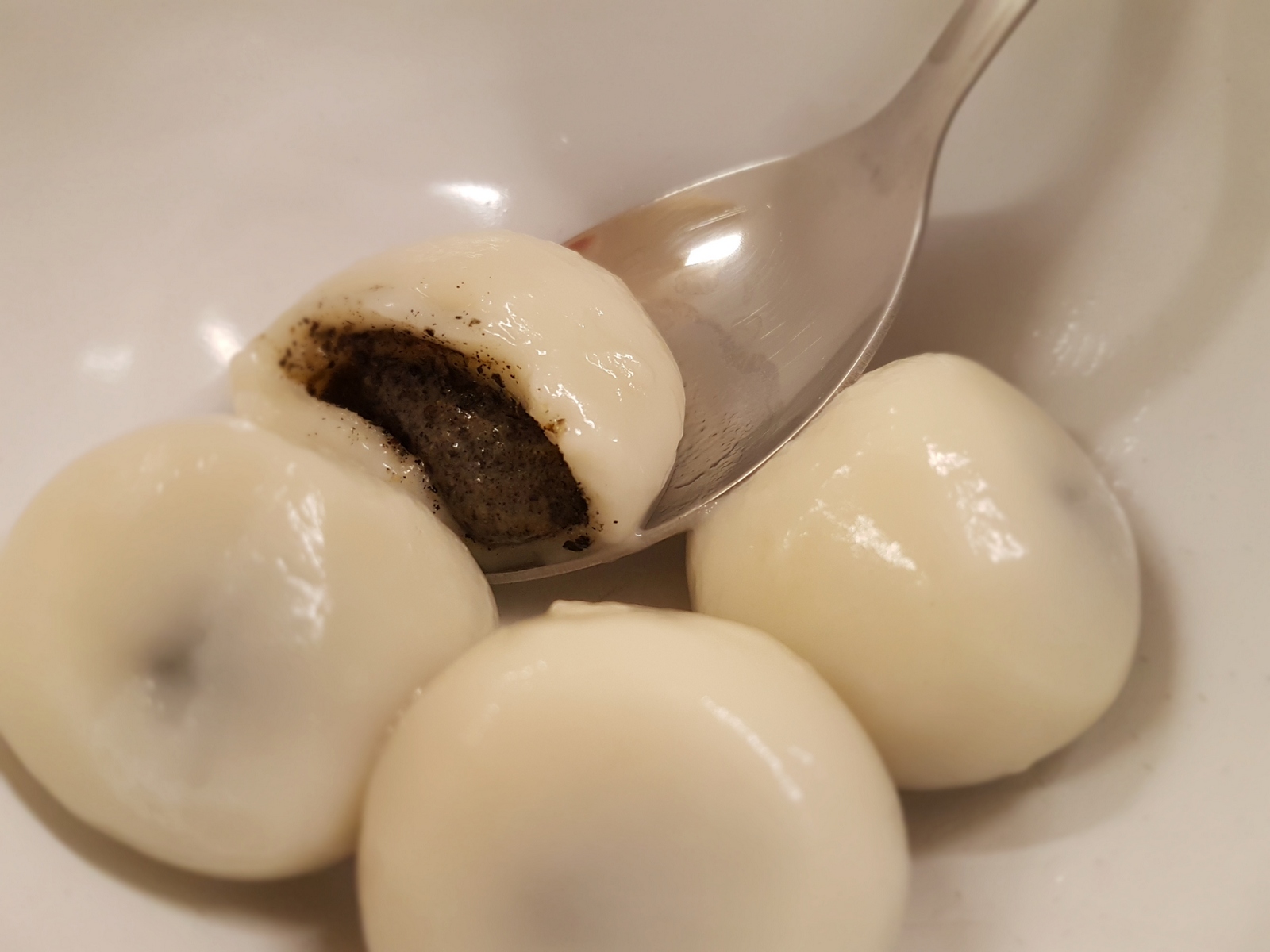 I also made somethings Singaporean to keep to the Lunar New Year spirit with my Bak Kut Teh (Pork Ribs Tea) soup that was brewed over a few hours and my Curry Chicken.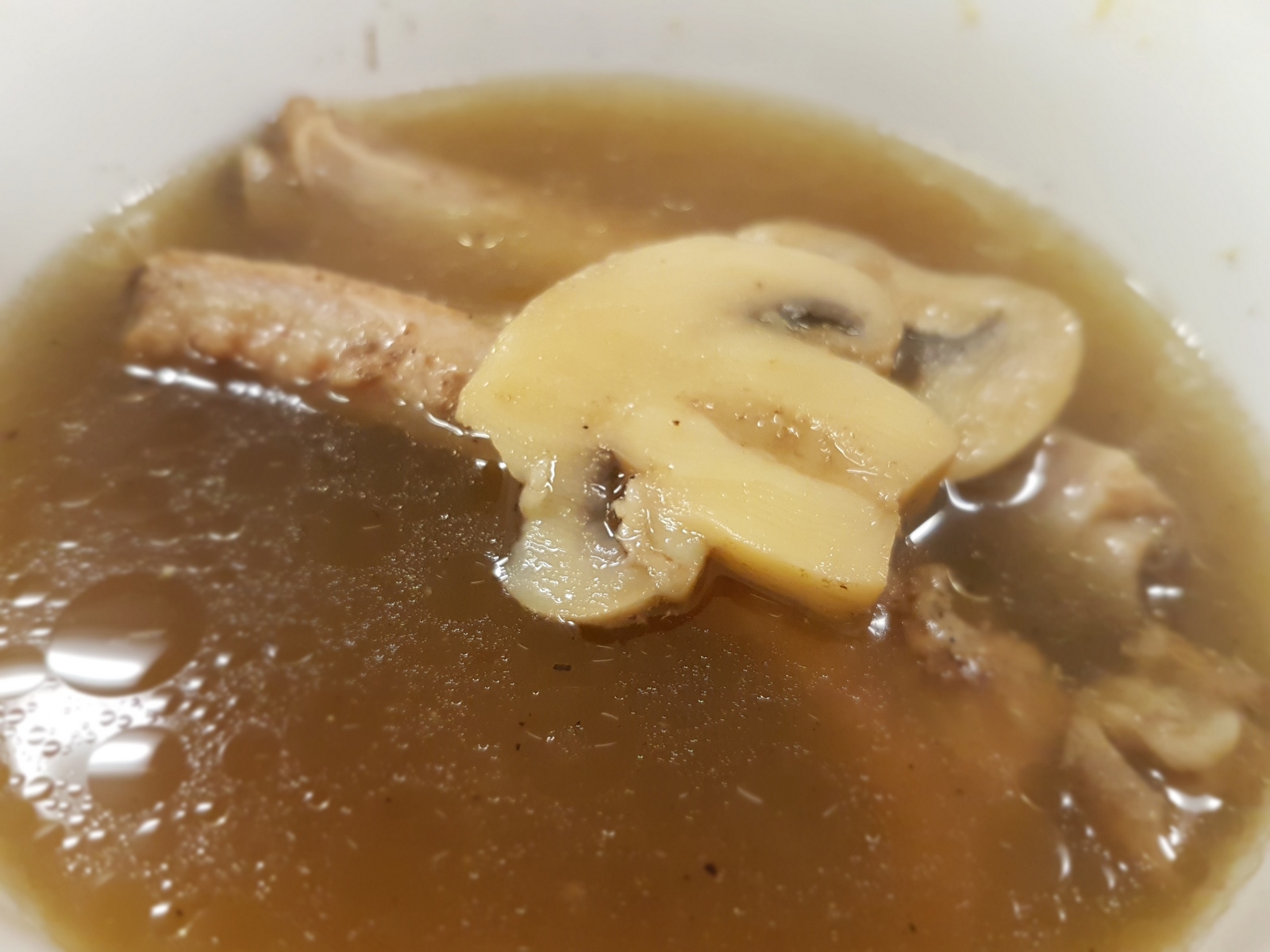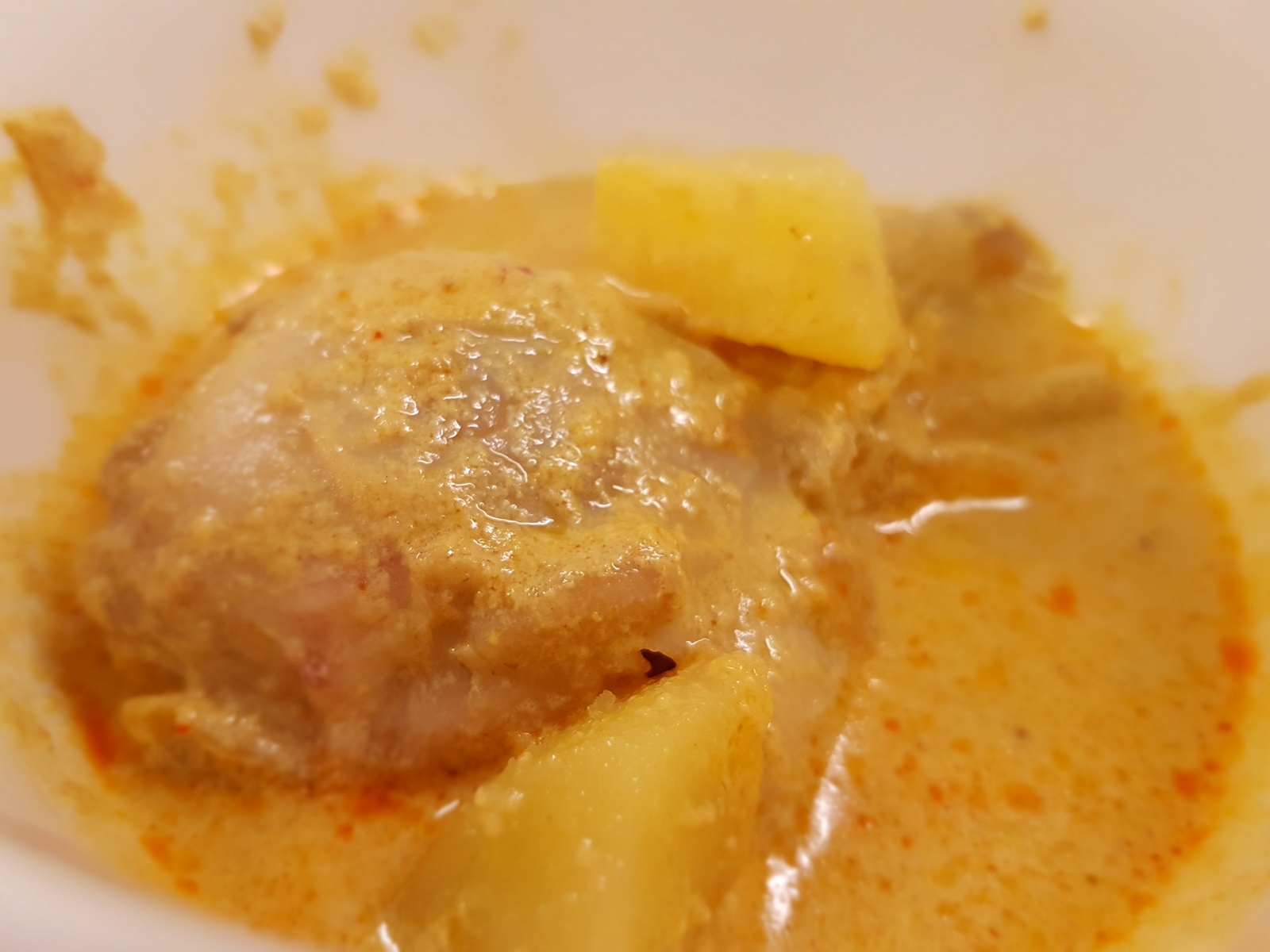 Was happy to cook enough to share with my friend, Joanne, who loves Singapore food after spending 2 weeks there last summer. The bonus of sharing everything Singaporean after Lunar New Year is that there's the wonderful New Year snacks to share as well!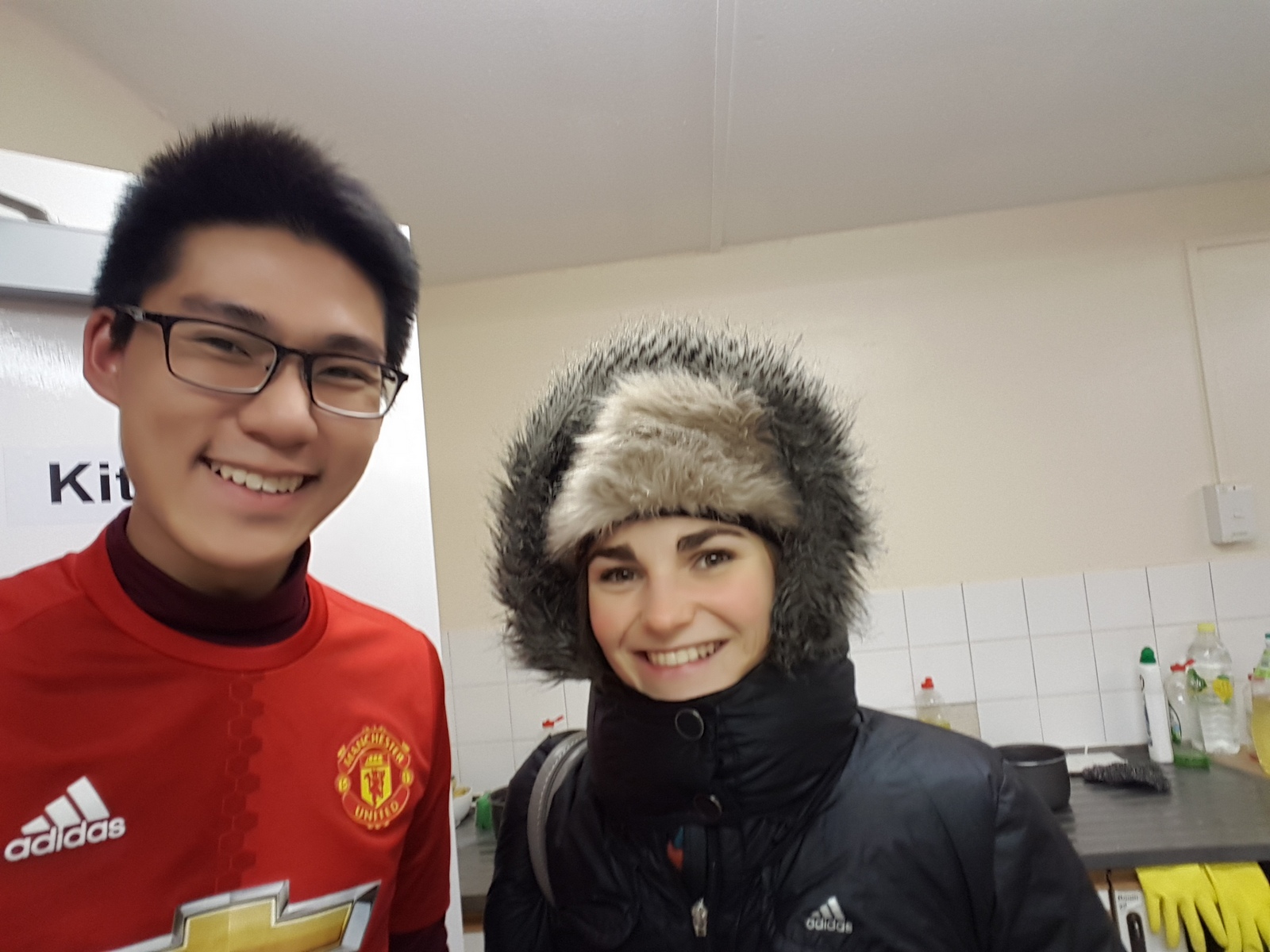 Wow… that was a lot! Hope the excessive amounts of food photos didn't get you salivating too much. It was fun looking back at the 2 weeks I was back in Singapore though.
Until next time then.
Have a blessed Friday and weekend ahead! 🌈
Ben