Hey Guys,
Today i'm going to be sharing with u guys on my recent trip back to Singapore for CNY!
I travelled back home with my family and made it in time for the last day of CNY !! though we missed the start, it was so great to be able to meet up with family and even get my dissertation research done!!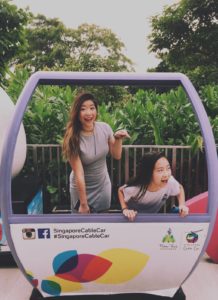 Of course for Chinese New Year, it wouldn't be complete without the Lou Hei (which is actually a tradition originating from Singapore/Malaysia where families gather to toss these vegetables, fish, abalone, sweet plum sauce and golden crackers while chanting goodluck wishes
and blessings to ring in the new year!)
So as you can imagine, the bigger the families, the bigger the mess haha.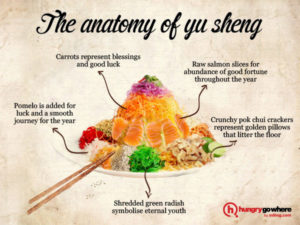 These individual lou hei ingredients actually symbolize different wishes.
For example,
The fish symbolizes 年年有余 (nian nian you yu)
Which means… wishing a year filled with luck
it is a play on words because Yu in mandarin can mean fish or luck, depending on the different intonation.
The golden crackers are to symbolize money bags to wish good wealth.
The sweet plum sauce goes with the wish of.   甜甜蜜蜜 (tiantian mimi) which means wishing you a year filled with sweetness and any couples out there, for their relationships to stay sweet!
Before I flew back to Singapore, one of my friends here in Surrey actually got a LouHei Kit from his parents back home in Malaysia and he was kind enough to invite me and some of our friends for Lou Hei together 🙂 It was such a great way to share more about our culture as well.
When I was in Singapore, I got to toss the LouHei with my family and my grandpa and uncles and aunties which was so sweet, especially cause my family hasn't been back for Chinese New Year for years!
Also, another Chinese New Year tradition is the collection of these money-filled Red Packets also called HongBaos (directly translates as Red Packets) Those unattached and children are usually the one who qualify receiving hongbaos. Once you're married, you're gonna have to start giving hongbaos haha…
But before you receive that red packet, make sure you're holding two tangerines, and ready to wish your elder some good wishes in exchange for a red packet! I always say 身体健康 (shen ti jian kang) which means, wishing you good health as I think health is most important! 😊 especially for our elders.
During the 10 days we were back, Of course we had to fill our bellies with all the delicious foods that we had craved for… Chicken rice, Laksa, Satay… THE LIST GOES ON!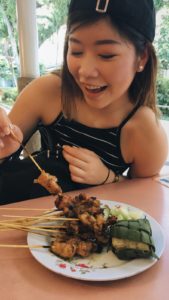 It was a really short trip, but I always like to think Quality over Quantity – We had a condensed amount of family time in the 10 days… but ya maybe next time we go, we'll stay for longer haha!
Anyways, thanks for reading 🙂
See you in my next post!