Hi everyone,
If you've read my recent posts, I must have said somewhere that I'd been to the Netherlands in Week 2, which is also Holy Week because it leads into Good Friday and Easter Sunday. It wasn't my first time in Netherlands having been there a couple years back so I wasn't going back into Amsterdam, knowing for sure that that's where most people will congregate. Took my Dutch friend's suggestion and headed to Haarlem, nicknamed Bloemenstad (Flower City) by the Dutch because this city was historically where the bulb-growing of tulips were.
I was here for 2 days because I knew I'd have a rather unproductive first day because of the early morning easyJet flight so I needed a 2nd day to walk around properly since I'd be travelling solo. Would've much preferred taking a later flight but this was the only one available as I had booked it around 3 days before flying (not even KLM had flights). It's the Easter Break after all, so it's understandable.
Once again, I was hit by gloomy skies, which is great for taking photos of people because of diffused lighting. Unfortunately, you get ugly grey skies that aren't very interesting. So imagine my joy when I arrived at my first stop, Molen (Windmill) de Adriaan and saw a little hint of blue-ish skies: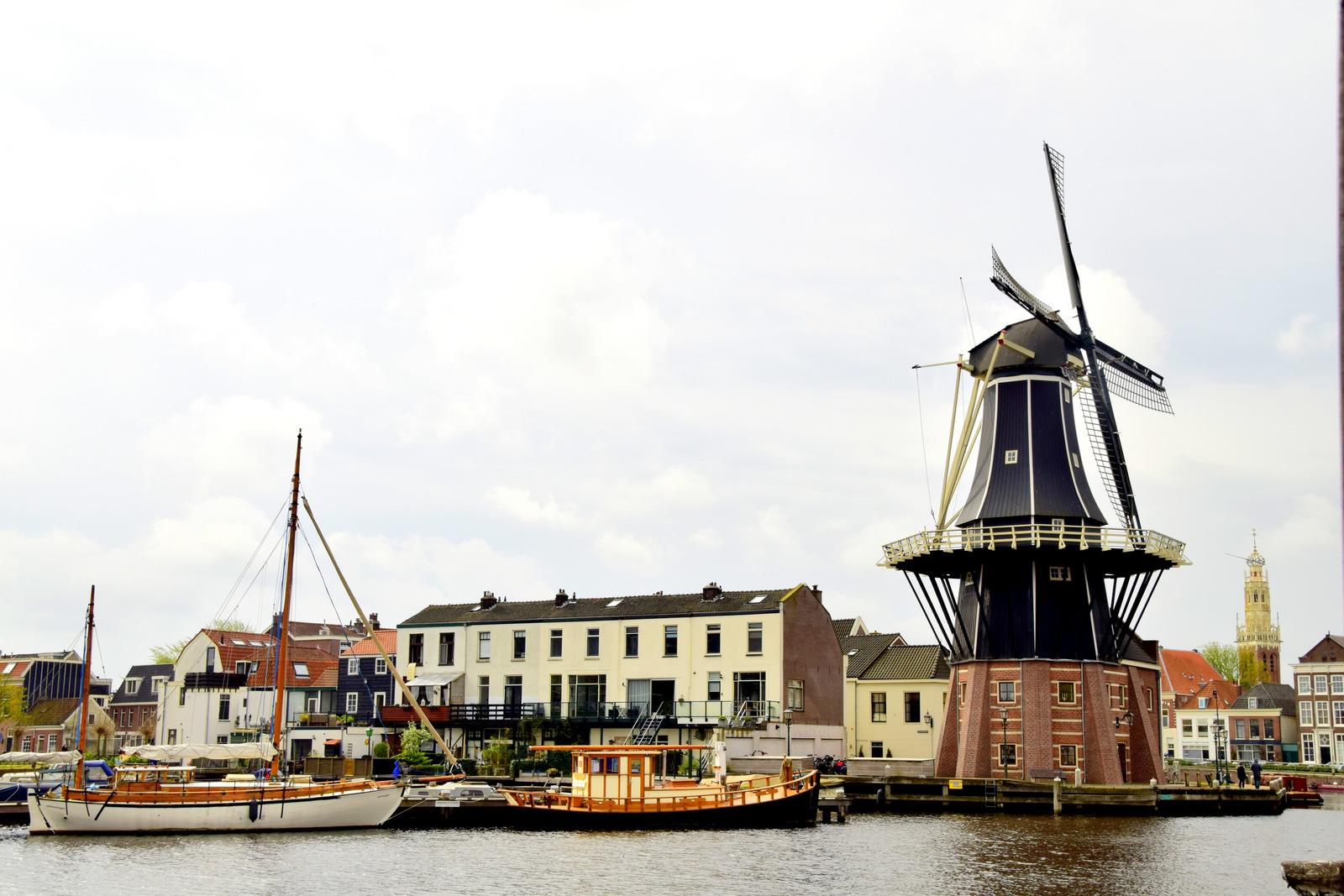 It wasn't going to last long though so I had to hurry before it turned all grey again. Following the Ulmon CityMaps2Go app on my phone, I hurried next to Teylers Hofje: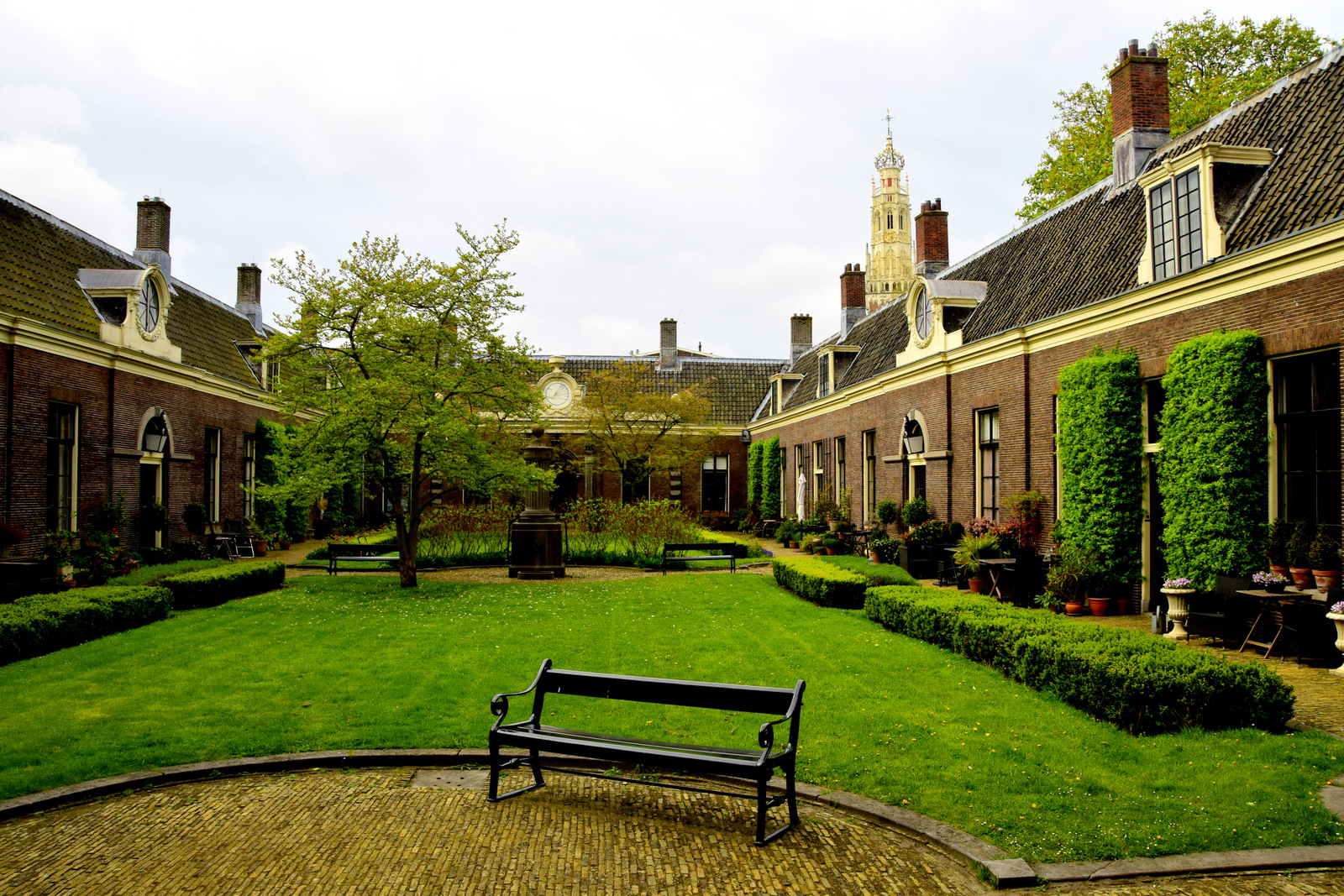 Haarlem is known for its many Hofjes, which are almhouses (charitable housing provided to the elderly) built around beautiful courtyards. Hofjes were built mainly for the single elderly women and still serve that function today. One thing you might have noticed is the towers in both these photos. They're the same tower from the Bakenesserkerk which I made way to a little later.
Given that it's supposed to be Spring now, the courtyards are blooming with beautiful flowers: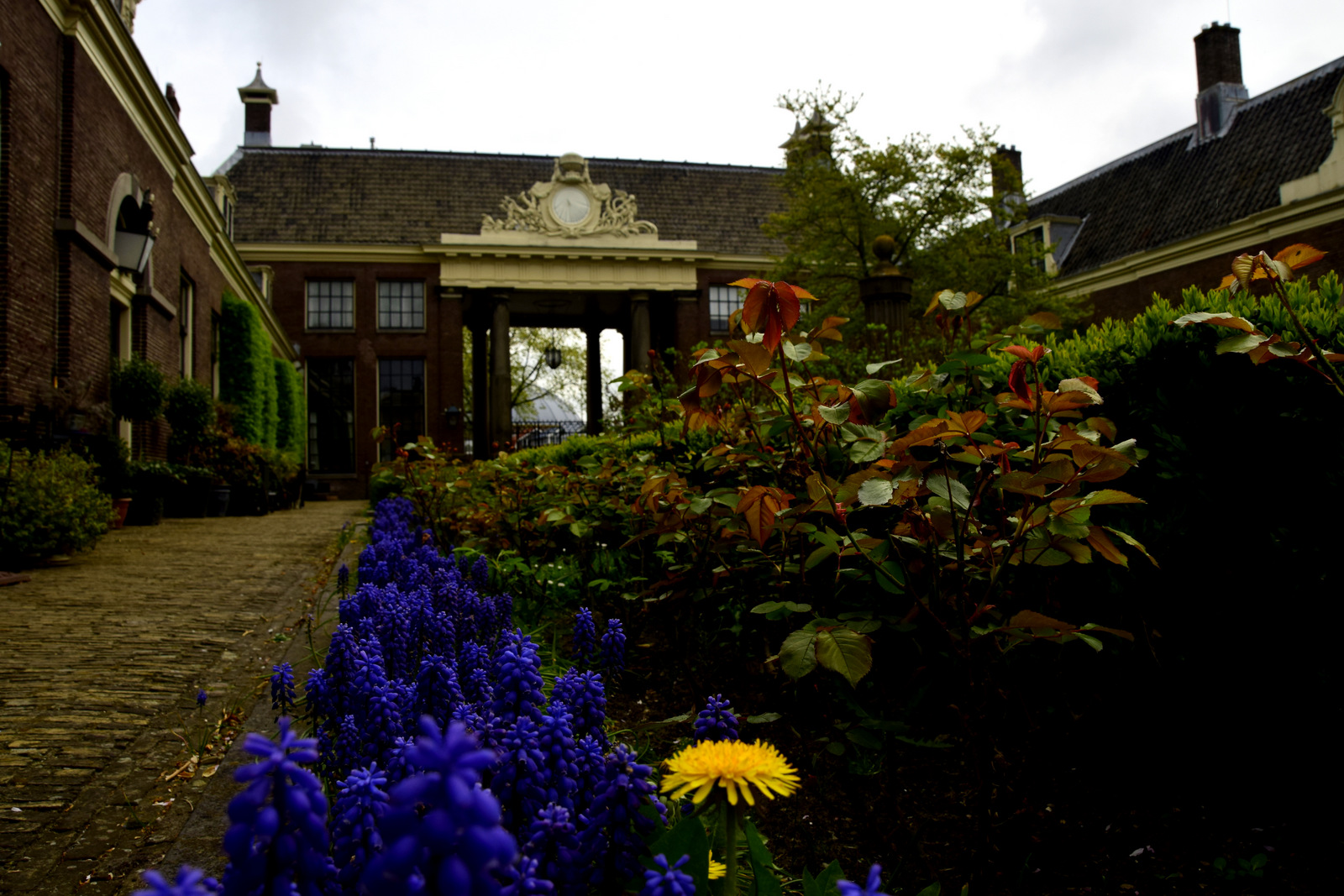 Quite a self-explanatory photo this one. It's just an Orange bike which I thought was representative of the country I was in, since bicycles are their favoured mode of transport and Orange was their royal colour.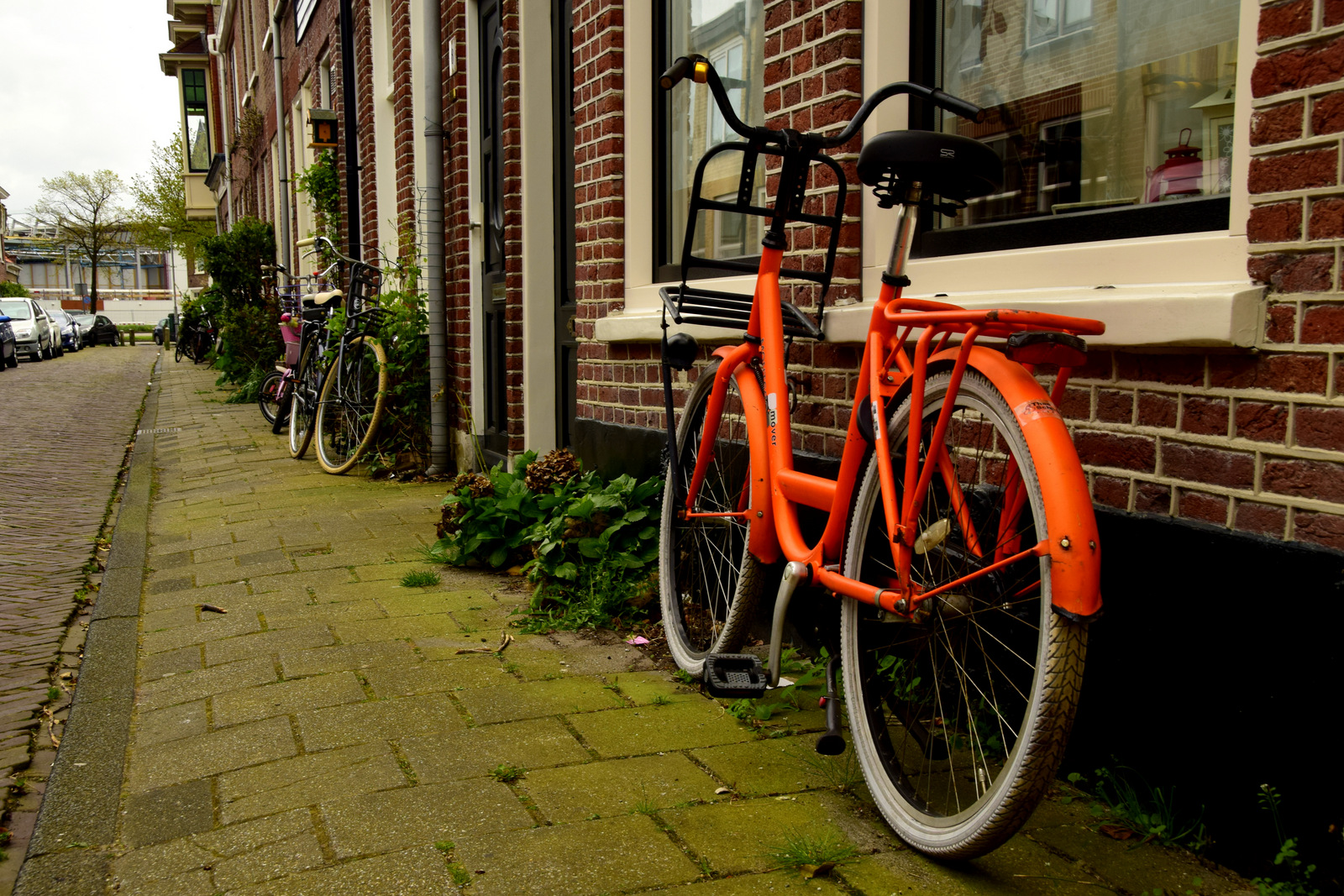 That was taken en route towards the Amsterdamse Poort. As you'll see in the next picture, it became all gloomy and grey by now: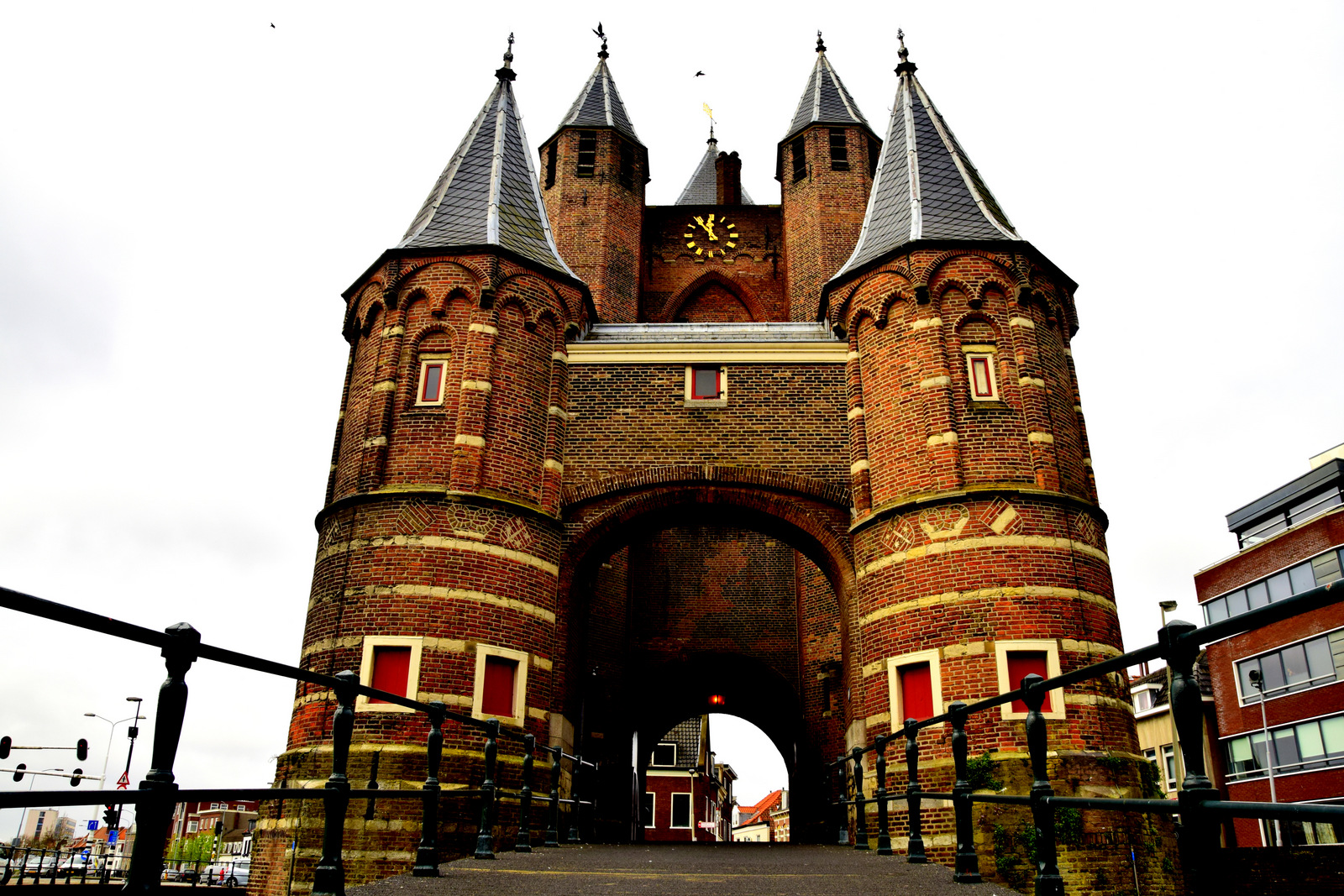 Amsterdamse Poort is the former city gate of Haarlem that was the gateway into it from Amsterdam. It's among the only remnants left of the old city walls. This was the side that's leading into Haarlem.
The other side is not as "majestic" so I used the flowers around to add colour to it: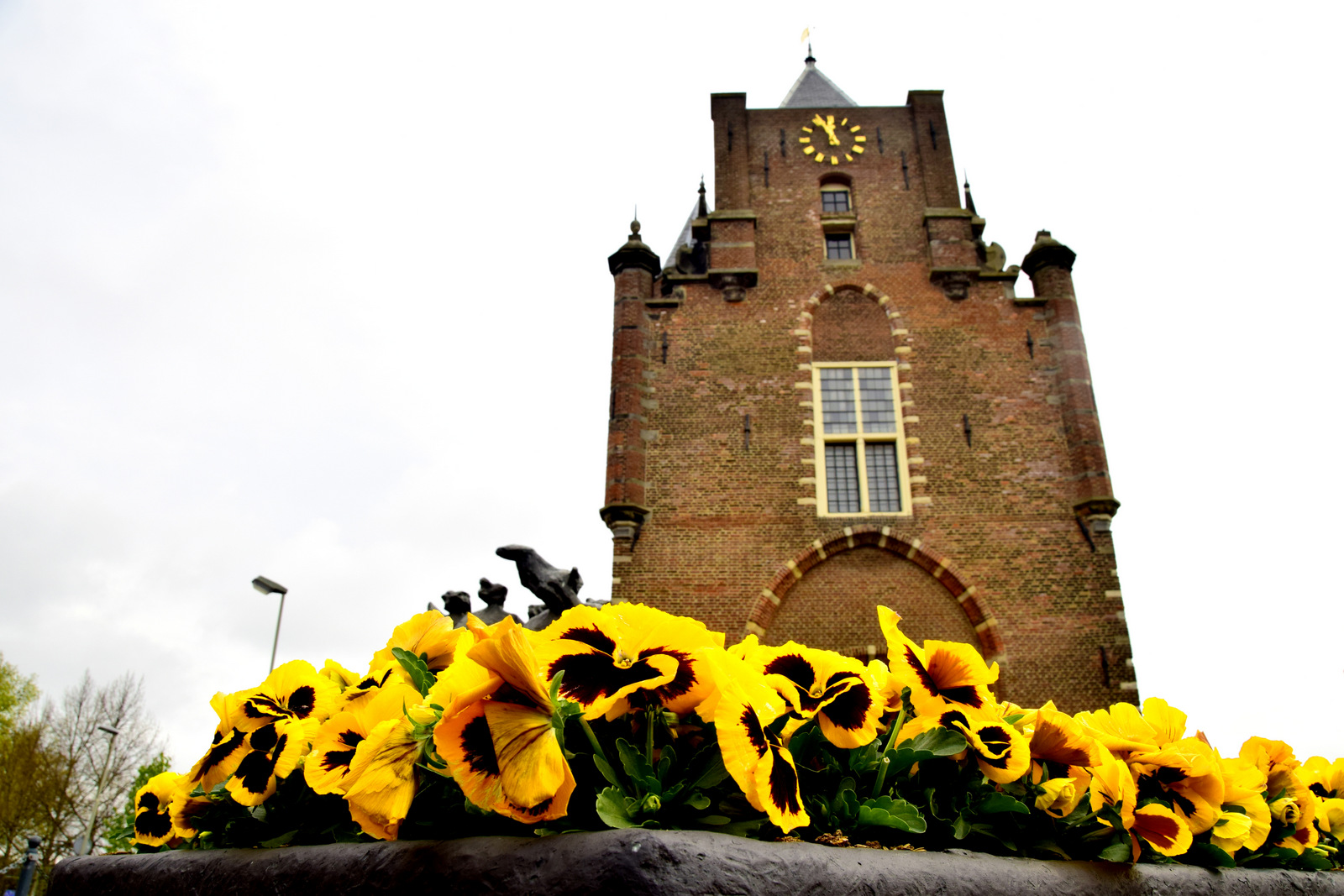 Having crossed through the city gate, it was time for me to go back into Haarlem City Centre. Here's a very typical Netherlands photo, with the lined up buildings, a canal (of sorts), a little bridge and bicycles: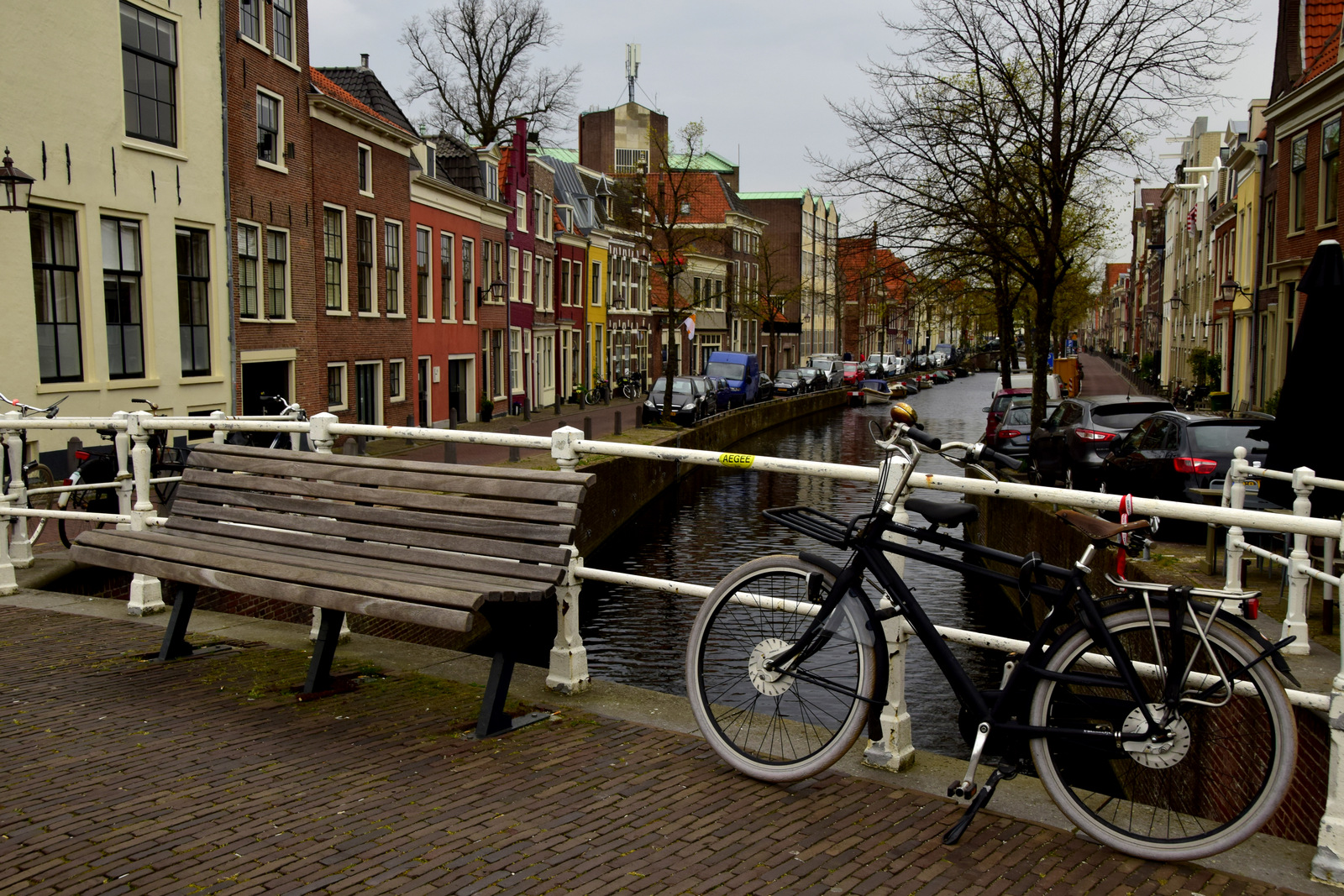 This was the canal called Bakenessergracht that's a branch-in from the River Spaarne. Looks like a familiar alien word, isn't it? That's because it' related to that tower in the background from earlier, of the Bakenesserkerk, seen here from just outside it.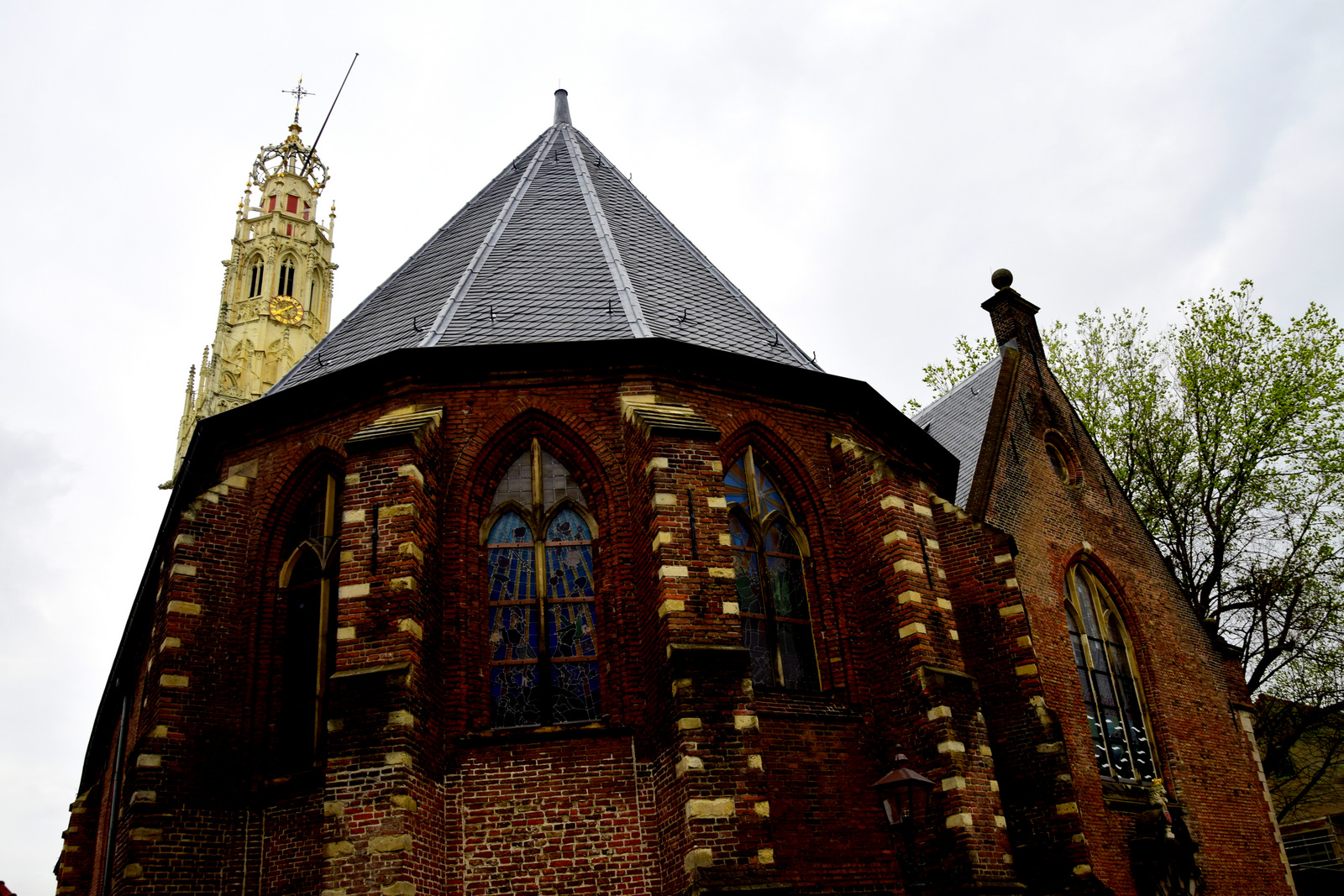 If you look into the horizon while walking along River Spaarne, you'd notice 2 main towers. One of which is the Bakenesserkerk's while the other is the Grote Kerk's. It's also known as St.-Bavokerk. Here's where it gets confusing: It's now a Protestant cathedral but it used to be a Catholic cathedral and there's now another Catholic cathedral known as Cathedral of Saint Bavo some distance away from the City Centre that serves as the city's Catholic cathedral. Didn't get any of that? Never mind, I'll show you the other church later.
As you can see, by now, the skies are completely grey and ugly so it's a good thing the sheer size of the cathedral makes up most of this photo. As it was Easter that weekend, there was a little carnival with fun rides on the Central Market square so to avoid that, I went to the other side of the cathedral to get this shot: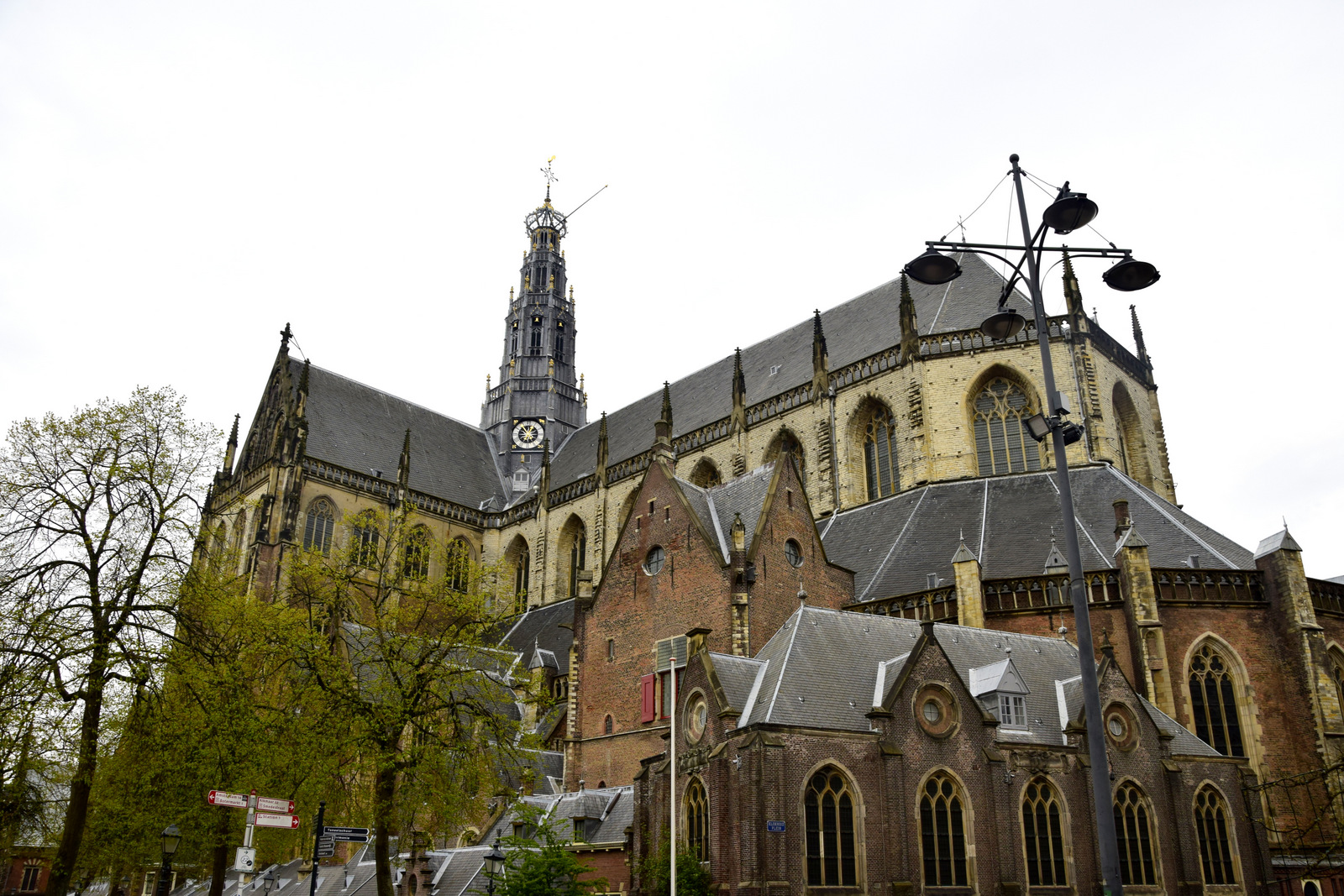 At this point, it was time for me to get lunch so I was scouting for street food and sure enough I found it. Firstly, Flemish Fries! Who doesn't love deep fried food right? Maybe the photo doesn't show how much it is but I ordered a Klein, which is Small and was quite full by the end. Don't think I would've been able to finish the Medium sized one.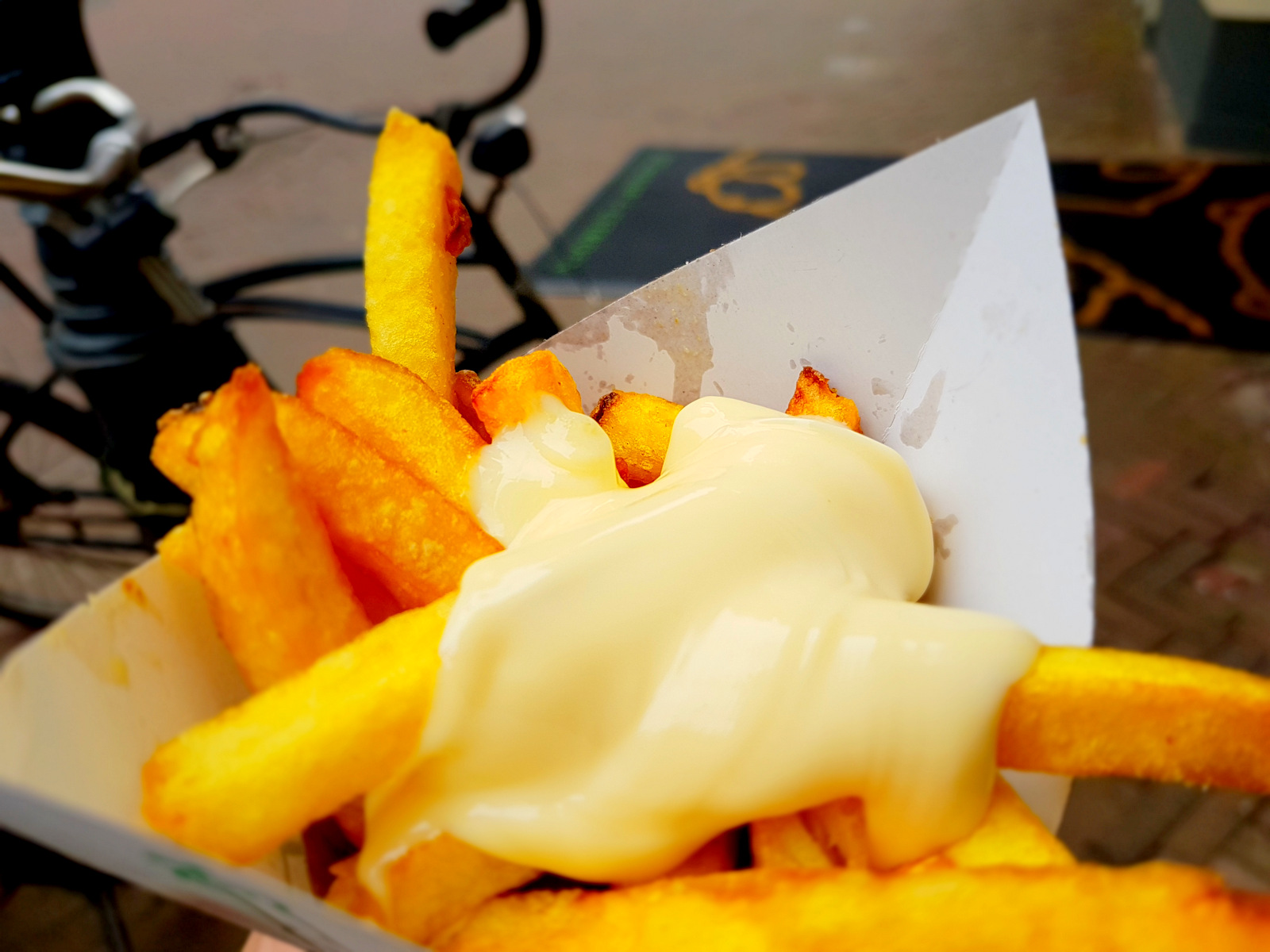 Reason why I didn't want to eat too much fries wasn't because it's oily but more because I wanted to have Herring!!! My goodness, I absolutely love this typical Dutch snack. Herring (Haring) is a fish that doesn't smell very good but when it's as fresh as how the Dutch prepare it and you eat it with pickles, onions and bread… it's just awesome! Although I must say that you have to be a fan of fish to enjoy it. Even if you aren't, you should try it! Alternatively, you can just go for the Kibbeling, which is deep fried cod fish (similar to the fish and chips in UK). It's supposed to be cod but as you know cod is really expensive now so they use other types of fish like pollack these days. Seriously though, try the Herring! 😜😋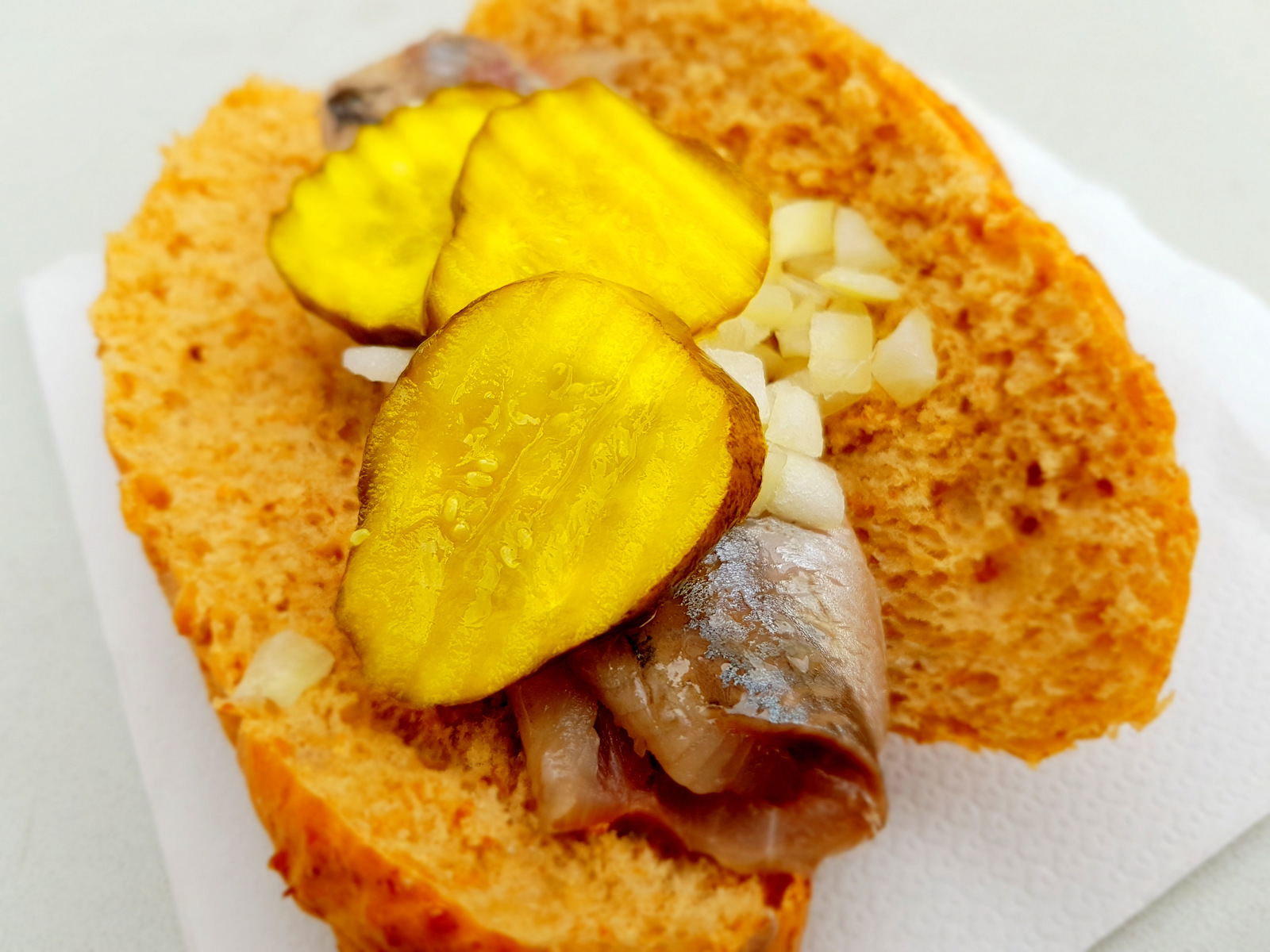 After my street food lunch, I just walked around the shopping area, which Haarlem is pretty famous for before heading to the library. Having walked for quite a bit without rest or a place to sit down, I figured a library would be a nice place to take a break. So I found a nice little couch, picked up some photography books and started flipping through them. I'm very sure that while I was flipping through them, I'd fallen asleep for at least 1 full hour because the couch was so comfortable!
By the time I decided my rest was enough, it was just about 5pm and time to go for another walk, towards the Cathedral of Saint Bavo. Yes, the other one, which is quite out of the way. Here it is with some pretty flowers:
I can't quite title this Bloemenstaad if I don't feature the pretty flowers right?
Here's another view of it seen from across the other side of the canal it's along.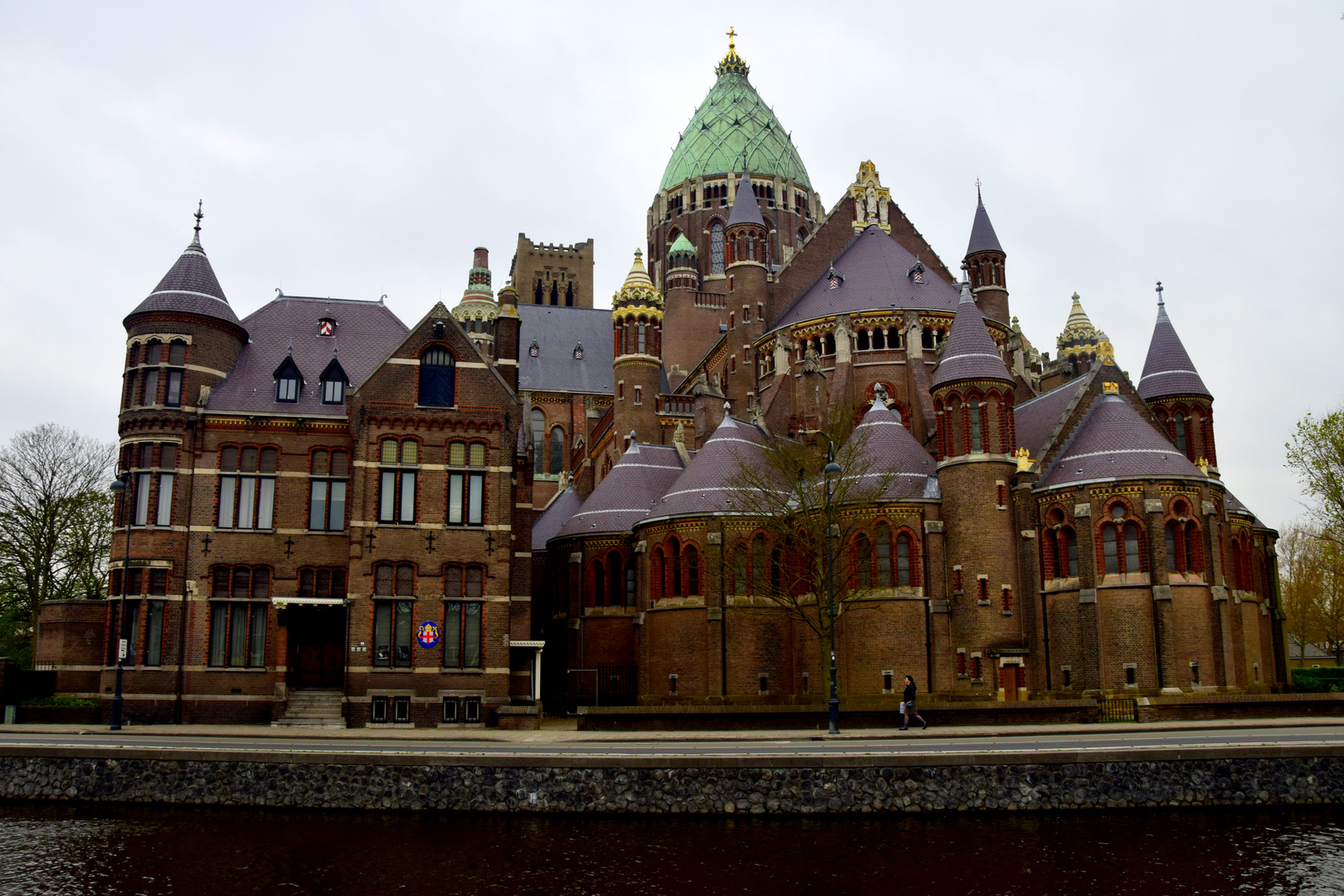 6pm meant it was time for dinner and time for the camera to be put to one side so I can just take a walk in the city without having the urge to snap at something.
My Airbnb place was still not ready for me to "check into" after dinner so I decided to hang around close to where I began my walk in the morning i.e. where the windmill was. I didn't realise that close to the windmill was a lesser known Hofje, a much smaller one, Hofje van Noblet: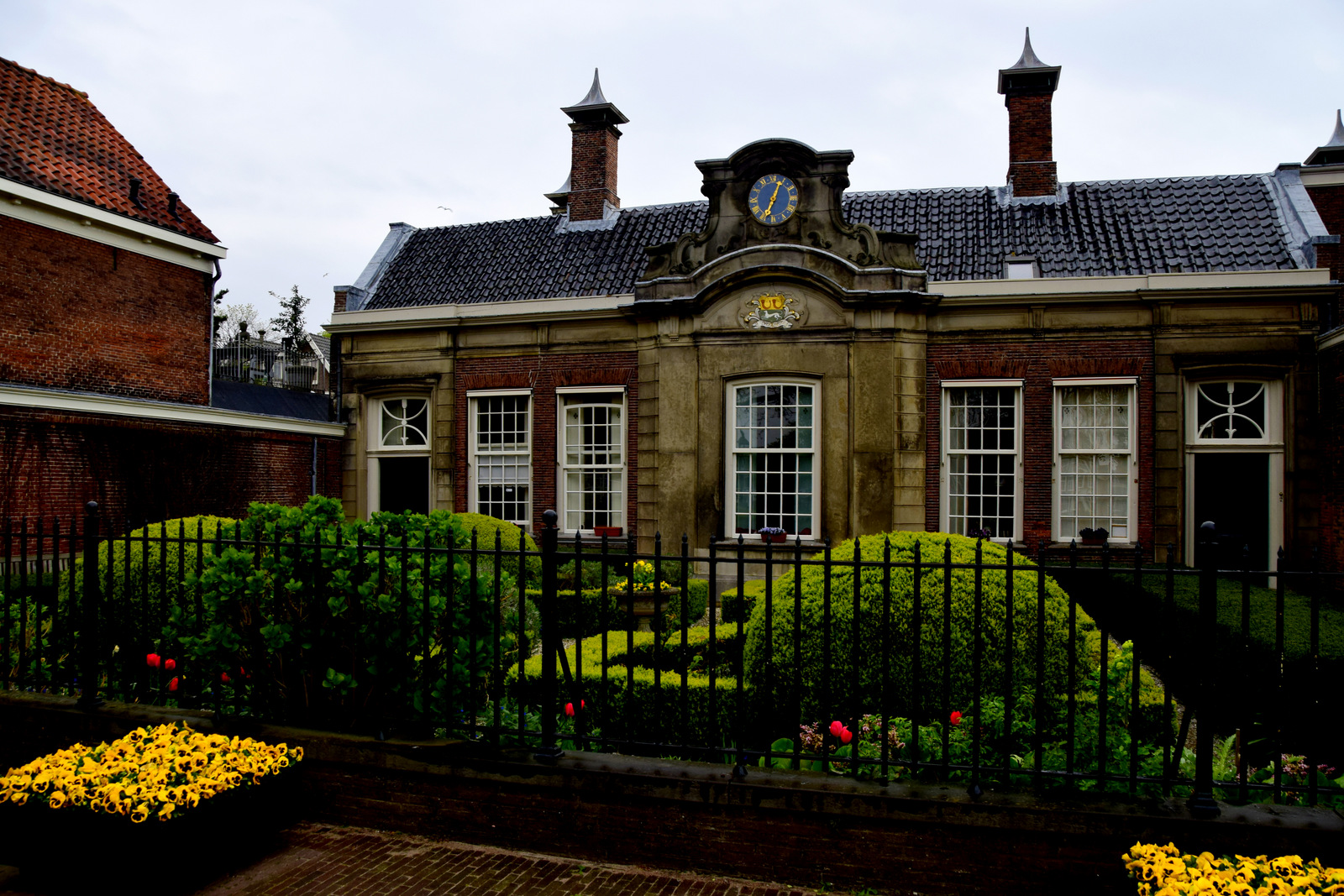 When you go back to your starting point, you'll realise that you actually missed out on some good camera angles such as this one: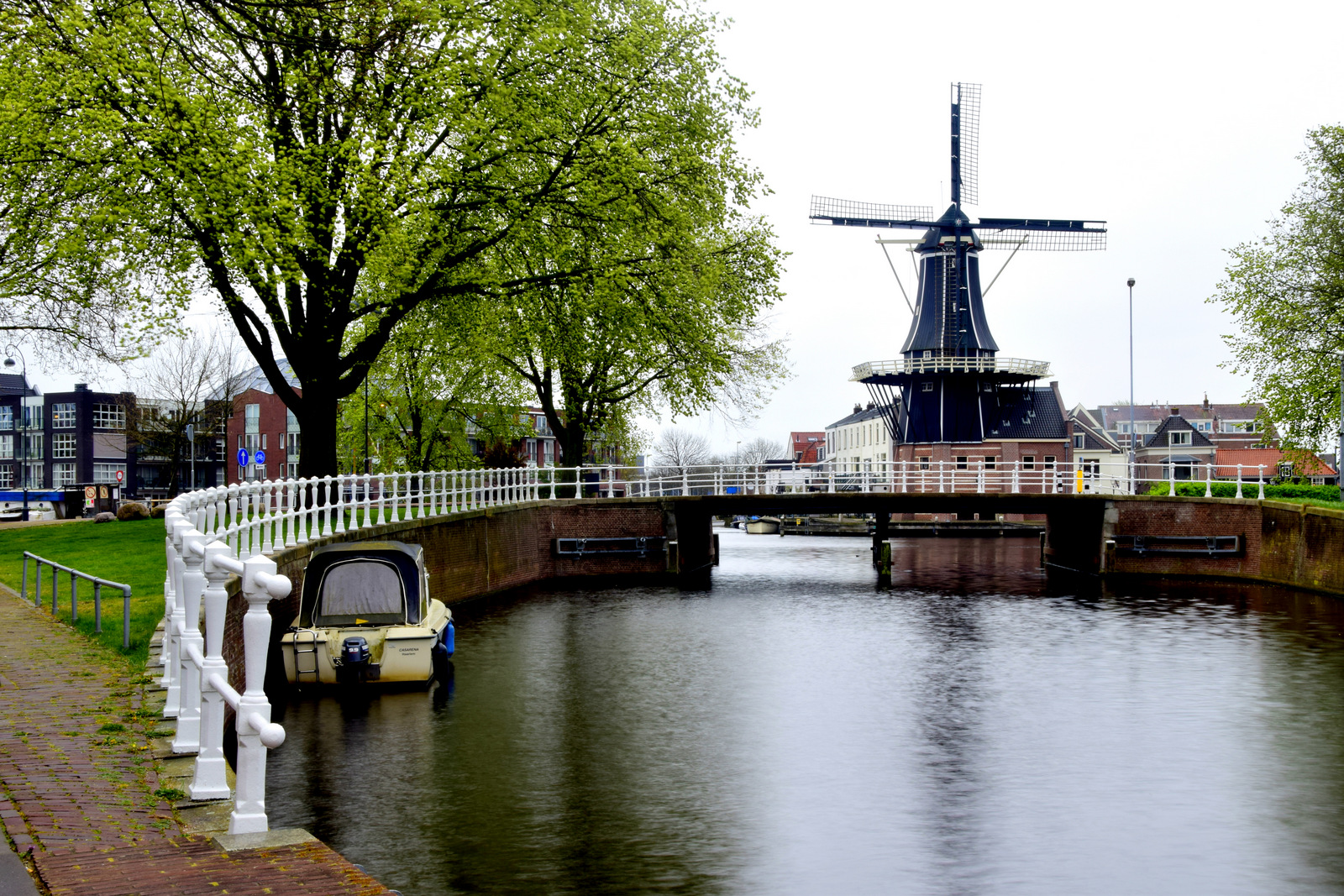 That shot seemed a little brighter than it actually was because I was trying to do a longer exposure to blur the water. In reality, it was actually much greyer as you can see in my photo with the windmill in the background: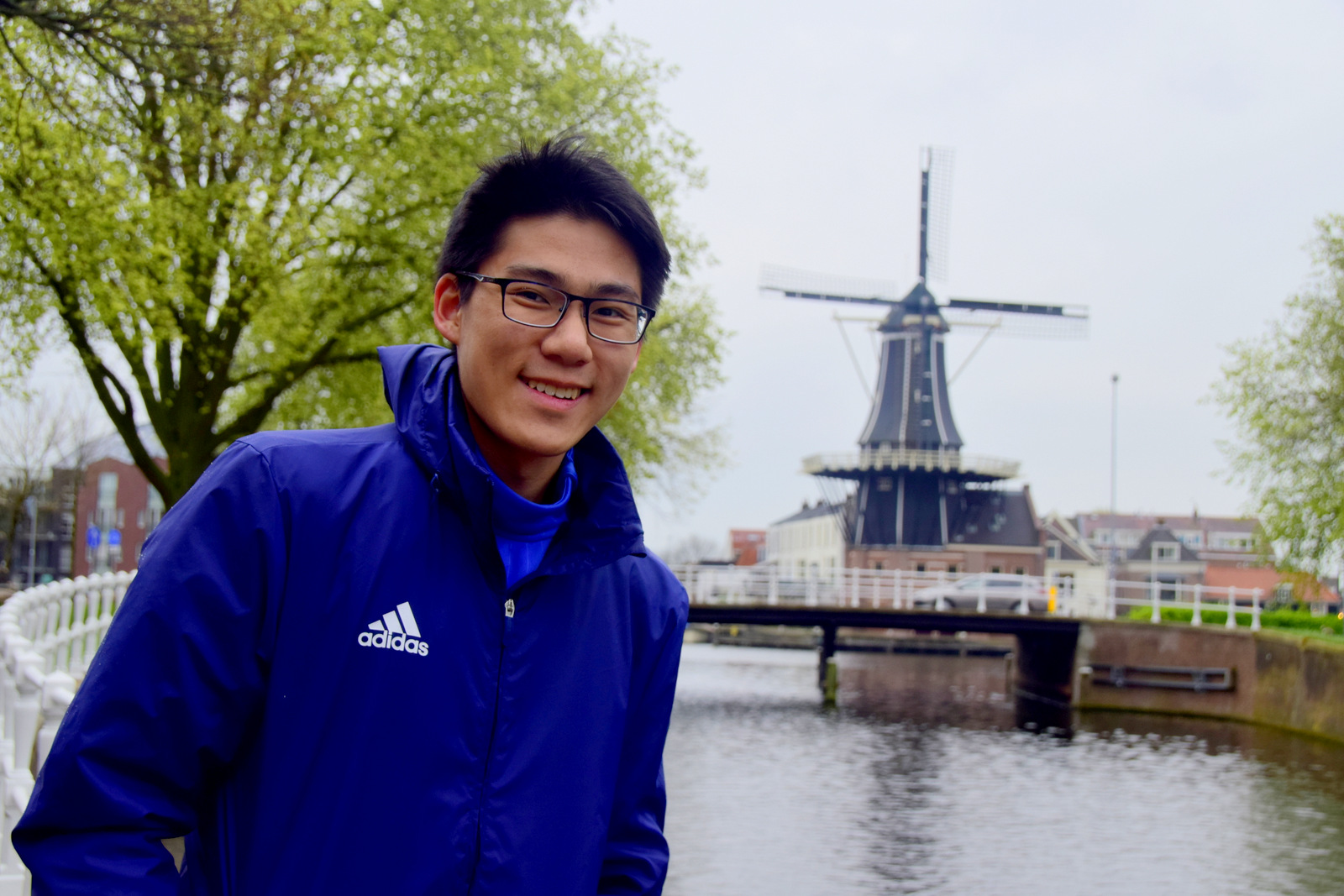 For some funny reason, it was incredibly cold in the Netherlands. It was the same temperature as it was in Guildford but it felt way colder and I regretted a little not bringing a thicker coat because I had to wear 3 layers instead of just one plus the coat.
Looks like I've only managed to write about just Day 1 and it's already quite a fair bit. Guess I'll have to split it down further because there's an even more intriguing story to tell about Day 2.
Until then, have a blessed week ahead! 🌈
Ben