Hey guys! The semester has just ended and now it's the final stretch towards preparing for exams. The past couple of weeks have been pretty chill for me (never thought I would be saying this HAHA) as I only had one last assignment due on 28 May. Sadly enough, I have 2 exams and both just had to fall on the last week of the exam season on 11th and 14th June. I was really really hoping to finish by early June so that I could have some free time to travel before going back home. Oh well, studies come first, and I really can't complain having more time to revise😅!!
Having been revising in the library lately, I noticed that the university provides students with an outlet for study support through the Academic Skills and Development (SPLASH) platform, offering revision tips and advice for exam preparation. The uni even offers free tidbits and smoothies during this period! I found this rather interesting as this was unheard of back in Singapore (at least in Temasek Polytechnic) where I guess students are just expected to manage their own time and learning independently. Perhaps the Singaporean education system naturally inculcates the discipline, time-management skills and revision techniques needed to prepare for exams from a young age. However, I do feel that Singaporean schools should consider offering such platforms to support their students' education as not everyone may be able to cope independently. A little help can really go a long way!
Apart from revising for exams, another thing that has been weighing on my mind recently is the module selection for my final year. At the end of semester 2, all Year 1 and 2 students are required to pick their optional modules for the next academic year. Optional modules offer the chance for you to 'specialise' in a particular area or field that interests you. For my course in International Hospitality Management, I have the choice of choosing modules specific to marketing, events, F&B and even consultancy as you can see below!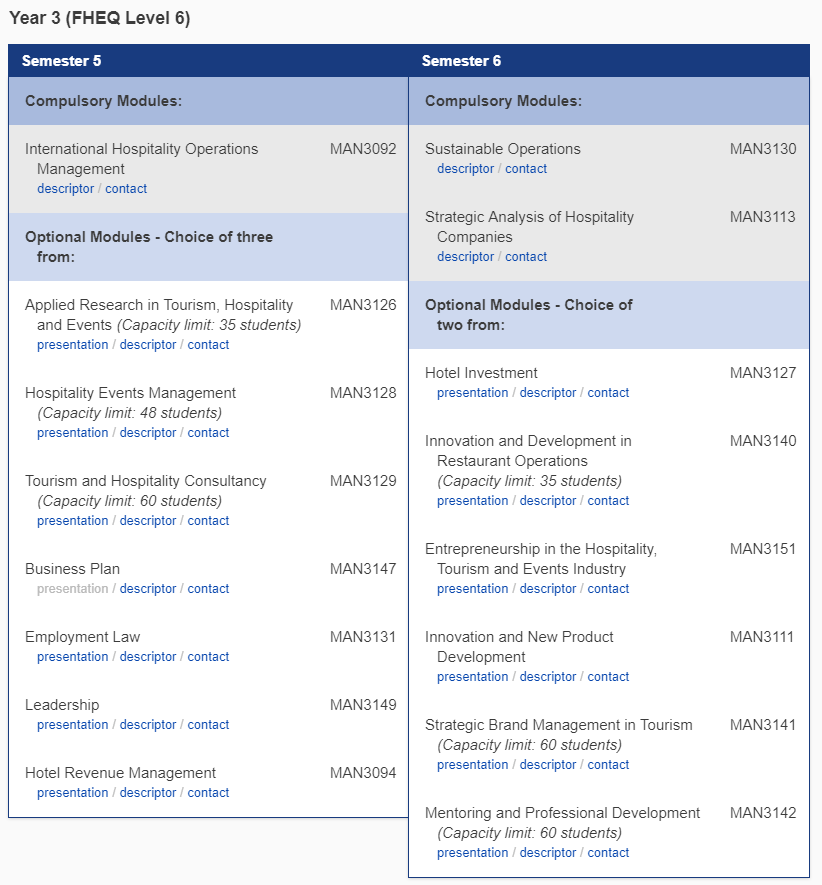 In general, the Year 3 modules provide to opportunity to engage in industry-based projects, having to work with real-life organizations and clients. This is a great outlet to apply the theory and concepts learnt throughout the first 2 years of uni and applying it on a real situation or scenario. For me, I'm really interested in doing the module on Applied Research in Tourism, Hospitality and Events which is like a short dissertation based on your topic of interest. I've already thought about what research topic to do as well! Initially, I contemplated whether I should take up this module as it would be an extended individual project of 6000 words😵. That would take up a big portion of my time and I still have to balance it between other assignments and projects. But I thought to myself that there won't be another opportunity in my life to engage in such academic research and decided to just go for it! Another module that really piqued my interest is Innovation and Development in Restaurant Operations. This module will take students on field trips to different F&B establishments to observe and analyse its operations. As a foodie👨‍🍳, I just knew I had to pick this module!!
All that being said, some of the modules that I'm looking to select are subjected to capacity constraints and there's a chance that I may not actually get into all my preferred modules. True to my Singaporean blood (and all its kiasu-ness😂), I am prepared to camp in front of my laptop and make my selection immediately when the window opens!! For now, I am counting down the days till I fly back to Singapore for the summer. Heck, I've already started planning my food schedule as well hahahaha. My first order of business is definitely my go-to bowl of ba chor mee at Bedok 58 market🍜!
That's all I have for today, and do stay tuned as I will continue blogging about my holiday around Europe during the Easter break!
Ciao~
Cheers,
Dwayne