Hi there! 😁
It's currently week 8 and I just thought it will be nice to share my placement experience during this period where students are looking for jobs. Essentially, placements are internships but of a longer duration, typically between 6 to 12 months. They are a great opportunity for students to develop their professional, academic and personal potential in a real working environment. And of course, it will be a valuable experience to put on your CV and also acts as proof to show your competency to future employers. 
Personally, I feel that the initial stage of finding placements and opportunities is always the hardest and probably the most discouraging because, in actual fact, it is not as easy to get a job on your first try ☹️. Even for me, I tried for 3 companies, failed the first 2 times and eventually got through the last company and really loving the job for 11 months. 👍🏼
But that said, I can definitely say that the University of Surrey is really good at providing support to students and I know that without them, my placement search would have been harder. 
First off, the employability and careers centre in Surrey is perfect in helping students discover their career path and at the same time, provide information, advice and guidance on the next steps towards the student's journey of succeeding professionally. They also have a dedicated placement team who can assist students in their placement applications and other procedures.
Something I found really helpful during my placement search is the Surrey Pathfinder, which is an online platform that allows surrey students to book career appointment, find job opportunities through Surrey's extensive portfolio of partners and access to various interactive development tools.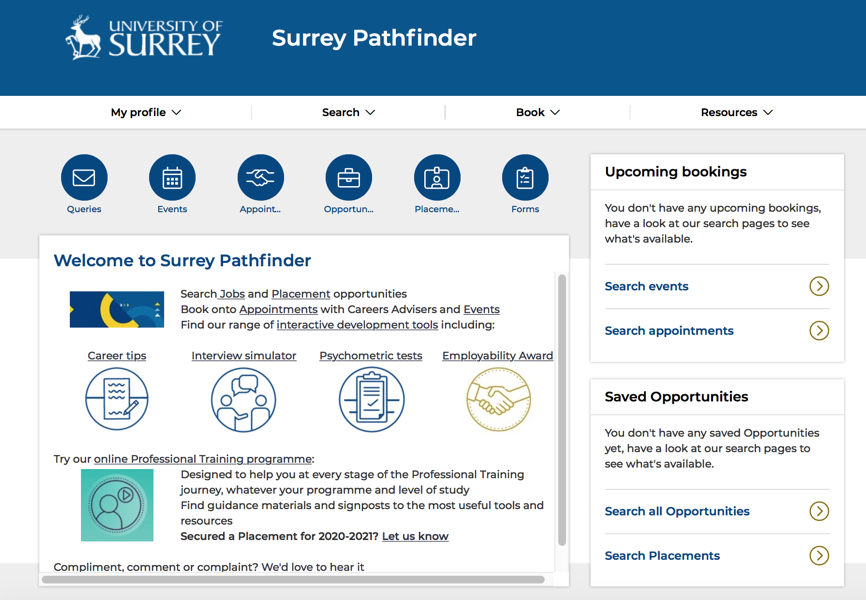 Thankfully with this portal, I was able to filter and find job opportunities that are relevant to my course of study. As an international student, I am not exactly familiar with companies in this region hence, this portal helped me narrow down my choices and reduces the stress of finding companies from scratch. That said, students are definitely free to find any company as long as it is approved by the school. Additionally, there are always career fairs throughout the academic year for students to reach out to potential employers. 
Besides that, I was able to book appointments to have my CV and cover letter checked and I find these sessions really useful as I get constructive feedback on how I should better present my skills and capabilities which will attract the potential employer.
Other resources and tools also include numerous templates and tips for crafting your cover letter and CV, mock psychometric tests and interviews where you can practice and be prepared for the actual run.
In all, I think Surrey has a great platform to develop students professionally through their wide network as well as the ample resources and support for students. Furthermore, it is a great opportunity to work in a different environment from Singapore and trust me, you learn so much!! I will recommend you to consider having this sandwich year during your studies! But of course it is always your choice and if you want to hear more about my placement experience, do keep a lookout for my next post as I will be sharing about my wonderful experience in Exodus Travels! (I promise it will be interesting!😉)
Till then, take care!✌🏼
Cheryl