Black History Month was originally founded in the US by historian Carter G. Woodson to commemorate the history and culture of African Americans, who up until that point had received little historical attention. It was later introduced in the UK in 1987 by Ghanaian-born Akyaaba Addai, who was a special projects coordinator at the Greater London Council. Contrary to the US who celebrates Black History Month in February, October was selected as the designated month for this event in the UK, as this is traditionally when African leaders gather to settle their disputes.
This year Black History Month is being considerably celebrated at the University of Surrey, such as through the "Black is…" campaign orchestrated by our in-house marketing team. The campaign consists of various black students being interviewed about their experiences of being black, both at Surrey and beyond. From being asked about whether universities are doing enough for black people to who their favourite black icons are. Their responses can be viewed below:
There are also a number of Students' Union events happening on campus in honour of the month, including a discussion with Bakita:KK this Friday, a former Surrey student and Union VP, who is now an international speaker, poet, researcher, writer and HIV activist. Her talk will cover the topic of black identity within the narrative of black history. Free tickets are available via Tixtu. A number of films that tell the stories of black individuals will also be screened, such as Mandela: Long Walk to Freedom and The Help. There will also be a panel on the 23rd October with black LGBT students to share their experiences of being part of both these groups, as well as a discussion on Black British history from TedxSurrey and #WokeSurrey on the 24th October. Lastly, there is also a Black History Month Q&A with Labour party politician Baroness Shami Chakrabarti.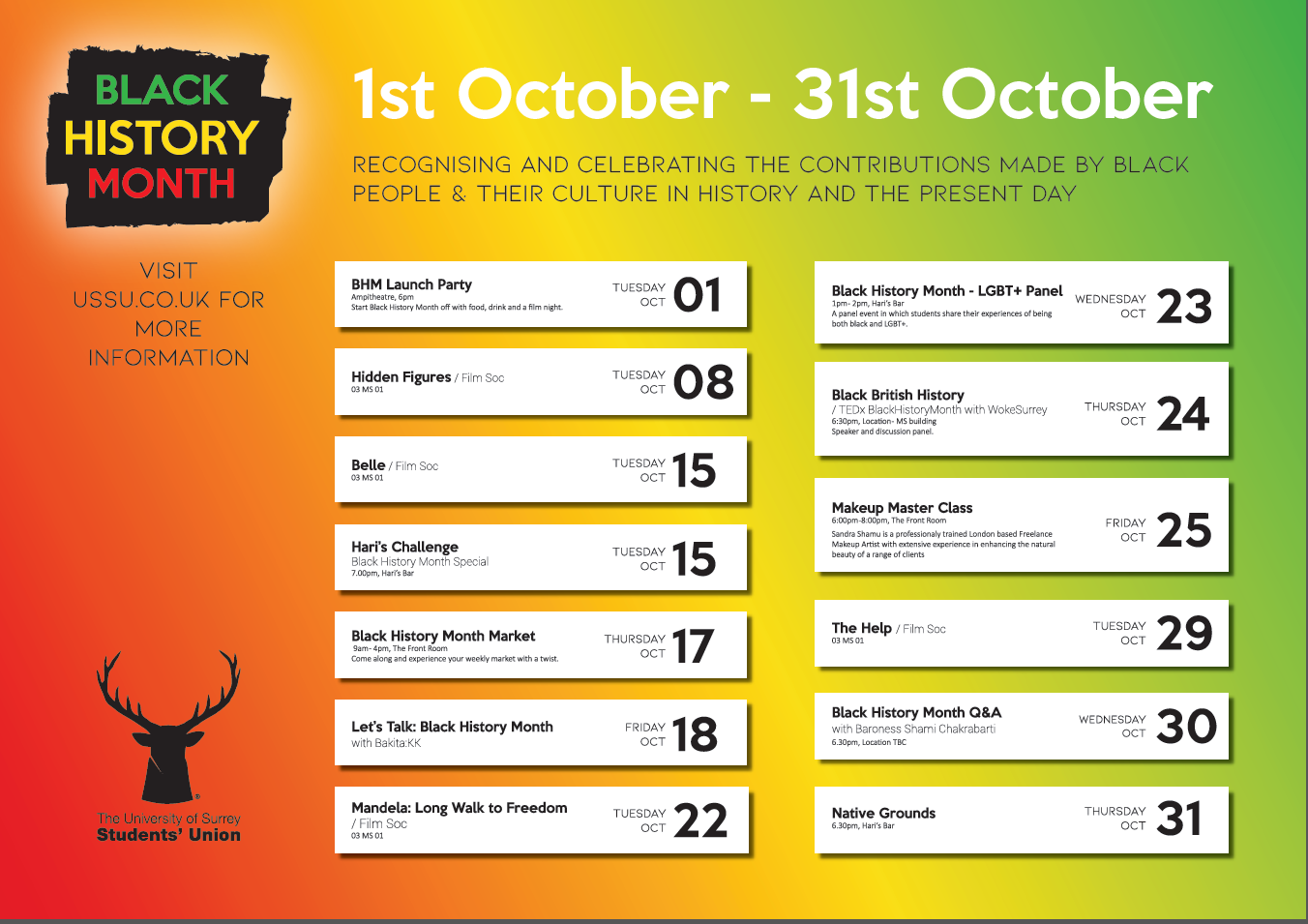 Additionally, there are a number of events run by the Widening Participation and Outreach and Marketing departments, such as the 'Speak up! Speak out!' event in collaboration with the ACS Society and the Theatre and Performance department. It aims to introduce students from local Surrey schools to spoken word poetry and inform them of how it can be used to express opinions on racial discrimination but also celebrate the contributions of Black people in Britain. It unites people from both the university and the local area to commemorate black history and the Black British community through a creative medium.
Furthermore, there is also an event about diversity in the workplace on the 24th October, featuring guest speaker Aishah Davis, who is the Head of Product at language learning company Limelight. The talk explores how and why we should incorporate diversity in our lives and work. If you're currently on placement and want to learn more about workplace diversity, this is worth attending. Get your free tickets here.
Whether you're part of this ethnic group or not, the events are inclusive and open to everyone interested in black history. We look forward to seeing you there!
Author: Rebecca Cofie.