Business Management is an extremely popular course all across the world that can take you into many branches and careers. Surrey is not an exception from this with Business Management being one of the largest courses that we offer!
Here at Surrey in your first year, you'll learn the foundations of business and explore modules that you never may have thought of before. Within your second year you can begin to specialise and really start to endeavour into modules that you're interested in. Final year is all about tailoring your degree and really focusing on an area of this broad subject.
Timetable
At Surrey, we have roughly 12 contact hours a week (although this could change) and this can be in the form of lectures, seminars and workshops. It is spread across 4 modules per semester. Our timetables are designed so that you're in university 3/4 days a week and we always have Wednesday afternoons off.
They recommend that you do 40 hours a week of study, so with 12 contact hours that leaves you with 28 hours of independent study. This can include homework, group projects, essential reading or revising.
Alongside your degree you can also participate in a scheme called Global Graduate Award. This allows you to learn a new language for completely free! As you can see in my timetable below I take Spanish once a week, this adds 2 hours a week to my timetable. This is something that can give your degree and CV an edge over others and is especially helpful if you're wanting to go into International Business Management!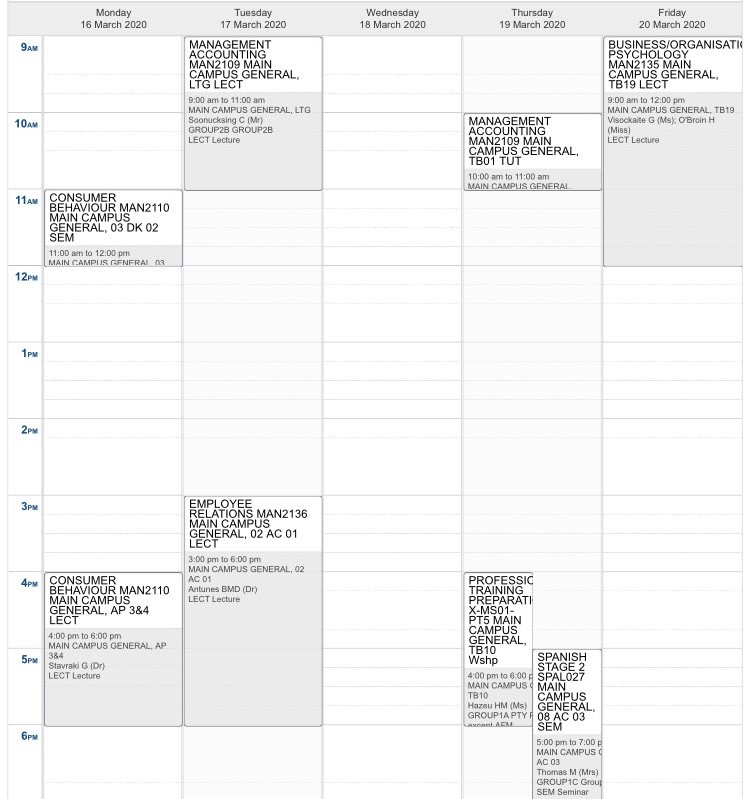 Modules
Some modules that you will discover at university will be compulsory, this means that you have to take this module and cannot change it. However, some modules can be optional, this means that you can choose from a selected list what ones you want to study.
Some modules that we study include Accounting, Marketing, Economics, Business Psychology, Business Law, Consumer Behaviour, Business Strategy, International Business Management and Employee Relations.
This is only a small snapshot of modules as the list goes on! The module choices we have are so diverse that you can learn about almost every part of Business.
Placements
A placement is a great addition to your degree where you can take a year out to gain experience in the workplace. Surrey offer some of the best placement connections in the UK, with over 2300 partners you're almost spoilt for choice! We were also awarded the best placement team in the UK!
The University also offers a study abroad option, which is where you can move to another country for a semester and study! It's a great experience and not something many universities offer.
Where to Study?
As mentioned before, you do have to do some independent study as part of your course.
I personally like to study in the Library, I find that I am more motivated when I'm out of my house and have made the effort to study somewhere else. Its also really great to see others being productive! Another place I like to study is the Hive. This is a new building which is dedicated to quiet study, this means that you can talk a little but also pop your headphones in and be productive if you prefer. It also has a great kitchenette so you can bring you leftovers!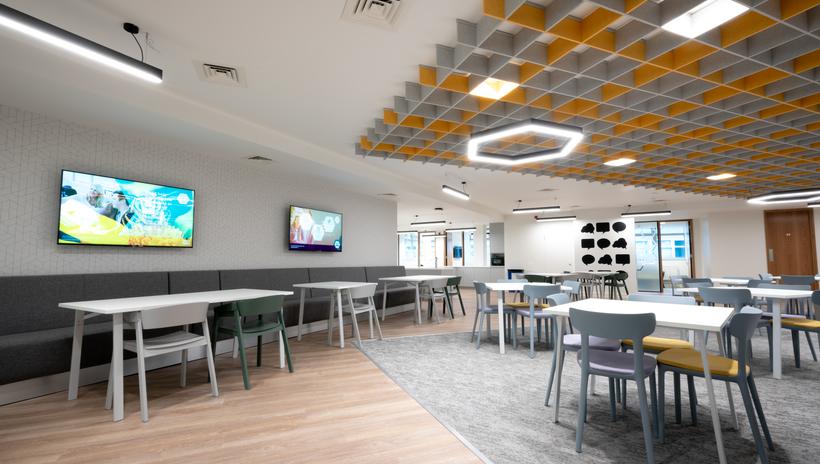 Surrey Business School Support
We have a great support system here at the Business School. When you first join you will get allocated a personal tutor, this is someone that you can go to with any problem! I have a great relationship with mine and he has answered questions for me about referencing, writing essays, grades and placements. If your personal tutor cant answer you question then they will put you in touch with somebody that can!
When it comes to overall university support, the Hive is a great place to also get general advice and support. Most of the time they'll be able to answer your questions and if not will direct you to the correct place! We also have a service called SPLASH which is in the library which can help with many academic things such as referencing and essay structures.
I hope that this gives you a better insight into our Business Management course! It's a fantastic course to study and will give you many transferable skills that are applicable not only in your career, but your personal life too! Surrey Business School is a very welcoming place with fantastic staff that will aid you to get the most out of your degree.