Hi everyone, my name is Issy and in this blog I am going to be talking all about my placement experience so far! I am a 3rd year Business Management student at Surrey Business School and am absolutely loving my time at the university. This academic year I started my placement with The BMW Group at MINI Plant Oxford in Human Resource Management.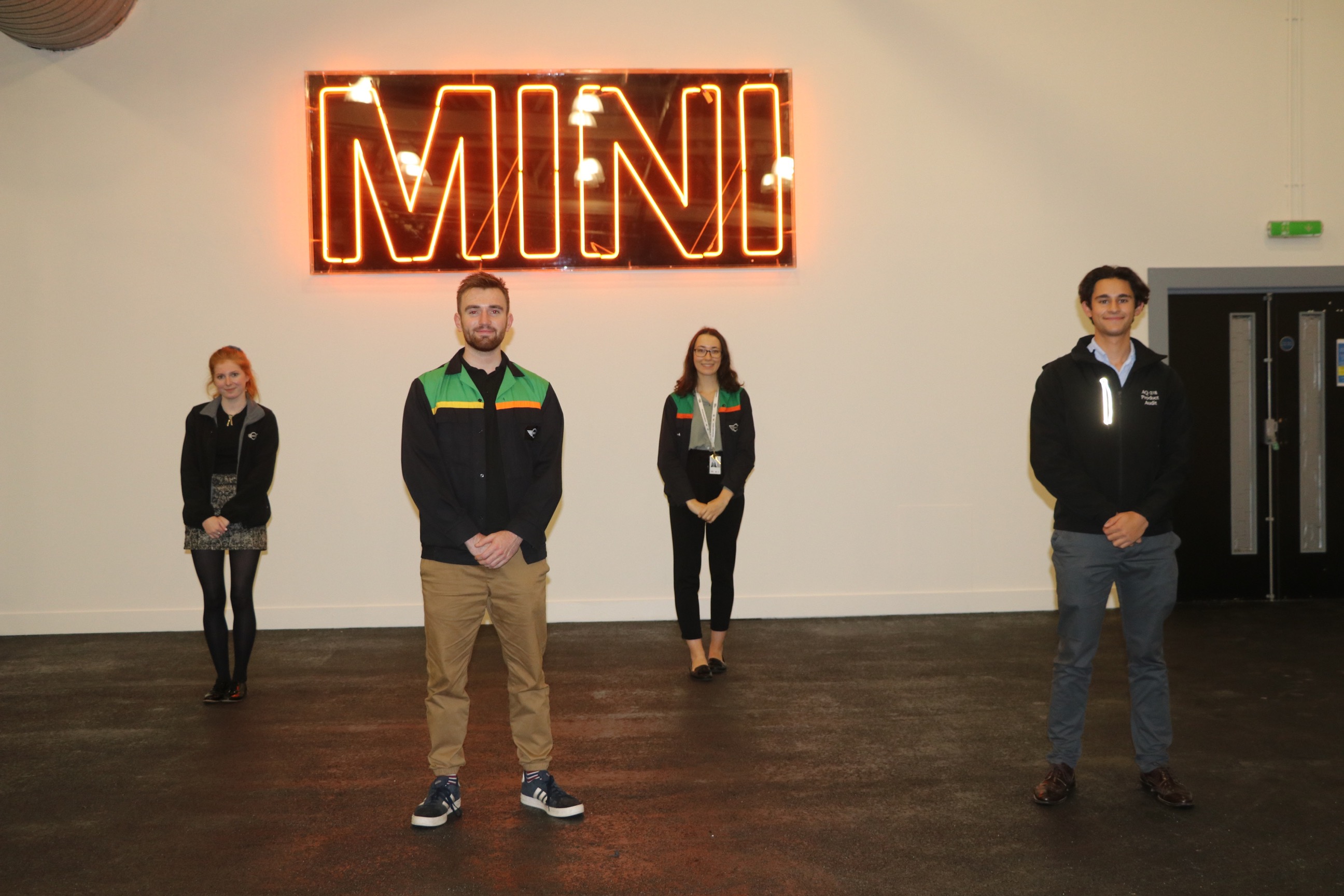 The Application Process
The application process is I think, one of the main reasons that people don't do placements, its quite daunting and overwhelming. Some people apply to 60/70 placements before getting an interview, others like me, will only apply to around 10/20 and be very lucky.
Most companies will have several stages of the application. Normally the first stage is an online application where you submit your CV, Cover Letter and answer questions. If you make it through this stage then you'll normally have to do some online tests (these are tailored to the course/job but normally consist of a numerical test and some form of competence or scenario based test). Next, you may have to do some form of video or telephone interview and then once you've got through this stage you're normally onto the final stage, assessment centres/final interviews. This is where it gets very scary but luckily the university offered me so much support here.
One thing that really helped me with this process was Surrey Business School. Roughly every week or two we would have 'placement workshops/lectures' which were so insightful into the application and interview process. Another thing that I found really helpful was our careers advisor at the Business School held LinkedIn, CV and Interview workshops where you could go and get 1:1 personalised feedback. Additionally, Surrey condense all of the placements onto something called Surrey Pathfinder. This is a website where a large proportion of placements are consolidated so that you don't have to spend hours looking on multiple websites, they are all in one easy place! My personal tutor also gave me plenty of advice when it came to applying and interviews, he recommended good firms to work for and gave me so many useful tips! I would also recommend keeping a spreadsheet of placements that you have applied too, this way you can easily keep track of where you are with each placements progress.
My Key Responsibilities and experience so far
It's fair to say that I am absolutely loving my placement so far and I don't want to leave. I started my placement in June 2020 and it is due to finish in July 2021. My team are so nice and welcoming, even if I make a mistake I always feel valued and supported. Even during the pandemic, I have been lucky enough to still be able to work in office as well as sometimes working from home. It has been an adjustment but I already know I have learnt so many valuable skills and expanded my knowledge that I can use to help me towards my degree and in life too.
My placement is within Human Resource Management, in summary it's the management of people! Some of my daily tasks and key responsibilities include: Disciplinary Hearings, Dismissals, Dealing with trade unions, Tribunals, Absence Management and much more. It is really interesting to see some of my knowledge from my modules at university in a real business setting. More importantly, there is never a dull moment in Human Resource Management!
Something that has also made my experience even better is having a placement tutor. Surrey Business School allocate you an academic that can support you throughout placement. You have regular meetings with them to discuss your placement, any highs or lows and just have a general friendly face to offer support to you. They're only an email away and it's a good way to stay connected to the university, even whilst you're not there!
What I have learnt so far
Not only have I learnt many valuable skills relating to my job such as policies, processes and software, but I have also developed my professional skills. I suppose you could call this my first 'proper job' as it is very different to something such as waitressing. Nevertheless, I have thoroughly enjoyed learning and developing not only life skills such as time management and organisation but also career skills.
Would I recommend a placement?
100% do a placement! I have never enjoyed something more than my placement with The BMW Group. Not only is it a great way to earn money and meet new people, but you learn so many skills that will prepare you for when you're going into your first job! It can also enhance your employability and give you an edge when applying for those competitive graduate jobs.
I hope that you have found this blog useful and enjoyed hearing about my placement experience. If you take anything from this blog it would be to push yourself outside of your comfort zone and go for it, do a placement and learn so many valuable skills. Also, utilise the support that you have around you at Surrey Business School, I don't think I would be in my placement if it wasn't for them.