There are a lot of questions to be answered when it comes to going to university; naturally, we all know the basic ones like "What do I want to study?" and "Where do I want to go?" but as you go through your options, other questions often crop up. Things like "What's the nightlife like?", "Is the accommodation nice to live in?", "How easy is it to find part-time work?"…. these are just as important, as the answers to these could alter your opinions on each university. In general, universities will always try to help answer these questions but at the end of the day, talking to an actual student about their actual experiences is always best! And that's where Unibuddy comes in!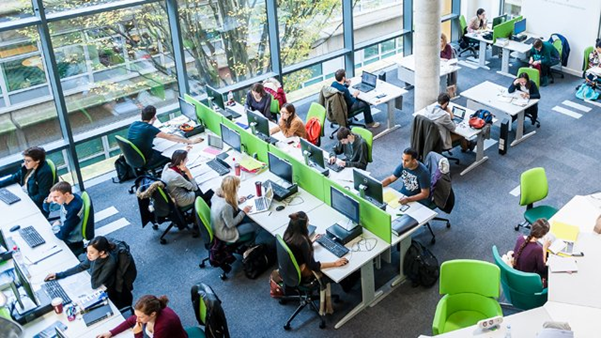 Unibuddy is a platform integrated into our university website which allows prospective students (or people wanting to know more about Surrey) to talk directly to current students about student life and their true experiences of university. Rather than comparing prospectuses and websites, and not always finding the answers you want, Unibuddy allows you to have a conversation with students across all years, degrees, and faculties and ask (almost) anything you want!
Here at the University of Surrey, we have 10 Student Ambassadors from across our community ready to answer your questions; from a postgraduate Food Science and Nutrition student to an undergraduate Mechanical Engineering SW student (that's me!). We encompass all the faculties and main subject areas, have ambassadors from across the world, and have experienced the life of a student first hand. Whether it's wanting to check our entry requirements for a course, or wanting to know where the nearest good bar is in town, we are more than happy to help!
To talk to us, search for "University of Surrey Chat to Our Students" or go directly to our website which will bring you to the page below: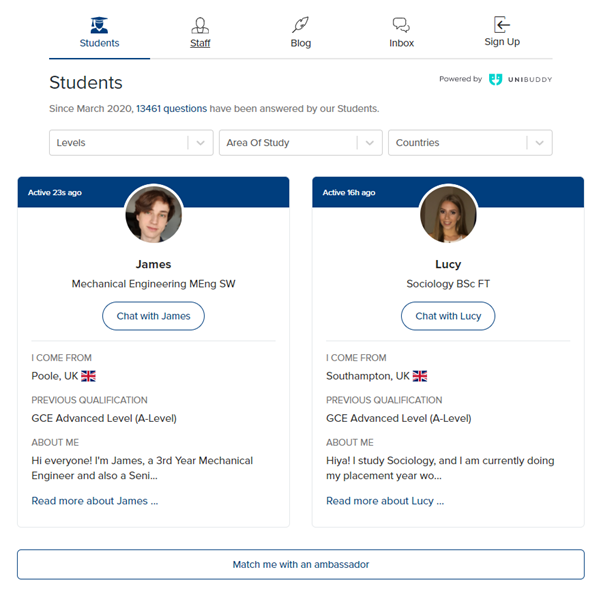 Straight away you will see the full list of the ambassadors on hand to answer your questions along with a bit about them (this will include where they come from, their previous qualification and a short paragraph about themselves). Your first step will be to sign up with the tab at the top which will give you a login and password – this means you can check back to see the responses you've got in the Inbox tab and ask further questions at a later date. Then it's time to choose someone to talk to! Either read through a couple of our profiles, or try our "Match me with an ambassador" feature to find the best person to talk to. From there, it's as simple as clicking "Chat with …." and sending your first message!

Since the scheme started in March 2020, we've answered more than 13,000 questions sent to us and, as a Unibuddy ambassador myself, I've helped answer quite a few of those too! Therefore, here are just a few things to remember when asking us questions:
Unibuddy isn't an instant messaging service and most of us are also full-time students, so though you might not get a reply within the first 2 minutes, we always aim to answer it within a 24-hour window (most often you'll receive a reply within a couple of hours)
All conversation must take place within Unibuddy, and we can't hand out any personal information about ourselves (like phone numbers or social media profiles) nor accept them from you!
If we don't know the answer ourselves, we will often point you in the right direction in getting a suitable answer so don't worry if you think your question may be too specific for one of us, we'd still be more than happy to help
You can find us through UCAS too!
Unibuddy is a great platform to talk to our current students and ask all those questions you're not sure where to find the answers to, and to ask what student life is really like! Hopefully, this post has been useful in introducing you to this platform and, from all the student ambassadors, we're waiting on stand by to answer your questions!