Whether you've just finished your final assignment of the semester, just come back from sports practice, or you've come to the end of yet another day at university, I can speak for many fellow students in saying there is just one thing left on the mind – food! And good food at that! It's so important for a student's physical and mental health to make sure that you're eating well, both in terms of healthy meals but also in regularity (i.e. 3 meals a day). Naturally, this is not always the case and perhaps the occasional midnight meal is required in those times of need, but in general I can speak from experience in wanting good meals everyday to keep me going. So in this blog I'm going to run through my top 5 go-to meals for when I need simple, quick but delicious food that doesn't break the bank!
Note: Please take account cooking instructions on individual ingredients, especially meats, and ensure your food is cooked properly and throughout before consuming. Food poisoning is not fun to deal with when there's deadlines to be completed!
1 – Homemade Pizzas
First up, a favourite of mine for the longest time – homemade pizzas! Now you might think that that means making and throwing your own dough and making your own tomato paste, at which if you have the time and expertise go for it, but for me I like to keep it even simpler than that. I buy cheap, plain margarita pizzas or flatbreads (or sometimes even naans if they're the only thing available) and use them as ready-made bases for the rest of my toppings! Cover the top of your chosen base with all the toppings you fancy, which for me could include chicken, salami slices, mushrooms, peppers, onions, sweetcorn, spring onions, basil, garlic, additional herbs and spices, and most importantly grated cheese! Into the oven as described on the packaging for your base, adding a few minutes to ensure the toppings are cooked through, and there you go! A cheap, homemade pizza that is exactly what you want in no time at all!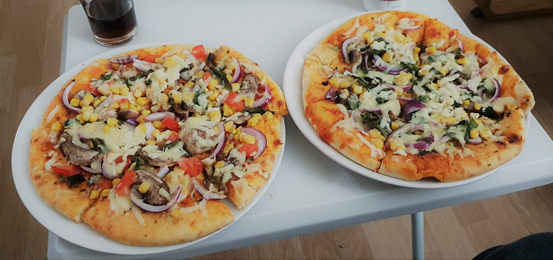 2 – Sausage Kebabs
If there's one thing I can't resist when shopping it's the reduced/clearance isles – get it right and you can get some amazing fresh food at a hugely discounted price! One thing that I often come home with is sausages, and so that's the inspiration for the next meal – sausage kebabs! Cut up the sausages into smaller pieces, along with some of your favourite vegetables (for this meal I often go for peppers and red onion), and skewer all the ingredients onto sticks before placing them into an oiled tray in the oven. 20 minutes later and you've got yourself some amazing sausage kebabs! Bring in some cheesy sautéed potatoes, or chips, and some greenery and you'll be faced with yet another healthy but delicious meal!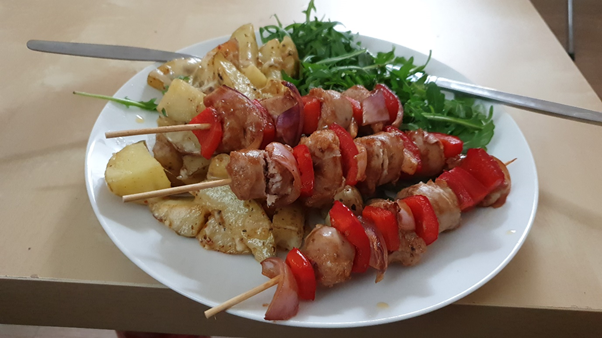 3 – Pasta Ragu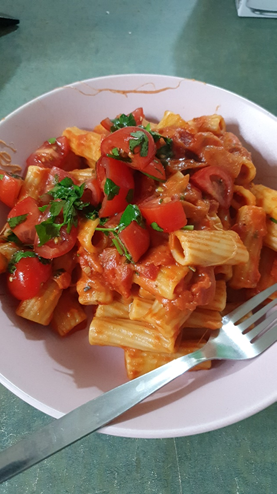 Ask any student for one food-stuff they always have in the house and I guarantee most of them will say pasta – it's a student staple! But making fun and delicious meals with it can sometimes be a trouble, which brings us to my next go-to meal – pasta ragu! Normally served with beef mince, I've also eaten this using vegan alternatives (and with no meat at all) and so can recommend this meal to all students regardless of your dietary preferences! Plus, it couldn't be simpler! Start off by boiling a large saucepan of water and cooking through your pasta of choice. Alongside this, fry some onions and garlic and cook through the mince. If you have the time, make yourself a pasta sauce from tinned tomatoes and purée (or buy one of your fancy) and add that to your mince. Just before the pasta is finished, add it back into the mince and add mozzarella cheese, stirring it all together for the last minute/s. Serve and garnish with tomatoes and chopped up basil as per taste, and there you have it, yet another amazing and tasty meal!
4 – Sweet Potato Wraps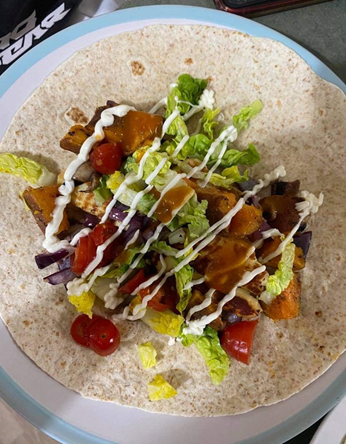 And onto meal four, and this one is for you vegetarians out there – sweet potato wraps! This is another one of those meals that you can make your own by adding or removing ingredients to your own taste. First off, peel and cut up the sweet potatoes and boil them in a saucepan for 12 minutes to soften. Then season and into the oven for 20 minutes to cook. Now to start on the rest of your wrap filling. Cut up any salad and vegetables you fancy (I would recommend lettuce and tomatoes) and put them aside for later. Fancy a bit more in there? Pan fry some red onions and halloumi in a pan and add that in too! Once the potatoes are complete, put everything into your wraps and garnish with any sauces you want (mayonnaise seems to be a popular choice here!). Voilà! Tasty meal no. 4 complete!
5 – Classic Chicken Curry
A classic meal but nonetheless a tasty one to finish the day – a classic chicken curry! Again, lots to substitute should you wish including changing the chicken for chick peas to bring in even more vegetables. Start off with cutting up the chicken and frying it in a pan with your onion and garlic. Once golden, add the curry sauce (whether that's a shop-bought jar or a homemade one, whichever you fancy!) and all other vegetables you want in there. Simmer for the remainder of the cooking time, and serve on a bed of rice. Bring in those sides of poppadoms, naans or even onion bhajis and enjoy!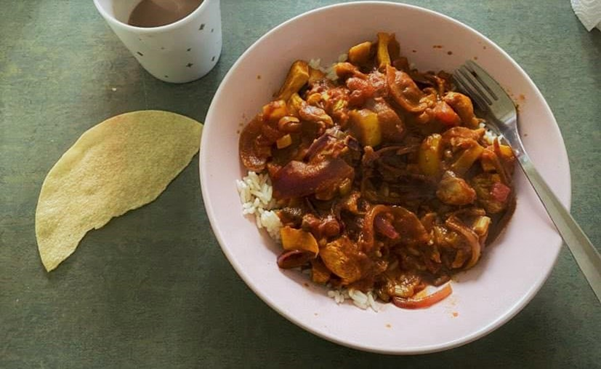 So there you have it! My top 5 go-to student meals that I crave after a long day studying. Want to know a bit more about cooking as a student? Check out another one of our blogs here!