For the majority of us, moving into our university accommodation would be the first time we have ever moved out and been without our family. It can be daunting at first but understanding that we are not the only ones in this situation makes things much easier. I'm going to provide some top tips on how best to prepare for moving into your university accommodation!

Make a list of the essential items
It is challenging to know what things you would need once you move in especially if you have never moved out before but try not to buy everything in one go! Instead buy the most important items such as pots, pans, cutlery bedding etc. Those "First Year University Haul" videos do not portray a realistic depiction of what a student needs for university. As someone who is going into their final year, there were so many things I bought in my first year of University that I ended up not using at all. So long as you bring your essentials you need, you can quickly pop into Town and buy anything you may have missed.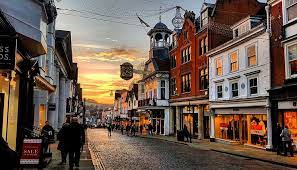 Don't leave your shopping to the last minute
Other students will be moving into their university accommodation meaning that they will also need to shop for their essentials. Leaving your shopping to the last minute can not only be stressful but you would have other priorities before moving out such as catching up with friends and family, working out your budget or relaxing before starting your journey at university. If you have not started your shopping, try and get the majority of it done soon!

Find your flatmates through the University of Surrey Freshers group on Facebook
The Freshers 2020-21 group on Facebook unites all students who will be starting their university journey at Surrey this year. Within this group, individuals create group chats for their course, accommodation building or even a group chat for international students. It's a great way to meet people so that you at least know someone before coming to university. I remember, I joined a group chat a month before starting at Surrey and was able to meet one of my flatmates! It was great as I felt more comfortable when moving in as I knew someone that I was going to live with.


Learn how to budget
Budgeting is one of those things that seems quite tedious to work on but can be extremely beneficial especially when you receive your first student finance loan. Once the loan is in your bank account, it is so easy to just spend it all on takeaways, clothes and night outs but budgeting helps prevent you from wasting your money so quickly. Rather than thinking in the here and now, think more about how you can make the money last for the whole of first term. The first thing students spend their loan on is their weekly shopping so knowing how to budget your money so that you only spend a certain amount of food shopping a week can be very beneficial for you long term.
I hope this blog has helped you understand how best to prepare for moving into University as it can be hard to know where to even start! Moving in is really exciting as you will finally be starting a new chapter of your life. For more blogs written by current students at the University of Surrey, click here.

I wish you all the best with moving in to your accommodation and I hope you make loads of memories