Universities can be campus-based or city-based. The University of Surrey is a campus-based university, this means that all the facilities are based at one or more campuses, rather than being openly distributed across a city. At the University of Surrey we have one main campus called Stag Hill, then other campus' including Manor Park, Hazel Farm and Surrey Research Park. The image below gives you an indication of where the key places are located.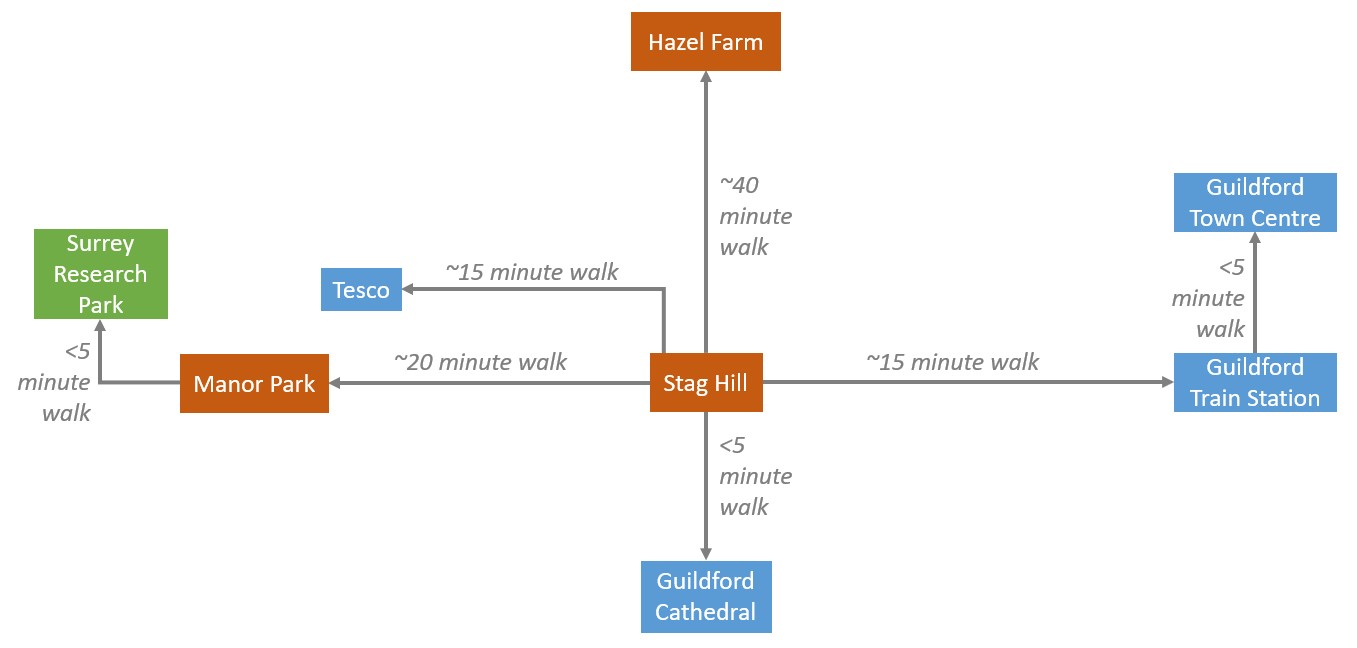 This blog will go through the key information about Stag Hill campus. Continue reading to find out more…
Academic facilities
Teaching facilities can be found across Stag Hill campus, from large lecture theatres, to smaller classrooms. Specialised teaching facilities for certain degree subjects are also available such as the Innovation for Health Building, Surrey Space Centre, and Ivy Arts Centre
The library is open 24/7 and offers 1,600 study spaces (including silent, individual and group study spaces, with desktop computers or blank desks). With the library, the Academic Skills and Development hub, Maths and Statistics Hub and Disability and Neurodiversity department can be found. Take a look at this website to read more!
MySurrey Spark is a new study space with group project spaces and study pods, bookable rooms, and student enterprise and entrepreneurial events.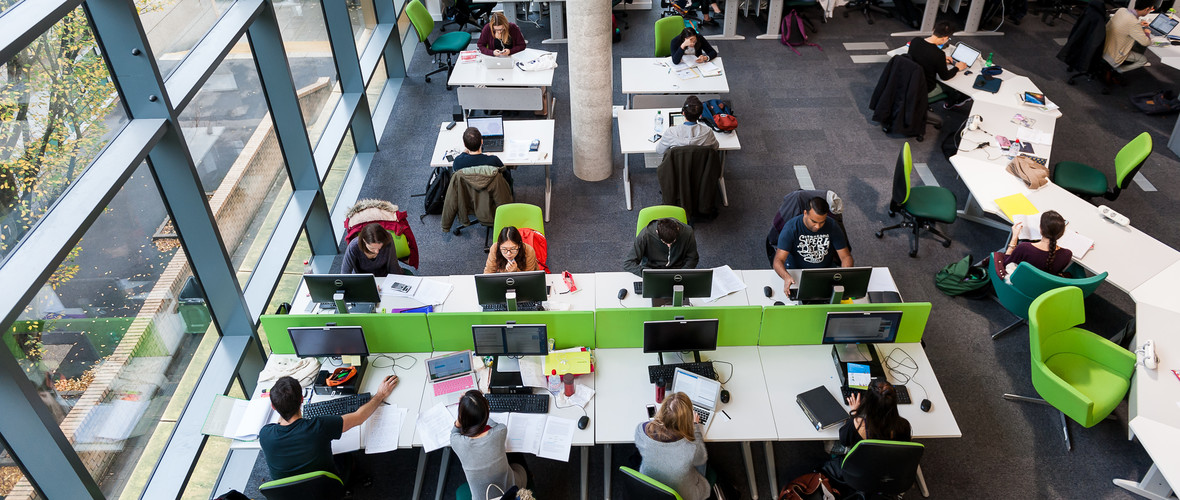 Amenities
Simply Fresh is the University of Surrey's campus shop, selling products such as toiletries and food and drink, and hot pastries and meal deals. A Post Office can also be found in Simply Fresh. Click here for more information.
Laundrettes are available on Stag Hill campus, operated by Circuit Laundrette. Follow this link to read more.
Social spaces
The lake provides a relaxing outdoor space for students to take time out of their day and have a change of scenery. There are benches, sculptures and barbecues. A variety of events take place by the lake including outdoor cinemas, the Free Fest (a free festival for students and members of the public), and other activities during Freshers' week.
PATs field is an outdoor space used by some of the sport societies and has an outdoor gym.
The Marquee is also found on PATS field, and is used for a variety of functions such as:
Freshers' fair
Careers fair
Graduation reception
Headphone discos
Film nights
Rubix is the University of Surrey's on campus nightclub.
MySurrey Nest is a space for students to relax in between lectures. There is a range of seating, rooms for workshops and lockers for charging phones and storing belongings.
Restaurants, cafe's, bars and take-aways… from having a meal at Lakeside Restaurant to grabbing a drink and snack from the Hideout, there are lots of places to buy food and drink on Stag Hill campus. Click here to read about the eateries on Stag Hill campus!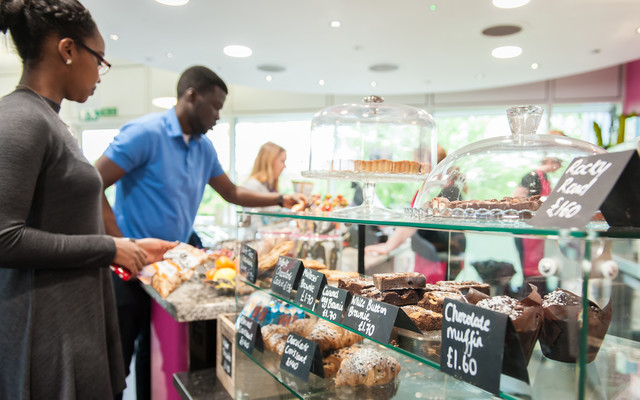 Support
Centre for well-being is a multi-disciplinary team, providing students with support for mental, psychological or emotional issues or conditions. To read more, click here.
Guildowns University Medical Practice, is the GP surgery on Stag Hill campus for students. Follow this link for more information.
My Surrey Hive provides students with student life support and advice. Students can speak with University staff or current student mentors. My Surrey Hive has a kitchen, 1:1 rooms, and an open study space. They hold a variety of events including film and game nights! To read more, click here.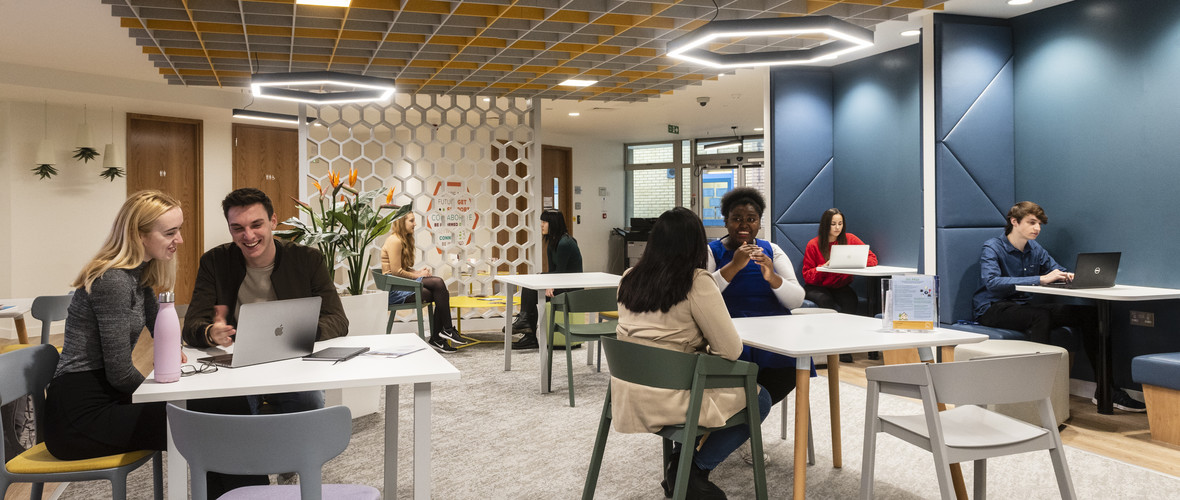 Other
The Students' Union is the representative body for students at the University of Surrey, and every student is a member. The Students' Union can offer a variety of support and offers a number of programmes and activities. It is led by 5 full time sabbatical officers and 21 part time student officers, who are voted for by students at the University of Surrey.
Student accommodation is available on Stag Hill campus, from shared to en-suite rooms. For more information, click here.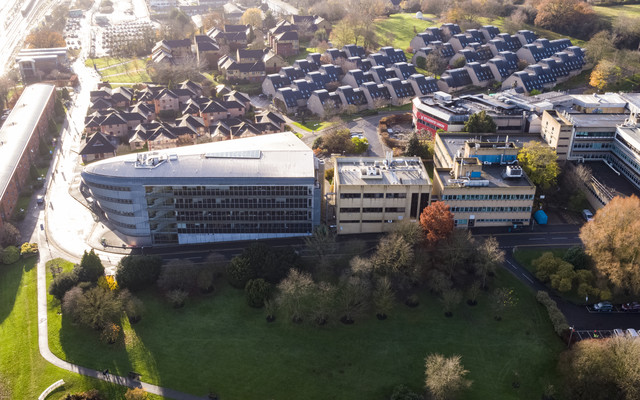 This blog has gone through some of the main facilities on Stag Hill campus! To read other blogs written by current students, click here.