Taking time out of your day to get some food can provide the perfect opportunity to take time away from your studies to relax and socialise. Whether that's at lunch time, getting a coffee in between lectures, or eating out in the evening, on Stag Hill Campus there are a variety of places to eat and drink. Continue reading to find out more…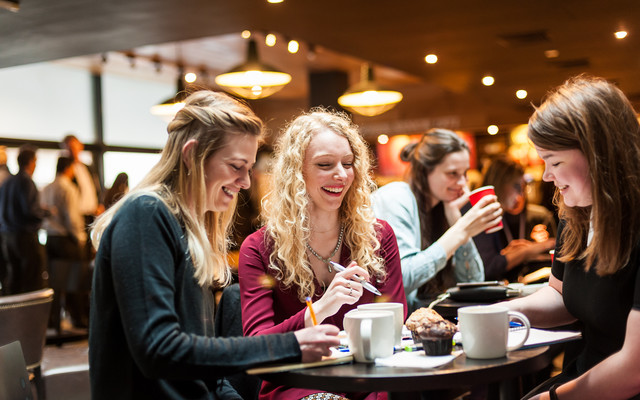 Young's Kitchen
Young's Kitchen offers dine in and takeaway Asian cuisine! Dishes include katsu curry and sweet chilli chicken! Young's kitchen is also available for delivery!
Lakeside Restaurant
Lakeside Restaurant offers a dining experience ran by University of Students. The menus change monthly, using the best local produce!
Wates House
Wates House is a bar and restaurant offering milkshakes and hot, alcoholic and non-alcoholic drinks, and a selection of food including loaded fries, burgers, hot dogs and sides.
Pizzaman
Pizzaman is a takeaway found next to the Students Union, offering food such as pizza, chicken wings, garlic bread and burgers.
Thursday Market Stalls
Every Thursday a fruit and vegetable market comes to Stag Hill campus, as well as other food vendors and a bakery stand.
Lakeside Coffee Shop
Lakeside Coffee Shop is ran by current University of Surrey students, in a perfect location to grab something between lectures and seminars. They offer a selection of hot and cold drinks, soup, cakes, sandwiches and confectionery.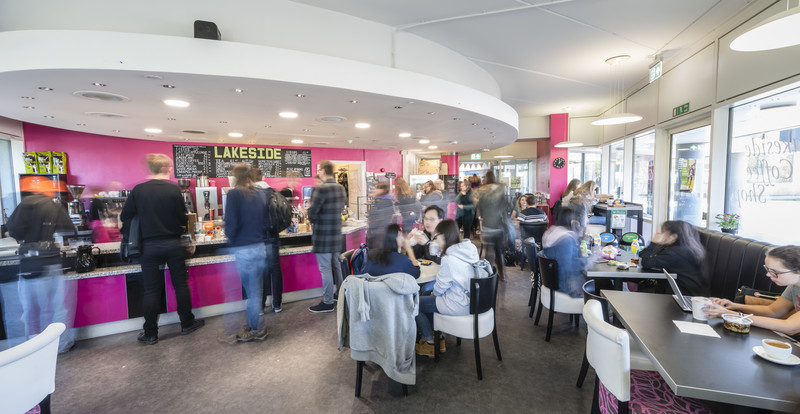 The Hideout
The Hideout serves Artisan coffee, pastries, buns, cakes, doughnuts, sandwiches, wraps or salads.
Hillside Restaurant and Lounge
Hillside is a great place to meet friends in between lectures for lunch! Hillside offers a variety of food from meal-deals, home-cooked dishes (soup, jacket potatoes etc), stone baked pizzas, fish/pie/sausage and chips, curries, plant-based street food, salads, and cakes. Eating in and takeaway options are also available. Students with points to redeem from SurreyMoves+ can also receive a discount.
Starbucks
Starbucks is located below Hillside Restaurant, and is very convenient to grab drinks and food throughout the day
thEATre
The thEATre can be found in the Guildford School of Acting, serving breakfast, lunch and snacks. Students can enjoy hand-roasted coffee, freshly baked pastries, breakfast snack pots, sandwiches, cakes, light snacks and salad boxes.
Simply Fresh
Simply Fresh is the campus shop, selling all the essentials that students may need… from milk and butter, to shampoo and soap. Within Simply Fresh, there is also a Post Office. Simply Fresh also sells meal deals, ready meals, and freshly baked pastries!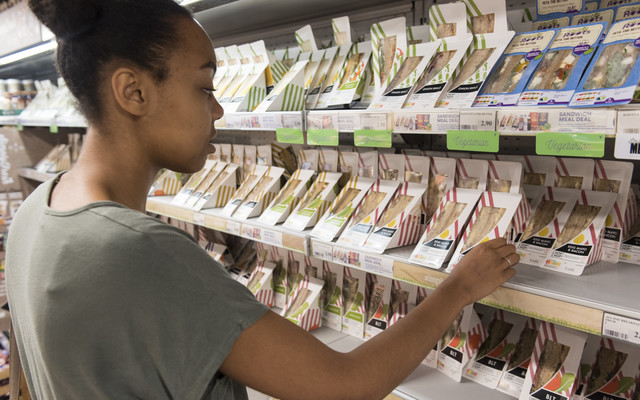 Eateries can also be found on Manor Park and at the School of Health Sciences based at the Kate Granger Building on the Surrey Research Park. Guildford Town Centre is only a 15-20 minute walk from Stag Hill, offering lots of other places to grab something to eat. To read other blogs written by current students at the University of Surrey, click here!