An Applicant Day gives you the chance to learn more about the University and the course you've applied for. Read our top tips to help you make the most of your visit to campus.
PLAN YOUR JOURNEY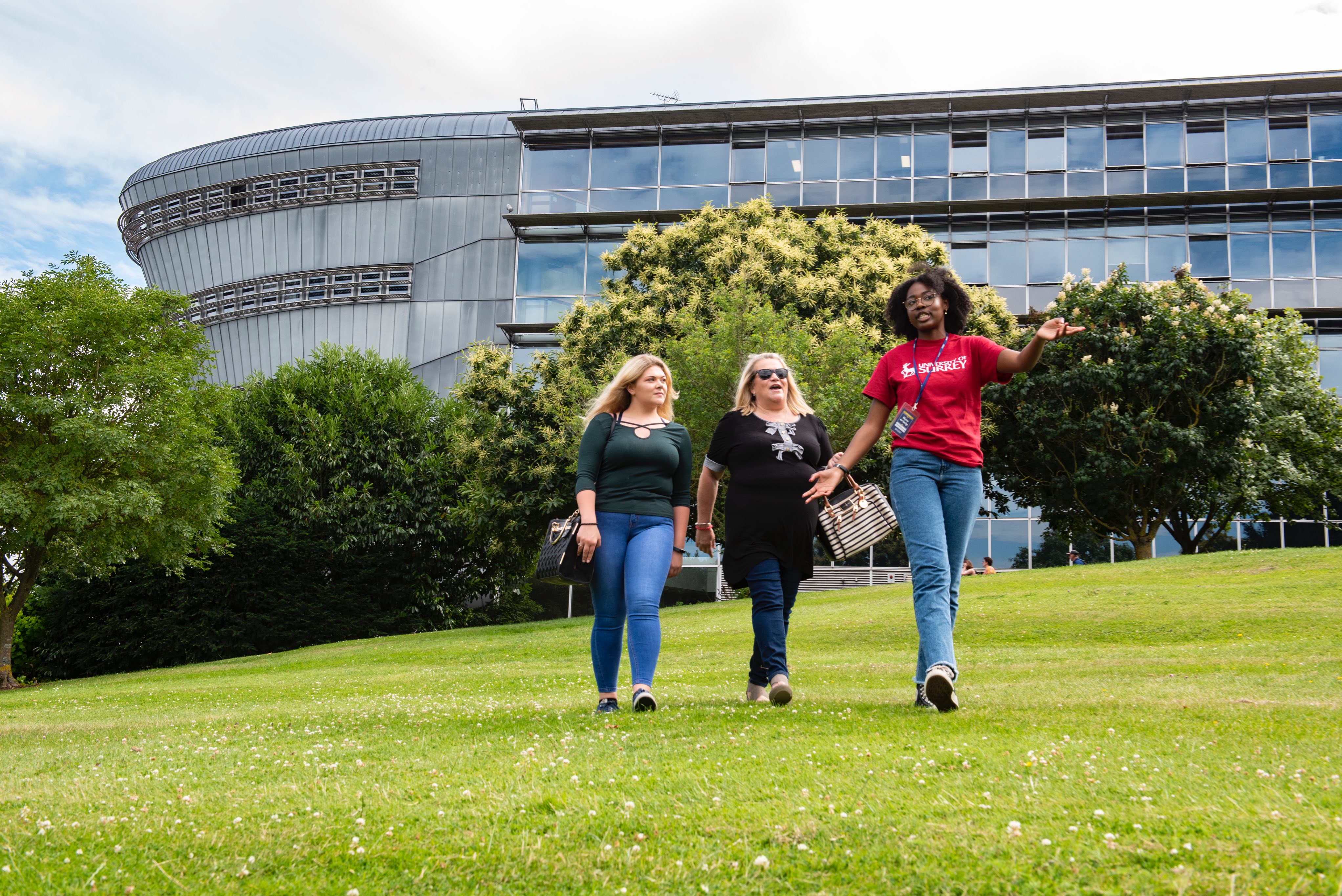 Avoid last-minute panic by working out how you'll get to campus in advance.
We recommend travelling by public transport if possible. Guildford train station is only a 10 minute walk from Stag Hill campus and there are frequent buses from the centre of town.
View directions to the University.
Download our "Getting here and around" document which will be available from Surrey Self-service, our applicant portal, shortly before your Applicant Day. This will provide more details on your travel options, including a map of town centre car parks and walking route to campus.
Once on campus, follow signs to the registration point in the marquee on PATS field.
BRING THE RIGHT STUFF
You'll need your UCAS ID or University of Surrey ID number for registration, and remember to print off any other documents you may need for the day.
Wondering what to wear? Choose clothes you feel comfortable in. Most tutors will not dress formally, so it is not necessary for you to do so. We recommend wearing comfortable footwear as the campus tour involves a lot of walking. Make sure you bring a raincoat or umbrella too, as most of the tour is outside.
EXPLORE THE CAMPUS
You'll spend a lot of time on campus if you decide to come to Surrey, so take the time to get a feel for whether it's right for you.
If you've not visited the campus before, don't miss the chance for a campus tour at the end of the day.
Our friendly student tour guides will show you around our Stag Hill campus and talk to you about student life in Guildford. You'll also see some of our band C Stag Hill accommodation. (Tours last approximately 1 hour)
Read more about our campus.
LEARN MORE ABOUT YOUR COURSE
Applicant Days offer a fantastic opportunity to meet current students, speak with academics and chat to admissions tutors.
Other activities may include facilities tours and interactive workshops. You'll have the chance to ask any questions about the course and find out what life is like from a current student studying your subject, so have a think about anything you might want to ask.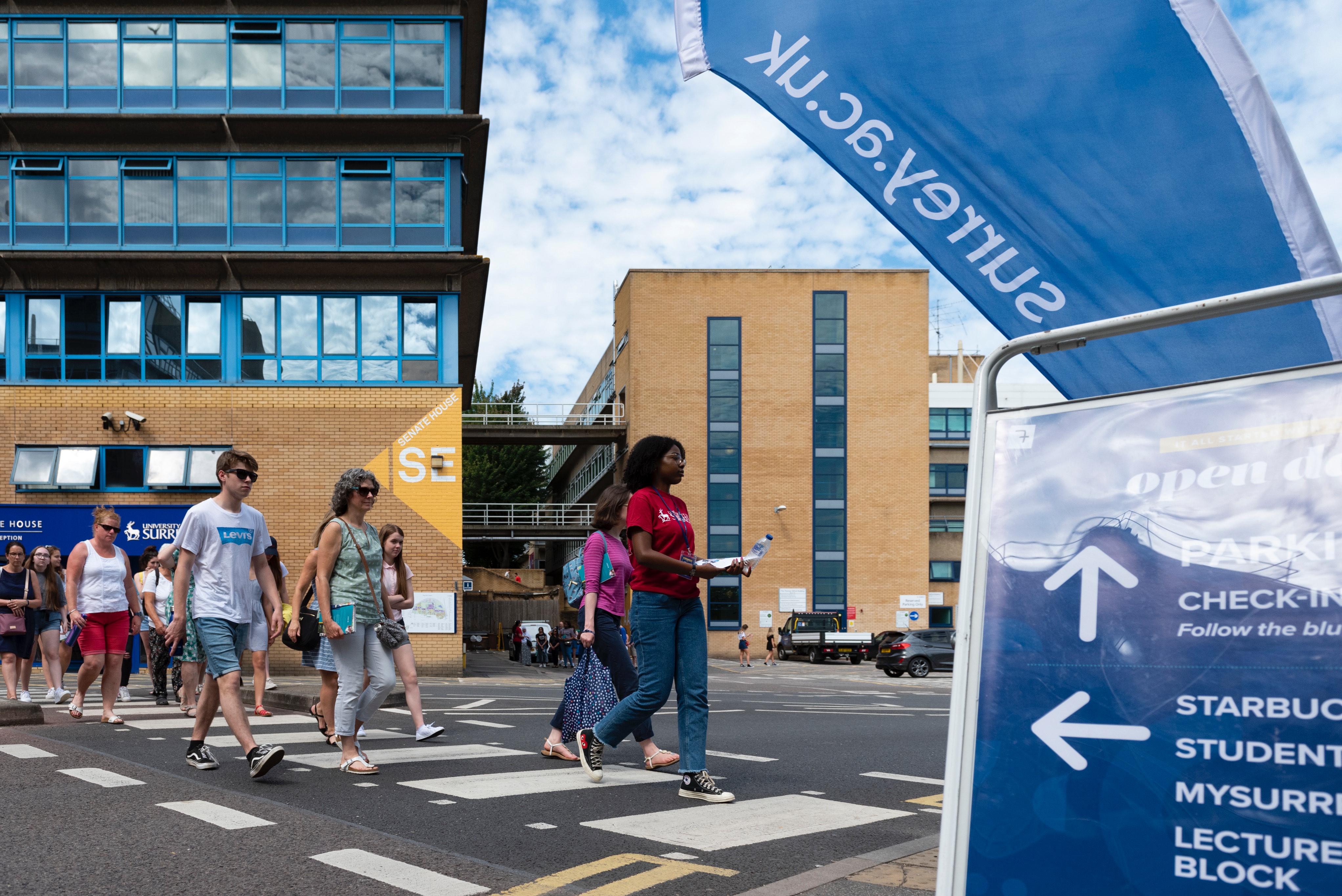 HELP US HELP YOU
If you have any dietary requirements or have accessibility needs, our team are more than happy to help. Please get in contact with us at least one week beforehand with your requirements via applicant.days@surrey.ac.uk
TELL US WHAT YOU THINK
After the Applicant Day, you'll get a post-event survey. We want to make sure our Applicant Days offer the best possible experience at Surrey, so please let us know if you enjoyed your experience with us and tell us about any areas you think we could improve.
BOOK A PLACE AT AN APPLICANT DAY
Not all of our courses offer a post-offer Applicant Day. If you've applied for an undergraduate course in Health Sciences or at the Guildford School of Acting, and you're selected for interview/audition, you may be invited to visit campus as part of the selection process, before an offer is made. If this is the case, you will be contacted via Surrey Self-service.
For more information about studying an undergraduate degree at Surrey, visit our website.