If you are on a course with a placement year, you could be starting your placement year in seven-to-nine-months' time!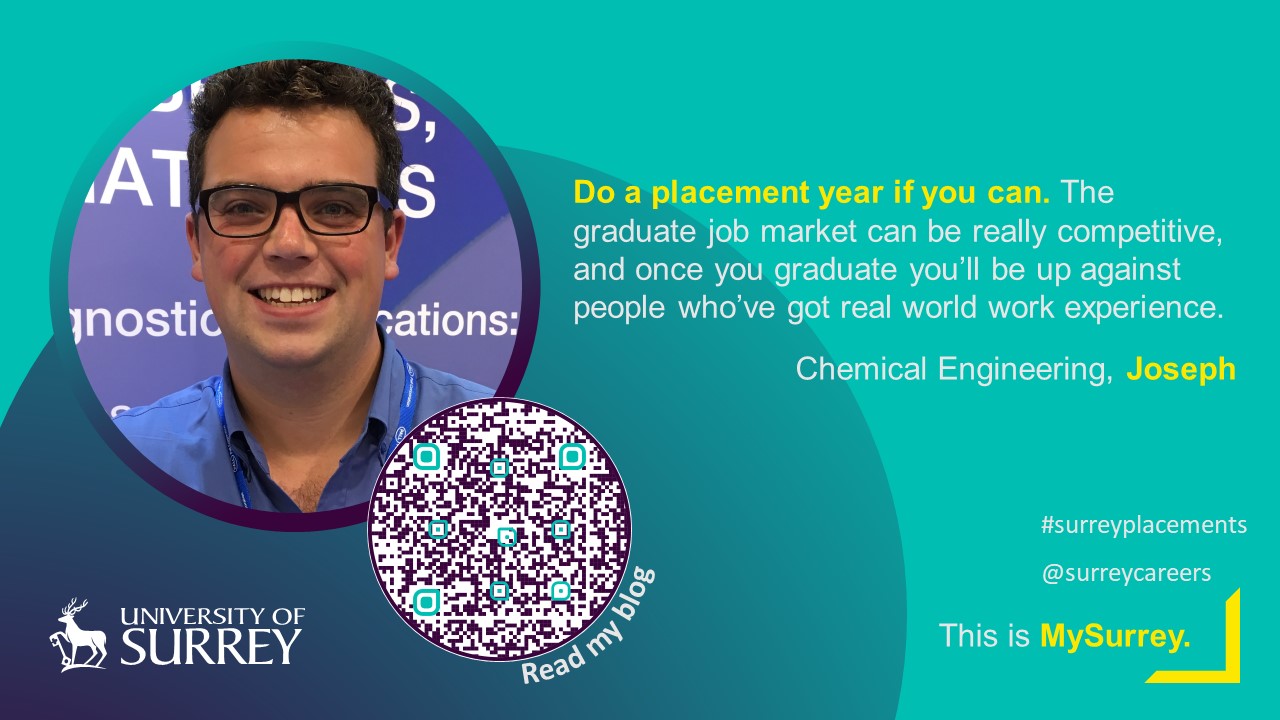 Quote from Chemical Engineering graduate, Joseph's blog
Placements closing in December
Don't worry if you haven't started applying yet! There are currently almost 500 placements available on Surrey Pathfinder. The deadline for 300 of these is end of December – to be in with a chance of getting these – it is time to start applying!
Tom from our Placement Team talks about applying for placements
Can I do a placement year if I'm enrolled on the three-year programme? 
Yes, it is a very quick process to go from a 3 to 4-year programme. Email placements@surrey.ac.uk. If you are on a tier 4 or student route visa please let us know if you want to change asap as it's a longer process.
How do I apply for placements?
Many placements require you to submit a CV and cover letter to apply. Your CV should be unique, reflecting your strengths while being clearly focused on the role you are applying for. It's important to include relevant transferable skills and the context in which you gained them within your CV.
How can I show that my strengths and skills are relevant to the role?
Most job descriptions include a person specification where it gives the skills and experience the employer is looking for. Think about what you have done in the past that will allow you to demonstrate the qualities and competencies an employer is looking for.
These can be gained from your academic life, part-time work, volunteering and positions of responsibility (for example from a sports team, or from an organisational role you have taken.)
Should I include part-time work on my CV?
YES! Employers like to see that you have done something other than your studies. Your part-time work enables you to demonstrate transferable skills like communication, teamwork and time management.
Can I use the same cover letter for every placement application?
The short answer to this in 'no'. The cover letter is the way you introduce yourself to the company and they will be able to tell immediately whether you have made the effort to write a bespoke one. They are likely to sift out all the applications with generic cover letters.
You should target it to the job and company, explaining why your skills and experience make you an excellent candidate for the position. Careers adviser Kate explains what to include here.
You can get your CV and cover letter checked by our team! We offer 15-minute appointments in which we can check one of these. Or you can book a longer appointment to get both checked.
There aren't many options on Surrey Pathfinder for my course, where else can I look?
You can find lists of past placements on your Professional Training Module on Surrey Learn (unfortunately not all courses have this so please check Surrey Learn.)
New roles get posted daily on Surrey Pathfinder so keep checking there
You should also look on Gradcracker (STEM jobs), LinkedIn and company websites
Is it important to have a LinkedIn profile?
LinkedIn is our recommended site for a professional social media presence. Employers might look you up on LinkedIn before inviting you for an interview, so it is a good idea to create a LinkedIn profile. You can also follow companies and search for placement on LinkedIn.
Use the information in your CV as a basis for your profile. Check out this LinkedIn cheat sheet.
How can I use the vacation effectively?
Firstly, make sure you spend some time relaxing! It is important to have some down time to recharge your batteries.
The Christmas Vacation could also be a good time to fine tune your CV, create your LinkedIn profile and get some additional work experience or volunteering experience.
If you are in Guildford over the vacation, you can find seasonal work to enhance your CV here https://www.experienceguildford.co.uk/job-vacancies/
You can also explore our Professional Training Module on Surrey Pathfinder. It brings together a range of guidance materials, resources and interactive tools designed to support you with your placement applications.
Got any more questions about placements?
Drop in to MySurrey Hive 12-1pm on Tuesdays or Thursdays until 16 December (not 14 December) to chat to one of our team, or email them placements@surrey.ac.uk.