Student Enterprise are delighted to announce our annual Building an Entrepreneur Event will be taking place across three lunchtime sessions from the 24-26th March in a new exciting digital format!
Building an Entrepreneur is the University of Surrey Student Enterprise's annual showcase of talent, ideas and start-up businesses.
The initiative helps budding entrepreneurs at every stage of their enterprise skills development:
Explore their potential through practical enterprise workshops
Experience the development of their idea through enterprise challenges 
Execute their business idea in the dedicated campus incubator.
This event is a celebration of the exciting students and graduates currently involved in Student Enterprise at all levels, and an opportunity for you to hear from each of our cohorts!
We warmly invite any University staff, students or local business people who are interested in the Student Enterprise programme and who would like to offer feedback and advice to the entrepreneurs to assist their onward journey.
Explore Group – Wednesday 24th March 2021
Join us and our Explore group to hear about how they've used Surrey Student Enterprise events and advice to help build on their entrepreneurial skills!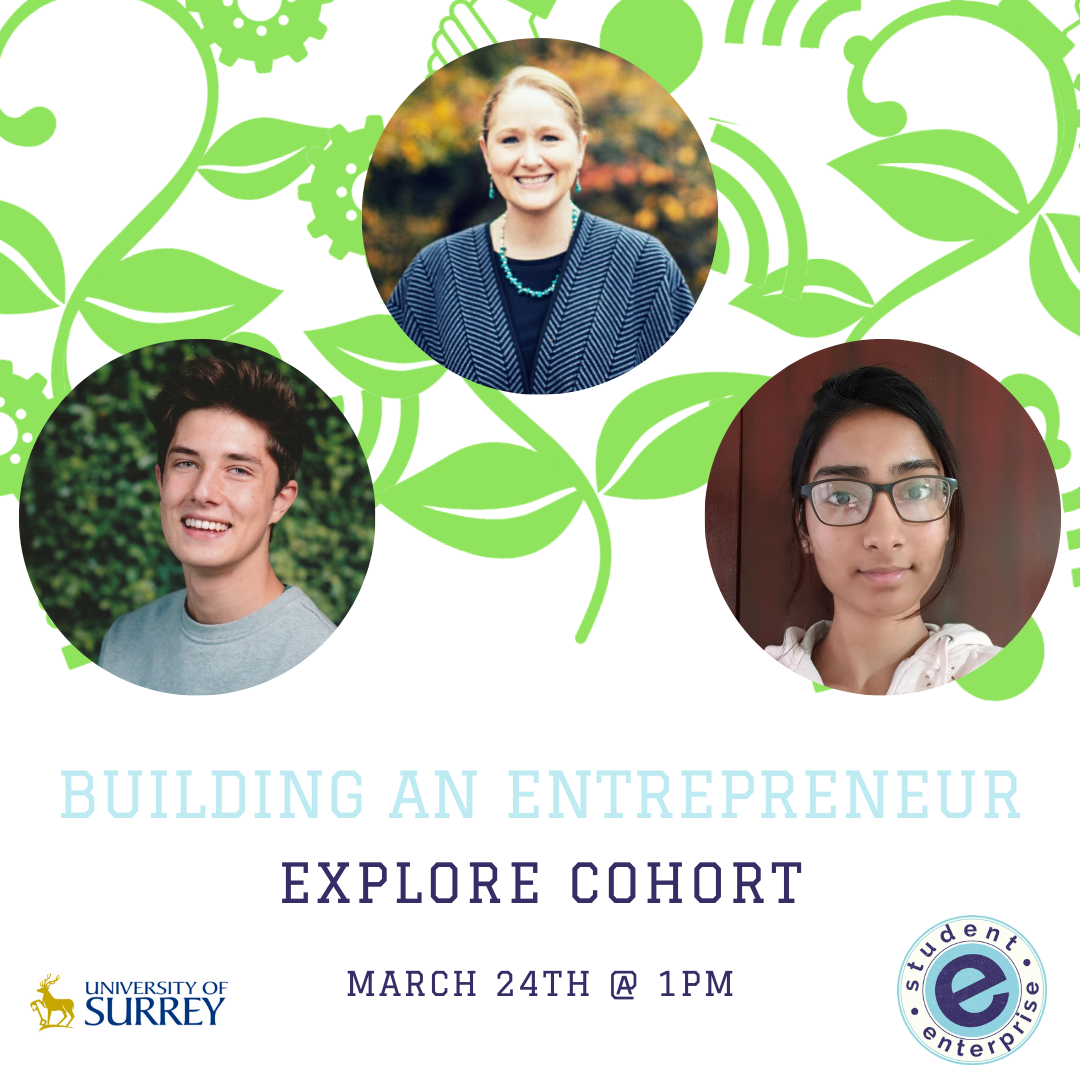 Our speakers on building their entrepreneurial skills:
Bastien Charly – Social enterprise with Enactus
Lori Hoy – Her journey to entrepreneurship through a variety of programmes within Student Enterprise
Rajukumari Raveendran – the intrapreneurial journey with our IKEEP programme
Experience Group – Thursday 25th March 2021
Join us and our Experience group to hear about their business idea and learn about how they are working to bring it to life!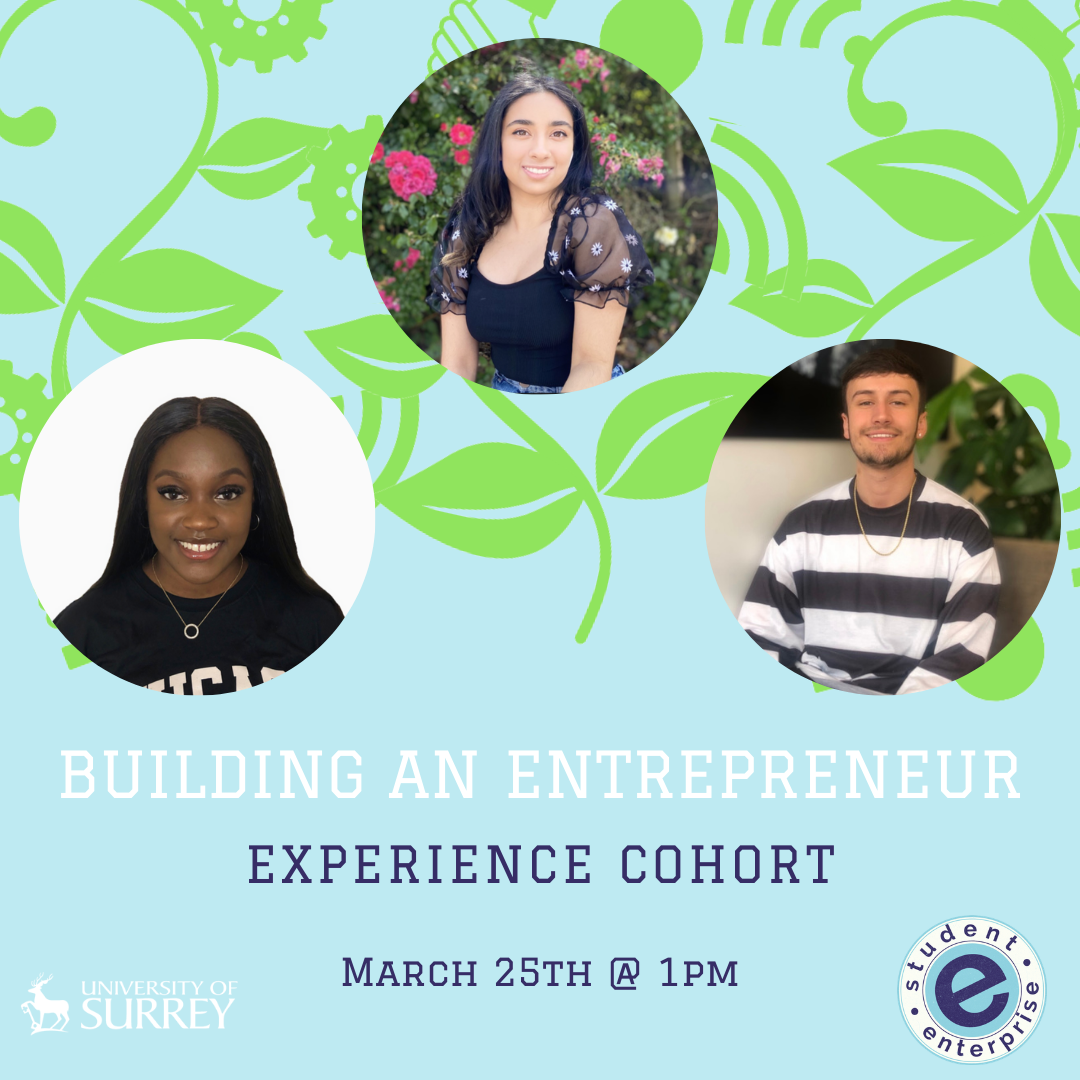 Looking for a new entrepreneur to help and mentor? Come along and see if you could help!
Our speakers on their business ideas:
Amy Obi – A mental health support movement for young athletes
Janvi Sehgal – Glass water bottle revolution
Charlie Slate – A new cocktail delivery service brought straight to your door
Execute Group – Friday 26th March 2021
Join us and our Execute group to hear about how they made their business idea a reality!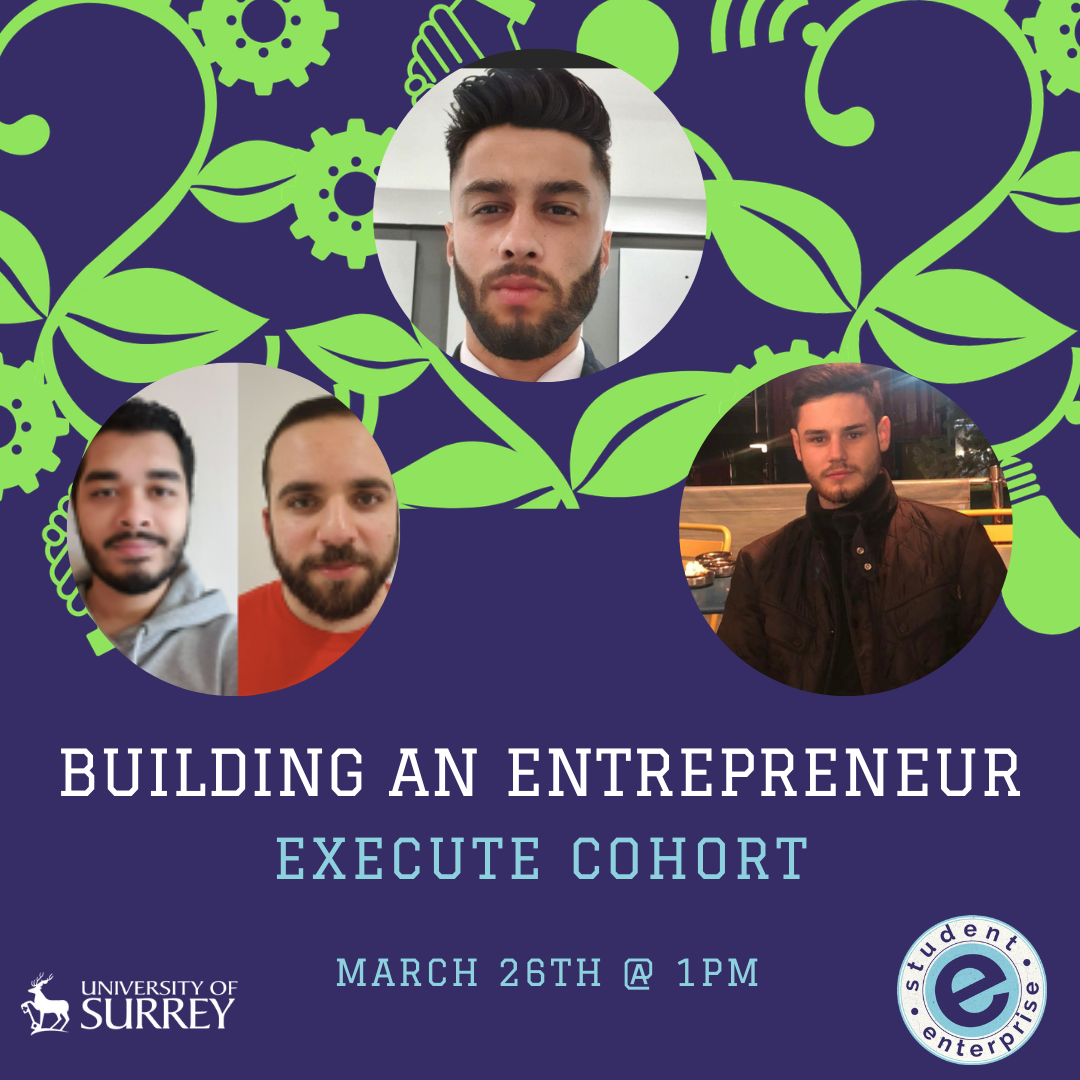 Think you have some business advice to offer or invest? Why not come along and hear from these Student Enterprise start-ups!
Our Speakers on their businesses:
Emdadul Hoque and Ayman Kampoori – ARKABS
Colin Frances – LabCycle
James Buck – Roome
Join us at our annual showcase to see what Student Enterprise is all about and how you can get involved – as students, graduates, staff or industry professionals!
For more information, book your free ticket and join us on the 11th of March, or get in touch with Student Enterprise Manager, Kat Mack on k.mack@surrey.ac.uk
We look forward to talking to you about our exciting Student Enterprise community!