Independent learning is a big part of University. Outside of timetabled lectures, tutorials and seminars, we have free time to get all of our studying done! A typical day in my second year of study would consist of 4-6 hours of timetabled learning, and 2-4 hours of independent learning.
So where can we go to do this studying? At School or Sixth Form College you may have studied in classrooms or in the library. At the University of Surrey there are lots of places you can study!
The Library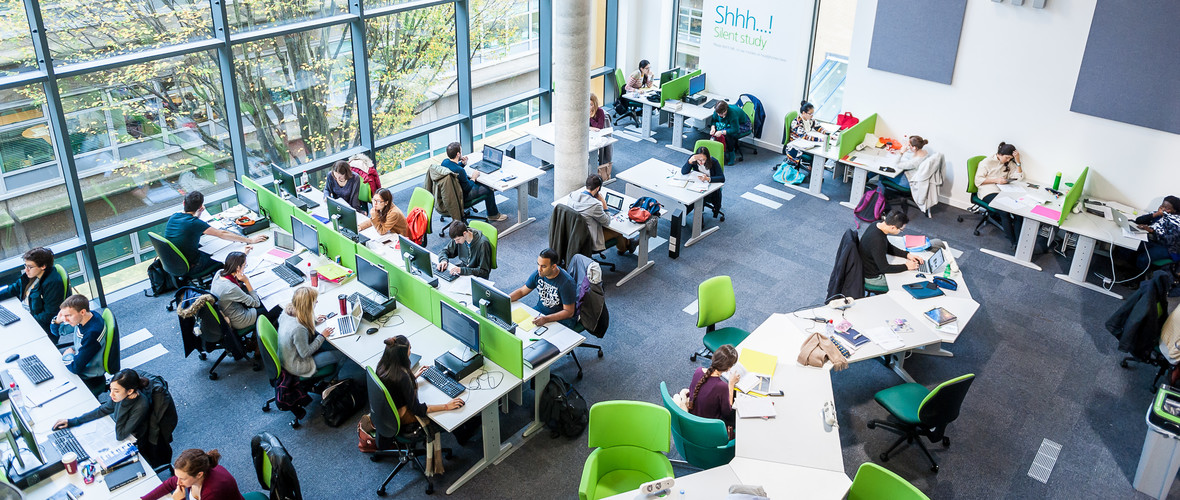 The first place that may come to mind is the library. At the University of Surrey, the library has over 1,700 study spaces and 400 computers, all over five floors.
The library has different study spaces:
Silent study rooms: for silent studying.
Individual study: for quiet talking/whispering, combination of open desks and desktops.
Group study spaces: tables and booths to study in groups.
Group study rooms: rooms that can be booked in advance. They have a large screen, great for practicing group presentations.
The library not only has places to study, but also a range of resources and support!
IT Support
Academic Skills and Development (e.g. for support with referencing, essay structure, maths and statistics).
Disability and Neurodiversity (for students who require additional support e.g. exam access arrangements)
Archives and Special Collections
Access to books and printed resources
Printers
Desktops
Rentable laptops
In my second year of study I spent a lot of time in the library, for lots of reasons. I love the variety of study spaces, for example I studied with my friends in the group study spaces, and spent time in the individual study spaces during the evening after my lectures.
The Hive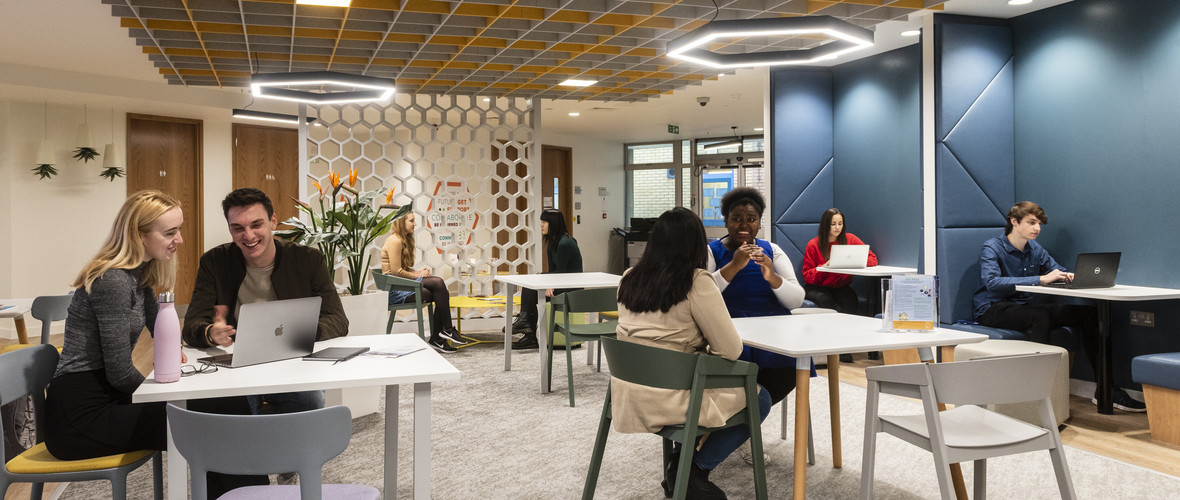 The Hive is located on Stag Hill Campus, where students have access support and advice on student life. At the Hive there is a team of staff and students, trained to support students no matter their query. There are spaces to meet with University Staff, mentors and for informal study. Not forgetting the kitchenette!
The Hive was close to my lectures in my second year, so I found it a great space to fill in a 10 minute gap between my lectures.
Hillside Restaurant and Lounge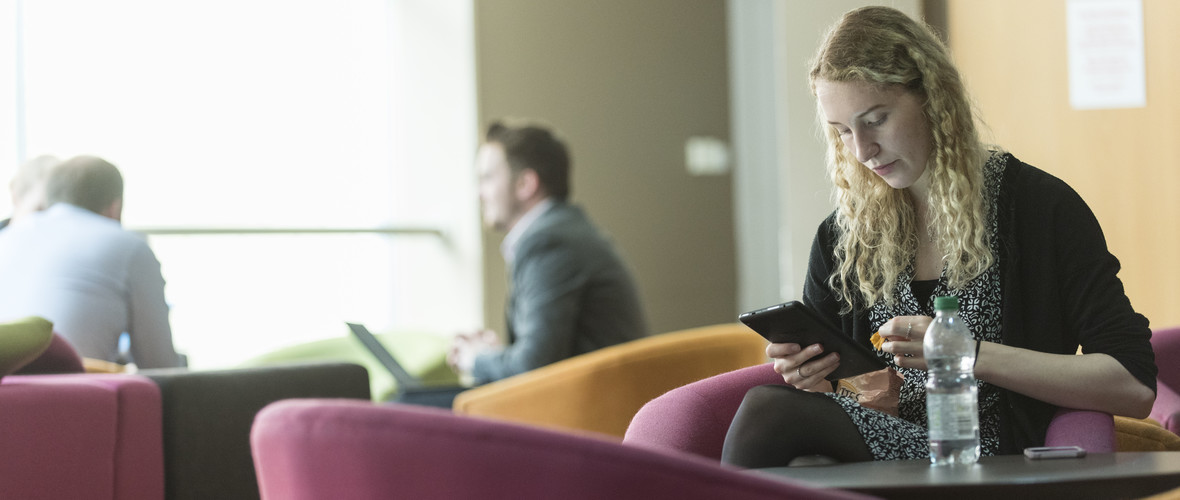 Hillside is one of the University of Surrey's food outlets where they serve freshly made food across the day for students and staff. This is a great place to have lunch and socialise, but there is also room in the lounge to study!
Starbucks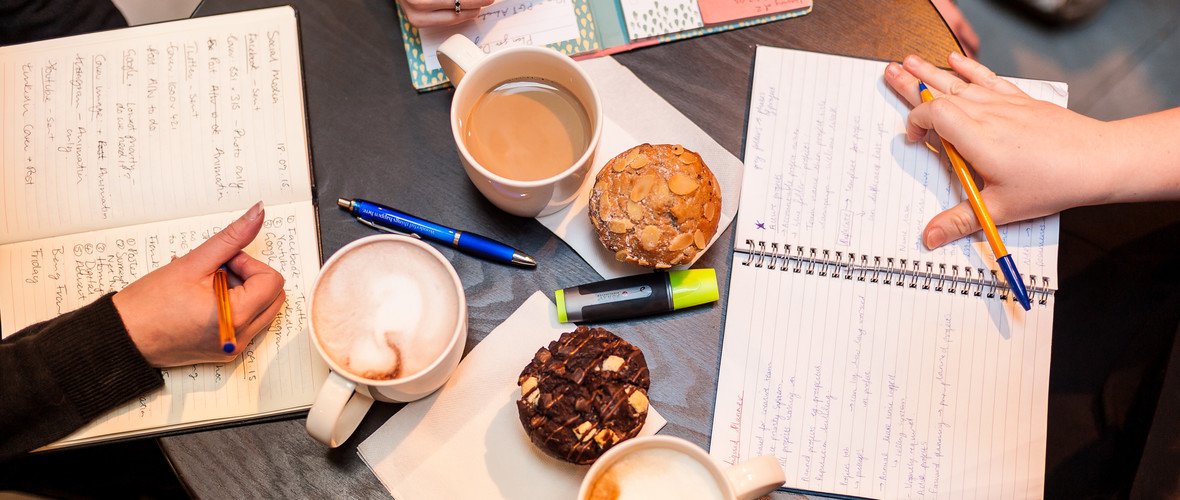 Starbucks is a great place to grab a drink or a bite to eat while having a change of scenery and somewhere to study.
Your Room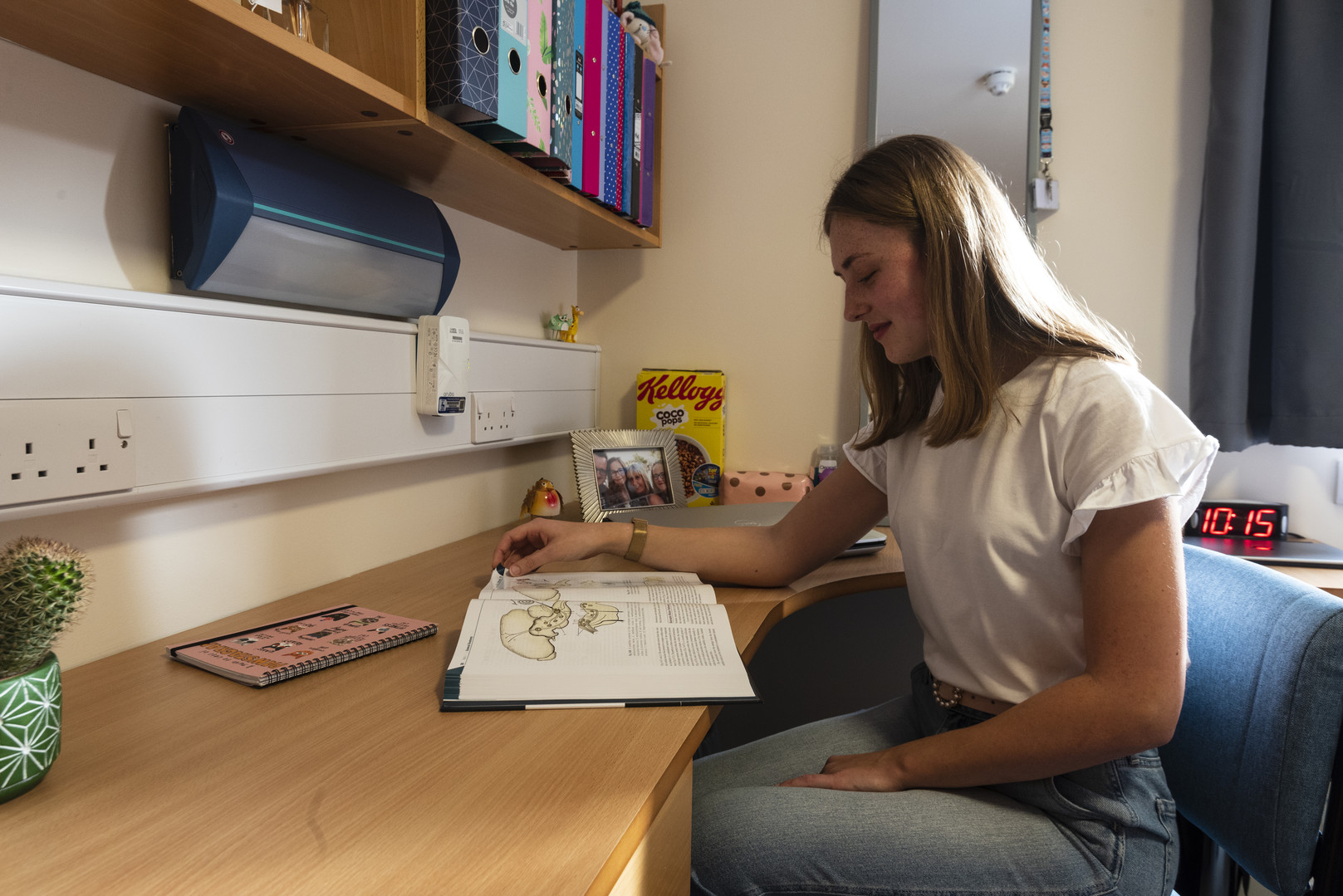 Student Halls at the University of Surrey all have a desk and chair for students to study at. There's plenty of room, including a shelf above to store any folders or books.
In my first year, I loved studying in my room where I could be in the comfort of my own space. I was a two minute walk from the library, so I could easily get any printed resources or support if needed.
The Lake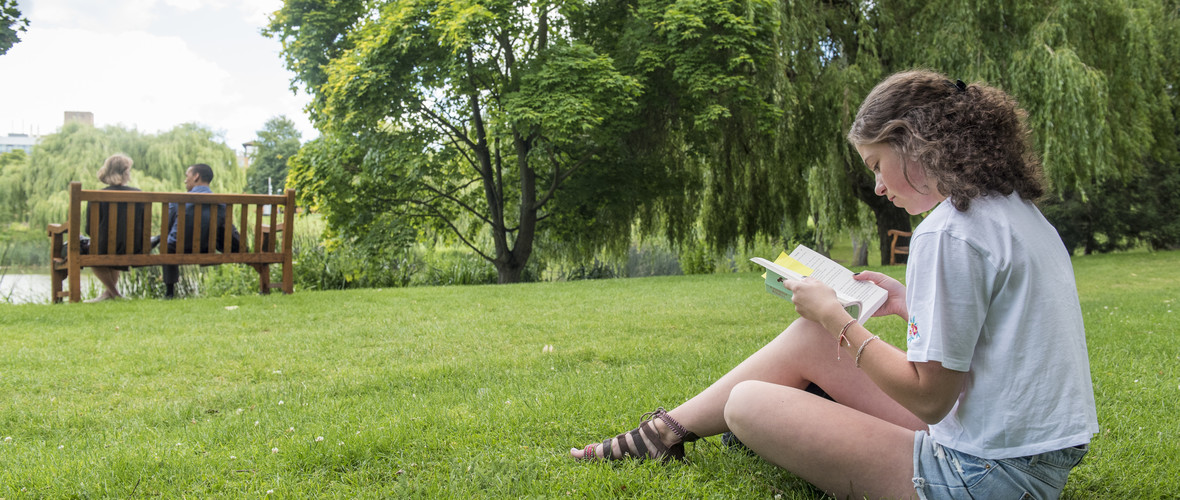 During the Summer months the lake is a great place to get some fresh air, reconnect with nature and spend times with friends. This is probably not the first place that springs to mind to study, but…
There are lots of benches around the lake, I loved to sit and take a book with me to catch up on some additional reading.
I hope this has given you an idea of the range and selection of different study spaces at the University of Surrey, and this isn't all! Now you know where you could study, why not take a look at Amy's blog on a Week in the Life of a Veterinary Medicine Student!