The University of Surrey offers a variety of accommodation to meet everyone's needs, including those related to finance, disability, and quieter residence halls. In this blog, I'll be sharing my experience of living in a Band C accommodation in Stag Hill Court on campus, a home away from home.

I come from India, and even though I have lived away from my family for the last 9 years, I have only lived in India before now. I knew I would have to leave the comfort of my home behind and handle things on my own when I moved to the UK for my masters. This was along with lessons, meetings, assignments, and tests, budgeting, shopping, and cooking, as well as adjusting to the new culture, new customs, and meeting new people.
My room on campus
I opted for the Band C room since I wanted my own private space but didn't mind sharing a bathroom with others. I absolutely adore my room and the Court I was given because it is one of the closest to the town centre (approximately a 12-minute walk) and the train station (about a 10-minute walk).

Basic furniture such as a bed, mattress, mattress cover, bedside table, study table, noticeboard, chair, chest of drawers (shelving unit), and shelves are provided in my room. My wardrobe is located outside the room, and I have to share the bathroom with only one other person, so that's pretty much perfect! (Don't forget to bring other essentials with you when you come, such as kitchen utensils, hangers, etc). When I initially walked into my room, the bedding set I had ordered from the University website was already there (I'd suggest that you do the same if you have luggage restrictions on the flight). To make my room more homely, and personal, I've added a few personal touches, as you can see in the picture.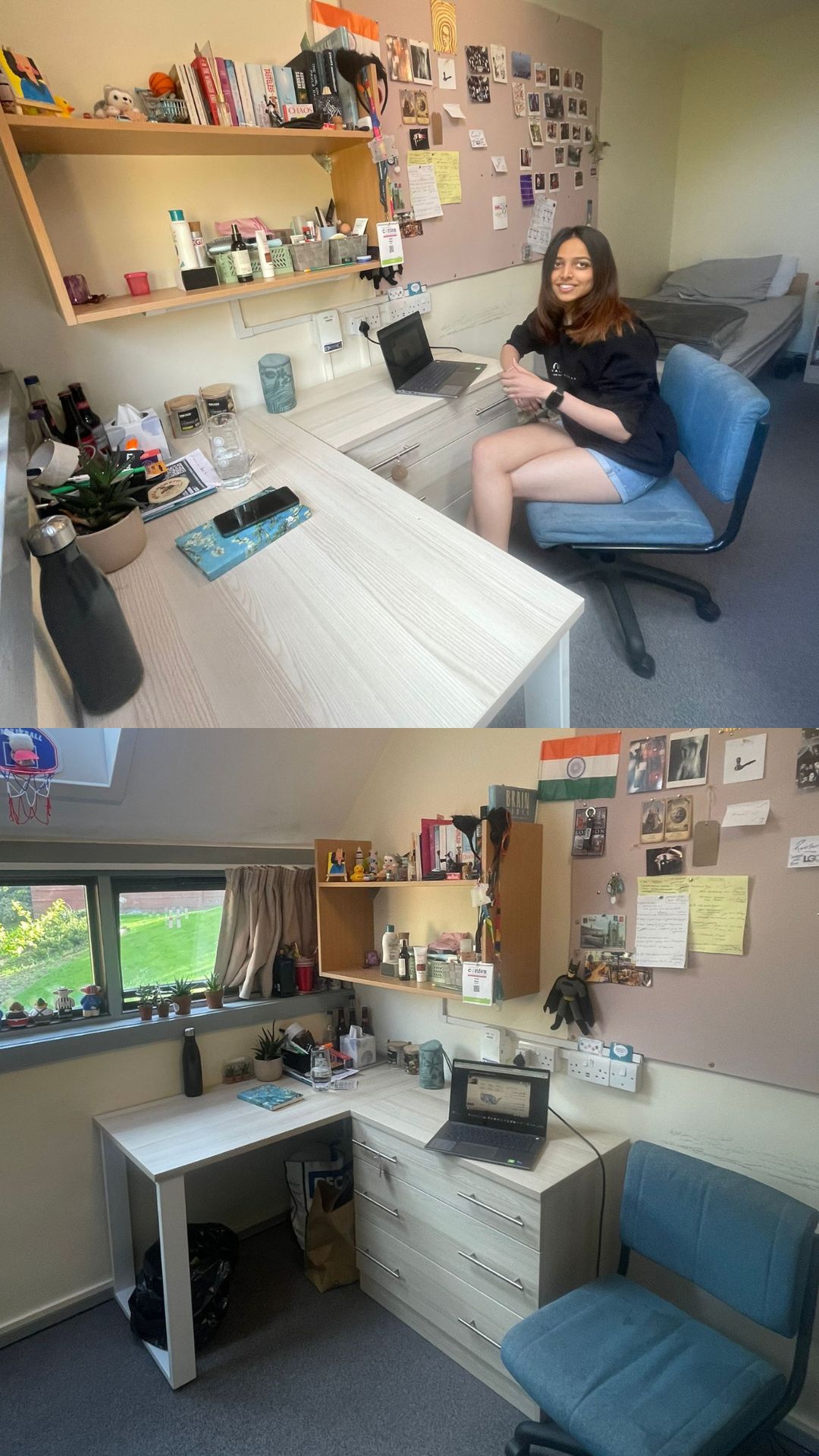 I share with nine other individuals, six of whom are housed on the ground floor and the other four in two Band A shared rooms on the top floor. The kitchen, which is shared by all of us and is located on the top floor, is furnished with an oven, a microwave, a toaster, a kettle, two refrigerators, two freezers, and individual storage units for each person.

We all prepare diverse foods since we come from various socio-economic and cultural backgrounds. The best thing is that we can all enjoy one another's cuisine while continuing to learn each other's languages. We try to help one another whenever we can, whatever we can do.
The ten of us make sure we keep it tidy by cleaning up after ourselves after cooking or removing the rubbish bags. Our communal areas are cleaned once a week by university services.
Top tips for living away from home
Living away from home, I've come to the conclusion that the easiest approach to handle everything is to plan your meals in advance, write a list of everything you need, and continually check it. The cooking schedule and keeping a list of essential items, such as washing-up liquid, stationery, etc., help me get all the ingredients in one go and control my spending because I don't buy any extra items that would go bad or be wasteful. And once the cooking and day-to-day items are sorted, I can concentrate properly on my studies.
Overall, living on campus has helped me meet new people, build relationships, adjust to new traditions, and undoubtedly helped me very smoothly and successfully transition into my new life and new routine.
I would advise anyone applying to university to spend at least a year living on campus. It truly is fantastic, and you'll love it!!
To learn more about the university accommodation, please check out this link https://www.surrey.ac.uk/accommodation.