Hi everyone!
During the past year and a half I have noticed quite a few differences between the German universities a lot of my friends are attending and British universities, more specifically the University of Surrey.
At Surrey, every student is assigned a personal tutor for the duration of your degree, who offers academic and personal guidance in regular meetings. Your tutor also writes your reference at the end of your degree. I think is as very helpful system as you always have a point of contact for any questions you might have.
One significant difference is the tuition fees. In 2014, tuition fees for undergraduate students at all public German universities were abolished. This means that now, both German and international undergraduate students at public universities in Germany are able to study for free, with just a small fee to cover administration and other costs per semester. In the UK the tuition fees are among the highest in Europe, typically around £9000 per year.
The organisation of the exam and lecture timetables is also very different. At most universities in Germany you create your timetable yourself, having to pay attention to the regulations and compulsory modules for your course. In addition, you have to register for all of your exams. This is different in the UK, as your schedule and exams you need to sit all automatically appear on your timetable.
In addition, many German students I know have lecture times ranging from 7am-10pm. At Surrey, my lectures don't start until 9am and the latest one finishes at 6pm, although I've been told that this can vary depending on your course and year of study.
I also noticed that the student-to-staff ratio is lower in the UK than in Germany, providing closer attention and more support for individual students. The class sizes are also smaller compared to some German universities of the same size.
Term and holiday times are also quite different. In Germany lectures in the winter semester usually start mid-October and end in February, followed by a few weeks of exams. While Surrey starts lectures just two weeks earlier, lectures end before the three-week Christmas break, which is followed by one revision week and two weeks of exams. We only get one "reading week" before the second semester starts in February. In Germany the second semester usually starts in April and ends in July, so the break between the two semesters is a lot longer. However, at Surrey you get a 4-week Easter break during the summer semester and exams usually end in mid-June so considerably earlier than in Germany. This can vary for universities of applied sciences (Fachhochschulen) in Germany.
You can find the semester dates for Surrey here: http://www.surrey.ac.uk/about/facts/dates
These are just a few of the differences I have experienced, I hope this will be helpful in deciding where to go to university! Also these differences are all very focused on the academic side of things so I might write another one, focusing more on the social aspects!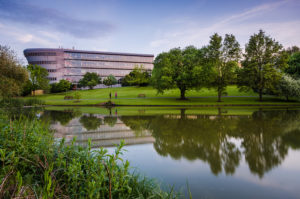 Here is a picture of the lake on campus!