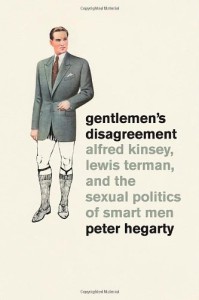 All are warmly invited to the launch of Peter Hegarty's new book Gentlemen's Disagreement: Alfred Kinsey, Lewis Terman and the Sexual Politics of Smart Men in the Appleseed Bookshop on the University of Surrey Campus at 7 p.m. on Monday September 30th.
Whether your friends and loved ones are curious to learn about less-than-ideal husbands, queer individuals, and horse-trading gentlemen, or just want to know what the much neglected exchange between Alfred Kinsey and Lewis Terman still means for us, then please do bring them along. Peter will read briefly from the book and answer any questions.
If you would like to attend, please just turn up at 7pm on the night!
Book Information
Chapters:
1 A Gentlemen's Disagreement?
2 Why the Gifted Boy Didn't Masturbate
3 Less Than Ideal Husbands
4 Queer Individuals: Their Nature and Nurture
5 Gentlemen and Horse Traders
6 Ancient Ascetics and Modern Non-Americans
7 Frontier Living, by Figures Alone
8 Normalization Now
From the back cover:
What is the relationship between intelligence and sex? In recent decades, studies of the controversial histories of both intelligence testing and of human sexuality in the United States have been increasingly common—and hotly debated. But rarely have the intersections of these histories been examined. In Gentlemen's Disagreement, Peter Hegarty enters this historical debate by recalling the debate between Lewis Terman—the intellect who championed the testing of intelligence— and pioneering sex researcher Alfred Kinsey, and shows how intelligence and sexuality have interacted in American psychology.
Publisher: University of Chicago Press