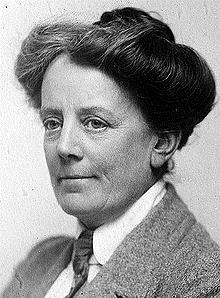 Celebrating an anniversary is always attractive to concert promoters. It helps us to appreciate music that we might otherwise tend to overlook.  This was the case with the lunchtime concert on Thursday 8th May at Christ Church Woking, presented by the University of Surrey and devoted entirely to the music of Dame Ethel Smyth. The occasion was enhanced by the presence of the Musical Passions Exhibition, kindly loaned from the Surrey History Centre.
The date was exactly 70 years after the death of this remarkable composer, who was widely travelled but settled in Woking in her later years.   Like some other women of her generation, Smyth fought energetically for the recognition of women composers, but she did much else besides, especially towards the suffragette movement.  As a composer, she studied in Germany, then enjoyed much success there, particularly in opera, and was acquainted with many of Germany's leading composers of the time.

The concert featured staff performers, with a few students in support.  Senior lecturer Christopher Wiley, who has done much research into Smyth, not only devised and introduced the concert but also, very expertly, played oboe and organ.  Staff pianists Maureen Galea and Margaret Roberts were, as always, a delight to hear.
Two trios for flute, oboe and piano proved delightful [and] two organ chorale preludes, on O Gott du frommer Gott, seemed reminiscent of Brahms, whom Smyth knew, though Brahms's own prelude on this particular chorale was composed a decade later.
More substantial were piano solo works played by Maureen Galea.  Aus der Jugendzeit, Nocturne, and the slightly neo-baroque Suite in E major all showed fine piano writing and subtle design.  More challenging was the piano transcription of the overture to Smyth's fourth opera The Boatswain's Mate.  This features the theme 'The March of the Women' which became well known during the suffragette movement a century ago.
The concert concluded with two choral items from Songs of Sunrise (1911), sung by a few singers drawn from the University Chamber Choir, conducted by Isabella Stocchetti.  The March of the Women provided a fitting conclusion to the programme.
Sebastian Forbes