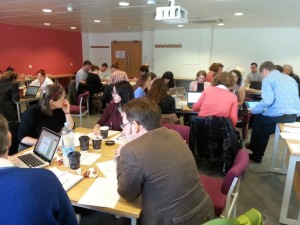 The School of Arts held its fourth biannual Learning and Teaching event on 18 September 2015, following previous forums in January 2015, September 2014, and January 2014.
The half-day event crystallised around two discussion workshops designed to enable the sharing of best practices across the School. The first considered current School policy in relation to teaching, while the second explored strategies for teaching enhancement with a particular focus on student engagement and interactivity.
A record-breaking 40 academics from across the subject areas of Music and Sound Recording, Dance, Theatre, Digital Media Arts, and the Guildford School of Acting participated in some lively and productive discussions, facilitated by the School's Director of Learning and Teaching.
The next School of Arts Learning and Teaching event is scheduled for 12 January 2016.