Ghulam Qadir
PhD Student, Multimedia Security and Forensics Group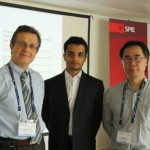 Just before Easter I attended my first conference: SPIE Photonics 2010, Brussels.  My paper had been accepted in a special session of digital security chaired by the guru of JPEG2000, Professor A. Skodras who is the co-author of "A comprehensive guide to the latest features in JPEG 2000". Since my area of research is specific to JPEG2000 images, it was a great moment for me to get insights from Prof Skodras.
For a PhD student the first conference is a huge milestone to achieve. It is actually a time to get hold of your nerves and face an audience all on your own. Not only that, it is also a validation of work that a student is set to do. Even though after repeated assurances from my supervisor, Professor Ho, that everything would be ok, I was shaking like a leaf at the time of my presentation. I'm pleased to say that the presentation went well.
Since it was going to be my first taste of pure European culture, I was very also keen to see and capture every bit of it. We set on foot to see the architecture and museums of Brussels and were not disappointed at all.  The Grand Palace, the town centre, the Motor Museum and the Museum of Music were the highlight of our sightseeing.  I took as many photos as possible with my newly bought camera and here is one of the palace.