Every year in the month of March, the Computing Department puts together a PhD Conference in which the works of its PhD students are celebrated through presentations and posters. The event acts as a training ground where the Department's Postgraduate Research Students (PGRs) can test drive presenting their contributions to computer science, giving participating students a feel for external conferences. This year's event, the 9th Conference, was littered with outstanding moments, the most prominent one being the overwhelming support and attendance by the Computing Department staff and PGRs: a fact that was noted and appreciated by the Vice Chancellor, Professor Sir Christopher Snowden, who gave the opening address. His address was followed by an amazing motivational speech by Dr Alastair MacWilson, Global Managing Director of Accenture Technology Consulting, who emphasized on the importance of seizing every opportunity available and encouraged all attendees to be more than the sum of their skills set; to be flexible, responsible, trustworthy and always be willing to take up opportunities as a progression of their dreams.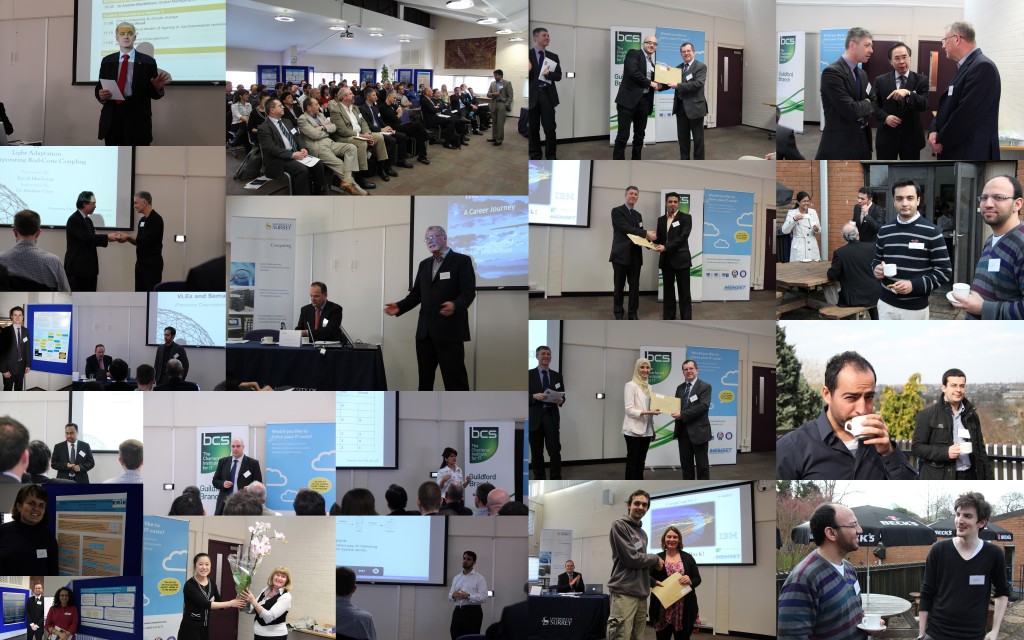 A second motivational speech was given by Professor Dave Robertson, the Head of School of Informatics at the University of Edinburgh, who enthused the crowd by offering a highly captivating overview of current research trends in computer science and concluded his talk by encouraging our research community not to shy away from the option of being self employed, as a vehicle for trail blazing new trends and schools of thought with regards to computing. This philosophy seemed to complement Professor Chris France's foreword for the Conference's programme.
The 9th Annual Computing Department PhD Conference culminated with the giving of prizes and below is the list of categories and winners.
Best Paper
Mr Panagiotis Ioannou, for his paper 'Effect of Spiking Network Parameters on Polychronization'. He received an Amazon gift voucher for £60, sponsored by BCS and awarded by Dr Roger Peel.
Best Paper Presentation (1)
Mr Wissam Albukhanajer, for his presentation of the paper 'Image Identification Using Evolutionary Trace Transform for Copyright Protection'. He received an Amazon gift voucher for £40, sponsored by the Computing Department.
Best Paper Presentation (2)
Miss Kendi Muchungi, for her presentation of the paper 'Computation Simulation of Light Adaptation Incorporating Rod-Cone Coupling'.  She received a Kindle, provided by IBM UK's, Mr Steve Legg.
Best Paper Review
Mr Matthew Karlsen, who received a £20 Amazon gift voucher sponsored by the Computing Department.
Best Poster
Mrs Areej Alfraih, for her poster entitled 'Chromatic Aberration Estimation for Image Splicing Detection'.  She received an Amazon gift voucher for £40, sponsored by BCS and awarded by Dr Roger Peel.
Best Research Potential
Mr Brian Gardner, for his poster entitled 'Neurocomputational Model of Foraging Behaviour based on Reinforcement Learning'.  He received an Amazon gift voucher for £20, sponsored by the Computing Department.
As is the case with any event, its realisation is only as good as its facilitation and for this event, a debt of gratitude is owed to Mr Nick Ryman-Tubb, who ensured proceedings run smoothly and on time. A natural outcome was therefore that the event was a resounding success, not in the least because of the overwhelming show of support from both industry and academia.
Sponsors: Intellas UK, BCS, IBM, Detica, Memset, Thoughtified
Organising Committee: Dr Lilian Tang, Mrs Maggie Burton, Miss Anna Vartapetiance (PhD Rep), Mr Kostas Eftaxias (PhD Rep), Miss Tameera Rahman (PhD Rep), Mr Aasis Vinayak (PhD Rep), Miss Kendi Muchungi (PhD Rep), Mr Christopher Smith, Mr Spencer Thomas
Academic Reviewers: Dr Matthew Casey, Dr Andre Gruning, Prof Yaochu Jin, Dr Shujun Li, Dr Mark Manulis, Dr Sotiris Moschoyannis, Dr Lilian Tang, Dr Helen Treharne (all University of Surrey)
Judges: Prof Steve Schneider (University of Surrey), Prof Dave Robertson (University of Edinburgh), Mr Steve Legg (IBM UK), Dr John Baxter (University of Surrey), Dr Dawn Duke (University of Surrey),
Photographer/Videographer: Mr Ghulam Qadir
Attendance and Encouragement: Prof Sir Christopher Snowden (Vice Chancellor, University of Surrey), Prof Chris France, Associate Dean of Postgraduate Research Students, Faculty of Engineering and Physical Sciences, Prof Jonathan Seville (Dean, Faculty of Engineering and Physical Sciences), Computing Department Staff and PGRs