Tracey Cross, Student Nurse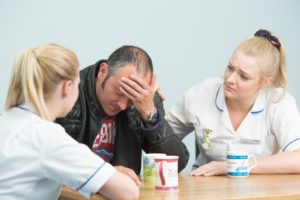 My experience working with my Time for Dementia family has given me a really good insight into what it is like for the person living with dementia but more so, how it impacts on their loved ones.
The gentleman with dementia is well cared for, loved dearly and is the focus of his wife's world. However, his wife is his sole carer, her whole existence is to keep him as well as she can and safe from harm. It has continually reminded me to keep a close eye on patients but also, their carers especially when they are close family members. Both their mental and physical health is at risk and this is something which is not always easy to recognise.
The experience has definitely built my confidence working with people who are living with dementia. Over the last 2 years I have read more about dementia; about some of the triggers which can raise anxiety and confusion, some people work well with routine and memory aids, and how dementia effects more than just memory, such as balance. This is important on the ward as it's easy to forget this and startle a patient from behind and then they could easily turn suddenly and lose their balance.
Spending just a few minutes longer with each person to ensure they are safe and reassured is so helpful. Of course the need to repeat conversations is also necessary but should always be done with kindness and patience, never with frustration or sarcasm as I have sadly seen quite a lot during my adult life, especially as a student nurse. That said, it is important never to judge when a loved one may use sarcasm or humour to cope on a day to day level as this may be how they have learnt to deal with the situation. As long as the care is appropriate and there are no safe guarding issues then we need to be mindful that this is their life 24/7 and we see only a snap shot of how things are.
It is easy to judge, I always try to find an opportunity to speak to carers and family away from the person with dementia to see if they need any support as at the end of the day they are all living with dementia and the challenges it brings.