On Friday 8th November 2013 a special part of the history of psychology was engaged by millions of people all over the world. You may have seen it yourself. Google devoted their Google Doodle to celebrating Hermann Rorschach's 129th Birthday.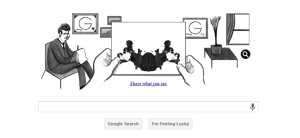 Not only was this Google Doodle a wonderful example of how Psychology is presented in popular culture, it was also interactive. You can see from the above example of the Doodle that it is you, the Google user, who is being tested. In fact Hermann's pen even moved in the Doodle to 'note' down your interpretations.  The inkblots also merged and moved when you clicked on the inkblot to get another to interpret. Each one bled into the next, altering the image. Effectively Google made thousands of people take a psychological test; their version of the Rorschach Inkblot test. Talk about public engagement with Psychology!
If you haven't seen the Doodle you can still check it out here: http://www.google.com/doodles/hermann-rorschachs-129th-birthday
However the most important aspect of the whole Doodle, in relation to its interactive capabilities, was that users were encouraged to share with others what they could see. This led thousands and thousands of people all over the world to tweet and to share what they could see in the blots. Some of the inkblots were traditionally ambiguous (like the one shown above), but others were more humorous.

The hashtag #RorschachDoodle trended throughout the following few days and Rorschach related articles, news reports and searches increased dramatically. People were discussing the blots, making their own up blots and sharing Rorschach facts. Overall it was a very exciting time to see people engaging with a piece of Psychology's history in this way.
The Doodle is not the first time inkblots have been used in popular culture, in fact they have had quite a significant presence for some time. Inkblots often suggest a revelation of truth about oneself which many people find alluring. It is possible this why the Rorschach is such a well-known psychological phenomenon. The Rorschach's engaging nature is also presumably why Google decided on the Rorschach as a Doodle in the first place. The test has a persistent charm for people who want to play. In fact this can be taken very literally with Rorschach-like games such as: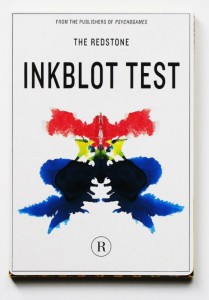 Inkblots themselves have had a long history with popular culture even before Rorschach adopted them for analytic purposes.  They were first used centuries ago as parlour games, much like the modern games shown above. Inkblots were even said to inspire artists and writers such as Leonardo da Vinci and Victor Hugo. It is likely that Rorschach would have known about these wider uses of inkblots before developing the test. In fact, his nickname at school was 'klex' meaning blot. These examples of inkblots being used before Rorschach developed the Psychological test illustrate how psychology has been influenced by wider society and popular culture.
There are also many other examples of the Rorschach being used in popular culture after Rorschach developed his test. For example, inkblots or the Rorschach test have featured in art, poetry, films, TV shows, on clothing, in advertising and even in the first ever episode of Dr Who. Andy Warhol has a series of paintings entitled Rorschach in which he has created his own inkblots. Gnarls Barkley uses the Inkblot images in his music video for 'Crazy' and Saab has used Rorschach imagery as a marketing campaign for their cars. The Rorschach blot idea even features in comics as a character. In The Watchmen comic, and the subsequent film, Rorschach is a vigilante crime fighter hell-bent on cracking down on crime in his pre-nuclear apocalyptic world.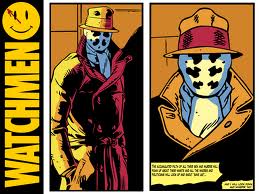 Not only is Rorschach a central character in Watchmen but the comic is written in such a way that it references Psychology throughout. For example, Rorschach has long exchanges with a Psychiatrist whilst incarcerated and even makes his mask out of the dress of Kitty Genovese (whose murder is said to have incited the psychological research into the Bystander effect by John Darley and Bibb Latané).  The many uses of the Rorschach in popular culture provide us with clear examples of ideas and materials from Psychology being absorbed by society.
The Google Doodle is therefore part of a larger historical interaction between the Rorschach and popular culture. It is not an isolated incident but yet another example of how the Rorschach permeates wider society. In my research I argue that the Rorschach presents us with an exceptional example of how aspects of wider society influence Psychology and vice versa. Interestingly then, despite British Psychology viewing the Rorschach as consigned to history, it remains an important part of how Psychology is referenced in popular culture today. And the Google Doodle has also reminded psychologists how exciting it can be when people outside of the field really engage with Psychology.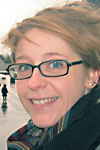 Katherine Hubbard is a PhD student at the University of Surrey
Her work focuses on the history of the Rorschach Inkblot test and other projective measure in the UK.
If you have any questions about her research or would like to let her know of any examples you know of the Rorschach in popular culture you can email her on k.a.hubbard@surrey.ac.uk
She is also on Twitter @KatAHub