In 2016, myself and my coursemate Hayley received a scholarship from Santander to visit the veterinary faculty of the University of Sao Paulo, Brazil.  At first, I was quite apprehensive about travelling without my family to a hemisphere I had never visited to a country I knew very little about.  However, I decided that this was a once in a lifetime opportunity so decided to grasp life by the horns and accept.
After a shaky start and a delay due to issues with organisation and communication which I will not bother you with, we obtained our visas, got our inoculations, booked our accommodation and flights and flew to Sao Paulo on the 20th June 2017 – an 11-hour flight (filled with good movies though). It was quite a severe culture shock on arrival and fairly immediately realised our first mistake; not learning enough Portuguese.  It transpired that almost no-one in Sao Paulo speaks any English. Our second mistake was our choice of attire, we were not expecting the fairly extreme temperature fluctuations that come with a Brazilian winter.
We spent the first few days exploring Sao Paulo and getting our bearings; we met our Vet-friend Priscilla and visited Paulista avenue, MASP (Museum of Art), The Butanta institute (a biomedical research and zoological centre) and the museums within it. By day 4 we were fairly proficient on the metro and buses and managed to pick up some basic phrases (obrigada- thank you, tchau- goodbye…etc.) and learnt that Brazilians hate it when you try to speak Spanish to them. We also learnt there are some places you shouldn't really go alone in Sao Paulo, such as the slightly terrifying yet beautiful Cathedral of Sé on the red line of the metro (bit of a no-no for tourists).
WEEK 1- Anatomy
Day 6 was our first day at the university (and coincidentally Hayley's 21st birthday which we celebrated with pizza and Brazilian wine (very sweet-not sure I would recommend it)).
Our first day on campus we realised why it was called 'University City'.  The university was so big it was literally the size of a small city and buses took you to and from the centre – probably 7 km away.  We made the mistake of walking on our first day after my phone said it would take 10 minutes, I didn't realise this was by car, it took us nearly 50 minutes to walk. We were late that day.
After arriving and getting lost in the maze that is the veterinary faculty, we made it to our first department, anatomy, where we met Professor Assis who is Professor of Anatomy. I was surprised and shocked by the large number of dead cats and dogs kept in storage in formaldehyde – for student dissection – their labs certainly have less health and safety precautions.
Lunch at the university meals were basic and only cost 50p, and served on metal trays.  We were excited and intrigued about Brazilian cuisine at first but blissfully ignorant to the fact that we would be eating rice and beans almost every day for the next 5 weeks.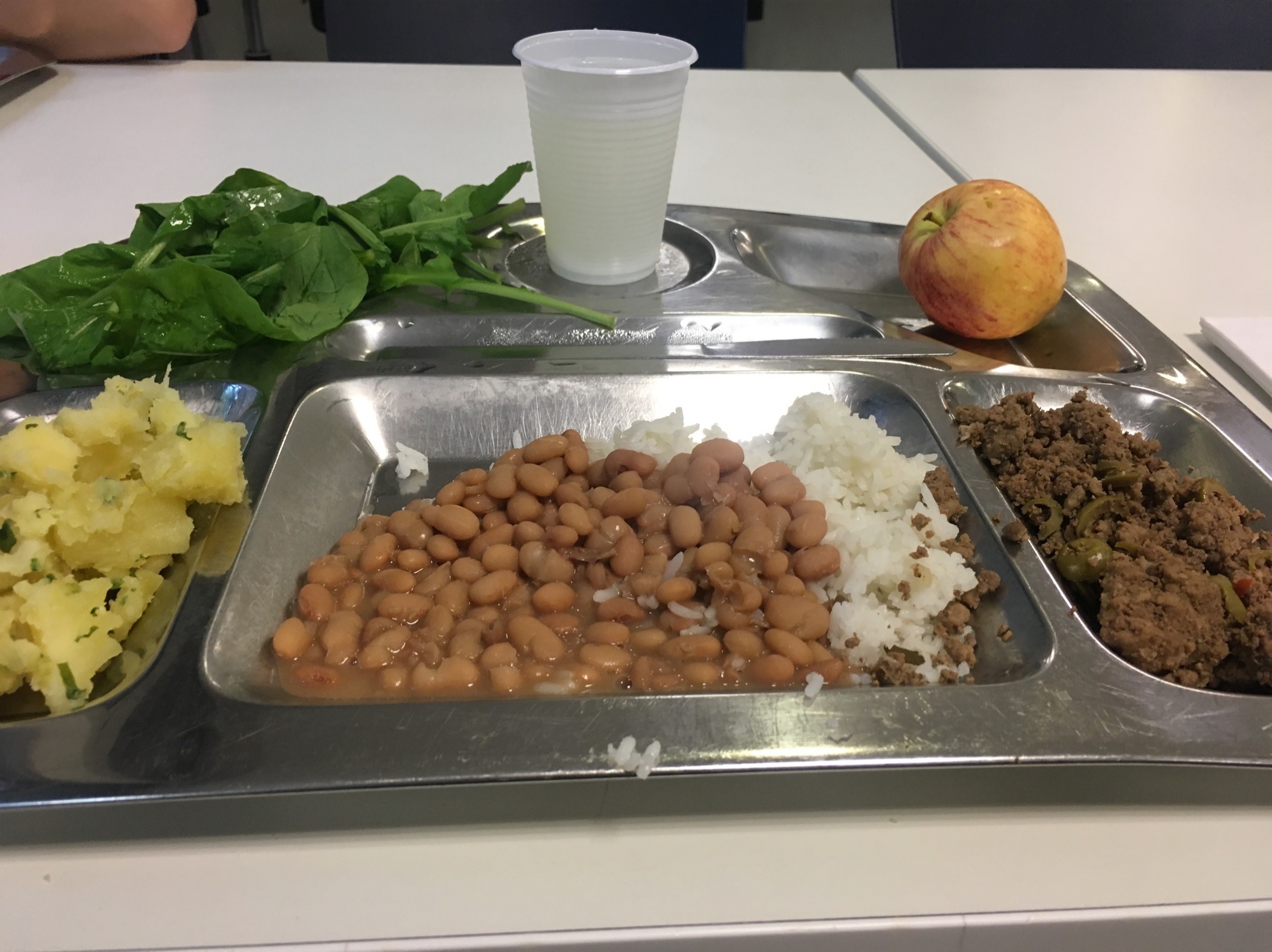 Over this week we followed various Professors, Master and PhD students and watched them go about their business in the labs. We observed different research projects – one piece of research involved growing neurons in culture from stem cells sourced from children's teeth with the Zika virus to observe the effects of Zika on the neurons. Other research was looking into a potential treatment for cancer using immunology, and another piece of research was into the olfactory bulbs of hammerhead sharks. All very different but all equally interesting.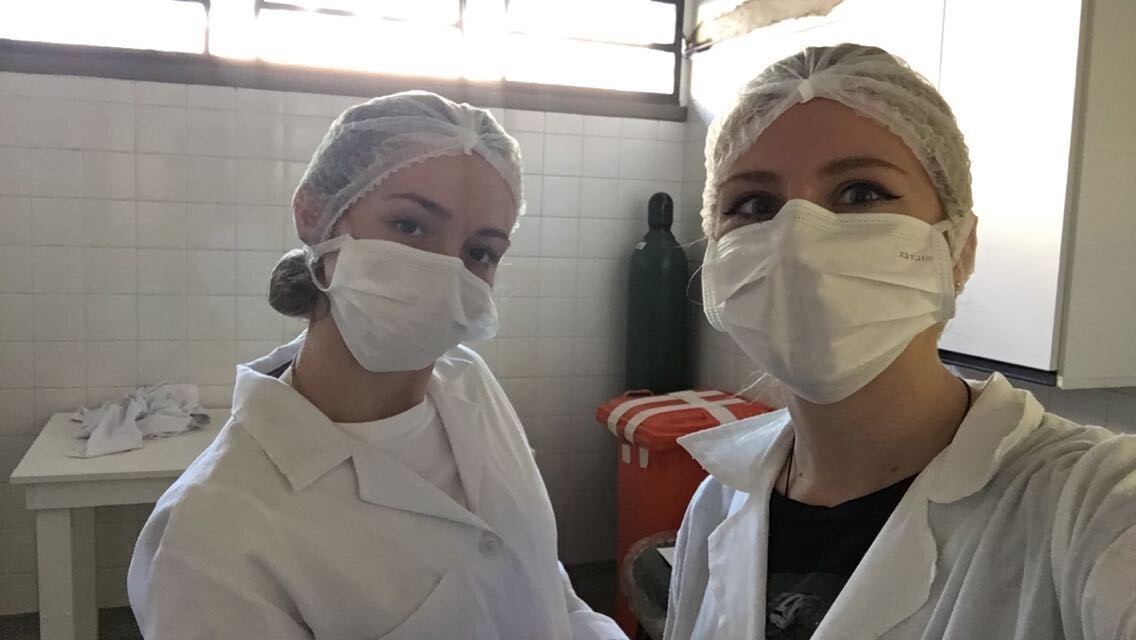 On Thursday, we observed surgery in their renowned veterinary hospital, specifically cataract surgery and the removal of three socks from the intestines of an obviously very hungry beagle!
WEEK 2- Pathology
Our second week was in the pathology department under Professor Felicio.  As our visit was in the holidays many of the researchers were away and we used any free time to explore more of Sao Paulo.  The local mall had interesting restaurants and bakeries and great people watching and Ibirapuera Park was far more spectacular than we imagined and I would recommend it to anyone lucky enough to visit!
During this week we observed cell culturing for use in research into the use of Newcastle virus (viral bird disease affecting many domestic and wild avian species) as a cancer treatment; but the best thing we observed and got hands on experience with was the autopsy of a 17 year old female lion! We watched the vets perform a post mortem on this lion, who had lost 200kg and haemorrhaged from its nose prior to its death, in order to identify the cause of its demise. We learnt that it is very common for big cats to suffer lesions on their livers, but scientists are still not sure of the cause. We witnessed autopsies of dogs, cats, and parrots, but nothing quite matched up to the lion, although they were running some fascinating research using immunohistochemistry to identify and target mammary cancer in felines, which is a particularly aggressive cancer.  We also briefly visited their microbiological department where we practiced our streak-plating technique with some enteric bacteria.
WEEK 3- Nutrition
Week 3 we moved to the Pirassununga campus, a four-hour drive into the countryside and the biggest campus in Brazil and home to the largest roundabout in South America!
Pirassununga is a fairly small city and is completely different to the hustle and bustle of Sao Paulo. Here we made a lot more friends and saw real Brazilian culture (well, real Brazilian student culture!). We experienced a Brazilian church fete, had lunch at our Brazilian friend's home and went to a few Brazilian parties where we discovered their national drink- caipirinhas and their equivalent of a kebab and chips- coxinha and fried mandioca. We also discovered 'Mr Urso', a sorveteria in the city which served coffee and amazing ice cream, and the best thing; English tea! Needless to say, we spent a lot of our time there.
We spent this week in the nutrition clinic observing consultations with Andressa (our nutrition guide and Masters student) and practicing nutrition equations as well as learning how to body score condition dogs and cats. We even got to meet a 6-week-old puppy and the fattest pug I have ever seen (18kg!). We also took part in some nutrition experiments quantifying the protein or fibre content of different pet foods and hay. In their molecular biology laboratory, they were researching the use of neoepitopes and T cells to treat cancer, as well as more research into Newcastle virus as a treatment for cancer.
Over the weekend we were invited to the Nenete festival in Pirassununga with our new friends.  We tried many Brazilian foods such as mandioca, torresmo and chopp, and danced to 'synthenasia' which is Brazilian country music. If anyone happens to find themselves in Pirassununga in the month of June, I highly recommend this festival, it's a very entertaining weekend.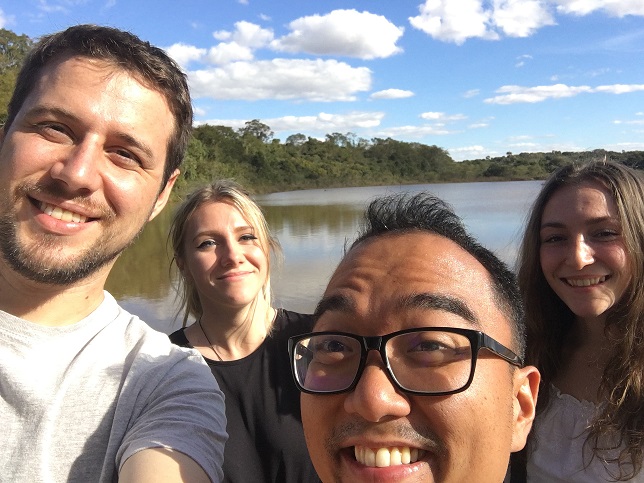 WEEK 4- Pig reproduction
Week 4 was an interesting week as I am not the biggest fan of pigs, and we weren't entirely convinced this department was for us after our 5:50am start and the scream of hungry pigs early in the morning. At first this department seemed daunting, but the students here were so lovely and helpful and we got to spend most of our time helping with the piglets in the warm nursery – Pirassununga was very cold in the mornings.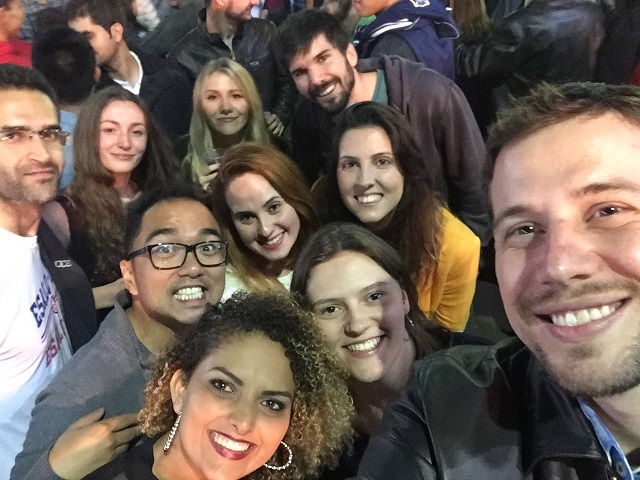 We watched how they check oestrous (that they are ready for insemination) by jumping on the back of the gilts and sows and then had a go ourselves. We also watched them collect boar semen (we decided to give this one a pass) and checked its viability under the microscope. We also learnt about the research of the department which included techniques to sync oestrous, piglet nutrition, finding the bacteria that cause metritis and improving boar semen cryopreservation.
I'm still not a huge fan of pigs but I do love piglets (when they aren't screaming) and definitely learnt a lot more about pig farming and reproduction here.
WEEK 5- Dairy cattle
This week, our last week, we were working in the dairy cattle, we woke up at 4:50am to help feed the cattle and in the afternoon helped with milking, which is a very messy business. The research was mostly nutritional, including the research in to the effect of increasing omega fatty acids in the diet on the milk quality. One of the most bizarre things we saw this week were rumen cannulas, which are surgical holes in the side of the cow that lead to the rumen (part of the stomach).  This hole has a removable plug which is large enough for an adult man to stick in his entire arm. We witnessed this a lot as it's part of their research, and it made us feel queasy every time.
We spent some of this week exploring Pirassununga and its beautiful landscape walking 20km in the burning afternoon sun to a spectacular waterfall with our university friends, and visiting the on-campus lake which we swam in and introduced our friends to an English picnic. Outside of the cities Brazil has some stunning countryside and wildlife- we saw parakeets, blue macaws, capybaras, rattlesnakes and toucans in Pirassununga. To not explore a bit would be a crime!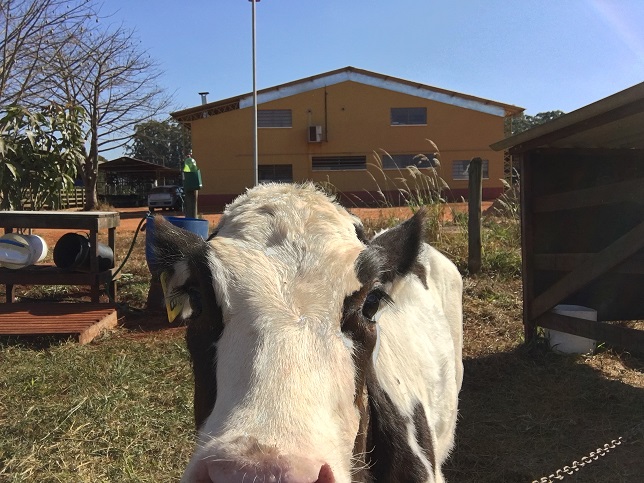 In conclusion, this trip is one of the best decisions I have ever made, and proof that sometimes you do have to swallow your fear and grab life by the horns. As well as being an incredible educational opportunity giving us insight into how working in laboratories on your own research actually happens. We learned independence in a strange and foreign country and gained an enormous amount of confidence when travelling alone. We made some amazing friends who I will hopefully keep in contact with and to whom I am grateful for making this trip the trip of a lifetime!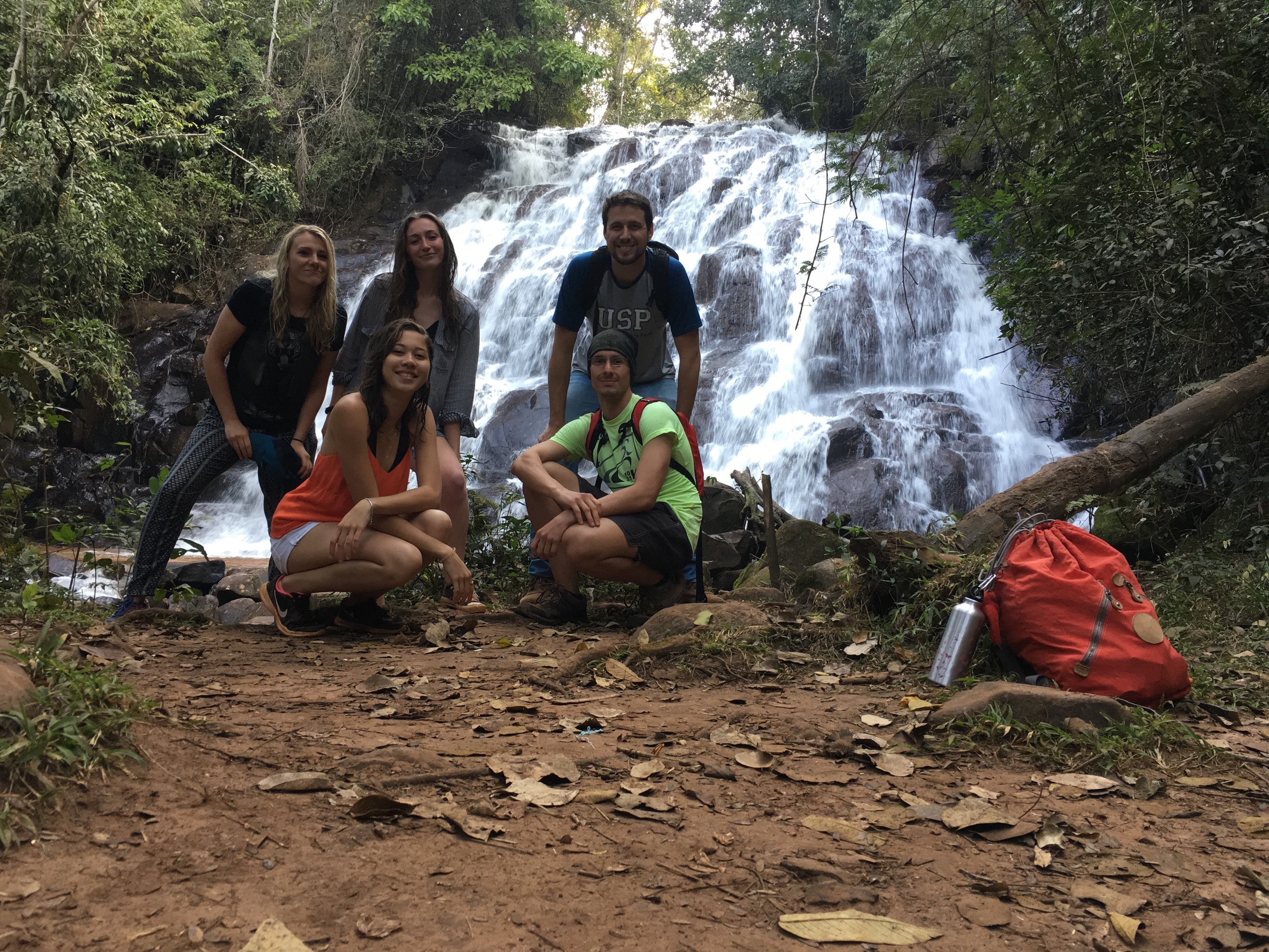 Hayley and I agree that the correct word to summarise this wonderful trip was 'weird', we ended up in a lot of odd situations but we loved it. I loved the landscape, wildlife, people and caipirinhas- hopefully this is the start of my own travelling and exploring the world.
I will miss Brazil, and will be back!
Jo Herbert, Veterinary Bioscience BSc.