Developmental Psychology is another branch of psychology that has been an active area of research in the Department since the earliest days.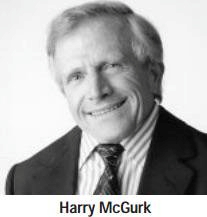 Harry McGurk was the first developmental psychologist to be appointed, joining the Department in 1979.  Harry's background was more unconventional than many who have come into the Department.  After training at the University of Glasgow, Harry became a probation officer in Edinburgh, but then moved to West Africa with his wife who was working for a Church of Scotland mission in Nigeria. Harry became involved with the management of a school and hospital, and the African experience had a lasting effect on his views.  On his return to the UK, Harry studied psychology at the University of Strathclyde, gaining a BA, MSc, and a PhD for his work on infant perception.  This was followed by a period as a Research Fellow at Princeton, before he came to Surrey in 1972 as a lecturer in child development.  In 1976 he, together with his PhD student John MacDonald, published a paper in Nature (hearing lips and seeing voices, 264, pp746-748) describing the 'McGurk' effect.  This was the report of a previously unrecognised influence of vision upon speech perception.  It had come about as an accident in which a video of a person repeating syllables was wrongly dubbed such that the viewer misheard the sound because they were also responding to visual cues.  Harry left Surrey as Professor of Developmental Psychology in 1990 to take up the Post of Director of the Thomas Coram Research Foundation at the University of London.  Harry died in 1998 in Australia having emigrated to take up the post of Director of the Institute of Family Studies at the University of Melbourne.
One of Harry McGurk's first PhD students was Peter Blatchford who, having been awarded his PhD from Surrey moved to the Thomas Coram Research Unit to study pupil progress in inner London schools.  Since 1989 he has been based at the UCL Institute of Education (in the Department of Psychology and Human Development) where he has built an international reputation for his research on social development processes in school settings.
Alyson Davis was appointed to a lectureship in developmental psychology in the early 1990s, and was subsequently promoted to Senior Lecturer and then to Reader during her time at Surrey. Alyson was a well-known and widely respected figure in the field of experimental child psychology. She worked on children's drawings, the development of mathematics, and the educational implications of contemporary understandings of children's cognitive development. Alyson left the Department in 2009, to work for the Open University.
The teaching in the Department in developmental psychology was further strengthened in the early 1990s by the appointment of Martyn Barrett as Reader in 1993, promoted to Professor in 1996. Martyn had studied Experimental Psychology at St John's College, University of Cambridge, and subsequently undertook his DPhil at the University of Sussex where he focused on early language development. He initially worked at Roehampton Institute and then at Royal Holloway and Bedford New College, University of London, but by the time he joined the Surrey Department, his interests were shifting away from child language towards developmental social psychology, and he soon formed a very productive collaboration with the social psychologists in the Department, especially Evanthia Lyons. This collaboration resulted in a succession of three major research grants from the European Commission. The first two of these (the so-called CHOONGE and NERID projects) examined the development of national, ethnolinguistic and religious identities and attitudes during childhood and adolescence. This work was undertaken together with partners in Scotland, Spain, Italy, Russia, Ukraine, Georgia and Azerbaijan. The third EC grant was awarded for a large multidisciplinary project (the PIDOP project) which investigated political and civic engagement among youth, women, minorities and migrants in nine European countries – Belgium, Czech Republic, England, Germany, Italy, Northern Ireland, Portugal, Sweden and Turkey.
Martyn edited the British Psychological Society's flagship journal in developmental psychology, the British Journal of Developmental Psychology, for a six-year period from 2003-9. In addition, his multidisciplinary interests led him to co-found the Centre for Research on Nationalism, Ethnicity and Multiculturalism (CRONEM) together with colleagues from the Departments of Politics and Sociology at Surrey and the Department of Social Sciences at the University of Roehampton. This was a lively multidisciplinary research centre which began operating in 2004, drawing on psychology, politics, sociology and anthropology. CRONEM attracted research grants from bodies such as the Leverhulme Trust and the British Academy. CRONEM's operations were wound up in 2012, when all the leading academic staff who were running the centre (Martyn Barrett, Chris Flood and John Eade) retired.
Martyn's interests eventually led him to undertake work for the Education Department of the Council of Europe, inputting concepts from developmental psychology into the design of educational materials and using evidence from developmental and social psychology to inform European policy on intercultural education and citizenship education. He took early retirement from his academic post in 2012, when he was appointed to the honorary position of Emeritus Professor, to concentrate on his work for the Council of Europe. He is currently leading a flagship Council of Europe project entitled 'Competences for Democratic Culture'. This project is developing a European framework of reference of the competences that citizens require for participating in democratic culture and intercultural dialogue, and it will provide detailed recommendations and guidelines for European ministries of education on how all levels of formal education, from pre-school through to higher education, can be harnessed for the preparation of pupils and students for life as competent democratic citizens. The framework was endorsed by the Education Ministers from 50 European states at a ministerial conference in 2016, who called on the Council of Europe to assist the member states in implementing the framework in their national education systems.
The next appointment to the Department in the field of developmental psychology took place when Alison Pike was appointed to a lectureship. She had just completed her PhD on children's social development at the Institute of Psychiatry, where she worked with Judy Dunn and Robert Plomin. Alison's speciality was using behaviour genetics to study adolescent siblings to disentangle genetic and environmental effects on their social development. However, her interests soon branched out into all aspects of social development and family relationships. Her work adopted a family systems approach, which examines the interdependence of relations among family members as well as the broader contexts of work, school, neighbourhood and culture. Alison left Surrey to move to the University of Sussex in the mid 2000s.
Meenakshi Menon was appointed to a lectureship in developmental psychology in 2008. She worked on social and personality development from middle childhood to early adolescence, focusing on three main aspects of children's development: their self-perceived gender identity, their self-concept, and their close relationship styles. Meenakshi left the Department to take up a post at the University of Maine at Farmington in the USA in 2011.

The Surrey BabyLab
The Surrey Baby Lab was set up by Anna Franklin in 2000 to investigate how babies and toddlers see colour. Anna came to Surrey as a PhD student in 1997, working alongside Professor Ian Davies. Following her PhD Anna progressed as a research fellow and then a Lecturer through to Reader. Anna is now a Professor in Psychology at the University of Sussex, and leads the Sussex Colour Group and the Sussex Baby Lab. Her research has received international acclaim and she is one of the leading researchers in the field of infant colour perception and cognition.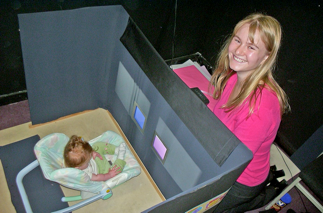 The Surrey Baby Lab is now run by Alexandra Grandison.  Ally originally joined the Surrey Baby Lab team in 2002 as an Undergraduate placement student, working alongside Anna and Professor Ian Davies After graduating from the University of Bath with first class honours, she returned to Surrey to work as a research assistant and study for a PhD. During this time Ally conducted research investigating the nature and development of colour categories, which led her to securing a lectureship in 2010. Ally is now a Senior Lecturer in the School of Psychology and has taken over as the Director of the Surrey Baby Lab. Her research continues to explore aspects of colour perception in infancy and early childhood such as colour preference, colour associations, colour term acquisition and colour salience.
The work of the Surrey Baby Lab has frequently been featured in the mainstream media and Ally and her team regularly contribute to magazine articles, radio and
television programmes and a range of public engagement events and activities ensuring that the research of the lab has
both theoretical and applied impact.