Two years ago, the clever folk at Twitter rolled out an exciting new feature for their platform; polls.
Polls and surveys have always been a great way for people and organisations to engage, inform and learn from their peers and followers. However, in this age of immediacy, they've needed to become quick and easy to complete – something Twitter knew when they introduced Twitter Polls in October 2015.
Previously, people would create makeshift polls on Twitter by presenting two options and asking people to retweet that tweet for one option, or like it for the other. Thankfully, those tweets are now just relics of a bygone age.
How to create a poll & why they work
The wonders of polls can be yours at the click of a button. Literally. When you go to compose a tweet, there's an option to add a poll:

Once you click that, you can then start creating your poll. You add a question – you're still limited to 140 characters, just like a normal tweet – and you then add between two and four answers that people can select: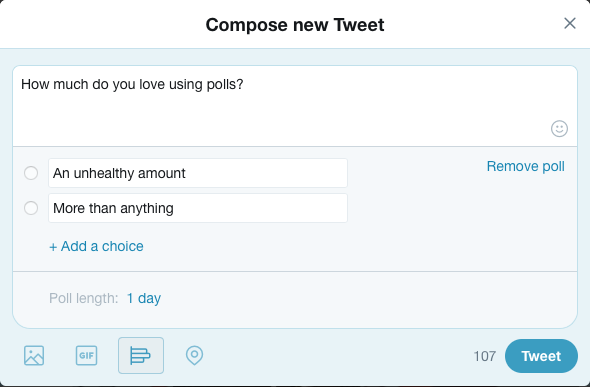 Finally, you select the length of time you want the poll to run for. The default setting is 24 hours, but you can change this according to your needs. Once you've done that, post the poll and then your followers can start voting.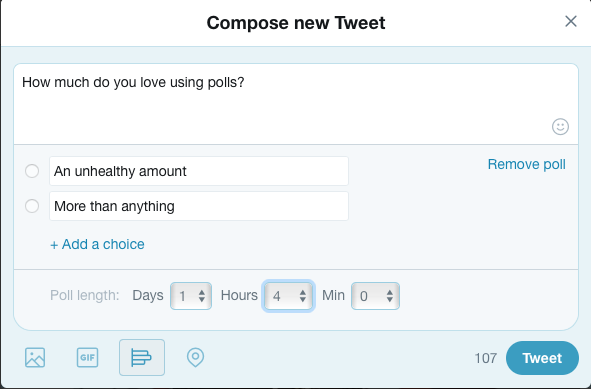 The results update automatically as more people vote, so you can keep an eye on what answer people are giving if you're into that sort of thing. Once the poll has finished (ie, once the length of time you selected it to run for is up), you'll get your final results displayed as percentages. You'll also be able to see how many people voted in the poll.
Different uses of polls
Polls, naturally, can have many uses and if you want to make the most out of them, then it's best to know just what they can do for you.
Feedback
While they're not the most detailed and insightful way of gaining market data, Twitter Polls are still an effective method of tapping into your audience and getting their views. It could be to get their opinion on some research you've produced, or you could ask what services they require/want from you.
The benefit of Twitter Polls is that they usually get a lot of uptake – millions of people use Twitter every day, and polls are easy to vote in – all you need to do is select the answer most relevant to you. No need to fill in any details or expand on your answer (though you can if you want). For example: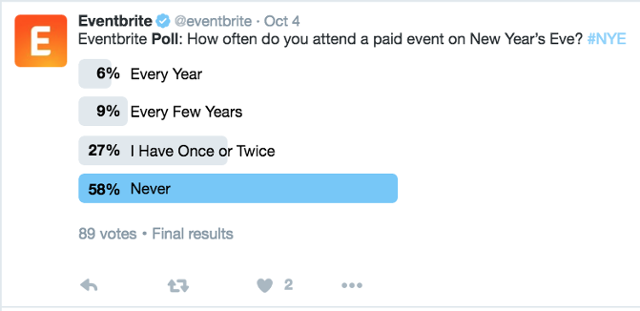 General engagement
Getting feedback could help you improve your service, but polls can also help enhance your reputation on social media and build your following. This is the most common use of polls – to simply have a bit of fun.
Polls are interactive, so if you come up with quirky and humorous ones, you could generate some serious engagement: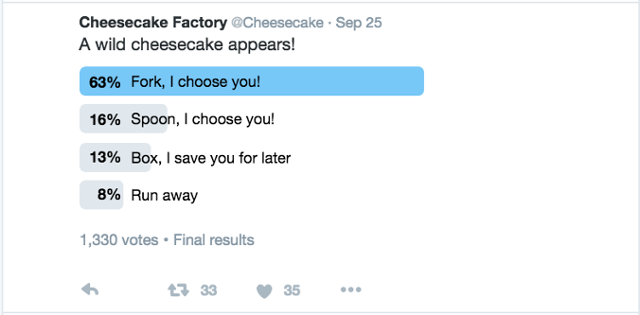 What's particularly good about the above poll is that it's remained relevant to the brand tweeting it. Plus, cheesecakes are delicious.
Timely events
Further to this, polls used around certain events often go down well. That could be national days/holidays – today is Halloween, and we'll be posting a poll about that just to boost engagement. Or, it could be around something going on in popular culture – today is also the final of the Great British Bake Off, the most momentous occasion of the year.
So if you can, plan ahead. See what's coming up and think of poll ideas that could work. In America, Domino's Pizza took advantage of one of the Presidential debates: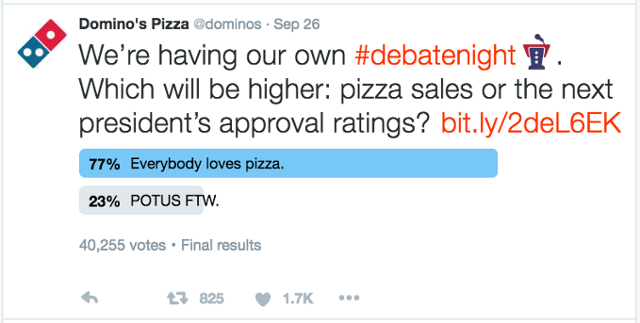 Again, most polls around timely events are used for fun and in an engaging manner.
Promote content
Where applicable, polls are an effective way of promoting your content or services. If you're rolling something out – be it research, new features to your department or an event perhaps – linking it into a poll is likely to extend its reach. Of course, there needs to be scope for a poll here – there's no point in shoehorning one in just for the sake of it.
General tips
Keep it light

– As mentioned above, polls aren't a typically serious medium. They're not designed to be foolproof market research tools, they're just a different way of engaging and interacting with your audience.
Keep it consistent

– Try not to have a patchy schedule with polls. Decide how often you want to post a poll, it could be once a week, fortnight or month. If you keep it regular, your followers will start to keep an eye out for your polls and – this is the dream – they'll actively seek out your profile and click on it, rather than just see your posts in their timeline.
Keep your audience in mind

– Ask questions that your followers want to answer, not just questions you want the answer to. You should have a decent idea of what your followers are interested in, so focus on these topics. But also don't be afraid to try new or different things – if they get a good response, then keep going, if not then you know to avoid them.
Remember hashtags

– This is relevant whether you've come up with your own hashtag or your getting involved in a wider topic/event – just like regular tweets, use a hashtag if it's relevant. This will increase your reach and, hopefully, your engagement. If your followers want to give more detail to their vote, they can use your hashtag to do so (just remember to monitor it).
Instagram polls
Twitter are no longer the only horse in this poll race. Instagram recently introduced polls into their Stories, meaning you can add in a poll sticker to your story. When somebody watches your story, they can vote in the poll by simply clicking one of the two options.
If you've put a poll in your story, you can see who has voted for what option by swiping up on the part of the story the poll is in, just like you normally would to access the stats.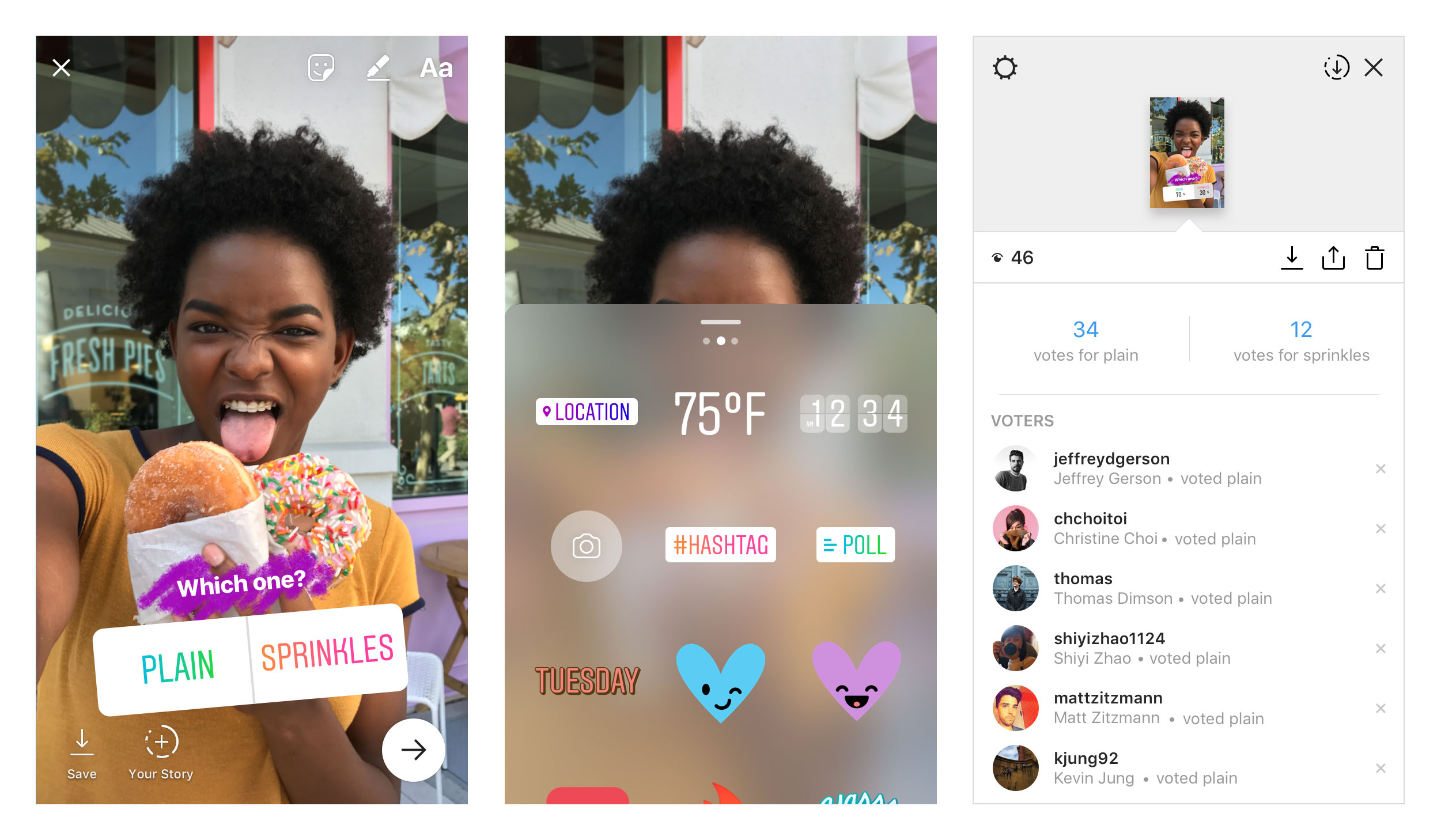 Again, the focus here is on fun. Primarily, these Instagram polls should be used to boost engagement and keep your followers interacting with you.