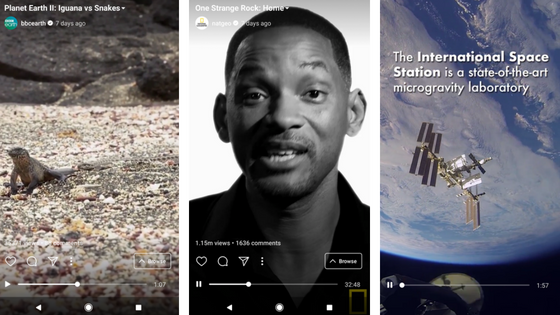 Last week, Instagram made two massive announcements. The first was not particularly surprising; the Facebook-owned company announced that Instagram now has 1 billion users worldwide. That makes it the third biggest social media platform in existence, behind Facebook and YouTube.
Interestingly, their second announcement could make Instagram a much more serious threat to YouTube. Instagram launched Instagram TV (IGTV), which allows users to upload long-form videos that are optimised for vertical viewing.
On Instagram, users were previously limited to minute-long videos, but through IGTV you can now theoretically upload videos that are up to an hour in length.
What you need to know
The videos on IGTV are full screen and vertical – so forget everything you think you know about horizontal filming

You can watch these videos through the IGTV button on Instagram itself, or through the actual IGTV app, which you can download

The length of videos is between 15 seconds and 10 minutes for regular accounts – as things stand, only larger/verified accounts can upload hour-long videos

To upload videos to IGTV, you need to create your own channel, like on YouTube – it's very simple and is linked to your Instagram account

Anyone can create a channel, and when you do you become known as a Creator

You can add 'swipe up' call-to-actions to your videos

You can give your videos a title and short description

Users can engage with IGTV videos in the same way as regular Instagram posts – you can like, comment and share.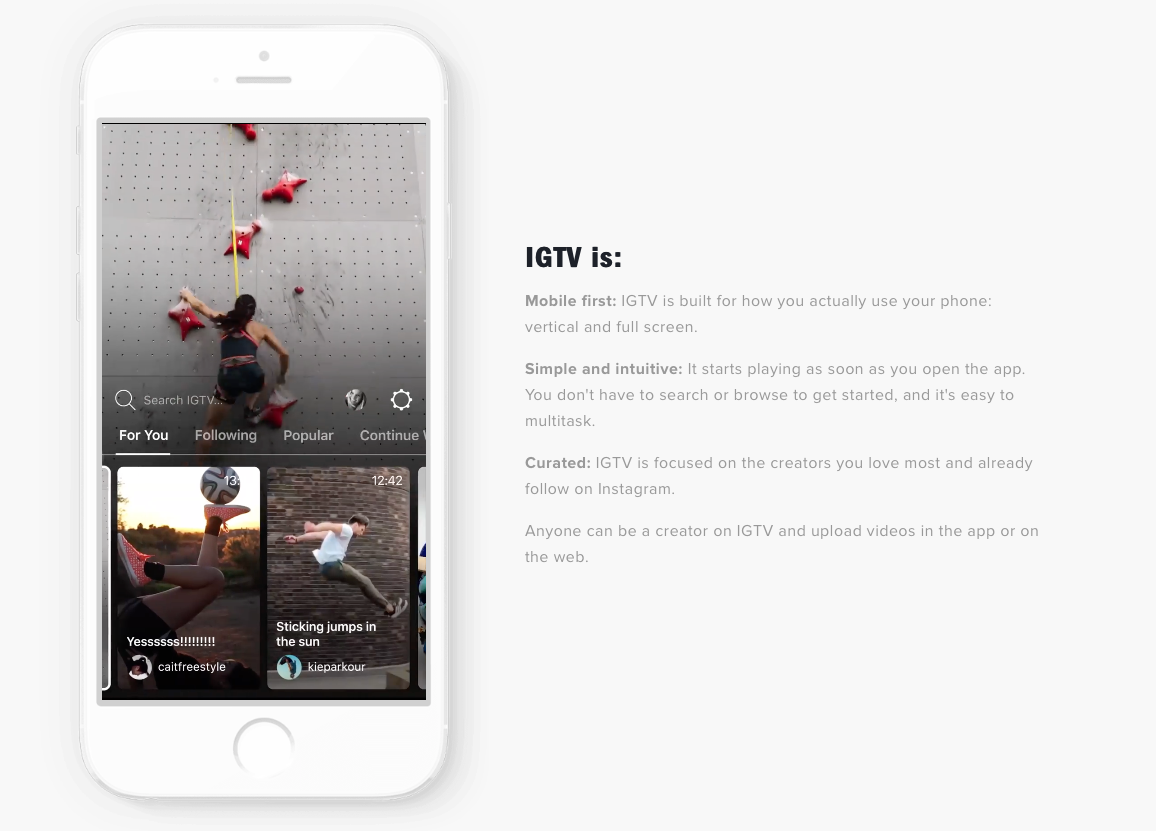 How it works
When you open IGTV, either in its own app or through Instagram, videos begin playing automatically. You'll also be presented with a sort of mini-menu at the bottom half of the screen, where you can cycle through recent videos.
There are also several tabs you can switch between; "For You," "Following," "Popular," and "Continue Watching". You can swipe it down to watch your video in full screen, or you can have a video playing in the background while you cycle through the menu.
For now, only verified and larger accounts can post videos up to an hour in length, but this feature will be rolled out to everyone in due course.
To create your channel, open up IGTV and click on the cog icon, which should appear on the right hand side. You'll then be prompted to set up your channel, and it only takes a few clicks.
An important point to note is that, unlike Instagram, you can't actually create content through IGTV. When you click on your profile, there'll be a plus icon to the right, which you can click to add video, or there's an 'Upload video' button toward the bottom of the screen. In this section you'll also see all of your previous videos – users will be presented with the same thing whenever they click on your profile in IGTV. You can also access an account's IGTV channel through their profile on Instagram – it will show up like a Highlight: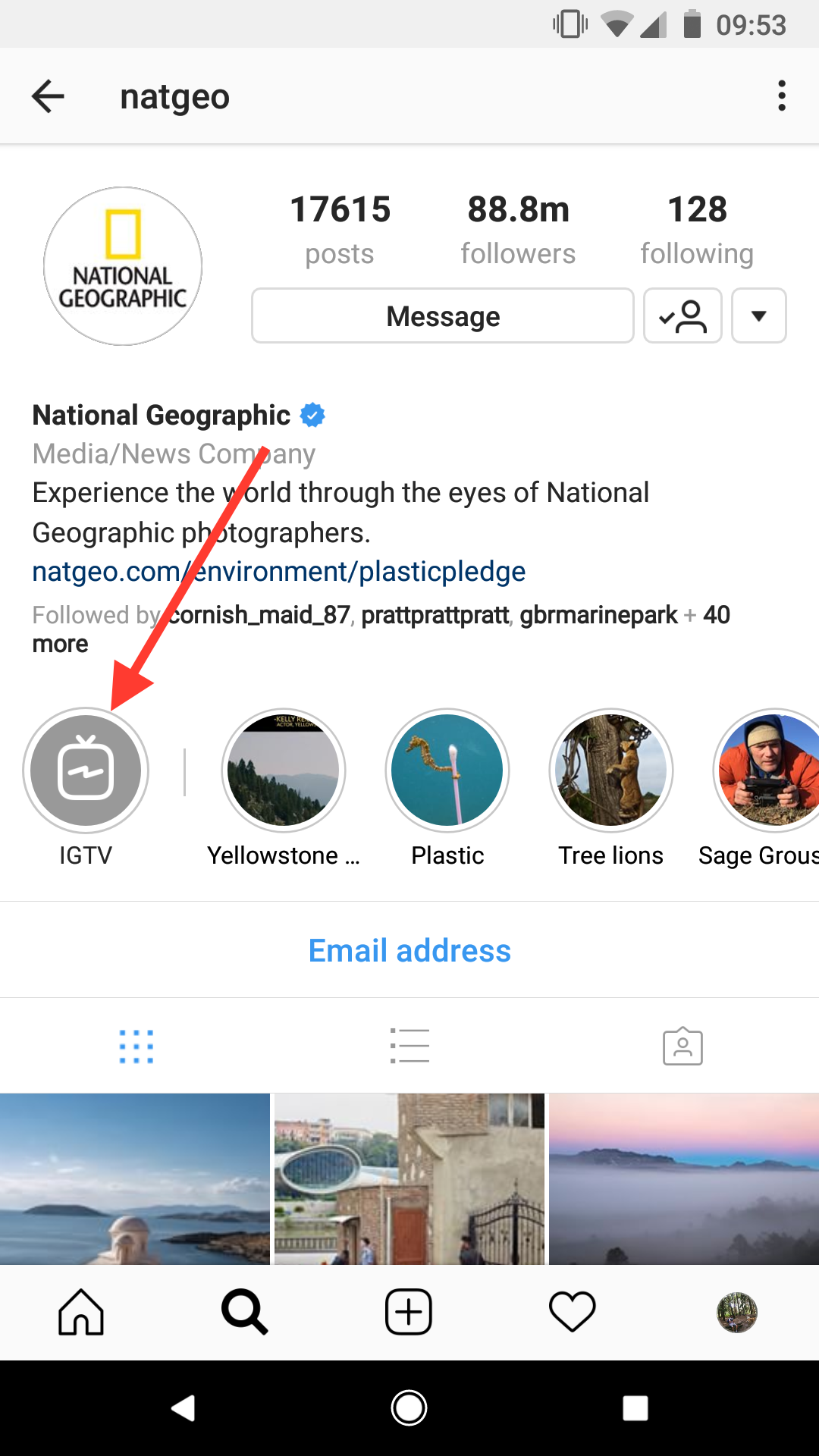 When you go to upload a video, IGTV opens up all the vertical videos on your device that are between 15 seconds and 10 minutes in length (up to 60 minutes for larger accounts). You then choose which video you want to upload, give it title and description, and pull the trigger. Again, note that it will only allow you to upload vertical videos, not horizontal ones.
So, if you want to create a video for IGTV, you need to do it somewhere outside of the app – most likely on your device's camera. Further to this, any editing you might want to do to your video will also need to be done outside of IGTV, before you upload it.
Will this crash and burn?
Social platforms are always looking for new ways to gain the upper hand in the market, and not all of them work (a lot of them don't). When Facebook launched Facebook Watch – something not that dissimilar to IGTV – it flopped. So, will IGTV work?
The signs look good. When Instagram started it was solely focused on pictures, but video content then became a huge part of the platform. All the stats show that video content attracts much more engagement and reach than still images – creating an offshoot of an already extremely popular platform, that only deals in video, seems a pretty safe bet.
The same was said about Facebook Watch, though. That being said, there are some crucial differences.
The first is pretty obvious; IGTV is designed for vertical viewing i.e. on your phone. Instagram knows its audience and that the vast majority of them use the app on their phones. Now, there's no need to flip your phone sideways to watch videos full screen. Plus, by making creators only able to upload vertical videos, there shouldn't be any distortion of content that's stretched to proportions it wasn't originally designed for. It may sound silly, but due to the size of most smartphones in the market these days, you usually need to hold one with both hands when watching something sideways – simply keeping videos vertical means users can hold their phone more naturally. Think about the popularity of Snapchat and Instagram Stories –  it's all vertical content.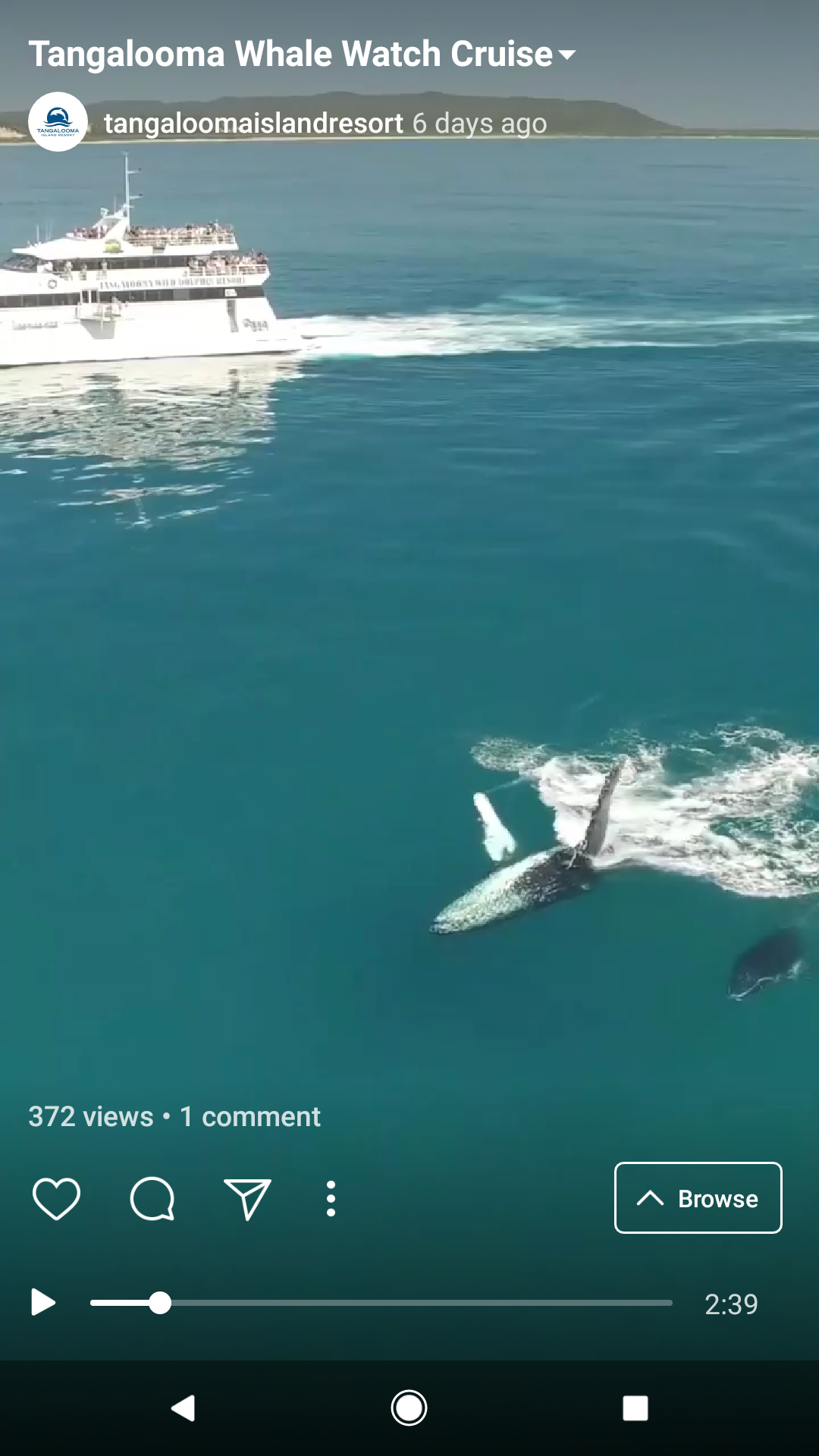 Plus, younger audiences are watching less television now – they consume a lot of their content through devices like their phone. IGTV clearly plays into that.
YouTube will always have a much wider variety of content, but a lot of users are put off using it on their phones because the platform still hasn't made the necessary changes for optimal mobile use. Because it is not too much of a leap from the Instagram format, users should become comfortable with IGTV fairly easily. It's certainly easier to upload content to IGTV than it is to YouTube.
It's obviously very early – too early – to discuss the success of IGTV but there is something very visually striking about watching videos that are optimised for vertical viewing. Whether that novelty lasts remains to be seen. Plus, there are no adverts on IGTV as things stand – Instagram have said they want users to be able to watch long-form videos without distractions, so that includes adverts but also comments and anything else on the screen. However, it's almost guaranteed that adverts will eventually be introduced, because Facebook (and Instagram) love money.
General tips
Plan your channel – Don't make a channel for the sake of it. Have a clear idea of what you want to do with your videos, and maybe even plan out a series of them

Be consistent – once you create a channel, make sure you're adding to it fairly regularly

Use longer videos – you can still upload videos that are up to a minute in length to Instagram, and there's obviously still Instagram Stories available. If you're video is only going to be short (under a minute), or better off split into an Instagram Story, then perhaps don't use it for IGTV. That being said, some brands have saved the content from their Instagram Story, attached it all together into one longer video and uploaded that to IGTV

Stay vertical! – if you're creating something specifically for IGTV, make sure you're filming vertically

Entertain – don't use IGTV to post short updates, use it to engage, entertain and inform your audience

Don't worry about quality – unlike YouTube, there's no real emphasis on creating polished, high-quality videos simply because users aren't looking for that on a platform like this. It's likely that most of your IGTV content will be shot on a phone anyway.