As a University we are active across a number of social media channels including Facebook, Twitter, YouTube, Instagram and LinkedIn. Every day we engage with people who have an interest in us, either as a business, as an employer or as an educational institution.
We receive a wealth of customer feedback, which as an external-facing team we respond to, act on and share across the organisation. Like a lot of academic institutions, however, we are still opening up to the wonderful ways in which social media can transform how we interact with our different audiences.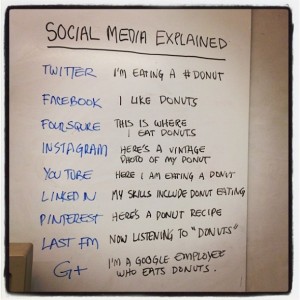 The power of listening
The act of listening cannot be underestimated.
Monitoring and processing the huge volume of online conversations that take place about an organisation can be a real wake-up call. It can also highlight opportunities to connect more closely with your audiences.
Obama's 2012 campaign is often cited as a great example of changing opinions through data and social media.Or on a smaller scale, this clever analysis by Steven Gray at UCL of the recent #bellogate scandal, which quickly quantified the scale of a very fluid situation.
In the academic world, our social media listening tells us that the influence of individual academics like Jim Al-Khalili far outweighs that of any single institution.  This highlights the importance of academics embracing social networking as part of their professional sphere.
Be found, be heard, be relevant
Whether you work as an academic or as professional services staff, having a social media presence will allow you to be found. By listening to and joining conversations on social media, you can build relationships, proactively engage with relevant communities of practice, promote your latest publication…the list goes on.
Social networks are now the place to interact with the media, potential collaborators and sponsors. So the question of whether or not to have a presence is increasingly a rhetorical one.
Getting started
If you're new to social networking it can be difficult to know where to start. To support you we've just launched our new social media toolkit, which talks you through how to make the most of each platform, choosing the right network, setting up a profile and understanding your goals.
As the social media landscape is constantly changing and evolving, this is where we'll keep you up to date with relevant news and best practice. We've also launched a new social media policy, to empower people to social network with confidence.
If you need any social media support or guidance, you can contact, Jade Beckett (Social Media Coordinator) at socialnetworks@surrey.ac.uk. Jade will also be offering social media training sessions either on a one-to-one basis or with teams – just get in touch to arrange a session.