If you're a reader of this blog then you'll be well aware that social media is no longer just a place to share what you had for lunch with your friends. You can make it work for you on a number of levels and there are a number of specific benefits of social media to academic researchers. In this post we've pulled together a few ideas of how you can maximise social media as an academic, with a focus on Twitter and LinkedIn.
Twitter
Twitter is often the natural choice for people on social media – it's quick, easy and pretty much everyone is on it! Here are some ways you can use Twitter to your benefit:
Follow other academics in your area of research – Twitter is like one big online conference! You can use it to network with people across the globe from the comfort of your office. In order to do this you'll need to follow people of interest so get searching for them on Twitter and in no time you'll have your own online network. Not sure where to start? Find one of your colleagues on Twitter and have a look at who they follow.
Tweet about your research/teaching – Let your followers know what you're getting up to. For example, have you used a new piece of equipment that made your analysis a lot easier? Other people might want to know! Or maybe you've used a new method of teaching that went down well with your students… shout about it! Just had a paper published? You get the idea…
Utilise Twitter at conferences – Most conferences will have a hashtag that you can follow so be sure to find out what this is and let your fellow conference goers know that you are attending. If you are presenting you could send out a tweet to summarise what your presentation will focus on and if you're really keen you could include your Twitter handle on your slides so that people can connect with you online and continue the discussion after the conference is over. Find out more about using social media at conferences.

Join in with Twitter chats – A Twitter chat is where a group of people go on Twitter at a predetermined time and chat about a specific topic. The chat will have a hashtag so that people can follow the conversation easily by searching for that. There is usually somebody leading the chat who will suggest questions or topics for the group to discuss. Why not have a look to see if there is an existing Twitter chat already set up for your area of interest? If not, then you could set your own one up. This is a great way to connect with like-minded people and share ideas. Find out more about Twitter chats from Dr Christopher Wiley, Senior Lecturer Learning & Teaching who has shared his experience with us in a previous blog post.
If you're a beginner on Twitter then take a look at our 8 week plan to help you become a Twitter pro!
LinkedIn
LinkedIn is the professional social networking site which you can easily use to build up your online professional brand. Although LinkedIn is traditionally seen as a place for 'business' and a good place to look for jobs, if you make the most of your profile you can showcase your academic successes as well.
Here are some ideas to make the most out of LinkedIn:
Boost the basics of your profile – Make sure that you have all of the basic info in your profile, such as current job title, professional experience, summary and a photo of yourself. This will form the basis of your profile so it's important to get this content in. If you're unsure of how to do this, have a look here and don't forget to avoid these LinkedIn mistakes!
Add extra sections to your profile – LinkedIn in allows you to personalise your profile so that you can add in additional information about yourself which is relevant to your area of specialism. For example, you might want to consider adding in your publications, awards or patents. There are a whole host of extra bits you can add in to showcase the best of you – just click on 'add a section to your profile' to see all of the options.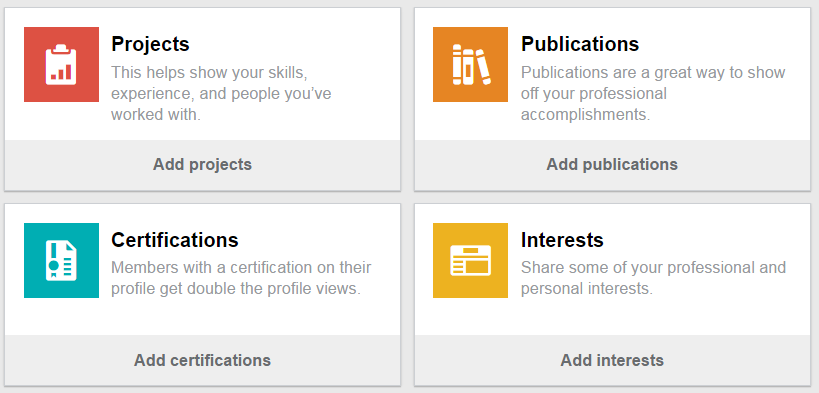 Connect with colleagues across the globe – Just like other social network sites you can connect with others on LinkedIn, but here you want to focus on professional connections rather than social ones. Start by adding your colleagues and people who have collaborated with and then you can have a look to see who they are connecting with. LinkedIn will also suggest people for you to connect with so it is easy to build up your network.
Find potential collaborators – The beauty of LinkedIn is that you can see other people's professional achievements and can therefore identify possible research collaborators.
Use it as a blogging platform – You can now write articles directly in LinkedIn and share them on your profile – this saves you the hassle of having to set up a separate blog site. Simply click 'write an article' on your LinkedIn homepage and get going! Here are some tips on what makes a good blog.
These are just a few of many ways that you can utilise social media as an academic: if you're interested in exploring other social media ventures then we strongly encourage you to take a look at the RDP's 23 Things for Research. This self service course runs a couple of times a year and is aimed to expose you to a wide range of digital tools that can be used by researchers.