Channels such as Facebook and Twitter have for many become an integral part of life, from helping families stay in touch to keeping up with the latest news. Social media can also be a powerful tool, allowing you to build your online reputation, showcase your expertise and connect with like-minded individuals. However as it increasingly becomes the norm to be active on social media, users are also increasingly comfortable sharing private and personal information on these sites. Something that many people don't consider however, is that depending on your privacy settings this could be seen by anyone.

Public by default
When you join a social network, accounts are usually set to 'public', meaning you need to implement any privacy settings yourself. Your profiles and anything you tweet or post on Instagram will automatically be findable by anyone unless you choose to set your account to 'private'. This means you'll be able to approve the people who follow you and your posts won't be found in a general search. The drawback to this is that you won't build up a following or reputation in the same way – if this is what you want to achieve, you simply need to think before you post any content and consider whether you really want it in the public domain.
One simple way to check your social media security settings is to Google yourself. From here you'll be able to see which social networks need work, and go from there.
Once content is in the public domain, anyone could potentially see it.
Facebook is considered a more personal social network, a place for family and friends to interact, rather than strangers. However you still need to ensure your privacy settings are up to scratch, or your posts could still be seen by anyone.
Facebook has a detailed 'privacy settings' section which can be found by clicking on the padlock icon (top right). Facebook often updates this, so it's worth checking regularly to ensure your settings are still doing what you'd like them to! Recent updates have seen the introduction of their blue dinosaur to advise its users about how to adjust the site's privacy settings.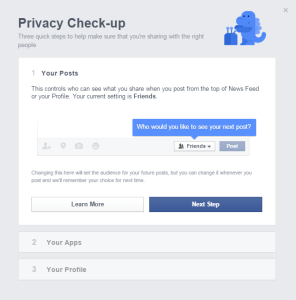 Often criticised for the complicated nature of their privacy settings, this week Facebook have also added a new page called 'Privacy Basics' with interactive tips and guides on how to control your information.
Across all social networks, it is important to clean up your profile regularly. If you allow others to tag you in photos, make sure you check these to ensure you are happy with them to be seen on your profile. The same applies to posts you've been tagged in – hide, delete or un-tag anything you are unhappy with.
Be secure
If you're on multiple social networks, it might be tempting to use one password for all, or to use a third-party password management app. Although these can be helpful, it makes your accounts less secure and open to potential hacking.
Make passwords long and strong: Combine capital and lowercase letters with numbers and symbols to create a more secure password.
Unique account, unique password: Separate passwords for every account helps to thwart cybercriminals.
Be aware of spam on social networks. Just like email, if you receive a private message or are mentioned in a tweet and are unsure if it is genuine, be careful about clicking on links or sharing with others.
We'd advise you to not share personal details such as mobile numbers, addresses or passwords over social media (or those of anyone else). Sites such as Facebook often ask for these details when setting up the profile, so check who these are visible to and consider setting them to 'Only Me'.
If you'd like more information about managing your social media profiles, take a look at our Social Media Toolkit, or get in touch via socialnetworks@surrey.ac.uk.