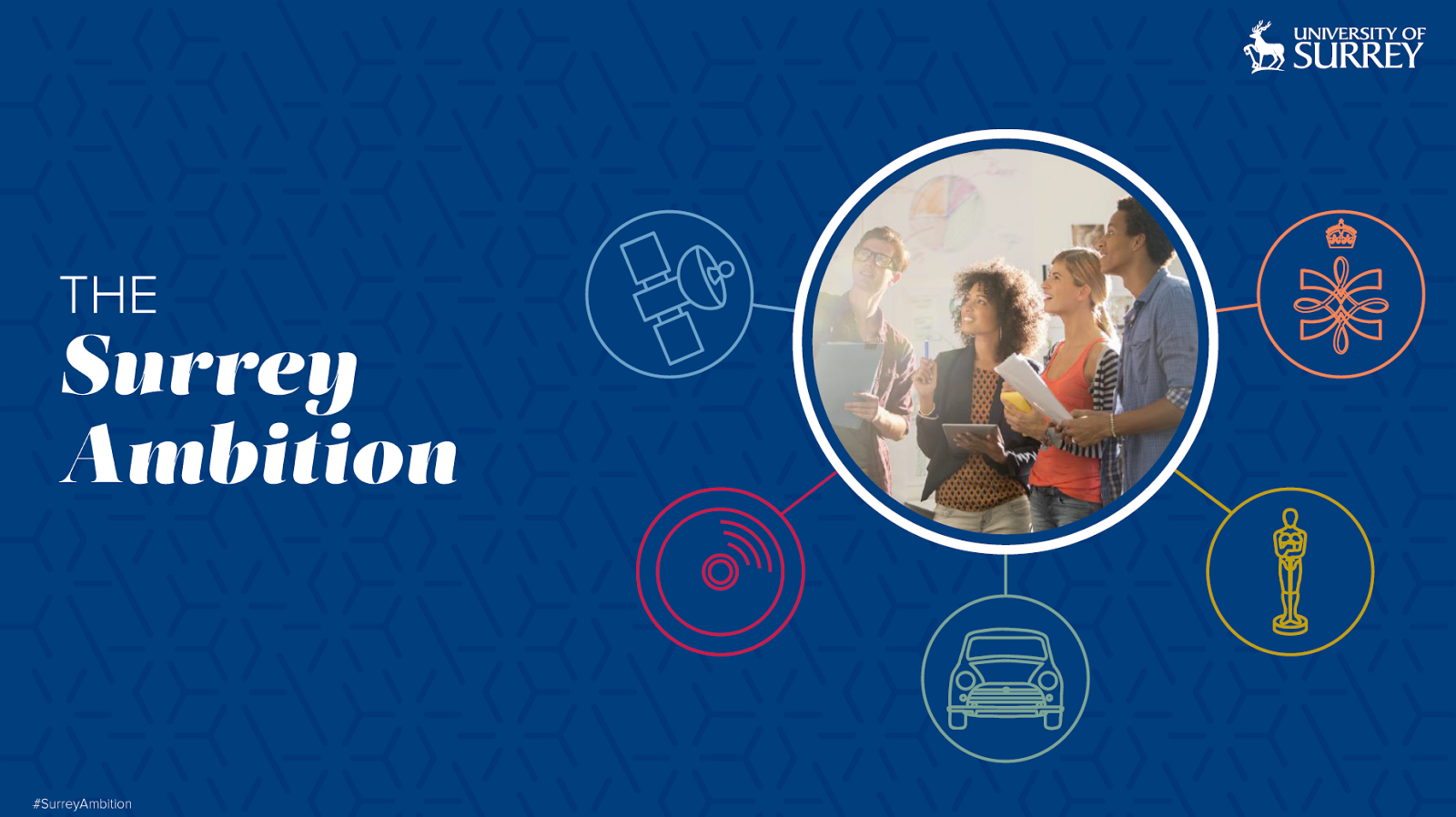 Looking to share this year's Annual Review (renamed 'The Surrey Ambition') on social media, but not sure where to begin? We have a few tips (and a few example posts) here to help get you started:
Twitter
Posting on Twitter can be tough. Just because you've now got 280 characters to work with, doesn't mean that you have to (or should) use them all! Remember, your tweets are competing for attention in a fast-paced, high volume space. Although there is no 'one size fits all' approach to the perfect tweet, this template will help get you started: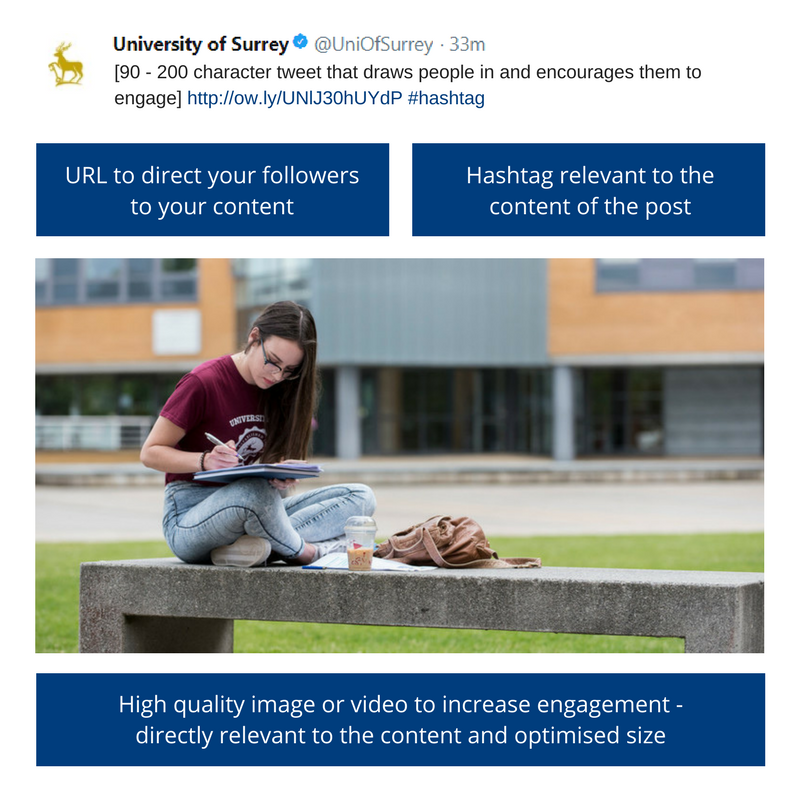 The first part of your tweet should be around 90-200 characters. This could include a call to action (e.g. 'see more' or 'learn more'), or a question – both of which increase the likelihood of someone engaging with your tweet.
Use the hashtag
When you're tweeting about the Surrey Ambition, don't forget to include the hashtag #SurreyAmbition. Hashtags are a way of grouping related tweets together, and also increase the likelihood of someone beyond your following seeing your tweets.
Mention us
When you're posting on Twitter, you can also mention the university (@uniofsurrey) or the relevant department accounts. This could also potentially increase the engagement and reach of your tweets when other users search for the university accounts.
Include an image
In most cases, tweets that include an optimised, relevant image have been found to dramatically increase engagement – sometimes by up to 150%. This means that your post will be more likely to receive retweets, likes and link clicks. Feel free to download/save the image at the top of this post for use on social media! Or if you want to create your own, have a look here for tips on the best image sizes to use.
Use a URL shortener
Although it won't save you any characters, URL shorteners are a way of making your tweet look neater and less like spam. They will also allow you to easily monitor how many times your link has been clicked. Popular examples include ow.ly or bit.ly.
We've put together a few example tweets to get you started (feel free to copy and paste):
It was great to be a part of the exciting things that happened @uniofsurrey in 2017! Check out: http://bit.ly/2ksvcXv #SurreyAmbition
Interested in what we get up to @uniofsurrey? Take a look at our #SurreyAmbition: http://bit.ly/2ksvcXv
Discover more about our global community at Surrey and our achievements from 2017: http://bit.ly/2ksvcXv  #SurreyAmbition
If you want to see how your tweet performed, you can check your Twitter Analytics dashboard.
LinkedIn
LinkedIn is a professional oriented social networking site, currently supporting 300 million+ members. It is a fantastic way to build and engage with your professional network as well as access knowledge, insights and opportunities.
Posting an update
The easiest way to share on LinkedIn is through posting an update. When you log on, you'll be presented with the box below. You can simply type a post in the dialogue box and this will appear in the news feed, as it would on Twitter or Facebook.

When you post an update, there are a number of ways to optimise it:
Engaging headlines
As with Twitter, shorter headlines work best, and asking a question or adding a call to action such as 'discover more' can increase engagement.
Shorten or delete the URL
Once the link preview has appeared, it is possible to delete the URL itself but keep this clickable preview. This will serve to make your post look more polished and professional, as well as not detracting from your post text.
Another way to achieve this would be to shorten your link, as suggested with Twitter.
Share our content
If you haven't got time to post an update yourself, then you can save time by simply sharing our content. All you need to do is go to our Surrey Ambition LinkedIn post and click 'share'. You'll then have the option to add your own text to it (but you don't have to) and you can choose whether to share it to your feed, which means that all of your connections will be able to see it, or send it to someone in a message.
We've put together a few example posts to get you started:
Read about the University of Surrey's plans for the future, and take a look back at our fantastic achievements from 2017 in the Surrey Ambition:

http://bit.ly/2jwex5g

Interested in what we get up to here at the University of Surrey? Take a look at the Surrey Ambition:

http://bit.ly/2jwex5g

  

It was great to be a part of the exciting things that happened at the University of Surrey in 2017! Take a look at the Surrey Ambition:

http://bit.ly/2jwex5g
Other approaches on LinkedIn
Are you part of a LinkedIn group that would find the Surrey Ambition interesting? You could share this content with them. This is particularly relevant if you or your subject area are featured highly in the Surrey Ambition, or you're part of a Surrey Alumni group.
Finally, if you are really invested in sharing The Surrey Ambition and your part in making it happen, you could publish an article (or blog) on LinkedIn. If you select 'write an article' from the options shown in the image above, this will provide you with the option to write a long-form post. Unlike updates, these posts are often viewed by a far wider audience and can help place yourself as a thought-leader. You can find our tips for creating a successful blog post, here.
Facebook
If you want to share Surrey's highlights from the past year with your friends and family then Facebook is the perfect place to do this. We'll be doing a series of posts so the easiest way to use Facebook to share the Surrey Ambition is to simply share our posts.
Share the film
Our film team have been working their socks off to create an amazing film to showcase the university's achievements of 2017 and plans for the future.
All you need to do to share the video is go our Facebook post and click on the share icon (as shown below). You can either share this straight away, or you can add your own text to it – we'll leave that up to you. Once it's shared your friends will be able to see it on your timeline, as well as ours.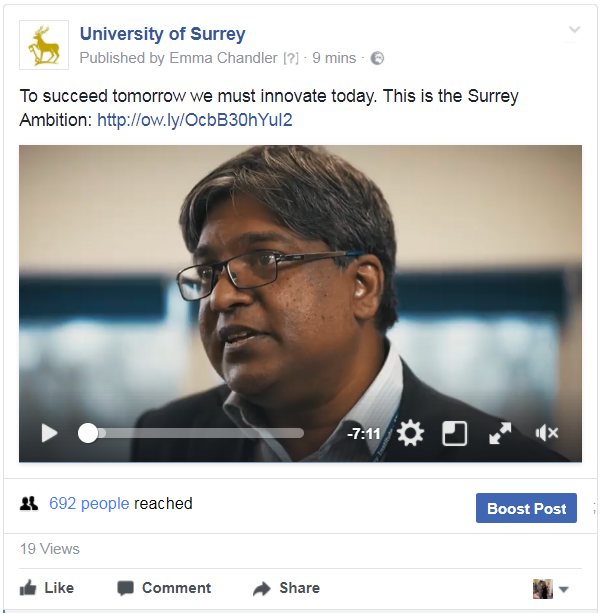 Share the 360 infographics
This year, for the first time ever, we're experimenting with 360 degree infographics which will be shared on the University of Surrey Facebook page. We'll be posting two of these in the coming weeks so keep an eye out for them. This is a great way to get across our fantastic achievements of the university in a new and exciting way so we're looking forward to sharing them, and we hope you are too!