We recently met with Student Information Advisor, Luke Williamson, to discuss how he uses social media as a customer service tool within his role. Luke is responsible for the Student Services Centre's student-facing accounts, which can be found on Twitter and Facebook.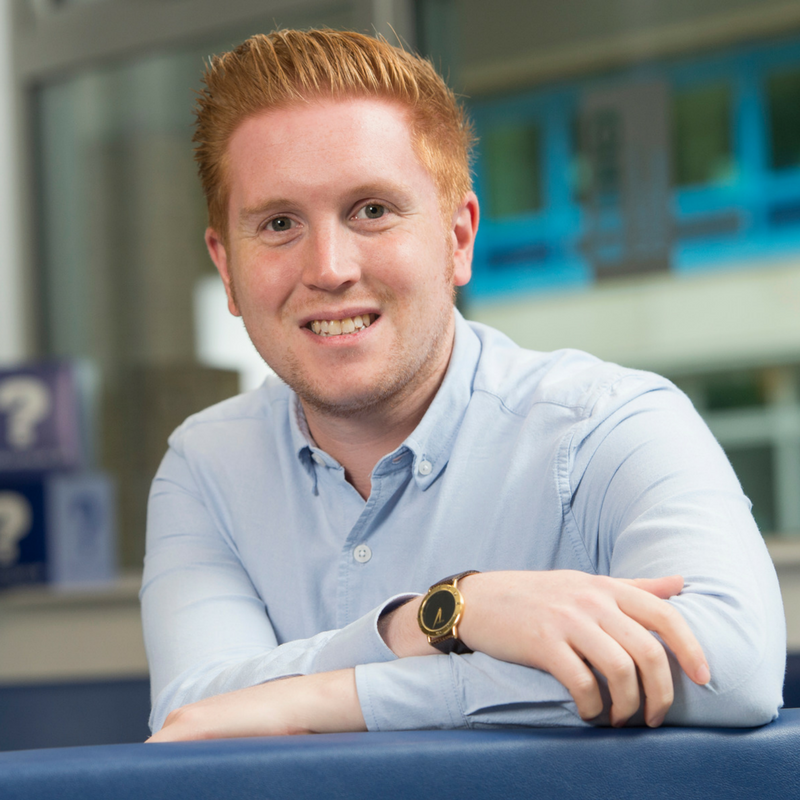 Hi Luke, thanks for joining us today. Could you explain a bit about what your role as Student Information Advisor entails?
I'm a Student Information Advisor and deal with pretty much anything that isn't academic-related. This can range from queries such as 'I need a letter to prove that I'm a current student here so I'm not charged council tax' to 'I have no money, what do I do?' and everything in between.
We get a huge amount of varied enquiries, many of which are seasonal. For example, in November and December we get quite a few international students collecting visas, so we have to do a lot of visa compliance work. Moving into spring and summer, we have a lot more queries from final year students regarding graduation ceremonies, and questions from incoming students about applying for student finance.
I also do quite a bit of project work for marketing, public relations and the faculties. In addition to this, I also organise most of the Freshers' Week events for Central Activities – but that's almost an entirely different interview!
Could you tell me more about how you use social media in your role?
We have quite a structured method when it comes to using social media. On Mondays, we post about money and finance ("Money Monday), on Wednesday we do international student support articles, and on Friday we try to do something a bit less 'advicey', like sharing Buzzfeed articles about healthy living and so on.
We use social media in several different ways. We often use it to market events, like WinterFest, Freshers' Week events, etc. We also use it as a support platform for campaigns that we run. For example, during Financial Capability Week we did a Q&A with our Money Advisors on Facebook Live, and also used Twitter to provide financial and funding advice each day over the course of the week-long campaign. On top of that, we use it as a kind of customer service forum for students.
In your opinion, what does good customer service look like on social media?
I like to treat it the same as if you were talking to someone in person. The way you reply to customers should be polite and set the right tone, just as you would do if the person was standing in front of you.
How do you deal with complaints via social media?
The one good thing about receiving negative feedback online is that you don't have to reply straight away like you would in person. This allows you to take the potential emotional element out of your response. When you receive negative feedback about the service you provide, it can be very easy to get defensive, but if someone tweets a complaint, you can take a step back and take a moment to think about how to compose your reply.
For example, we received some negative comments relating to the fact that graduation will be held in a marquee due to ongoing works in the cathedral. Although I was 90% sure of why exactly graduation couldn't take place there this year, I was able to speak with our contacts at the cathedral to get the full story and to work with them to draft a template reply for any complaints relating to that issue.
Most of the time when we reply to people's complaints we don't get a response, but when we do the people are usually grateful that their concerns and comments are being taken seriously.
What channel do you find most useful for spreading important messages to students here at Surrey?
The two channels I mainly use are Facebook and Twitter. Facebook is more useful for promoting events. As you're not restricted to 140 characters, it's much easier to explain what an event actually is on Facebook rather than Twitter. For more immediate things, such as notices relating to maintenance issues, then Twitter is really useful. We've seen engagement grow, as the delivery of messages is more consistent. It just depends on what the message is and how you want to put it across to students.
We've done 2 or 3 Facebook Live videos now, which were really good for providing information relating to our Financial Capability Week. In one, we did a Q & A session with our Money Advisors and the Students' Union and it was viewed over 1000 times. We also live-streamed the Welcome to Surrey event during Freshers' Week, which was well received too. I think Facebook is used more for when we want to advertise what's happening on campus in the future, whereas Twitter is used to draw attention to more immediate campus news and we can then link the relevant information in the tweet.
How do you come up with ideas for posts that will appeal to students?
We have a basic structure for posting, with Money Monday etc. that I outlined in your second question. However, that structure is fluid. We post a range of information every day. Personally, I'm a huge fan of memes and gifs, but the original text isn't always appropriate or on-brand, so I create my own, which gain more engagement than other content we produce. Hopefully it's because students see the image and think 'Oh, I recognise that' and then follow the link.
One of our Money Advisors is quite good at creating memes and gifs as well, so when he produces content it often comes with a ready-made meme or gif. It definitely makes us look more human. Where the point of our channel is to be informative and provide support, there's a worry that we could come across as just being robots instead of real people with personality! I think by using the memes and gifs it does demonstrate that there's a real person behind the screen who wants to provide some entertainment whilst still be informative.
Why is it important to offer a good level of customer service via social media?
Unlike face to face interactions, your replies on social media stay there, so if you don't provide a good level of customer service then it can have brand implications. It can be damaging and can quickly escalate due to the level of visibility on social media. But it's not all about the brand – it's also important for me to treat people's concerns or questions on social media the same as if they were standing in front of me.
With social media, you have to be a bit more careful about how you word things, because things like tone may not be as easy to grasp when you're relying solely on text to respond to someone. When you engage with someone face to face, a large percentage of that engagement consists of tone and body language, with the words you're actually saying only accounting for a small percentage. With social media, it's 100% word, so if you're quite vague in your answer then it can be hugely misinterpreted. So before I hit 'send', I always re-read my reply to ensure that the message is really clear and that it's on-brand.
Do you have any advice for people working in customer service who wish to get more involved in social media?
I think that if you're interested in doing it then just have a go! A lot of departments and faculties within the university have social media channels, so it's just a matter of finding out who looks after that and asking questions, like asking what they use their accounts for. The university's social media team often get other people to do takeovers of their channels, and there also may be access to student ambassadors who can host the takeovers. We're doing a WinterFest live stream takeover with a student ambassador (thought I'd get a little plug in there!).
Social media is a really good way of experimenting with how best to get messages out to students, as spreading messages purely via email or by putting posters up are a bit outdated now. Facebook and Twitter are really good, but even those are starting to be superseded by the likes of Snapchat and Instagram because you can just watch the story on those apps and it's an instant hit of information, which tends to stick more. So, in short, just give it a go if you're up for it!
Thanks to Luke for taking time out of his busy schedule to take part in this interview.