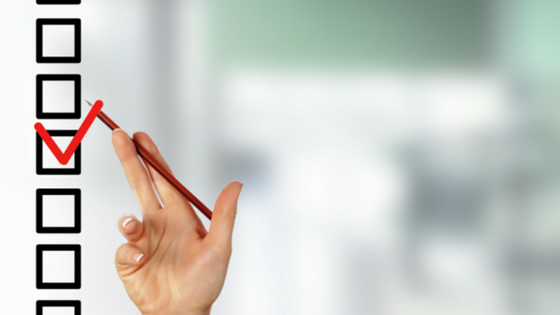 When writing for social media, there is a lot to consider. Is it the right length? Is the tone of voice correct? Could you have made the post more interesting? We've put together a 12-step checklist to help you receive maximum engagement and maintain audience interest with your social media posts – in this post we'll cover points one to six.
1. Is the message educational or entertaining?
Educational or entertaining messages are usually those that perform most highly. Social media isn't all about you – it's about adding value to the community that you are building. Some channels, such as Facebook, actively discourage pages from posting promotional content by limiting the number of people your post reaches using their EdgeRank algorithm.

Of course this doesn't mean you can't use your social media for promotional purposes, but other more building entertaining content into your schedule is beneficial for your page. There may also be another method of promoting your event or cause in a more entertaining way – it's just a case of being inventive.
2. Is the tone of voice correct?
You know your audience and your brand. Does your tone of voice fit with what appeals to them? Does it fit with the rest of your brand communications? Although it is acceptable to use a more relaxed tone on social media, it is important to find a balance that still fits with both your brand style and your audience.
3. Is it too long?
Some social networks have a character limit – Twitter posts are limited to just 140 characters, including photos and links. If you're using a scheduling tool such as Hootsuite, Buffer or TweetDeck, you're not always alerted if you exceed this character limit and it can result in your tweet being cut short.
Network-imposed length isn't the only consideration regarding this. Creating a post on Facebook, Google +, LinkedIn or Instagram that is fairly long can have an impact on readability and therefore engagement.
Buffer recently conducted some research on the optimum social media post lengths, the findings are summarised here.
If you do have to post content which is fairly 'wordy', try to make this as readable as possible. Paragraphs can be used on most social media channels and can vastly increase the readability of posts when compared to a large chunk of text.
4. Is the URL Correct?
This is a simple one, but also a simple mistake to make. If you're using a URL shortner such as bit.ly or owl.ly to make you link look tidier, it's always worth checking it works before hitting 'post'. Sometimes links can be miscopied or go wrong, and you don't want people clicking on your link and finding an error message.
5. Should I target a specific audience with this message?
Who is your message aimed at? Although in most cases this will be your followers, sometimes posts are more appropriate for a smaller segment of your audience.
Facebook allows you to target your posts from your Facebook page at those in your audience with certain characteristics, eg, age, location, education level. On your personal Facebook account there is also limited targeting available, where your post can be shown to friends in the pre-defined groups you've set up (ie, work friends, University friends).
On Twitter, you can point your messages to a particular person (or persons) by starting the tweet with an @-mention. Also, direct messages can also be sent privately to individuals who follow you (and whom you follow back) or sent privately to groups.
6. Did I use the right keywords and hashtags to maximise exposure?
When you're writing your posts for social media, it's important to include keywords that your audience will both understand and encourage them to click on the link or content you've shared.  This is something you're likely to be doing without realising, but ensuring you're using the right keywords can increase your visibility.
Including hashtags to your posts can also help in terms of exposing your content. Users can search social networks for hashtags and click on hashtags to see other updates that use the same terms.
Found these tips helpful? Check out part two of our 12 tips to success blog.