Student Support Warden and Student Life teams worked over the weekend to welcome 2700 new students on Saturday and 800 on Sunday to their new accommodation at Stag Hill, Manor Park and Hazel Farm.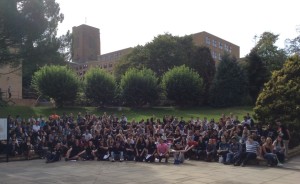 Student (Residential) Support teams include
14 resident staff wardens – living across 3 residential sites and dealing with discipline and pastoral support
3 student life officers in the Student Centre – coordinating support, through 55 mentors, for all new  UG & PG residents
55 student life mentors-  11 teams with 5 students in each, who visit mentees to resolve issues and ensure effective transition and retention across University student and academic life.
Students attended welcome talks on the support available from both wardens in residences and student life teams across all areas of their student experience.
Geraldine Harvey, Student Life Manager says, 
"Arrival is a key time for new students and all our teams work hard to ensure everyone is settled and supported, not just during the first few weeks but throughout the first and second semesters.
Surrey is number one nationally for welcome and our peer mentors contribute strongly to the student experience. Each student life mentoring team will visit hundreds of students each week, with each mentor having responsibility for 70-80 individuals. We review the information,advice and guidance student mentors offer to ensure students get the best possible support to resolve and overcome challenges they face."