The evening of Tuesday 25th November saw ex-Surrey (/Battersea polytechnic) students gather in the Rik Medlik building to hear about the projects and good work their donations had enabled.
There were presentations from the following speakers:-
Jim Glover – welcome & university overview
Chris Proudman – School of Veterinary Medicine
Maz Hussien – SU President
A student "Thank you" film clip
This was followed by an exhibition in Lakeside Restaurant, where guests could see and hear about the work achieved through the generous support alumni had offered and hear first-hand about exciting University developments.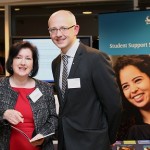 The Student Support Director and Money Advice Team was there to say a huge thank you for all the help provided to students in financial difficulty through the Annual Fund.

Over the 13/14 year this has included
82 awards
Funds disbursed = £41,319
Average Award = £504
The evening was a great success with very positive feedback from the guests attending.