As part of gaining the Customer Service Excellence (CSE) award accreditation in July 2014 Student Support Services introduced a quality of service customer evaluation survey for students who had received 1 to 1 support and advice through the Student Services Centre.
Students who complete the survey were entered into a prize draw to win a Google Nexus 7 tablet. Pictured below is the draw winner Nuha Albasha being presented with the new tablet by Ruth McLeod, Student Support Officer in the Student Services Centre.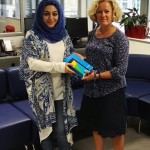 Feedback received is published here.
The Student Centre CSE award was re-validated in July 2015.