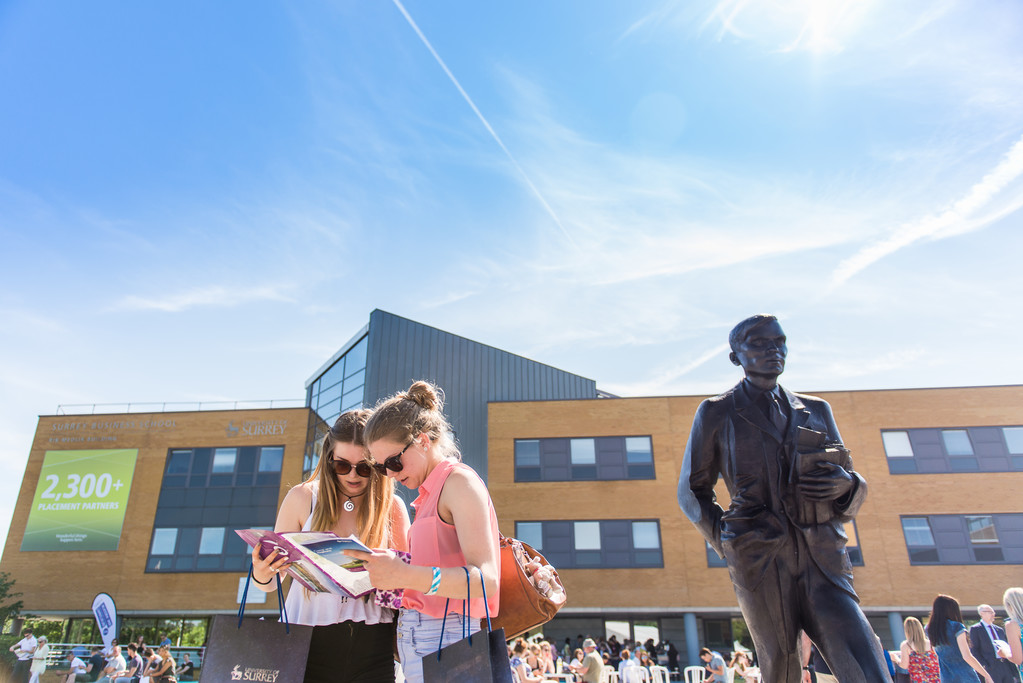 So why are the University of Surrey Open Days so special? 
written by Noel Ansell-Apicella, FHMS Event Coordinator
The Events Team reflects on the magic of students discovering our beautiful campus for the very first time.
Why do we love Open Days?
Our Open Days play a significant role in defining lives – current University staff and students are on hand at each Open Day to engage and inspire the next generation of thinkers, creators and achievers. For prospective students, it's one of their biggest decisions to make, in which University to apply for, so our Open Days provide the ultimate opportunity to showcase everything which is fantastic about Surrey! The Events Team have been busy planning new and exciting changes to our Autumn Open Days including a new look Information Fair and a programme of inspiring welcome talks!
Open Days in numbers:
4 Open Days held each year
50 subject/service stands in our new look Information Fair on PATS field
300 dedicated staff and student helpers ensure each event is a success
1997 prospective student visitors over our June 2018 Open Days
33,818 steps walked, on average, by the Events Team at each Open day
The role of our Student Helpers:
Our students are the foundation of everything we do here at Surrey. Without the enthusiasm, excitement and knowledge of our student helpers we simply couldn't deliver these memorable and significant engagement events. From campus tour guides and directional stewards to helpers in the Information Fair and accommodation guides over at our Manor Park campus, our Student Helpers are at the heart and soul of our Open Days. You can't miss them, sporting our newly branded navy and red helper t-shirts!
What next?
If you're a current staff member/student and would like to get involved at one of our Open Days to become part of the team, just drop opendays@surrey.ac.uk a line and a member from the Events Team will be in touch! If you are a prospective student and would like further information or would like to book a place at one of our Open Days please visit our Open Day webpage: surrey.ac.uk/opendays