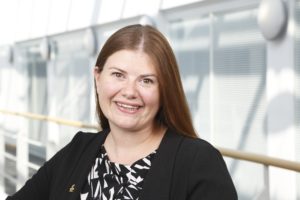 Meet Lucy Evans, our Alumni Engagement Manager. Lucy coordinates our international alumni programme and works both with academic departments and directly with alumni to enable Surrey graduates to continue to support the university through a range of volunteering initiatives.
What made you want to work at the University of Surrey?
I'm a Surrey alumna myself and have very fond memories of my student years at the university. After graduation my early career was spent working in project management, community development and marketing in local education and charitable organisations. When I saw a role available in the Alumni & Development Office it seemed to be a very good fit for my experience and interests and I was delighted to be able to come back to campus as a member of staff.
What do you enjoy the most about working at the University of Surrey?
I really enjoy the breadth of projects and events I'm able to get involved with and the many interesting and diverse alumni I've had the pleasure of meeting over the last five years.
It's always great to engage with our graduates and I've enjoyed working with academic schools including Hospitality & Tourism Management and Law to develop activities such as annual lectures, mentoring programmes and careers speed-networking for their alumni & student communities.
Outside of working hours I very much enjoy the University's fantastic Arts programme – everyone should go and see a Guildford School of Acting Musical Theatre production as they are fantastic.
Of course, there's also the beautiful campus and summer lunch breaks by the lake – our graduates often tell us that this is their favourite Surrey memory too!
What are you currently working on?
At this time of year we are gearing up for our annual programme of Alumni Receptions in Asia.
We will be going out to Singapore, Kuala Lumpur, Bangkok, Beijing and Hong Kong between March and July 2017 and are looking forward to meeting Surrey alumni in each city, hearing your news, and sharing the latest updates from the University.
We are also organising a very special event in China this year – The Beijing Graduation Celebration event taking place on Saturday 27 May 2017. This will be our first ever overseas graduation and the day will give recent graduates in China a perfect way to celebrate their achievements and help commemorate our 50th anniversary year!
How would you describe your job in 3 words?
International, connected, busy!